Tender sweet roll dough filled with a lemon raspberry filling and topped with a sweet lemon glaze, these lemon raspberry sweet rolls make a perfect treat!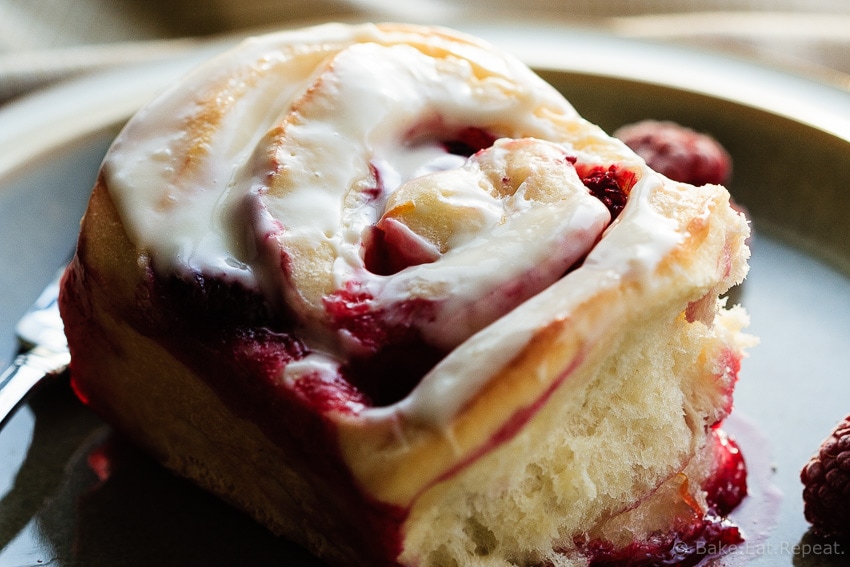 I've been a bit obsessed with lemon lately. Maybe because it's February and I always start longing for spring about this time. Maybe because it feels like spring this year even though it's only February. It's actually kind of annoying.
I hate to say that, because really, when it's cold we whine about how cold it is here – and this year it's been SO warm, and we're whining about that. Well, my kids are I are.
It's a little irritating though. I kind of like winter. Not when it's 35 below and you can't even go outside, but most of the time it's not that cold and winter stuff is fun. My kids are finally all old enough that we can get out and do all that fun stuff without worrying about what to do with the baby and who needs a nap and is too tired to stay up past 7. All the kids are skating on their own, we don't have to break our backs helping someone. They can drag their own sleds up the hill. They can all put on all their own snow stuff – it's not a half hour process to get out the door.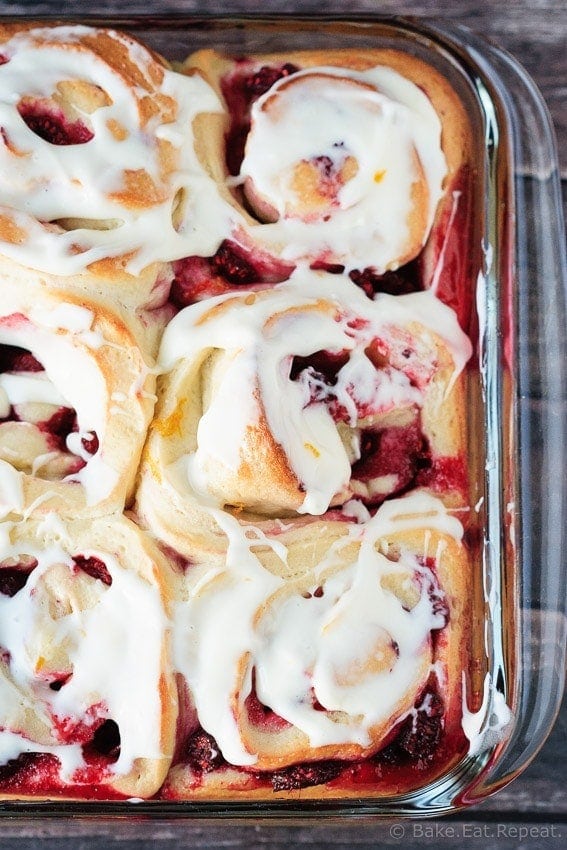 And there's no snow. Or not enough to actually GO sledding. And I'm scared to let the kids out on the ice to skate because it's been so warm that I'm envisioning them falling right through in a thin spot. It's February. We should be outside. But the irritating thing about living in a wintery location is that when winter is really warm and snow-free, there's not a whole lot to DO outside. It's just kind of mucky and brown and blah. So we're actually inside more right now then we typically are in the winter.
Oh well. Spring! We'll just pretend it's already spring and start hoping for the flowers that won't appear for another couple of months.
And eat all the lemon things because they scream spring.
These lemon raspberry sweet rolls definitely scream spring to me. So if you're longing for spring already, you should whip these up for a special weekend brunch. Even if you're not (or you live somewhere where it's always warm!) you should make these lemon raspberry sweet rolls because they are incredible. Tender sweet roll dough filled with a lemon raspberry filling and topped with a sweet lemon glaze. Fantastic.
I may have even enjoyed them more then these chocolate orange sweet rolls that were one of the best things I ever made. Decadent, yes. Amazing and necessary and perfect for Valentine's Day? Yes.