These lemon blueberry turnovers are a fast and easy dessert that everyone will love – the perfect sweet treat for the summer!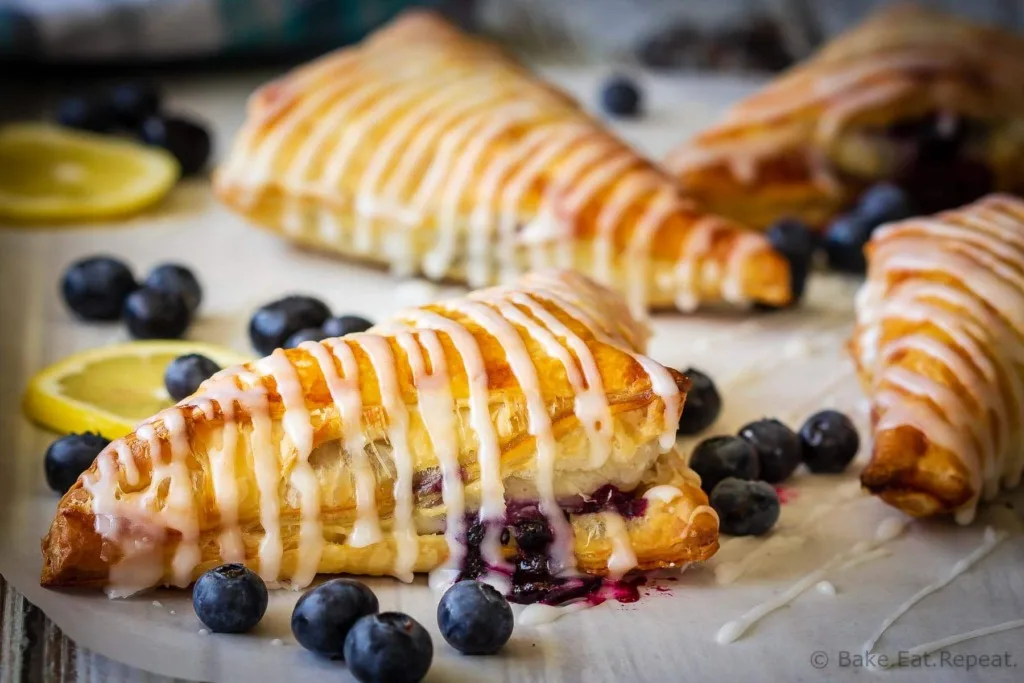 Anyone looking for a quick and easy dessert that is perfect for the summer months? Pie without the effort of making pie?
Because that's basically what turnovers are, right? They're like cute little hand pies, but without having to make pastry and roll it out and everything. Although, these would be good with homemade pastry instead of store-bought puff pastry too – but I went with quick and easy this time.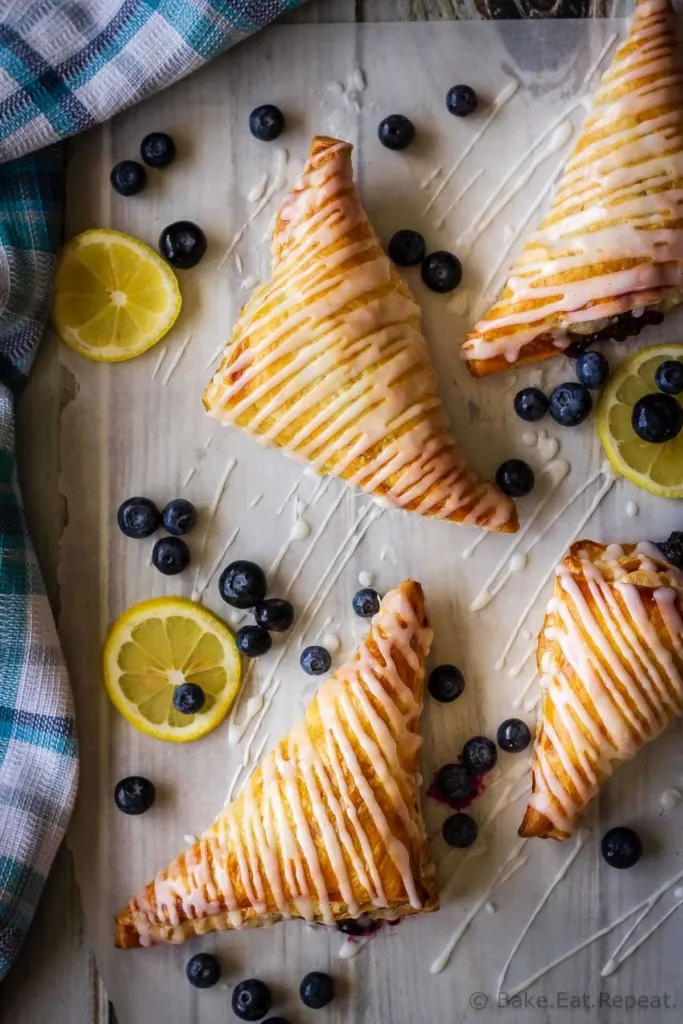 Plus, puff pastry is just really fantastic – and as of yet I haven't tried making it from scratch. It's one of those things that I definitely want to try sometime, but I kind of feel like it won't be worth the effort. It seems like a lot of work and time to make it and, well, the box from the store is pretty good, so I'm not sure the time spent to make it would be worthwhile!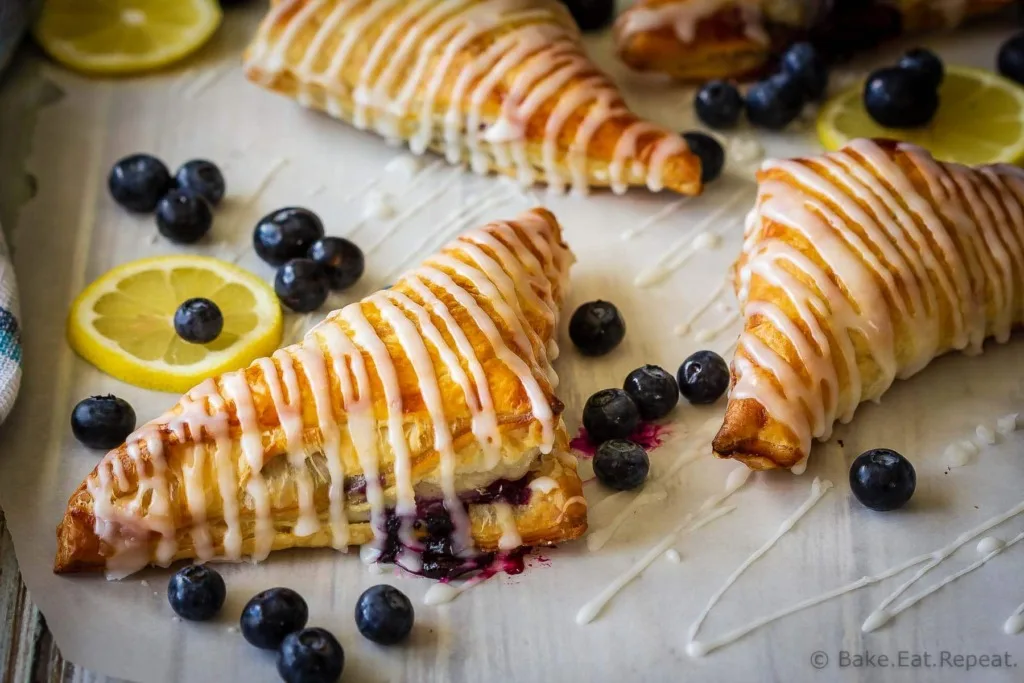 This lemon and blueberry filling would be good with regular pastry too though, made into hand pies kind of like these berry pop tarts. But I went with puff pastry for the classic, puffy turnover with layers and layers of buttery pastry, filled with sweet blueberries and tangy sweet lemon curd, and topped with a tangy lemon glaze.
These lemon blueberry turnovers were SO tasty! They disappeared in no time here.
So if you're looking for a fantastic sweet treat that you can make in minutes – these lemon blueberry turnovers are for you!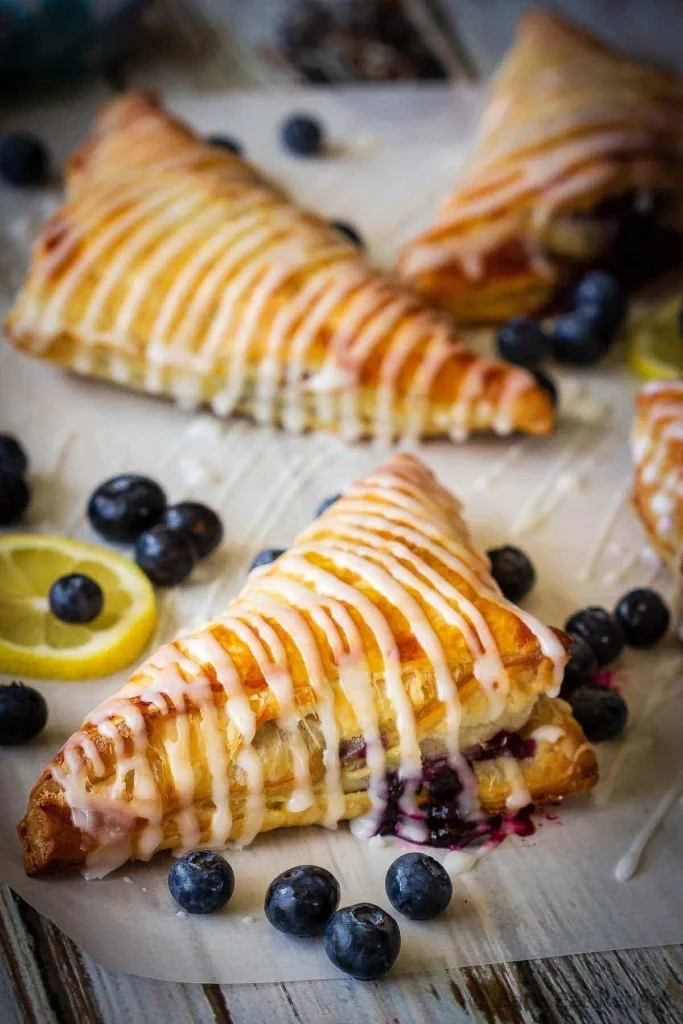 Tips for perfect Lemon Blueberry Turnovers:
Make sure your puff pastry is thawed, but cold, when you unroll it and start shaping the turnovers – if it gets too warm it will get very sticky and hard to work with. I recommend forming the turnovers one sheet of pastry at a time, leaving the second one in the fridge until the first four are ready to go in the oven.
I used fresh blueberries for the filling, but frozen would work well too. If you mash them up a bit while you're cooking them on the stove you will get a nicer texture for the blueberry sauce.
I used this homemade lemon curd, which can be made in the Instant Pot or on the stovetop and is very easy to make, but you could definitely use some store-bought lemon curd instead if you like.
Here are a few more amazing dessert recipes for you: Chocolate Covered Strawberry Cupcakes, Raspberry Cheesecake Brownies, and Raspberry Pie
This post contains affiliate links, meaning that if you make a purchase through these links, I may receive a small commission. I am a participant in the Amazon Services LLC Associates Program, an affiliate advertising program designed to provide a means for us to earn fees by linking to Amazon.com and affiliated sites.