This quick and easy one pot pesto pasta with chicken sausage, asparagus and red peppers is an easy weeknight meal that the whole family will love!
Watch how easy this One Pot Sausage and Asparagus Pesto Pasta is to make here: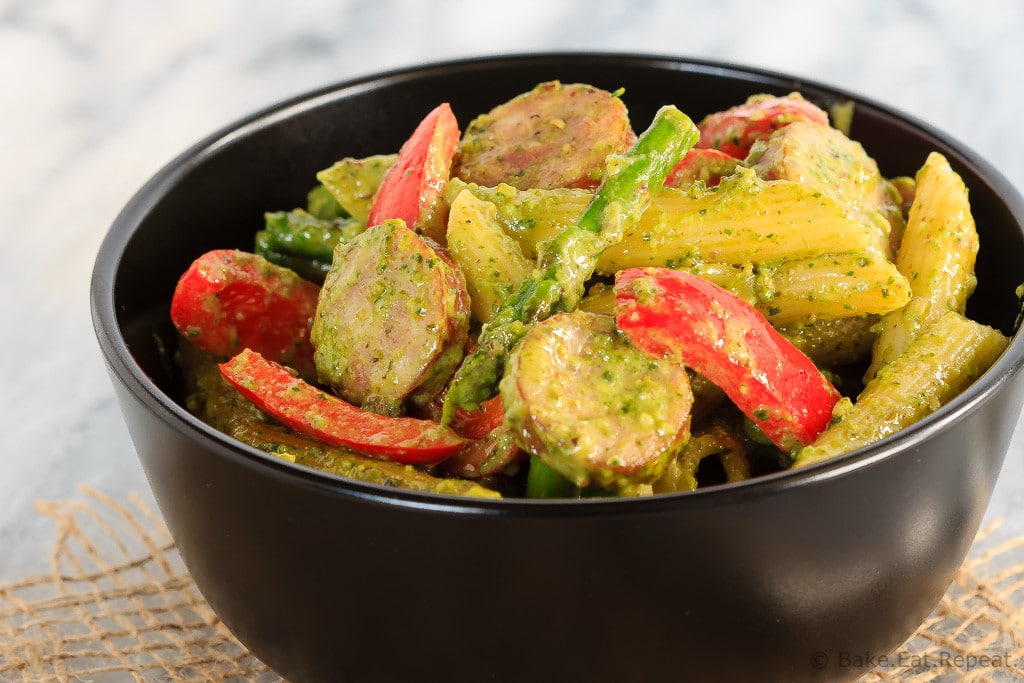 So that pesto pasta I mentioned on Monday that I've been making incessantly?  This is it.
I have made this one pot sausage and asparagus pesto pasta no less then 4 times in the last three weeks.  Which is a little ridiculous even for me.
But it's so easy!  And the kids love it.  And they're eating a bunch of spinach with it and they still love it.  Because they don't know.  It's "green pasta" and "green pasta" it will remain because that way they eat it.  If I said it was spinach pesto pasta they likely wouldn't touch it.
I'm all about the trickery when it means getting spinach into my kids without complaint.
I don't totally understand why they don't like it.  For the most part my kids are pretty good eaters, and though they may balk at trying something they haven't seen before, they'll usually at least taste it, and will likely eat it with no problem the next time it appears.  Comes from constantly trying new recipes around here I think.  They've learned that most of the time they'll like whatever is on the table so it's worth trying.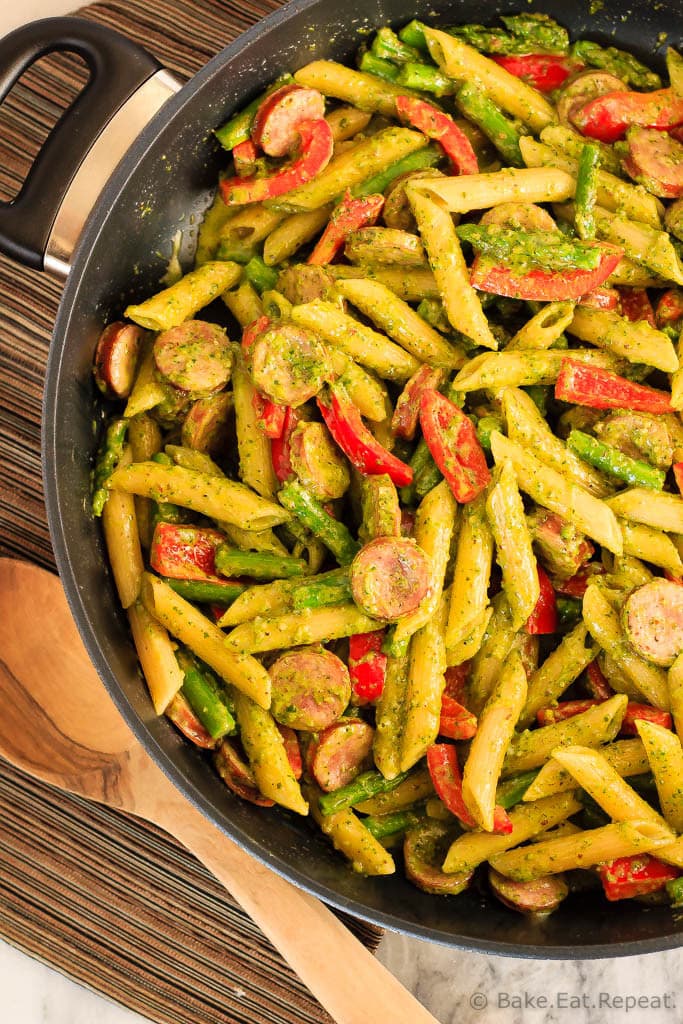 But spinach?  Nope, not having it.  I don't know why.
Spinach pesto to the rescue – because they love this pesto pasta.  So I'm milking it for all it's worth and making it way too much.  I think my husband is getting sick of seeing this one pan pasta show up on the table, but hey – you can't have everything.
This one pot sausage and asparagus pesto pasta is fast and easy to make, and if your family is anything like mine, they'll all love it.  Even the kids.  You can obviously use any pesto you like, but I like using this homemade spinach pesto in this recipe.
Plus, since it's the first Thursday of the month, I also have a whole list of other quick and easy meals for you from my blogging friends!  You can also find other 30 Minute Thursday posts here for lots more 30 minute meals to get you through those busy nights!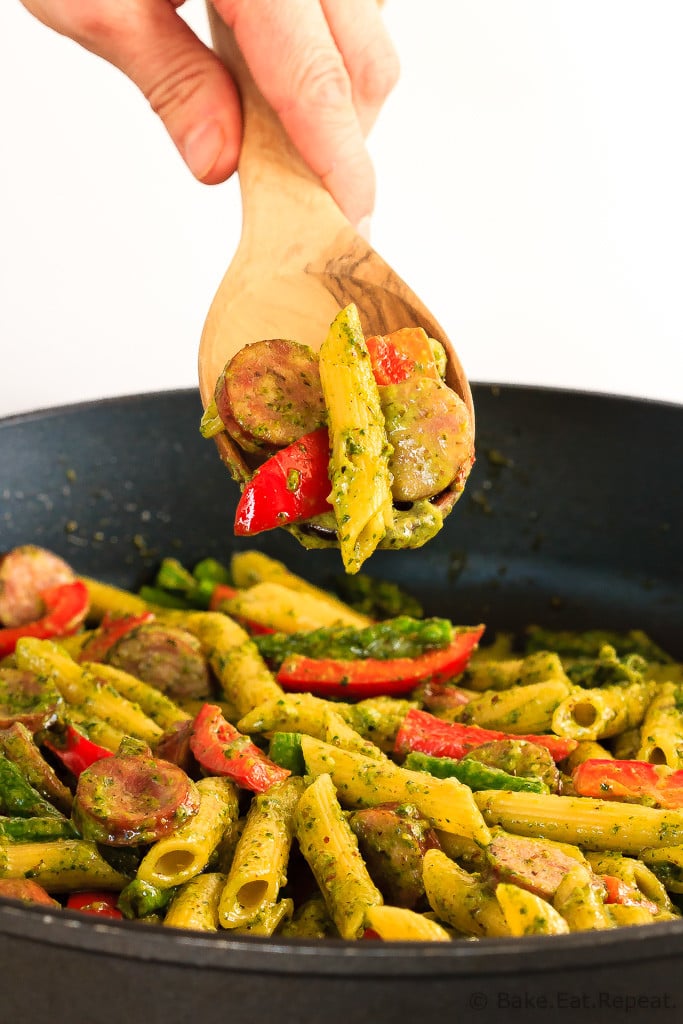 Tips for perfect One Pot Sausage Asparagus Pesto Pasta:
any store bought pesto will do for this recipe – I used my homemade spinach pesto which is amazing and freezes well if you have time to make it first (it doesn't take long!)
if you don't want to use heavy cream (whipping cream) I think that half and half would work well here too, the sauce just wouldn't be quite as thick and creamy
I use this big pot to make this meal and love it – super non-stick and easy to clean and it's a perfect size with a lid – no affiliation with the company, just love this pot if you're in the market for one!
here are a few more one pot pasta recipes for you: One Pot Turkey Mushroom Tortellini, Hazelnut Chicken One Pot Pasta, and Mexican One Pan Pasta
One Pot Sausage and Asparagus Pesto Pasta
---
Bake.Eat.Repeat.
Yield: serves 4-6
This quick and easy one pot pesto pasta with chicken sausage, asparagus and red peppers is an easy weeknight meal that the whole family will love!
10 minPrep Time
20 minCook Time
30 minTotal Time
Ingredients
300 grams (10.5oz) smoked chicken sausage, sliced
1 1/2 cups chicken broth
1/2 cup heavy cream
250 grams (about 2 1/2 cups) penne pasta (or similar shaped pasta)
2 cups asparagus, sliced into one inch pieces
1 red pepper, sliced
1/2 cup pesto
1/2 cup shredded parmesan cheese
Directions
In a large, stovetop pot over medium heat, cook the smoked chicken sausage, stirring it a few times, for 3-4 minutes or until it's lightly browned.
Add the chicken broth, heavy cream and dry pasta and stir to combine, making sure the pasta is covered by the liquid (as much as possible). Put a lid on the pot and let it cook, stirring once or twice for 8-10 minutes, or until the pasta is tender.
Add the asparagus and red pepper, return the lid and cook for 1-2 minutes more until the vegetables are tender crisp. Stir in the pesto and parmesan cheese and serve.
Notes
Note: The type of pasta you're using may make a difference in how much liquid you need. I used white pasta that takes 8-10 minutes to cook to al dente according to the package. If the pasta you're using takes longer then that to cook you might need to add a bit more liquid. If the liquid is all absorbed and your pasta is not yet tender just add a bit more chicken broth and keep cooking until it is tender.
7.8.1.2
235
https://bake-eat-repeat.com/one-pot-sausage-asparagus-pesto-pasta-recipe/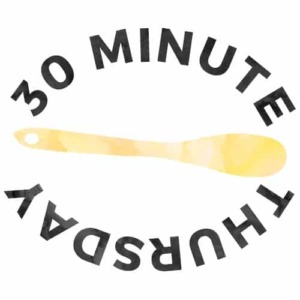 Easy Black Bean Soup by Pumpkin 'n Spice
Grilled Portobello Mushroom Asparagus Fajitas by Flavor the Moments
Chickpea and Avocado Pita Tostadas with Rhubarb-Radish Slaw by Floating Kitchen
10 Minute BBQ Ham Sandwiches by The Recipe Rebel
30 Minute Chicken Marsala by My Kitchen Craze
One Pot Teriyaki Beef Zoodles by Life Made Sweeter
One Pot Black Bean Enchilada Pasta by Savory Nothings
This post contains affiliate links, meaning that if you make a purchase through these links, I may receive a small commission.