These easy to make, pesto chicken pull apart sliders are the perfect quick and easy dinner – and the leftovers make the best lunch!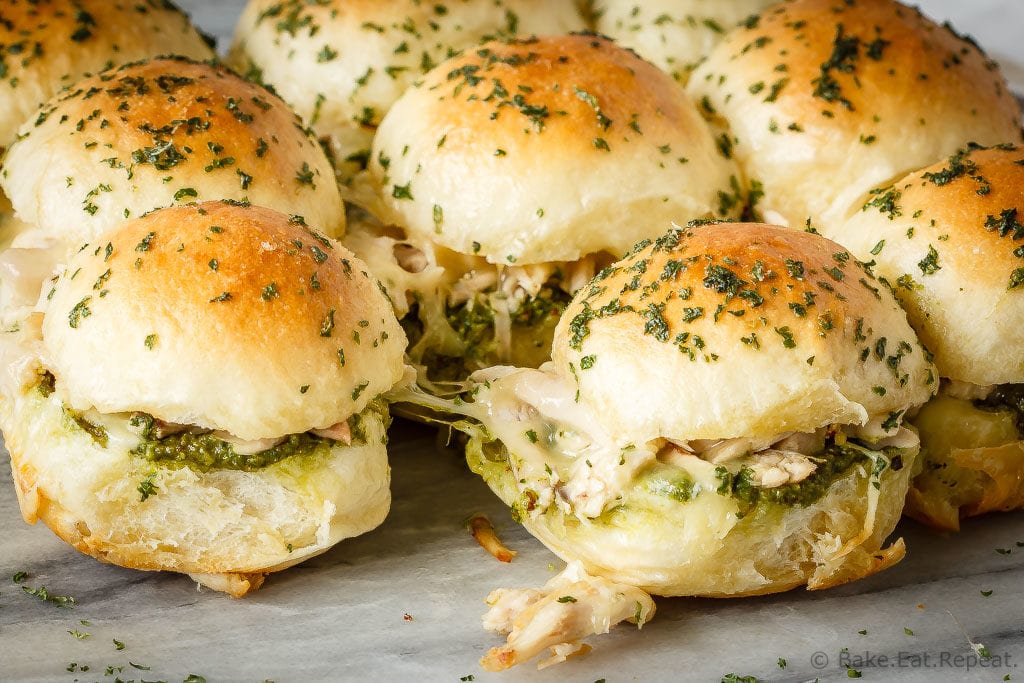 These little pesto chicken pull apart sliders are amazing.
And I don't often say that about a simple sandwich. I don't mind sandwiches, but they're not usually something that I get excited about.
They'll do for lunch, but not really a meal that I often break out for dinner. Unless of course we are at some kids activity or other and I need to pack supper to eat on the go!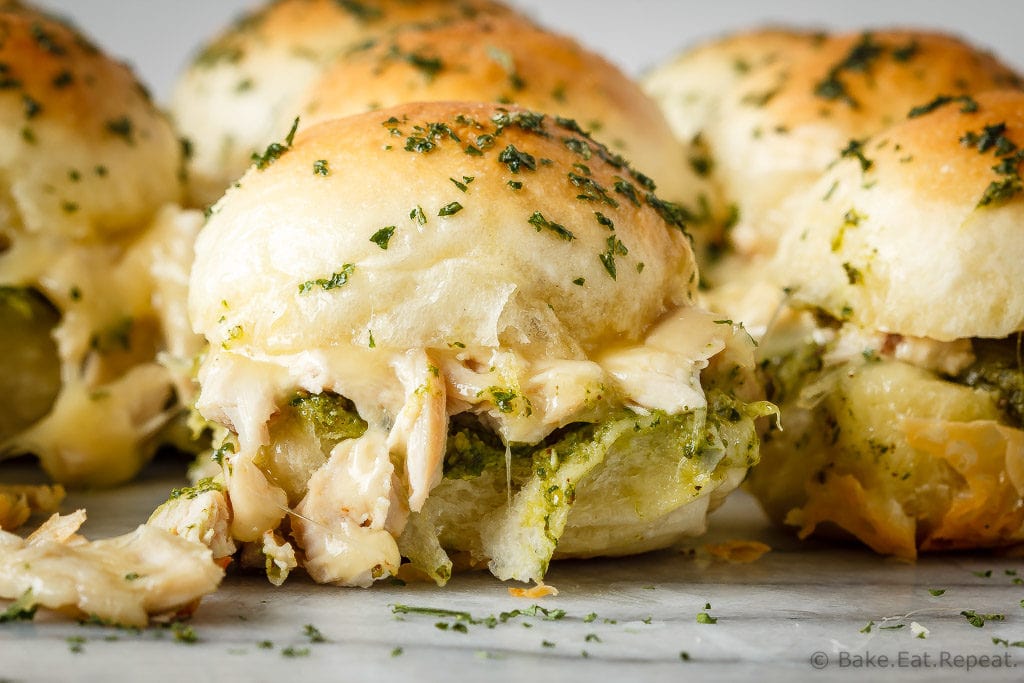 In that case, as long as everyone is getting fed something fairly healthy, I'm happy. Sandwiches are just fine.
Cute little sliders served warm and loaded with pesto sauce, shredded chicken and mozzarella cheese are not just a sandwich though.
And I will happily devour several of them for dinner anytime.
I think it's the pesto. I've decided I need to have this homemade spinach pesto on hand at all times, just so I can jazz up those boring lunchtime sandwiches.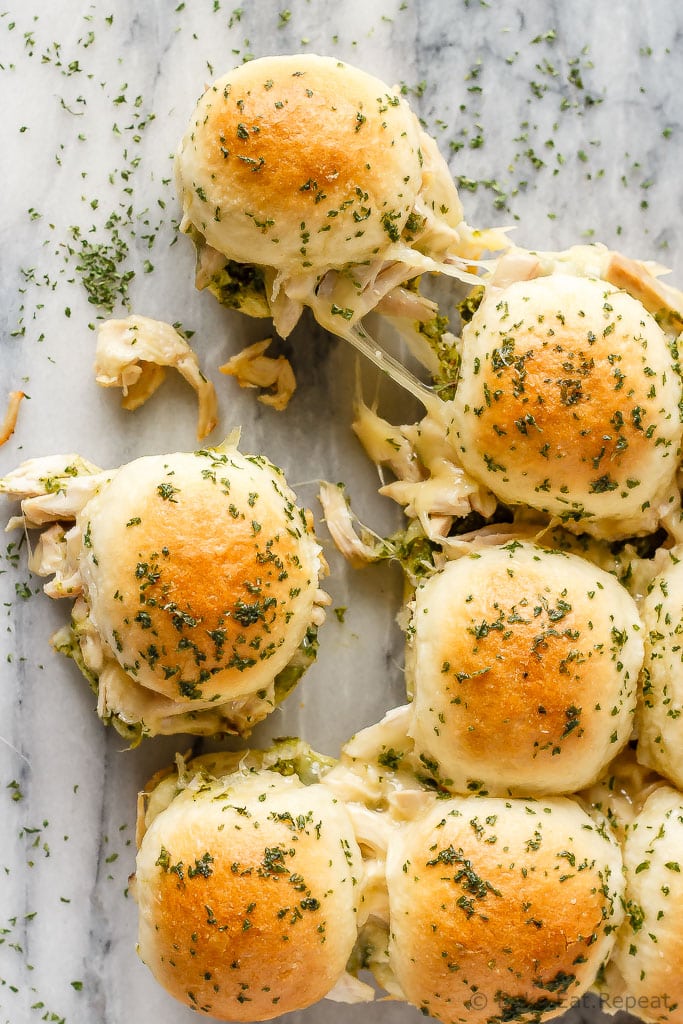 Or maybe it's the melty mozzarella cheese. Or the garlicky butter brushed on top of the best dinner rolls.
Store-bought tray buns will work just as well, but if you have time to make these dinner rolls, they really are the best!
And they freeze beautifully so you can easily make them ahead of time.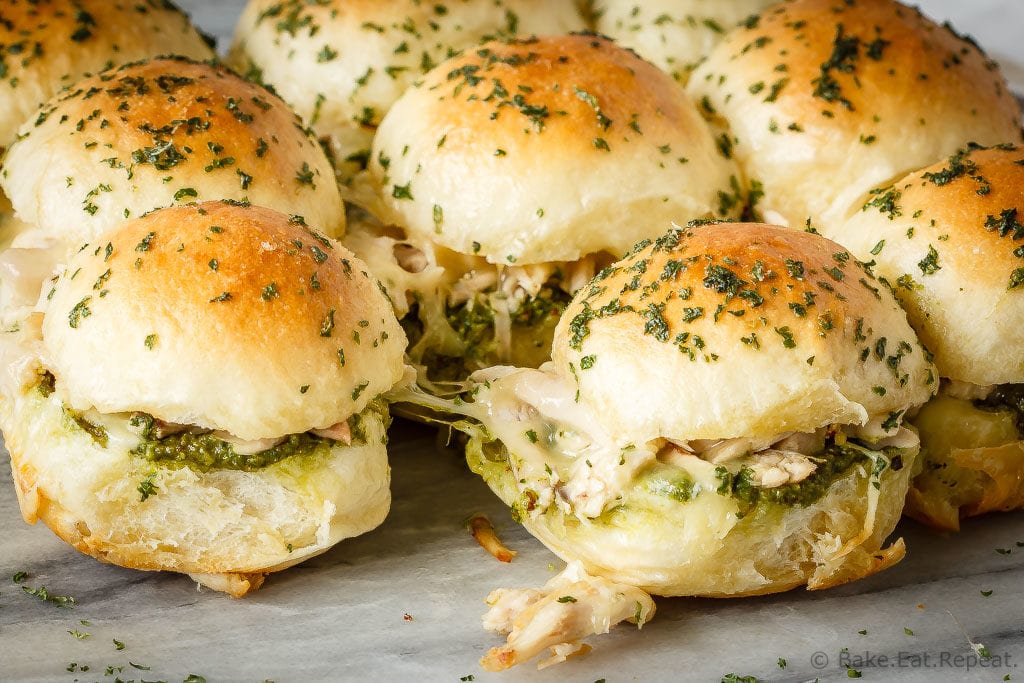 Or maybe I just really like baked sandwiches and that's why I feel these are a suitable main course.
Combination of the above? Yeah, we'll go with that. Baked, cheesy, pesto chicken pull apart sliders – fast and easy to make and everyone will love them!
If you are lucky enough to have any leftovers – they also make a fantastic lunch the next day!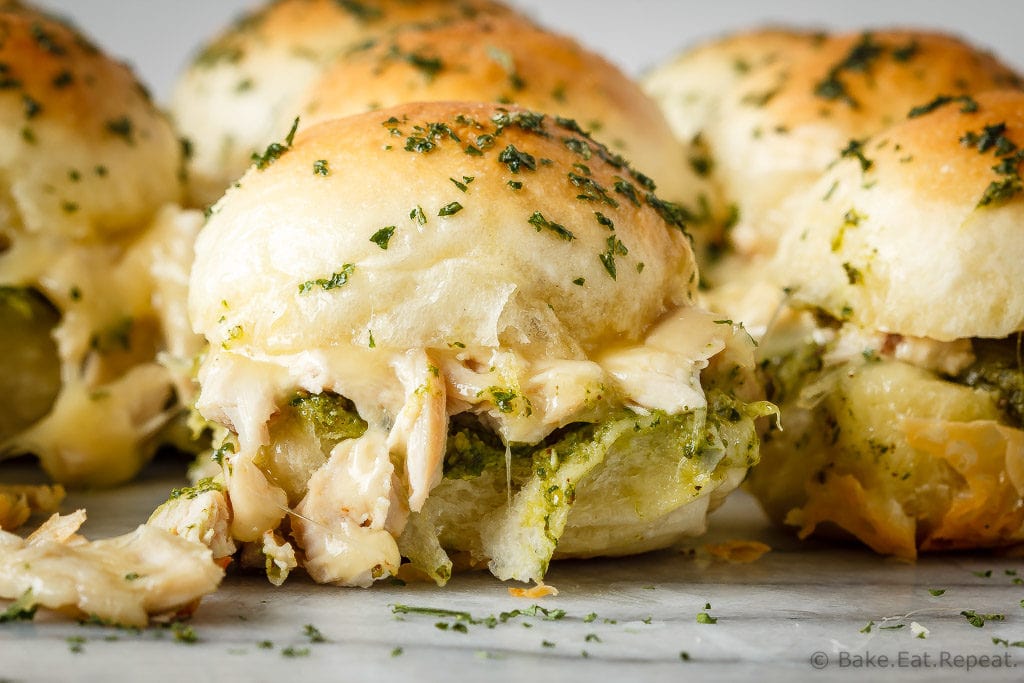 How to make Pesto Chicken Pull Apart Sliders:
If you make the dinner rolls, form them into 2 ounce rolls, making 18 from one recipe of dough. The baking time is the same as written for 12 larger rolls.
You do need to plan ahead for this recipe and have cooked chicken on hand. I like to make this slow cooker shredded chicken and then portion it into freezer bags to have waiting in the freezer for meals like this.
For this recipe, I recommend using full fat mozzarella cheese (low fat doesn't melt well) and shredding it yourself. The pre-shredded cheese has a coating on it that keeps it from clumping together in the bag, but it also keeps it from melting as nicely.

Here are some more great sandwich recipes for you: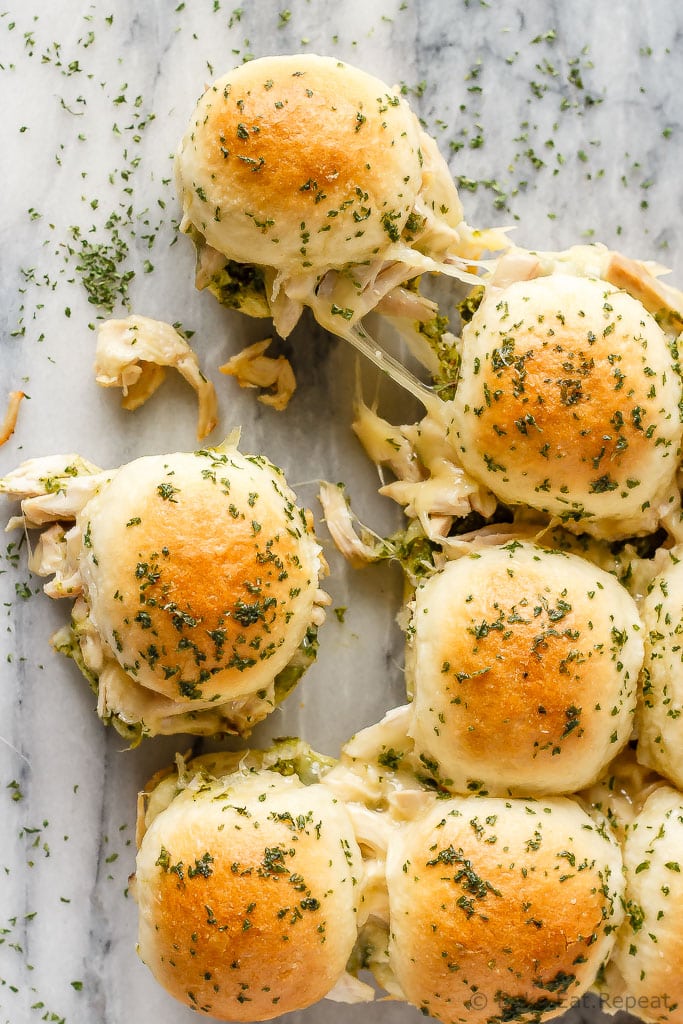 I've also shared this Pesto Chicken Pull Apart Sliders recipe over on Food Fanatic.
Yield: 9 servings
Pesto Chicken Pull Apart Sliders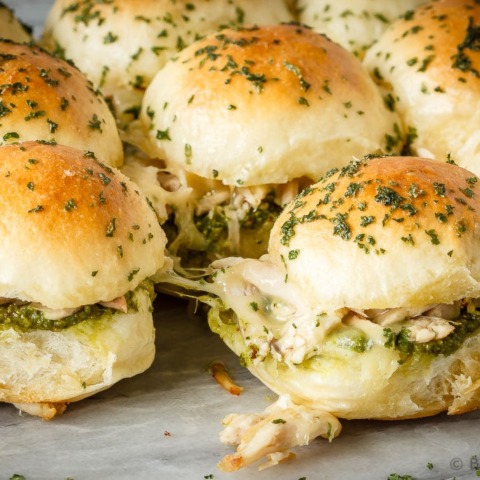 These easy to make, pesto chicken pull apart sliders are the perfect quick and easy dinner. And the leftover sliders are amazing for lunch the next day!
Ingredients
9 Slider Rolls, or tray buns
1/4 cup Pesto
2 cups Cooked Shredded Chicken
1 cup Shredded Mozzarella Cheese
2 tablespoons Butter, melted
1/2 teaspoon Garlic Salt
1 teaspoon Dried Parsley
Instructions
Preheat the oven to 375°F. Lightly spray an 8x8-inch baking dish with cooking spray.
Slice the dinner rolls in half, if they are pull apart rolls you can leave them stuck together and slice them all at the same time.
Place the bottom halves into the prepared baking dish.
Spread the pesto sauce over the bottom halves of the dinner rolls.
Spread the chopped chicken on top of the pesto, and sprinkle the mozzarella cheese over the chicken.
Cover with the top halves of the dinner rolls.
In a small bowl, whisk together the butter, garlic salt and parsley.
Brush this mixture over top of the sliders and cover the whole dish tightly with aluminum foil.
Bake for 15-20 minutes, or until the cheese is melted. Serve warm.
Notes
For the rolls, I used these dinner rolls. If you use that recipe, make the rolls a bit smaller then called for, using 2 ounces of dough per roll, which will give you 18 rolls total. The baking time is the same, and the baked rolls freeze beautifully. If you bake them in 8x8-inch baking dishes instead of on a sheet pan (make sure to grease the dishes!) then they will be ready to proceed with this slider recipe, and will fit in the dish perfectly. Alternatively, you can use store-bought tray buns for this recipe.
Recommended Products
This post contains affiliate links. As an Amazon Associate, I may receive a small commission from qualifying purchases.
Nutrition Information:
Yield:
9
Serving Size:
1 slider
Amount Per Serving:
Calories:

232
Total Fat:

11g
Saturated Fat:

4g
Trans Fat:

0g
Unsaturated Fat:

6g
Cholesterol:

37mg
Sodium:

394mg
Carbohydrates:

18g
Fiber:

1g
Sugar:

3g
Protein:

15g
Nutrition Information is estimated based on ingredients used and may not be exact.