Quick and easy caprese pizza with pesto, mozzarella and tomatoes, and drizzled with balsamic glaze. Perfect for pizza night!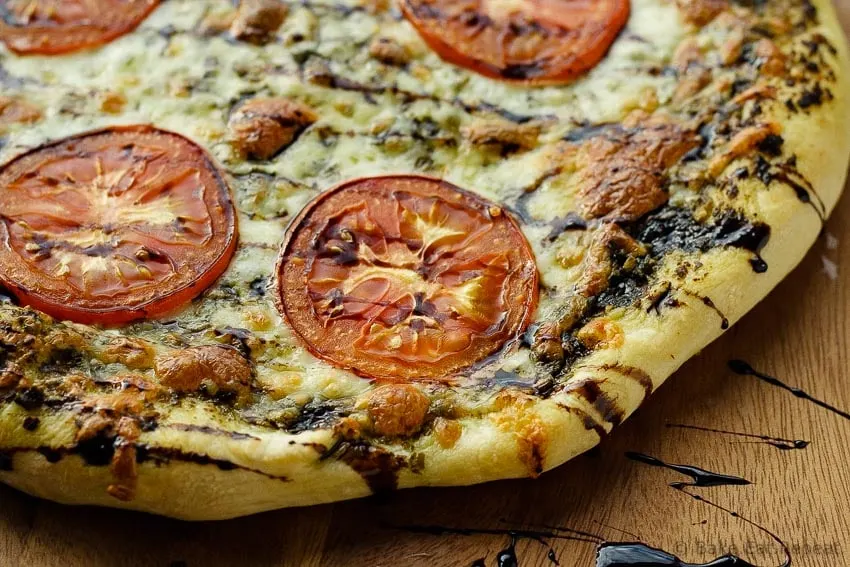 So after finally sharing my favourite pizza dough recipe, and rambling about how much I love pizza, I definitely needed to share my current favourite kind of pizza. I say current because it changes pretty regularly, but right now I can't get enough of this caprese pizza. The kids won't eat it, but that almost makes it better – more for me!
It's a fairly simple pizza. Not even really a recipe. But still, it's so good that I couldn't help but share! Instead of the usual tomato based pizza sauce, this one uses pesto. Then it's covered in mozzarella and tomato slices and baked until bubbly and golden. Drizzle with balsamic glaze and serve. And then make more. That's it.
So, so simple, but sometimes those recipes are the best right? The ones you can whip up in a matter of minutes but can't get enough of? This is that kind of recipe.
Amazing pizza that you will definitely want to try sometime soon. Hopefully with this pizza dough, because it really is the best!