Well you knew this was coming today.  Right?  I obviously had to show you the main way I've been using all that beautiful spinach pesto!  And pasta was the obvious choice.
This is barely even a recipe.  But, I have forced my family to eat some version of pesto pasta no less than 4 times in the last couple of weeks, and this is the best one.  So I've saved you trying to decide which veggies to toss in with your pesto and which kind of pasta to use….you know, cause that's tricky stuff.   Sure…..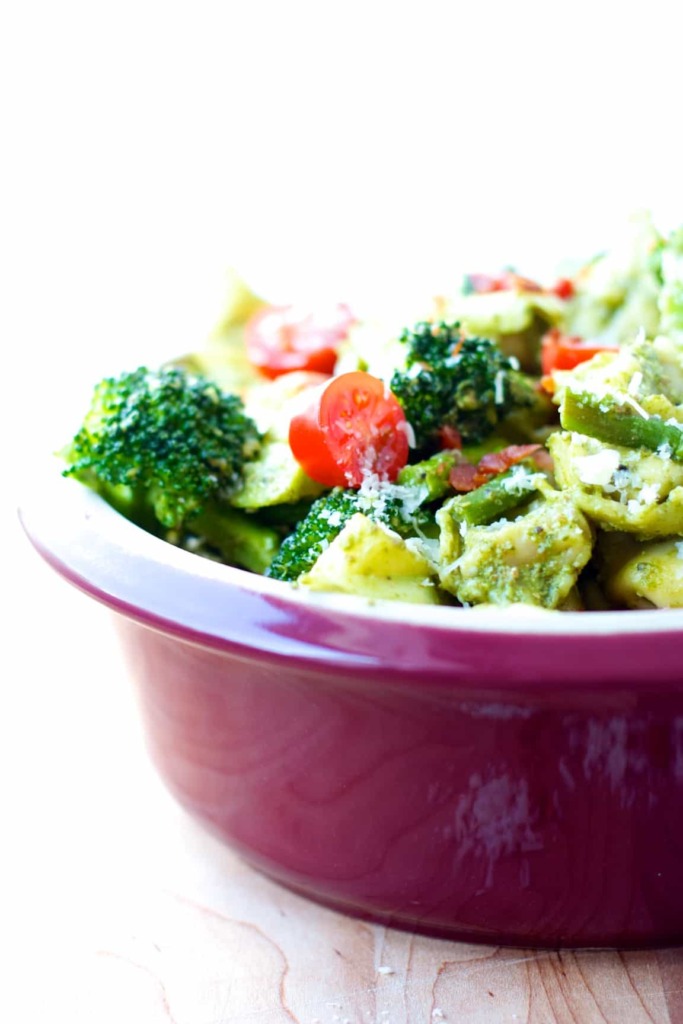 Anyways.
Pesto tortellini.  It's pretty awesome, if I do say so myself.  And just look at all that green!!  Doesn't it make you feel like it's warm and sunny and spring like, even if you're looking out the window at clouds and rain (and the possibility of more snow) like I am?  Something about spring.  All the vegetables suddenly look nicer at the grocery store and I want to eat them all.
I took the longer drive all the way to the city (it's like 20 minutes, but you know, farther than the store 5 minutes away!) specifically to go to a store that sells just produce.  Their stuff generally looks much better then the regular grocery store and usually tastes great.  Plus they seem to have a lot more organic stuff for a decent price.  So I bought a ton of veggies.  Everything looked good.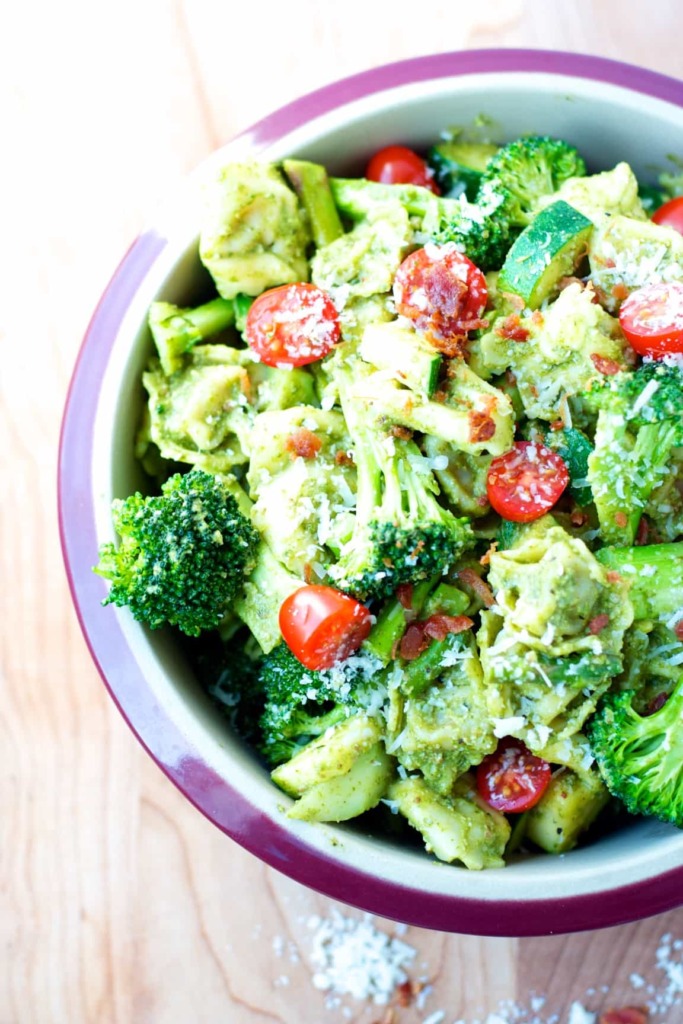 And, spring!  So I wanted lots and lots of green stuff.  Is it just me?  Or does everyone do this in the spring?  Suddenly realize that you're not getting enough veggies and crave them all?
At any rate, we've had lots of green pasta the last couple of weeks.  So you can trust me when I say that this pesto tortellini is amazing and you should definitely try it.  Especially if you're like me and want all the green things now that spring is here.  Plus, it takes less than 30 minutes to make, and that includes all the washing and chopping of vegetables!
And if it does snow again this weekend (it's supposed to, I'm really hoping it doesn't!), then I'm going to have more pesto tortellini and just pretend it's sunny outside to match.  Anyone with me?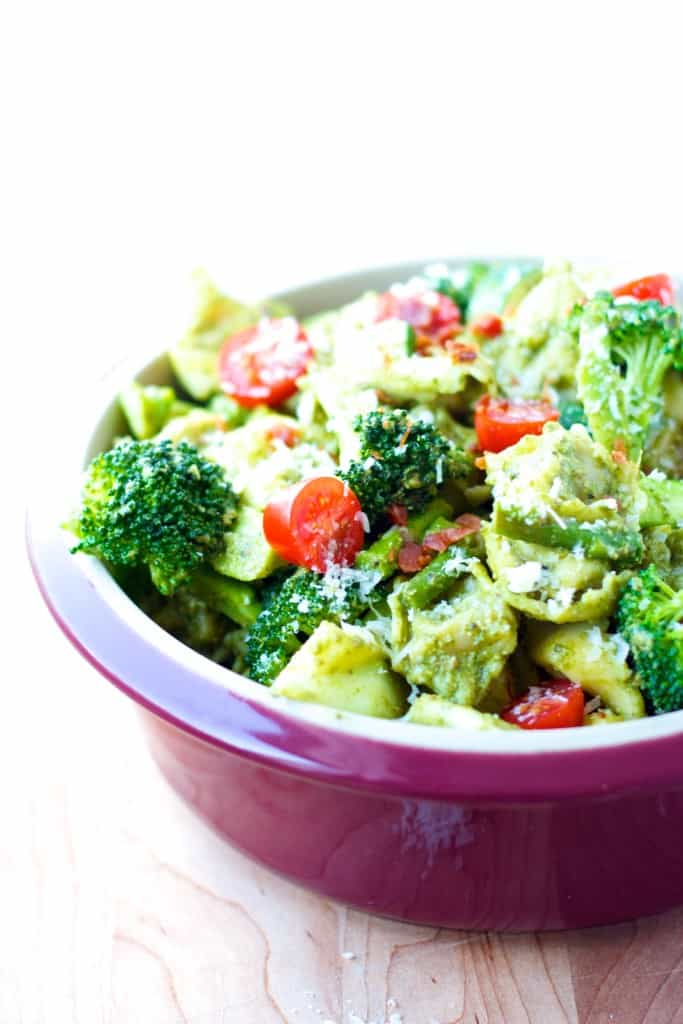 Pesto Tortellini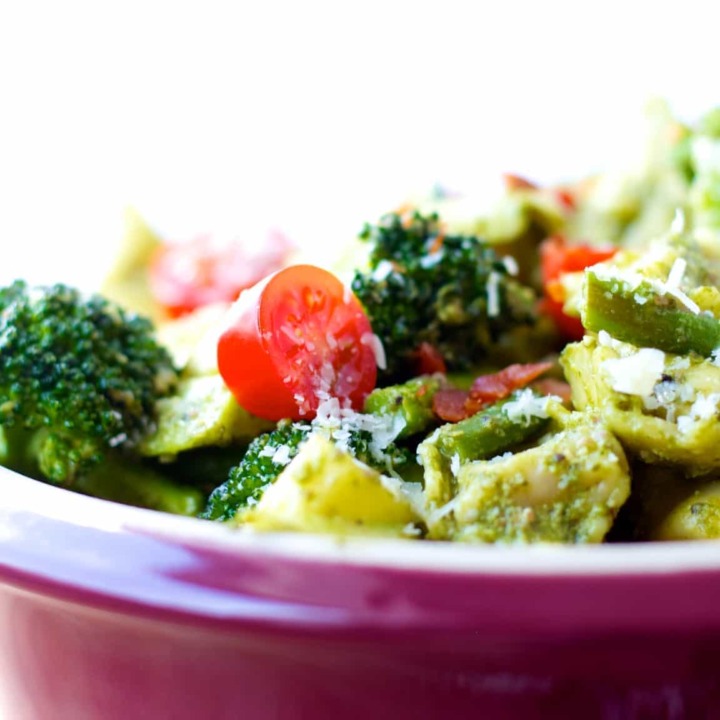 Ingredients
1 pound (450 g) tortellini (I used chicken and bacon tortellini, but any kind is fine)
1 1/2 cups pesto (homemade or store-bought)
2 cups asparagus, cut into one inch pieces (20-25 thin spears)
1 small zucchini, quartered and sliced (about 1 1/2 cups)
1 large stalk broccoli, cut into small pieces, florets and stalk (about 2 1/2 cups)
1 pint (275g) grape tomatoes, halved
1/2 cup water
parmesan cheese, for serving
crumbled bacon bits, for serving
Instructions
In a large pot of boiling water, boil the tortellini according to the package directions, until tender. Drain, return to pot, and toss with the pesto sauce.
In a large non-stick skillet, over medium heat, stir fry the asparagus, zucchini and broccoli until crisp tender, about 4-5 minutes. Add the tortellini with pesto sauce, and the water and stir to combine everything. Allow to heat through, then stir in the grape tomatoes and serve.
Sprinkle with parmesan cheese and bacon and serve hot. Enjoy!
Notes
Source: Bake.Eat.Repeat. original.