These pesto chicken pizza rolls are so easy to make and taste fantastic. Perfect for dinner, or to have in the freezer for easy lunch options!
We love pizza rolls at my house. Maybe even more than pizza. And my family definitely loves pizza, so that's saying something.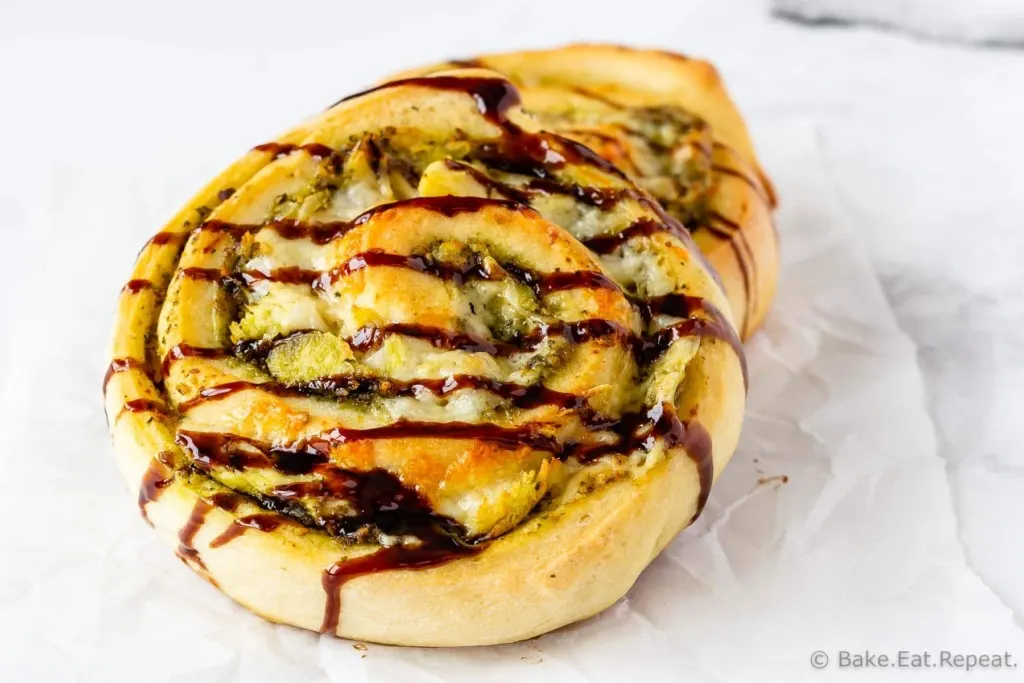 The thing I like about pizza rolls is you can make them so easily.
In about an hour and a half you can have hot, fresh pizza rolls coming out of the oven. And most of that time is not spent actively doing anything at all.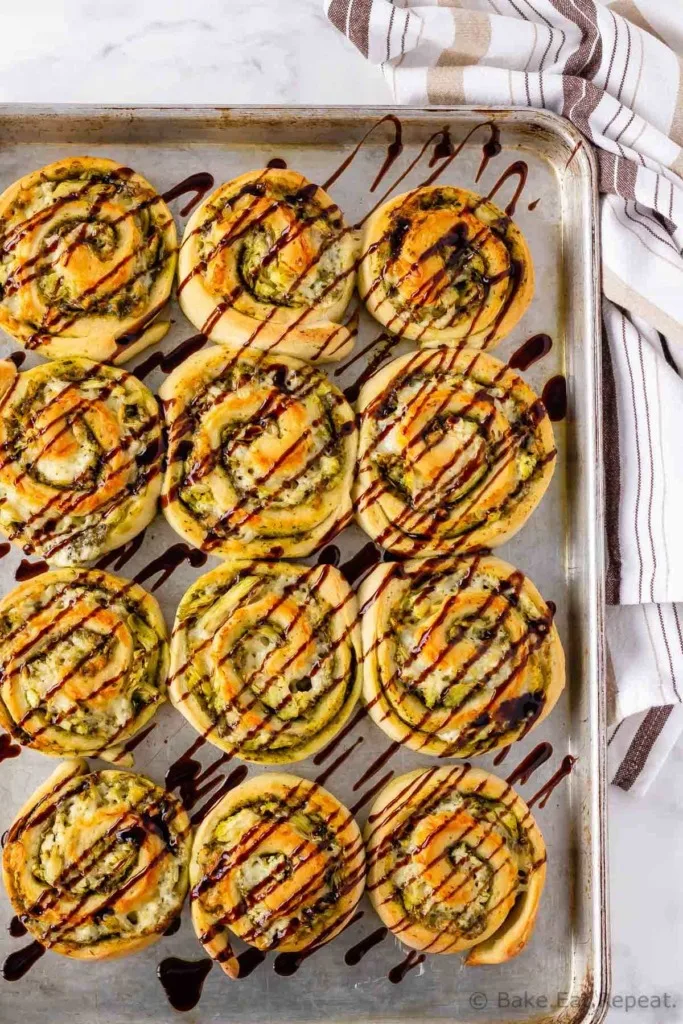 There's also just so many options for pizza rolls, that you can't really get sick of them.
Plus they freeze so well that even if you don't need a whole batch of pizza rolls for your family's dinner, it's not a big deal. Let them cool and freeze them in an airtight container and you have easy lunches ready to go in the freezer.
Definitely one of our favourite meals, and these pesto chicken pizza rolls might just be the best yet. They are so tasty, I know that we will be making them again very soon!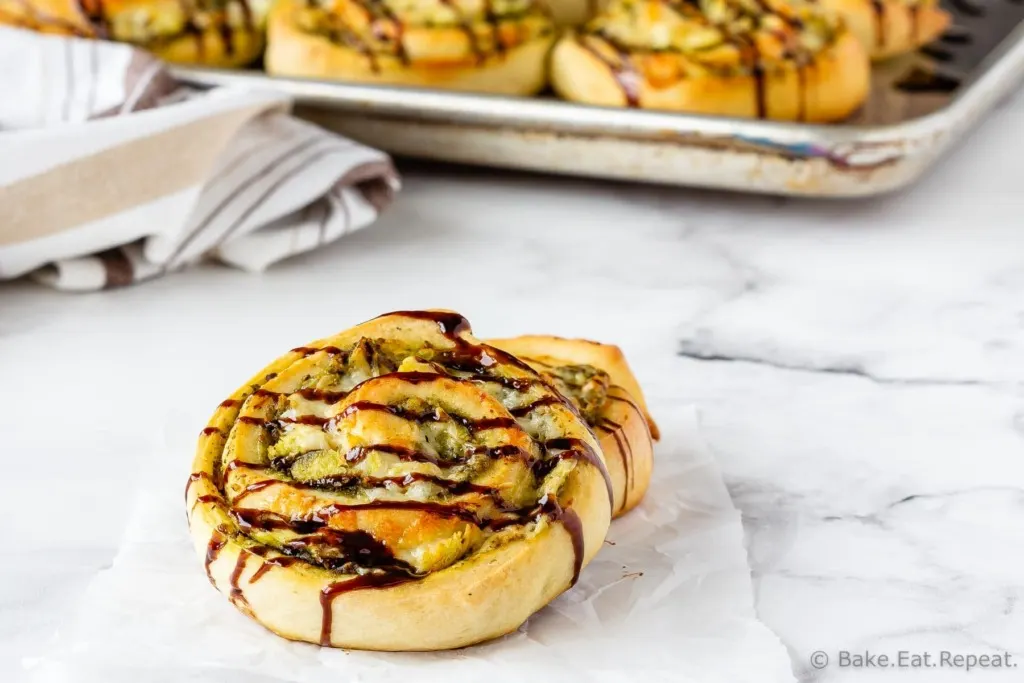 Here are some of our favourite pizza rolls if you're looking for some pizza roll inspiration:

How do you make homemade pizza rolls?
Homemade pizza rolls are so easy to make.
Basically you roll out some pizza dough into a large rectangle. Add some pizza sauce, toppings, and cheese and then roll the whole thing up.
Slice the large roll into 12 pieces, and bake.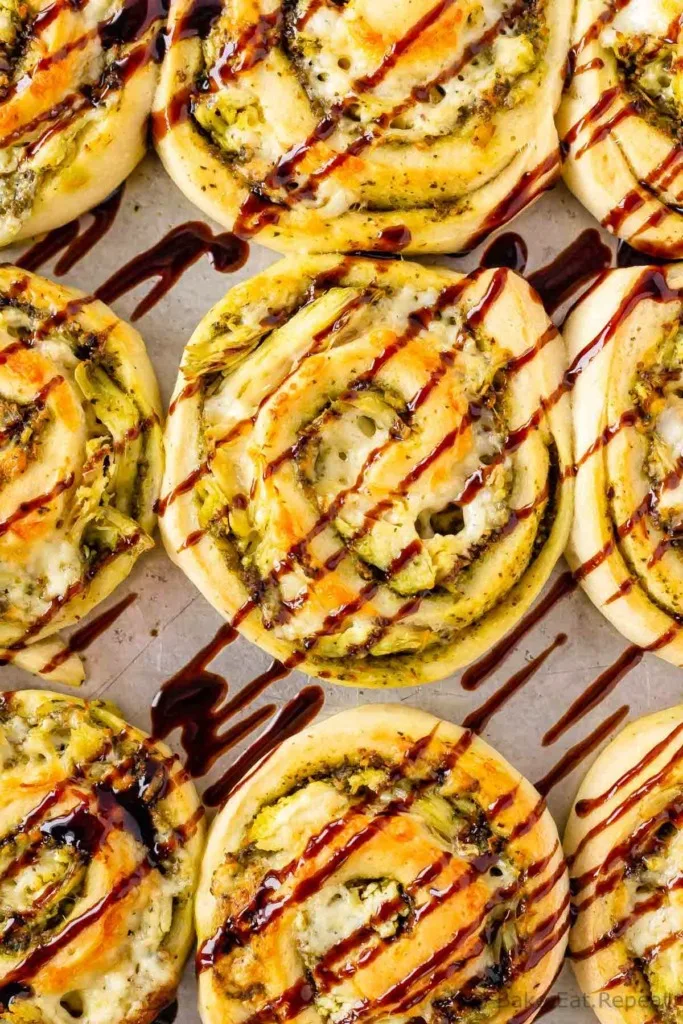 So easy, so tasty, and there are so many different versions you can make.
They even freeze well if you want to make a big batch and have ready made lunches in the freezer!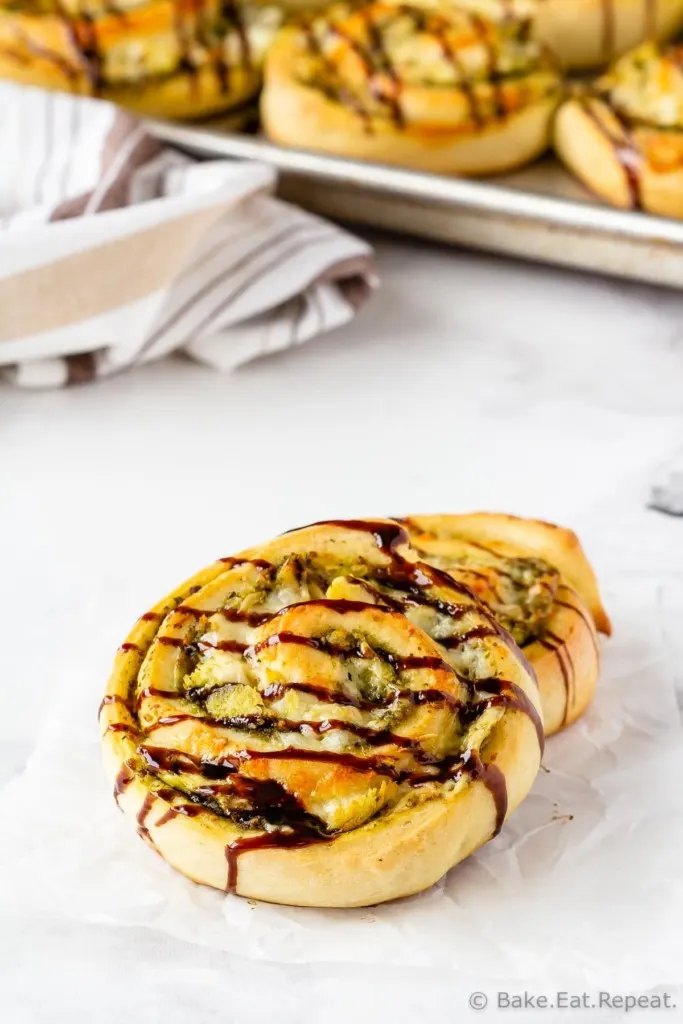 How do you make pizza roll dough?
Pizza roll dough is so easy to make. I like to use my no rise pizza dough recipe because it mixes up quickly and you can use it almost immediately. Just a short resting period so it's a bit easier to roll out.
No waiting for an hour for it to rise before shaping your pizza rolls.
If you don't feel like making your dough, any store-bought pizza dough should work well here too.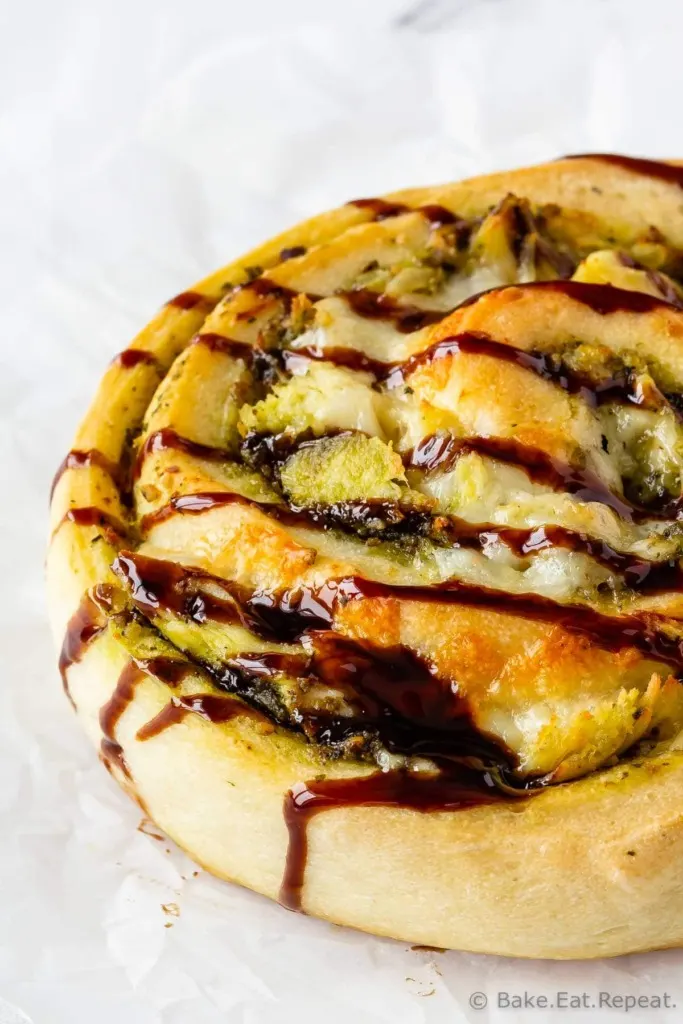 How to make Pesto Chicken Pizza Rolls:
This pizza dough doesn't have to rise before shaping your rolls, but make sure to let it rest for 5-10 minutes. This just allows the gluten to relax so that you won't have the dough springing back as you are trying to roll it out.
I use my homemade spinach pesto in this recipe, but any store bought pesto will work well too.
I have a recipe for homemade balsamic glaze here that you can use with these pizza rolls, but any store bought kind will be great too. Or just leave it off if you're not a fan.
Spray the counter with non-stick cooking spray before rolling out your dough so it doesn't stick everywhere.
This recipe calls for cooked shredded chicken. I have recipes for Instant Pot Shredded Chicken and Slow Cooker Shredded Chicken if you need to cook some.
These pesto chicken pizza rolls freeze very well. Just let them cool completely before storing them in a large ziplock bag or airtight container and then freeze for up to 3 months.
Here are so more fantastic pizza recipes for you:
I've also shared this Pesto Chicken Pizza Rolls recipe over on Food Fanatic.