The best thin crust pizza dough. Cold rise, thin crust, crispy, perfect pizza. You will never need another pizza dough recipe.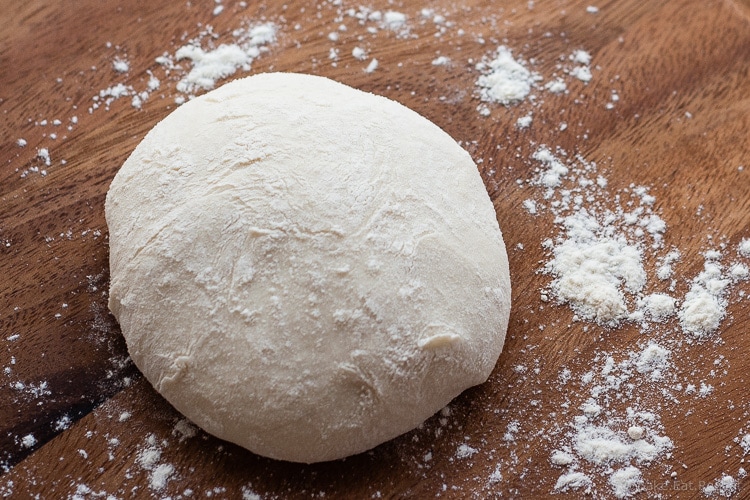 Ah, pizza.  One of the best foods ever invented.  Am I right?  Of course I am.  Everyone loves pizza.
Because it's amazing.
I have been on the hunt for the perfect pizza dough recipe for years.  YEARS.  I have tried so many recipes, and none of them have quite measured up.
Many years ago (I feel really old when I count how many so I'm not even going to bother) I spent about 6 months living in Germany and attending a Bible college there.   There were a few things that I remember eating there for the first time and loving – donairs, apple pastries and chocolate croissants among them.  But the other thing that was just fantastic was the pizza.  It was in the south of Germany so close enough to Italy to get the real thing maybe?  I don't know.  What I do know is that there was a little pizza place a couple blocks from the school where I had thin crust pizza for the first time.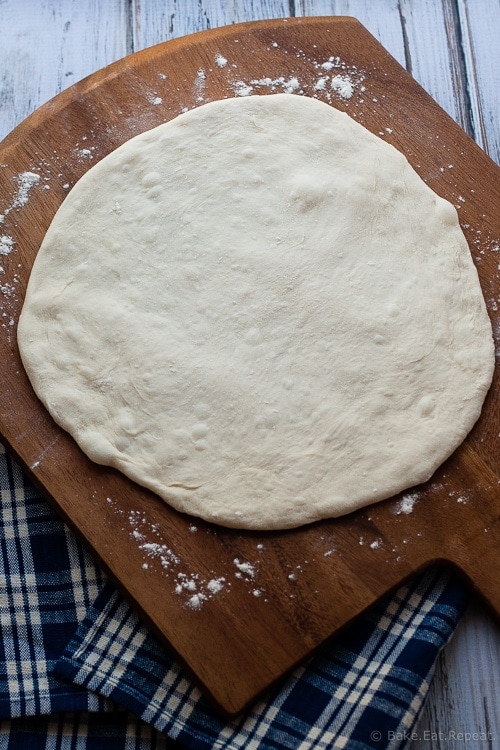 Before that, I'd only ever had the usual takeout pizza, and thin crust wasn't really a thing at the time at home (I told you it was a long time ago).  The pizza in that little restaurant was the best pizza I had ever eaten.  So of course I've been trying to recreate it (and/or find it somewhere) ever since.
This is it.  Perfect thin crust pizza dough.
So good that I'm not even trying to adapt it in any way, shape or form.  I found this recipe in one of my favourite cookbooks, The Bread Baker's Apprentice by Peter Reinhardt.  And loved it.  So I decided that there is no reason to make another version of it as this one is perfect.  So it's lucky for me (and you!) that he is allowing me to share his recipe here, because otherwise you'd all be missing out.  And we can't have that.
If you've been searching for the perfect thin crust pizza dough recipe too, look no further.  This is it.  It does take some planning ahead, as it needs to rise overnight in the fridge, but trust me, it's worth the time.
I also just found out that Peter Reinhardt has another cookbook all about pizza.  Fairly certain I need that in my life soon!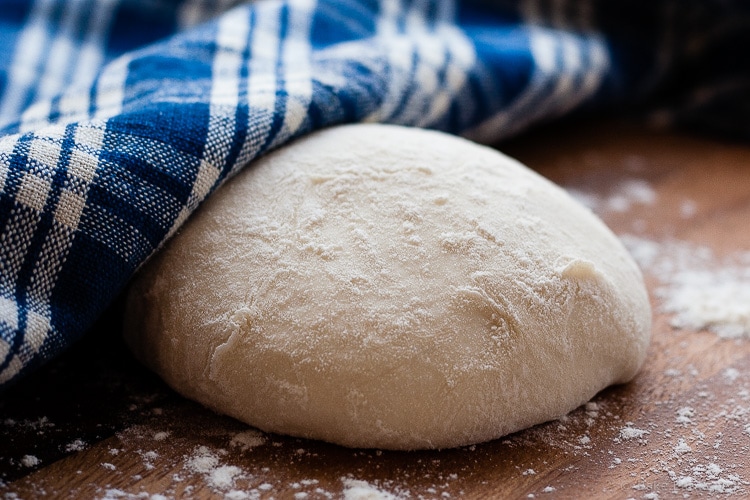 Tips for make perfect thin crust pizza dough:
Yield: four 12" pizzas
Perfect Thin Crust Pizza Dough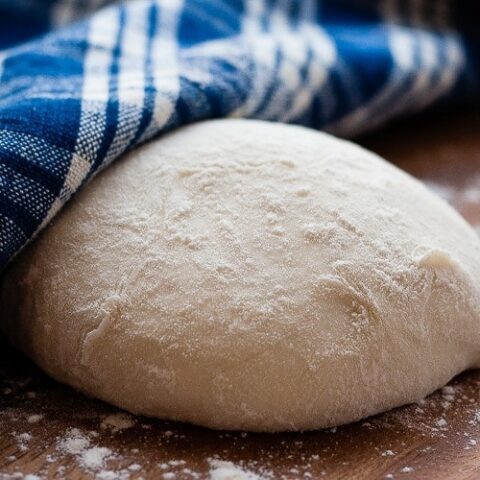 The best thin crust pizza dough. Cold rise, thin crust, crispy, perfect pizza. You will never need another pizza dough recipe.
Total Time
1 days
38 minutes
Ingredients
4 1/2 cups (20.25oz, 574g) all purpose flour
1 3/4 teaspoons (0.44oz, 12.5g) salt
1 teaspoon (0.11oz,3.1g) instant yeast
1/4 cup (2oz, 59mL) olive oil
1 3/4 cups (14oz, 414mL) water (ice cold)
Instructions
In the bowl of a stand mixer, or in a large bowl, stir together the flour, salt and yeast. Add the olive oil and cold water and knead with the dough hook for 5-7 minutes, or 8-10 if kneading by hand.
The dough should be smooth and elastic, and clear the sides of the bowl (it will be fairly sticky, but as long as it clears the sides of the bowl that's okay - if if doesn't clear the sides, sprinkle in a little more flour).
Line a baking sheet with parchment paper and lightly spray it with cooking spray. Transfer the dough to a lightly floured countertop and cut it into 4 equal pieces (or 6 if you want smaller pizzas).
Gently shape each piece into a ball with floured hands and place it on the prepared cookie sheet. Mist the dough balls with spray oil and lightly cover them with plastic wrap.
Place the pan into the refrigerator overnight, or for up to 3 days.
You can also freeze the dough balls at this point, by placing the oiled dough balls into individual freezer bags for up to 3 months, removing them to the fridge the day before using them.
The day you want to make pizza, remove the dough to room temperature 2 hours before making pizza.
On a floured counter, flatten the cold dough into 1/2 inch thick disks, spray lightly with oil and then cover them to rest for two hours.
Preheat the oven 45 minutes before baking the pizza to 500 degrees F.
With floured hands, stretch the dough out to 12 inch rounds, using the backs of your hands and your knuckles to do so. It will get quite thin without breaking. When it is stretched as large as you like, add the toppings you like (remembering it's a thin crust so it's best with fewer toppings!) and bake for 7-9 minutes or until lightly browned.
I like to prepare my pizza on a sheet of parchment paper and then slide the paper with the pizza directly onto a hot pizza stone in the oven. If you don't have a pizza stone, a cookie sheet turned upside down and heated in the oven works well too. Just place your stone or cookie sheet into the oven to heat when you turn on the oven.
Once cooked, slide the parchment with the pizza back out of the oven onto a cutting board.
Wait 5 minutes before slicing for the cheese to set.
Notes
The actual hands on time with this dough is maybe 30 minutes, probably less, but you do need to plan ahead. It needs to be made at least a day ahead and up to 3 days ahead of time and it rises in the refrigerator. It can be used the day it's made but it isn't as amazing as it is when it has the cold rise time. You also need to let the dough warm up to room temperature for about 2 hours before using it. Also, if you have a kitchen scale, use it for measuring the flour. I always get much better results with yeast doughs when I weigh the flour rather than measuring by the cup. If you're not weighing, use the scoop and sweep method for the flour to get the most accurate measurement you can.
Source: Printed with permission from The Bread Baker's Apprentice.
Recommended Products
This post contains affiliate links. As an Amazon Associate, I may receive a small commission from qualifying purchases.
Nutrition Information:
Yield:
8 servings
Serving Size:
1/2 pizza
Amount Per Serving:
Calories:

317
Total Fat:

7g
Saturated Fat:

1g
Trans Fat:

0g
Unsaturated Fat:

6g
Cholesterol:

0mg
Sodium:

467mg
Carbohydrates:

54g
Fiber:

2g
Sugar:

0g
Protein:

7g
Nutrition Information is estimated based on ingredients used and may not be exact.
This post contains affiliate links, meaning that if you make a purchase through these links, I receive a small commission.