This buffalo chicken pizza rolls recipe is so easy to make. It's the perfect easy dinner, game day snack, or make ahead lunch!
Who else loves pizza rolls? That's right. Everybody. Or at least I have to assume that's true, because I've never met anyone that doesn't like them.
We've made so many versions of this pizza rolls recipe, and all of them have been delicious. I loved this taco pizza rolls recipe so much. But my current favourite is this buffalo chicken pizza rolls recipe.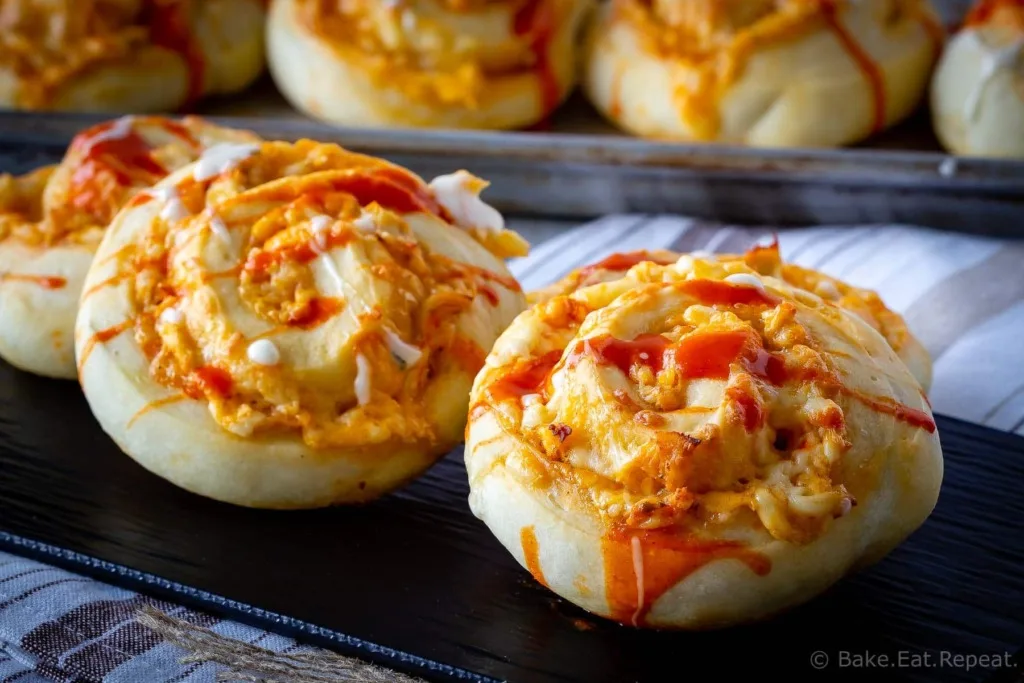 Of course, the kids think buffalo chicken is too spicy because they're crazy, so I needed to make my pepperoni pizza rolls recipe for them.
That's okay though, because making two batches the same day meant lots of homemade rolls for the freezer.
Make ahead lunches for the win. These buffalo chicken pizza rolls freeze very well so it's great when there are leftovers. They're so easy to pull out for quick and easy lunches.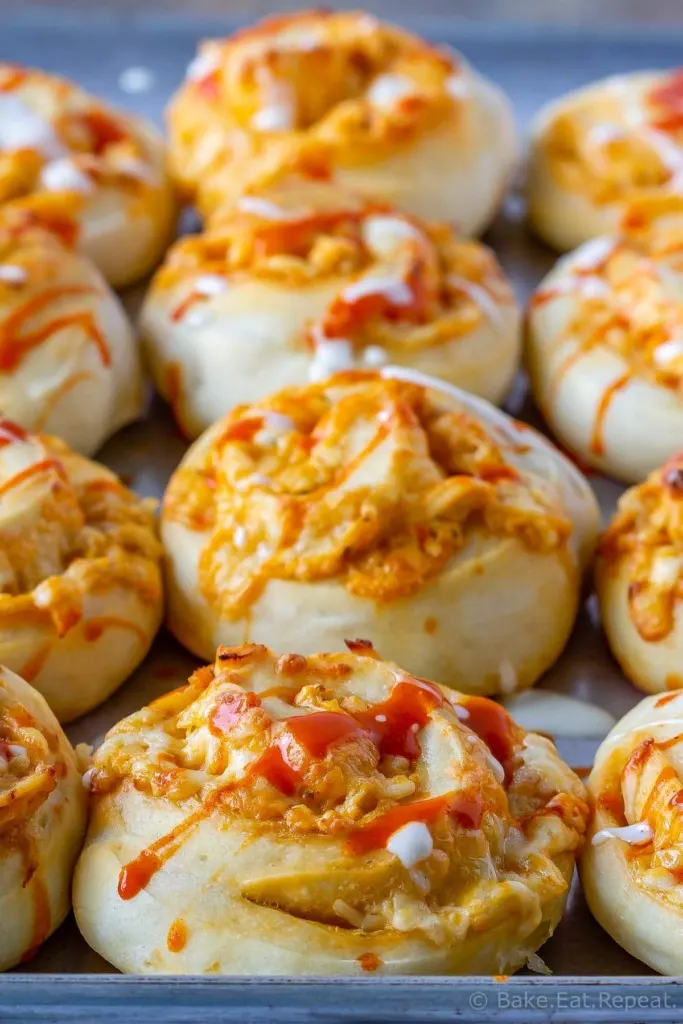 So if you're looking for an easy, tasty meal for dinner tonight, try this buffalo chicken pizza rolls recipe. So easy, so tasty, and everyone will love them.
You know, as long as your family likes buffalo chicken!
If not, just be like me and make some pepperoni ones too!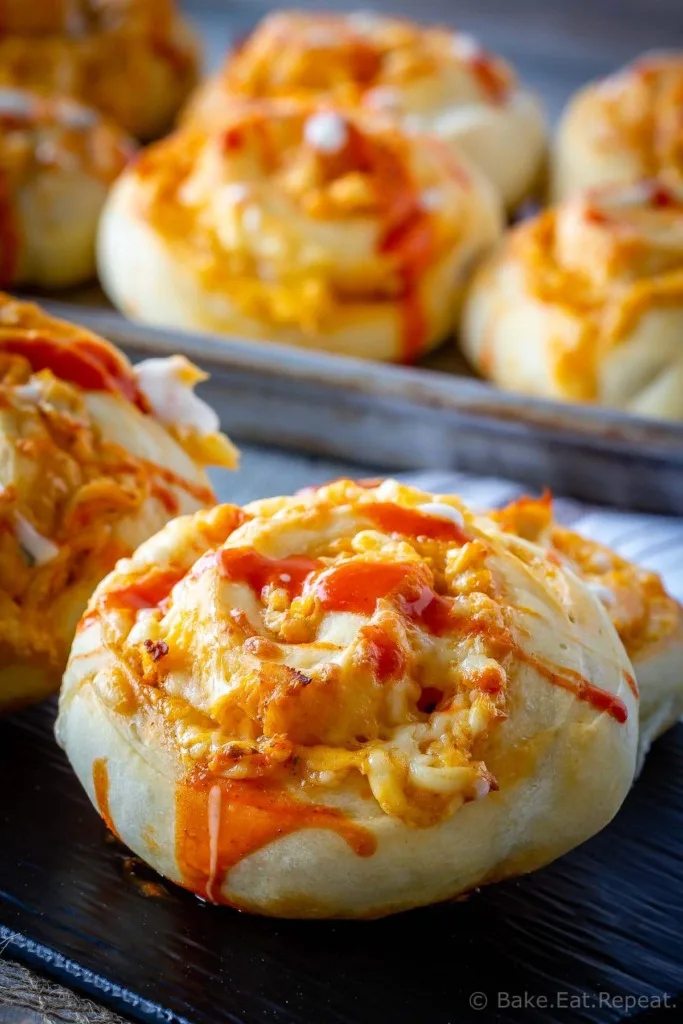 How do you make homemade pizza rolls?
Homemade pizza rolls are so easy to make. Basically you roll out pizza dough into a large rectangle. Add some pizza sauce, toppings, and cheese and then roll the whole thing up.
Slice the large roll into 12 pieces, and bake. So easy, so tasty, and so many different versions you can make.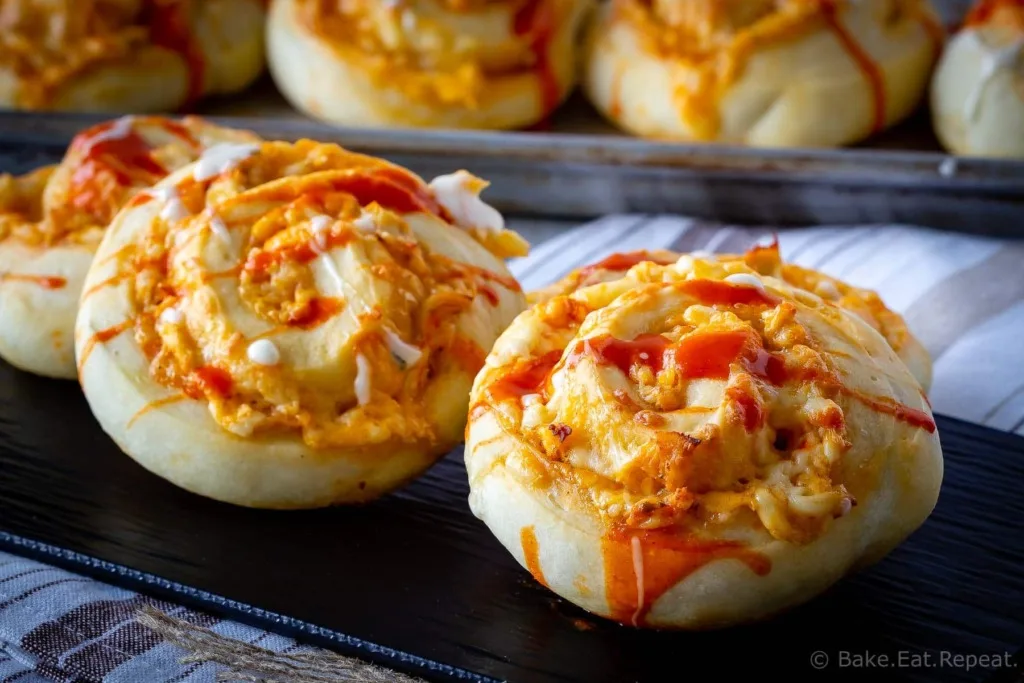 How do you make pizza roll dough?
Pizza roll dough is so easy to make. I like to use my no rise pizza dough recipe because it mixes up quickly and you can use it immediately. No waiting for an hour for it to rise before shaping your pizza rolls.
If you don't feel like making your dough, any store-bought pizza dough should work well here too.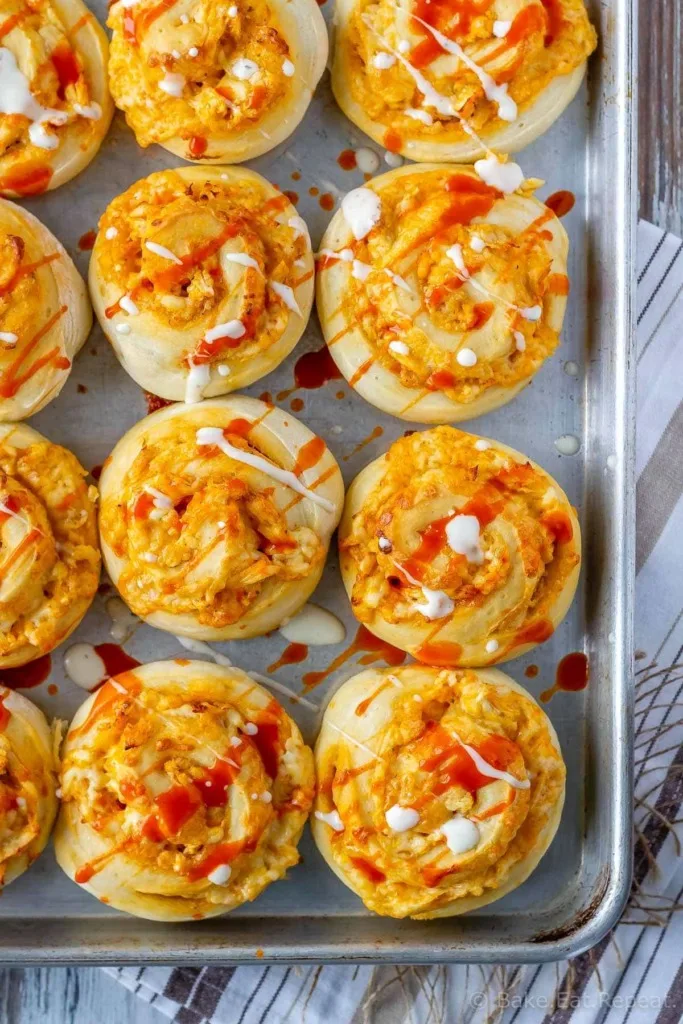 How to make buffalo chicken pizza rolls:
This pizza dough doesn't have to rise before shaping your rolls, but make sure to let it rest for 5-10 minutes. This just allows the gluten to relax so that you won't have the dough springing back as you are trying to roll it out.
I use Frank's buffalo sauce in this recipe. If I have some of this buttermilk ranch mix on hand I'll use that for the sauce. If not, I like this ranch dressing (although any kind will be fine).
Spray the counter with non-stick cooking spray before rolling out your dough so it doesn't stick everywhere.
This recipe calls for cooked shredded chicken. I have recipes for Instant Pot Shredded Chicken and Slow Cooker Shredded Chicken if you need to cook some.
These buffalo chicken pizza rolls freeze very well. Just let them cool completely before storing them in a large ziplock bag or airtight container and then freeze for up to 3 months.
Here are some more great pizza recipes for you: