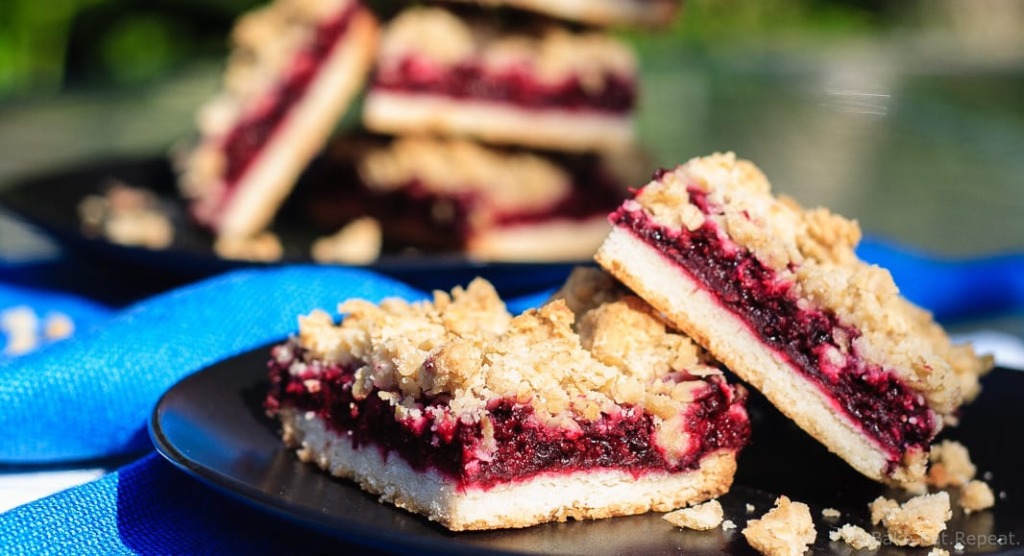 So…I have a rather summery treat for you today, even though we are definitely into the all things pumpkin and apple season. I'm sneaking one more taste of summer in as I look out my window at a grey sky and the leaves already starting to change. But don't worry, these bars would work just as well with frozen berries, so they're still a great treat even in the fall and winter months!
Have you every gone blackberry picking? I don't know how many places blackberries actually grow. I know they don't grow where I live in Alberta, but they do grow on Vancouver Island where my in-laws live. Since we are lucky enough to head out to the island every summer for our family vacation, I have been introduced to picking blackberries over the last few years.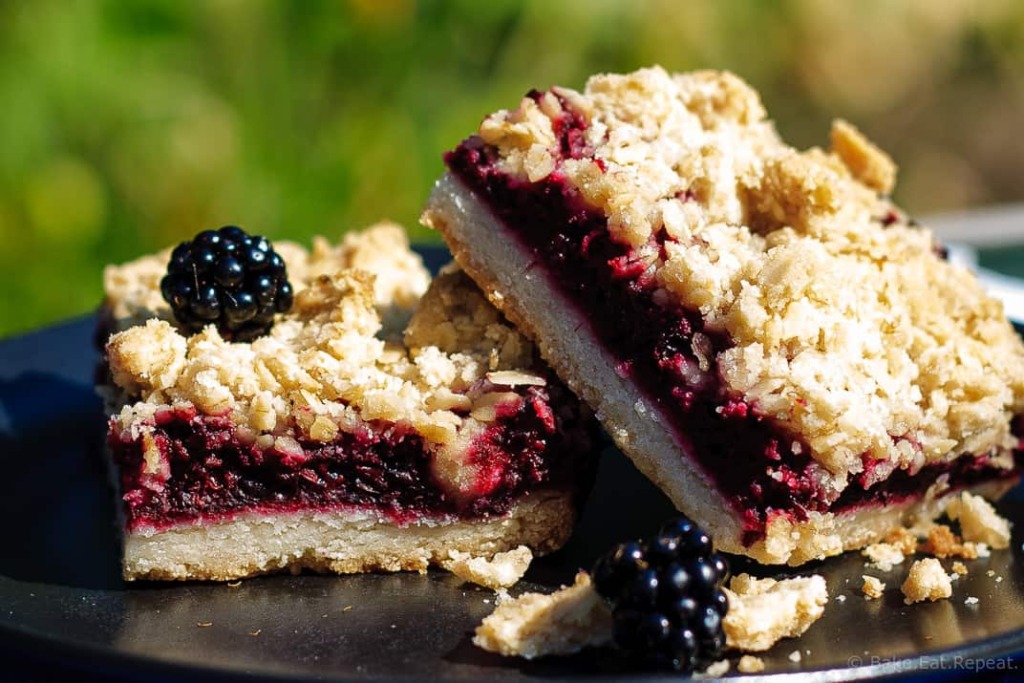 Now, I'll say first that I am no novice to berry picking. My grandparents had a huge garden with truckloads of raspberries, so growing up we went raspberry picking every year. I feel like I did a ton of raspberry picking (to which I'm sure my mother and aunts would all scoff and say that I actually did a ton of raspberry eating) but still – I've picked my fair share of berries.
But I have learned that blackberry picking is nothing like raspberry picking. They're both thorny plants, but my goodness, raspberry bushes aren't dangerous. You get poked a bit, but it's really not a big deal to force your way into the middle of the bush to get the good ones. Blackberry plants are out to get you. It's like taking your life in your hands trying to get that juicy, beautiful berry in the middle of the bush. Heck, past the first leaf. The leaves even have thorns! How crazy is that?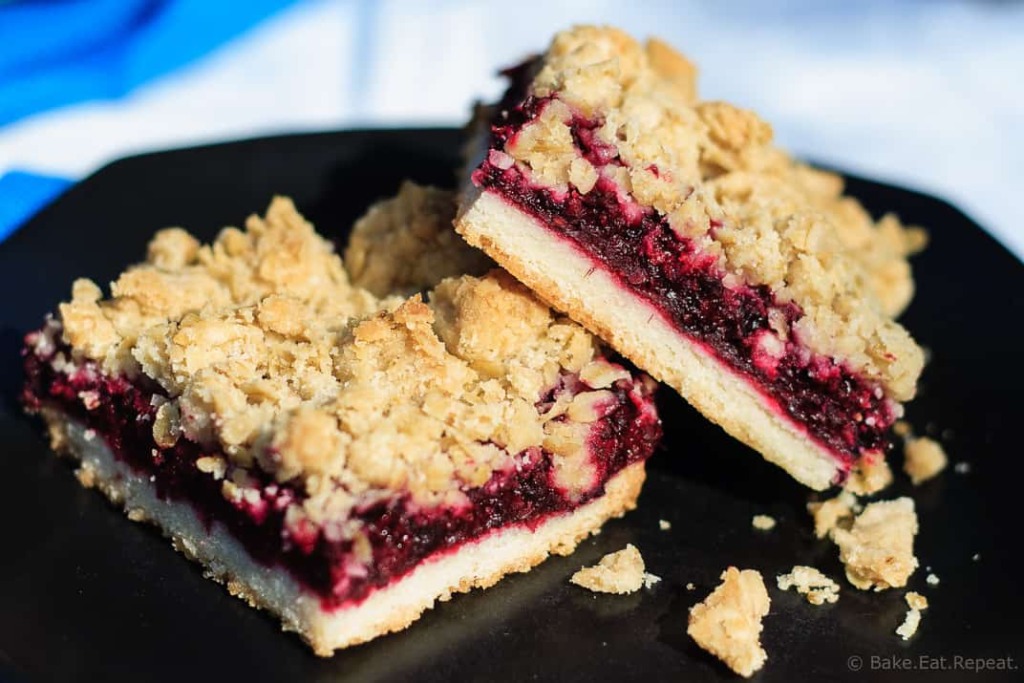 I swear I had thorns in every finger by the time I picked 2 1/2 cups of berries to make these bars. And I wasn't even eating them while picking! Clearly I've gotten older and have more self control now – or I just couldn't get to any more berries without losing a hand. We'll go with the first one.
At any rate, totally worth it, because blackberry crumble bars made with blackberries that have just been picked may just be the best treat around. These bars were absolutely amazing. A crisp shortbread crust, and jammy blackberry filling, and a brown sugar and oatmeal crumble topping. They were fantastic. Pretty sure I'll be taking my chances and picking more blackberries next summer, just so I can make these bars again.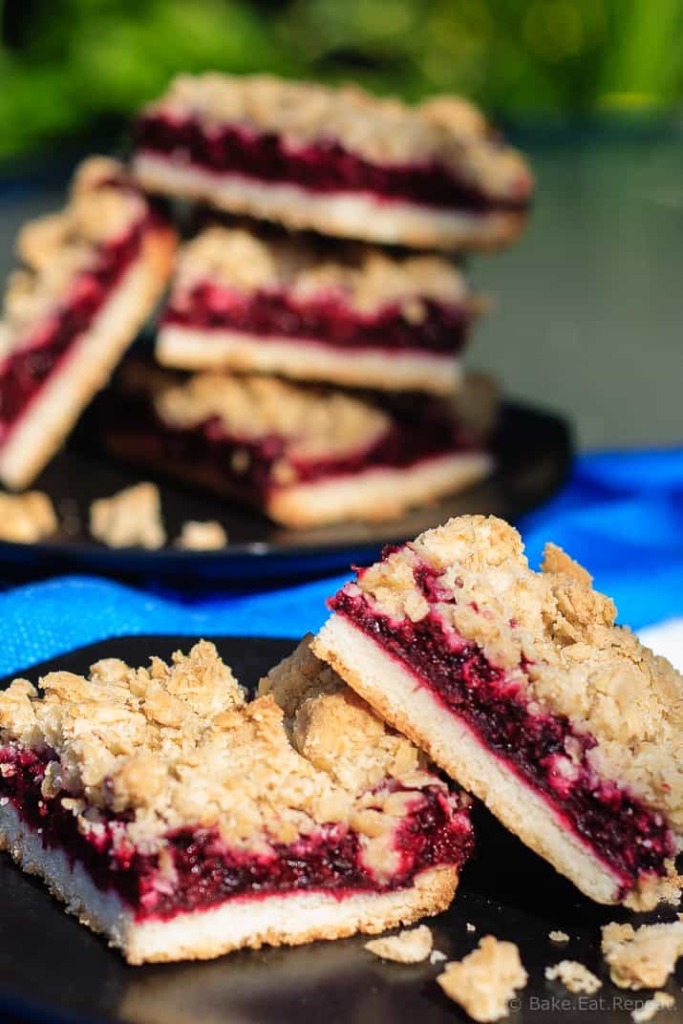 I've also shared this blackberry crumble bar recipe over on Food Fanatic so be sure to check it out over there!