This Asian chopped salad is the perfect dish to bring for a potluck! Or make it for a family meal side dish and have lunch leftovers for a few days!
This Asian chopped salad is one of my favourite salads ever. I love it.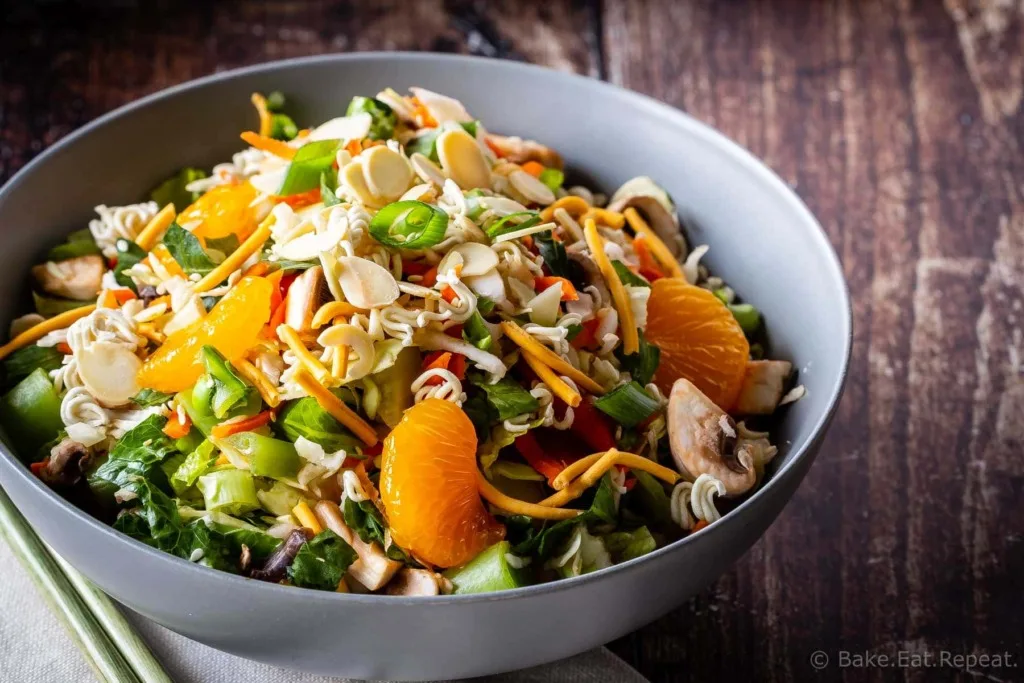 But I don't make it very often because the recipe makes a boatload of salad. And my kids don't really like it all that much.
They eat it. But they don't really enjoy it.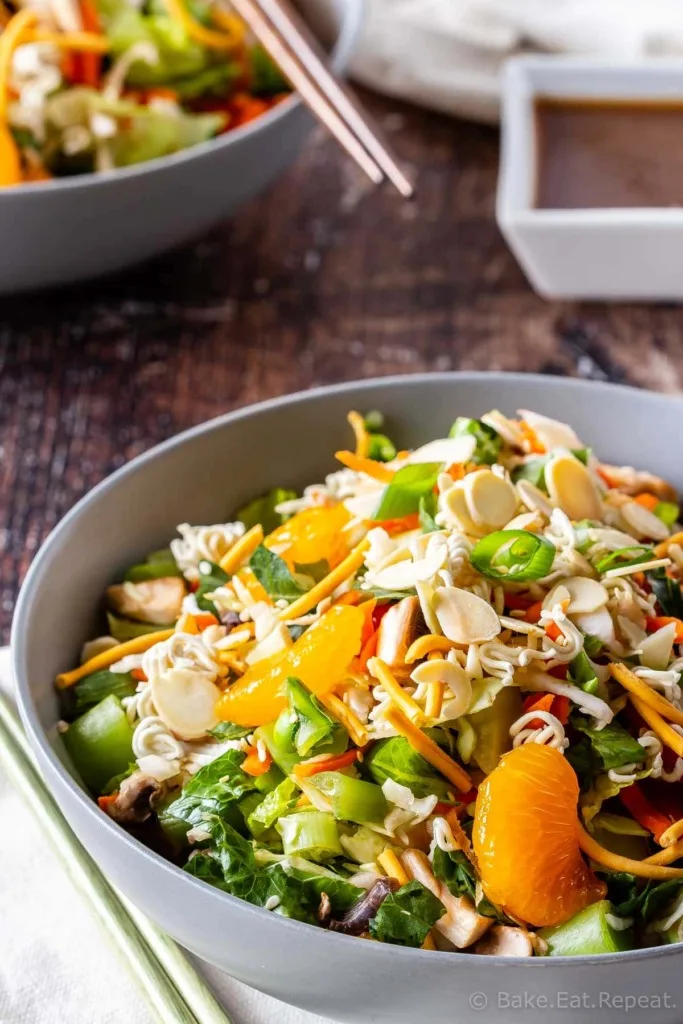 My husband and I love it though, and look at the kids like they're insane when they don't want enormous helpings with their dinner.
Mostly because they are rather insane to not love this salad.
It's so good.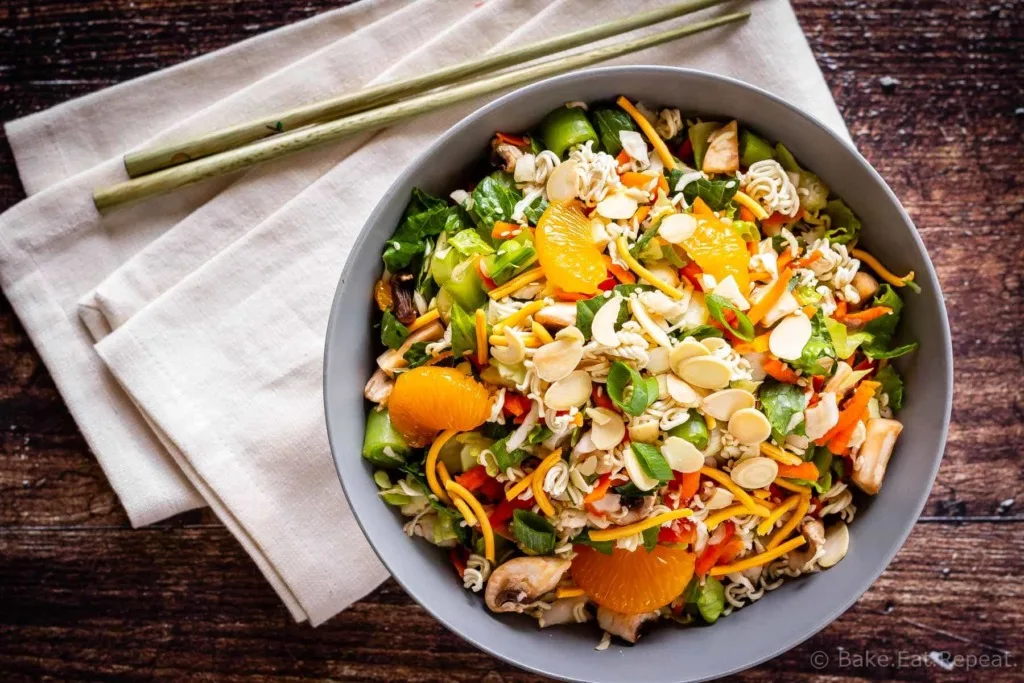 My mom used to make this salad all the time to bring to potlucks when I was a kid and I always loved it. Most people have probably had some version of it at a potluck at some point in their lives. There always seems to be one.
But this one is my favourite.
Perfect for potlucks. Perfect for dinner. Perfect for lunch for a week if your kids don't like it and you have lots of leftovers.
How do you keep chopped salad fresh in the fridge?
If you keep the dressing, and any crunchy components of the salad (in this case the sesame seeds, almonds, ramen noodles, and chow mein noodles) separate, chopped salad will keep well in the fridge for 3-5 days.
This chopped salad requires a fair bit of prep work with lots of vegetable chopping, so I usually make it ahead of time.
As long as the dressing and nuts/noodles are kept separate, it's fine to make it ahead. Just mix in the dressing and crunchy components right before serving.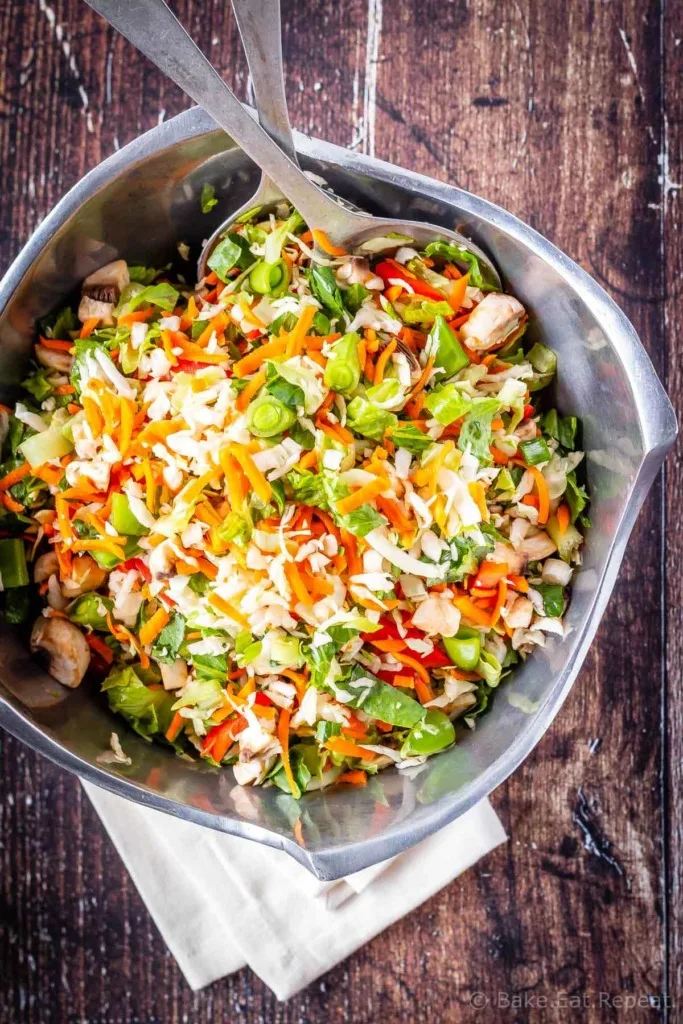 Do you peel ginger before grating?
You don't need to peel ginger before grating with a microplane grater, but I generally do.
The easiest way to peel ginger is to scrape the peel off with the edge of a spoon. It comes off very easily.
The best way to always have fresh ginger on hand is to cut the ginger root into 1 inch pieces, and then store all the pieces in the freezer.
You can grate or mince it straight out of the freezer for your recipe.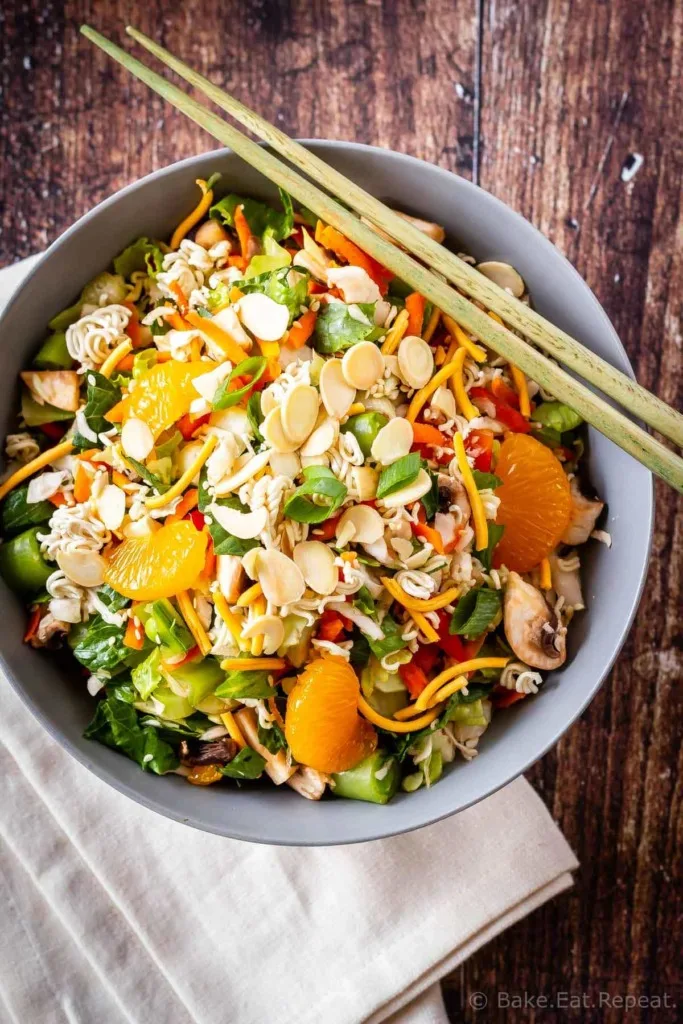 How do you mince fresh ginger?
Mincing fresh ginger is very easy. Slice the ginger root into thin pieces.
Then lay the pieces flat in a pile and slice them into thin matchsticks.
Turn the pile of matchsticks the other way and slice across them to mince it finely.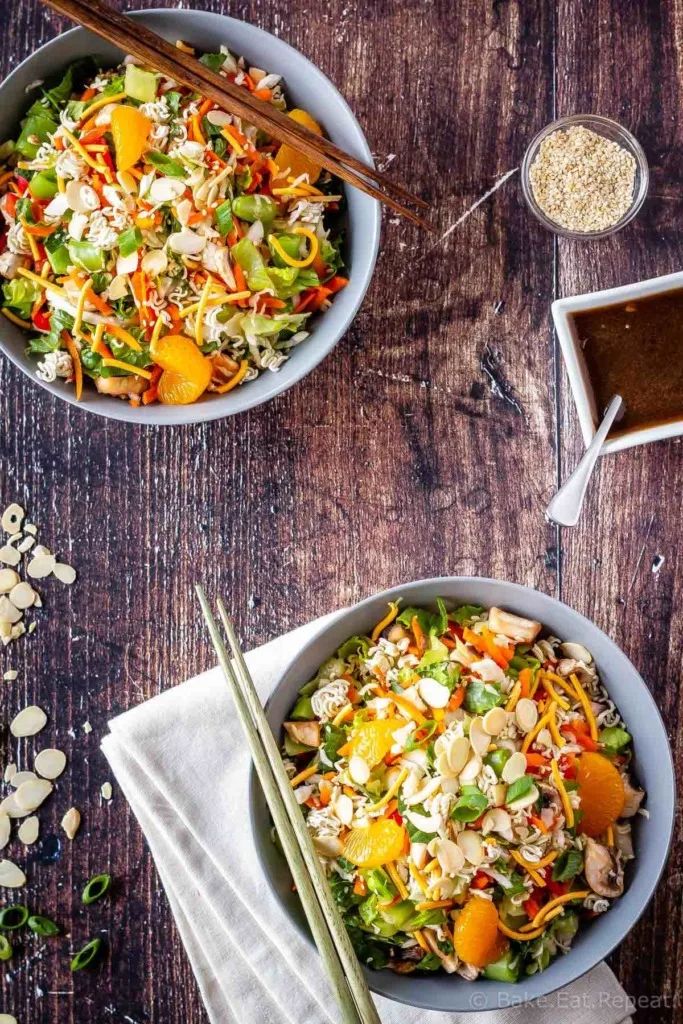 What should I serve with Asian chopped salad?
This salad is perfect for a potluck, as it makes an enormous bowl.
You can definitely make just half a recipe if you're serving it for your family though, or have lots of leftovers for lunches. If you know you'll have leftovers, don't mix everything together though as the noodles will get soggy when kept in the fridge.
Simple grilled chicken or pork chops go great with this salad. You can find 7 chicken marinades here or 9 pork chop marinades here which gives you lots of options.
The honey ginger pork chop marinade, soy pork chop marinade, or teriyaki chicken marinade would all go very well with this salad.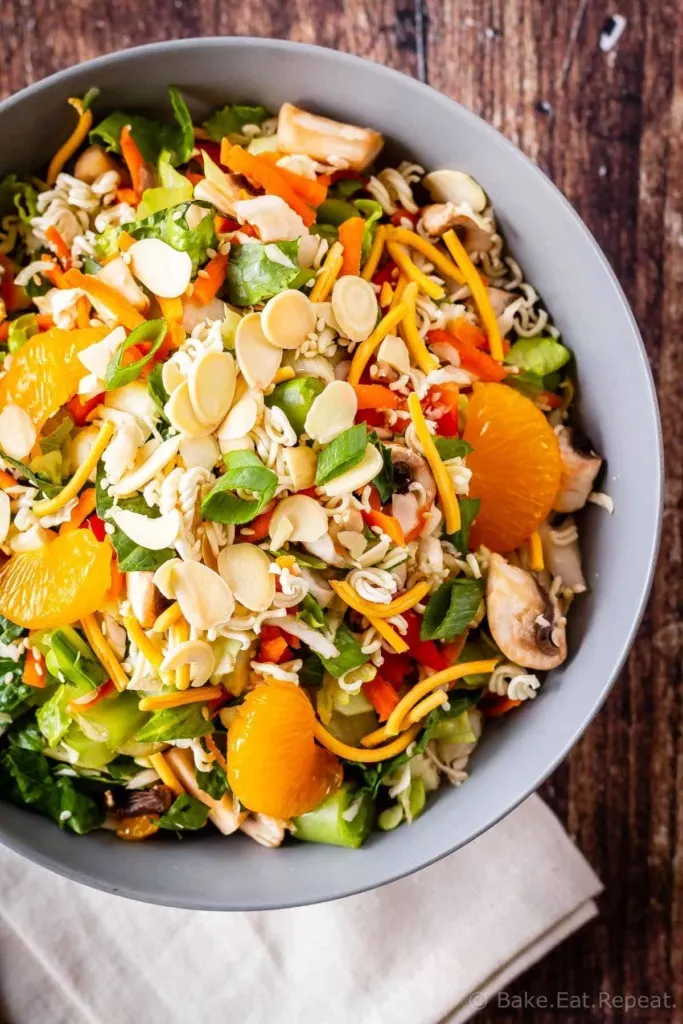 How to make Asian Chopped Salad:
This salad is very easy to make, but does take a fair amount of prep work. All easy, but there's a bit of chopping involved! Everything can be prepped ahead of time though, so that all you have to do during the crazy dinner hour is toss it all together.
This is a pretty adaptable salad, so if there's something you don't like, just leave it out, or replace it with another vegetable you do like!
The recipe as written makes an enormous salad, which is perfect for a potluck, but a little large for a family meal. Plan on leftovers for lunch, or make half a recipe if you don't want boatloads of salad.
I love this shaker from Tupperware for mixing up the salad dressing. Add everything, shake it up, and keep it in the fridge until you're ready to mix up the salad.
Here are some more great salad recipes for you: