These easy to make apple pie bars have a shortbread crust, a cinnamon crumb topping and an amazing apple pie filling – the perfect fall dessert!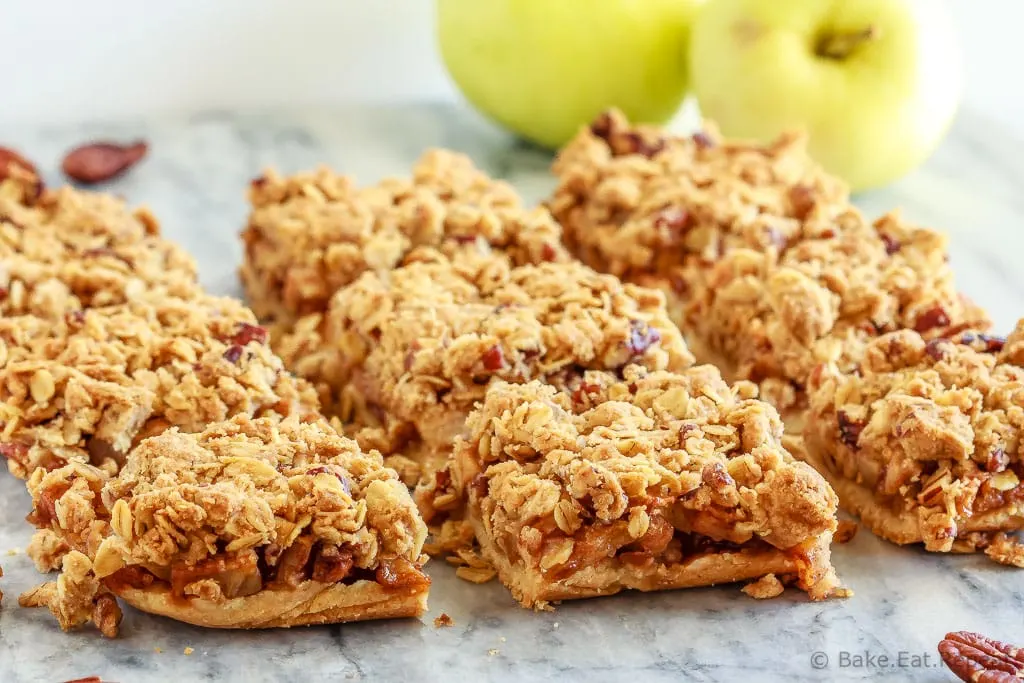 It's fall – the best time of the year for baking!
Ok, that's not really true. Mostly because I love to bake any time of the year. But also because Christmas is definitely the best time for baking.
I do really love baking all the apple and pumpkin things in the fall though. My family probably gets quite tired of all the apple and pumpkin they're forced to consume in the autumn months, but oh well, what can you do?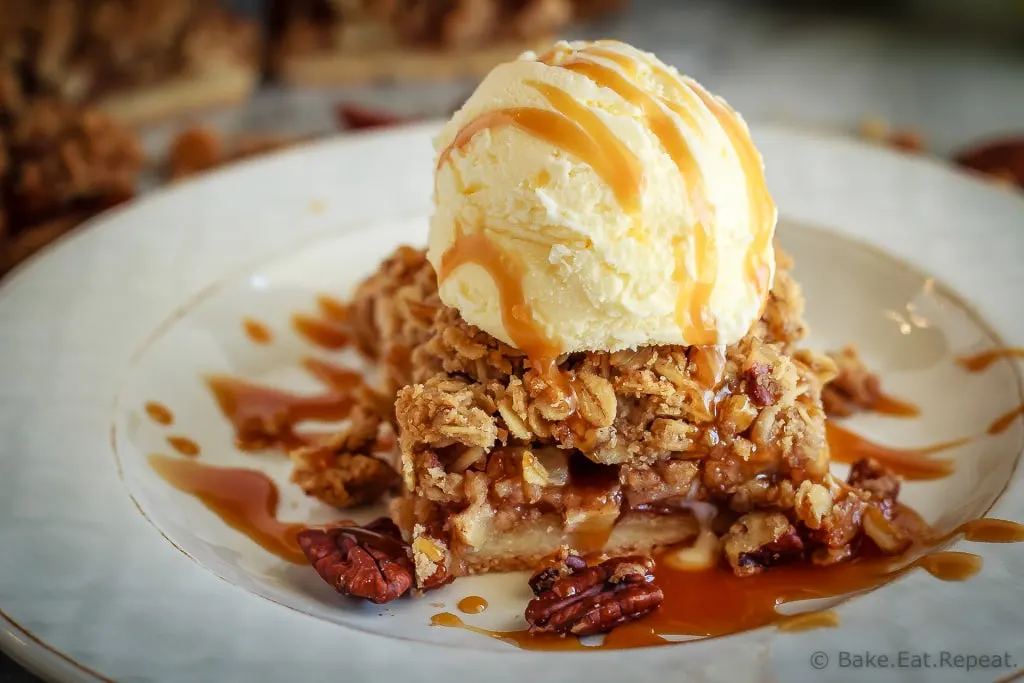 I certainly didn't get any complaints about this particular apple thing. These apple pie bars are exactly that. Apple pie in bar form. And they're amazing.
They're absolutely delicious with a shortbread base, a sweet, cinnamon filled apple pie filling and a buttery crumb topping (that is actually made from the base so it's super easy).
These apple pie bars are a terrific fall dessert – and would be perfect to bring to a party. Like a baby shower – which I'm celebrating with some friends here today!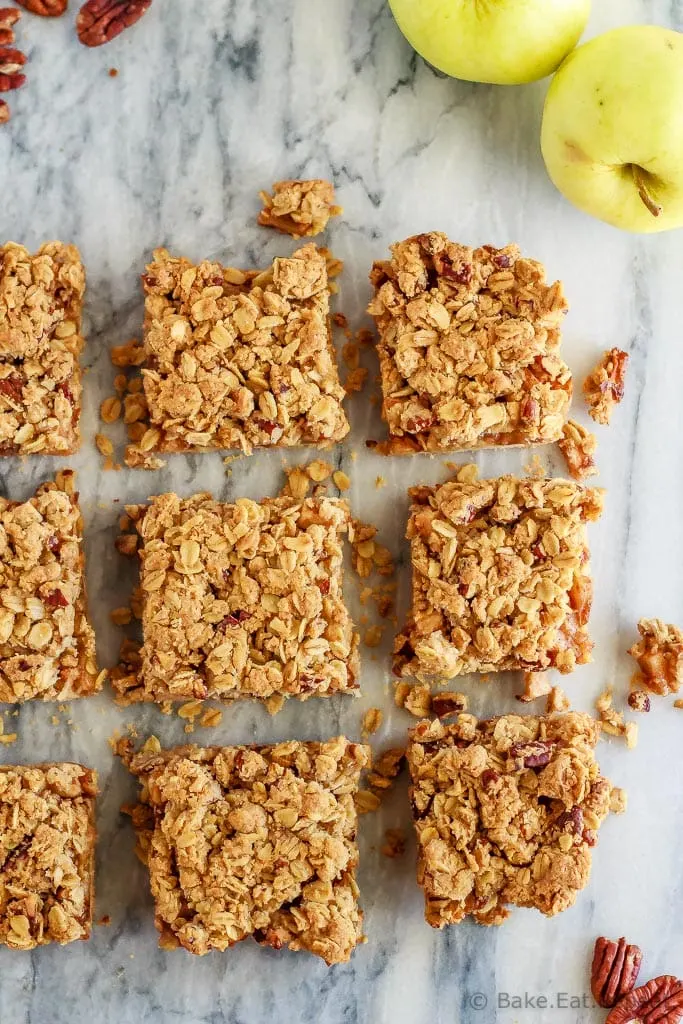 Three of my blogging buddies are having babies in the next few weeks, so a group of us decided to get together and celebrate their little pumpkins by having a virtual baby shower. It would be so much better if we could get together in person to celebrate, (for one thing, the food would be fantastic!), but unfortunately we all live way too far apart for that. So this is the next best thing!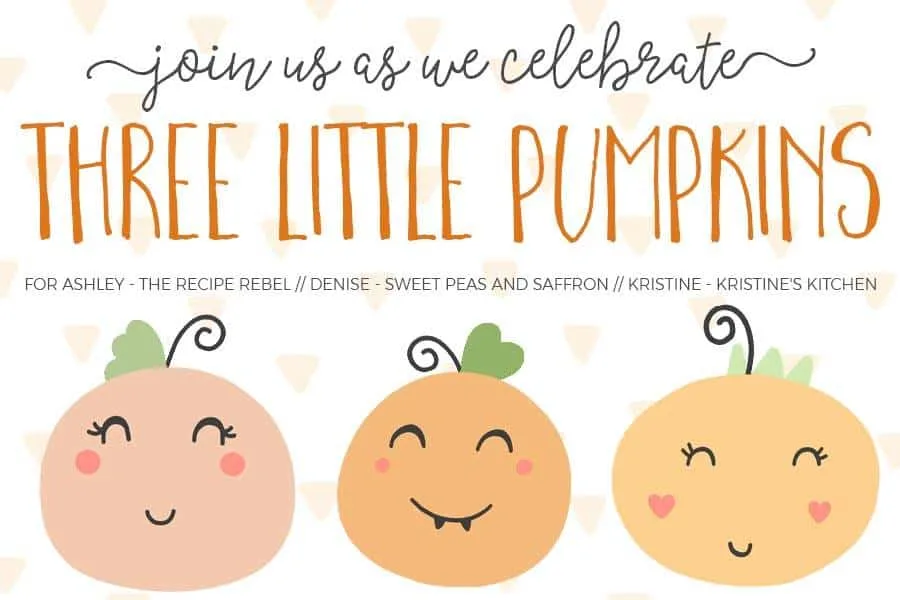 So if you're planning a shower or party of some sort this fall – your work is made easy for you today as there is a whole list of fall inspired recipes for you today from my foodie friends. Just scroll down to below the recipe to see what everyone is cooking up to celebrate Kristine (Kristine's Kitchen), Denise (Sweet Peas and Saffron) and Ashley (The Recipe Rebel) today!
Also – these apple pie bars are amazing just as a bar you can pick up and eat – but they may be even better warmed up with a scoop of vanilla ice cream and some salted caramel sauce for dessert. So don't wait for a party to make them!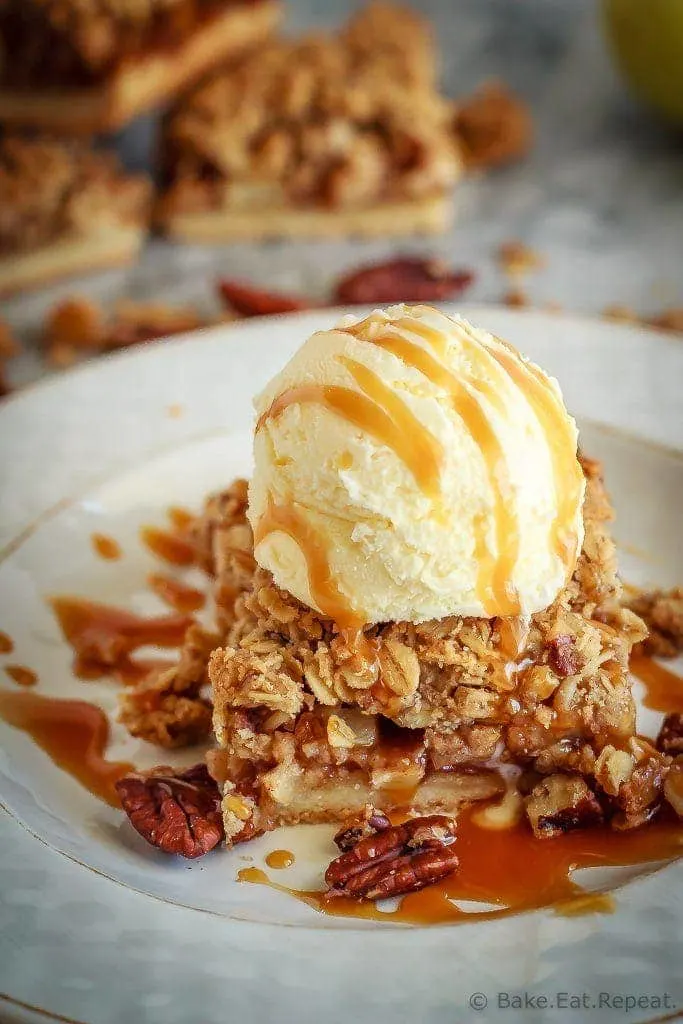 Tips for perfect Apple Pie Bars:
this bar recipe can be doubled and made in a 9×13 inch dish if you need a larger amount – in an 8×8 inch dish like I made you can get anywhere from 9-16 bars depending on how large you cut them. I may have cut them obnoxiously large to have with ice cream and caramel sauce for dessert. And I have no regrets.
use any kind of apples you like, but baking apples like Granny Smith would be best – I used apples from a neighbours tree so I can't tell you what kind they were…
these are best the day you bake them as the topping tends to get a bit soggy when you cover it – if you're not serving them the day you bake them, you may want to reheat them at 350F for 5-10 minutes to re-crisp the top
here are a few other delicious bar desserts: Blackberry Crumble Bars, Oatmeal Raisin Chocolate Chip Bars, and Lemon Lime Bars
Roasted Butternut Squash Falafel Bites by She Likes Food
Maple Walnut Twice Bake Sweet Potatoes by Savory Nothings
Buttermilk Pumpkin Donuts by A Latte Food
Easy Pumpkin Danish by Pumpkin N' Spice
Mini Pumpkin Cheesecakes by Live Well Bake Often
Pumpkin Pie Crumb Bars by Bakerita
Mini Apple Crisps by Life Made Sweeter
Spicy Apple-Tomato Salsa by Floating Kitchen
Pumpkin Spice Latte Bread Pudding by Whole and Heavenly Oven
Cinnamon Apple Brie Crostini by Flying on Jess Fuel
Honey Apple Butter Greek Yogurt Dip by My Sequined Life
Butternut Squash Hummus with Spiced Pepitas by Flavor the Moments
This post contains affiliate links, meaning that if you make a purchase through these links, I may receive a small commission.