These chocolate banana muffins are loaded with chocolate and banana flavour and filled with chocolate chips. They mix up quickly and make the perfect snack!
I have made these chocolate banana muffins several times in the last week and they disappeared so fast.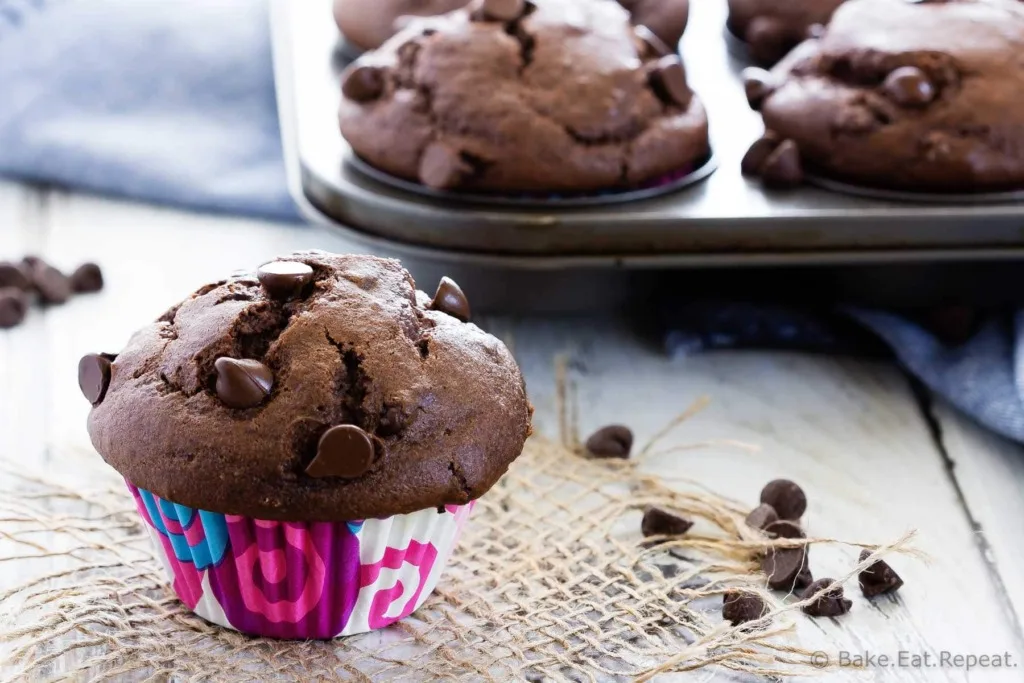 Of course, adding chocolate (and lots of it) to the batch of banana muffins tends to make that happen.
Kids like chocolate. And, well, so do I.
I will admit that these chocolate banana muffins are less healthy than the usual muffins coming out of my kitchen.
They are very similar to these chocolate zucchini muffins, and both of them are very chocolatey.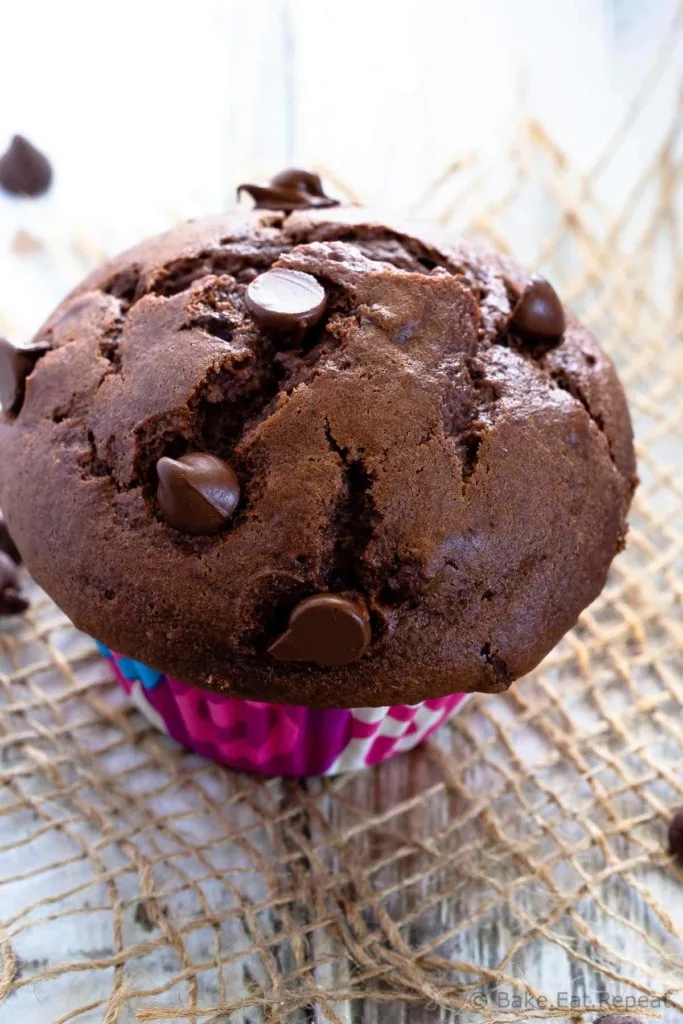 I'm okay with that, but if you're looking for a healthier breakfast style muffin, you will likely be happier with these apple cinnamon muffins instead!
These chocolate banana muffins? They're kind of like a cupcake masquerading as a muffin.
But hey, if you're okay with that, they are definitely delicious! And quick and easy to make too.
They sure disappeared quickly here!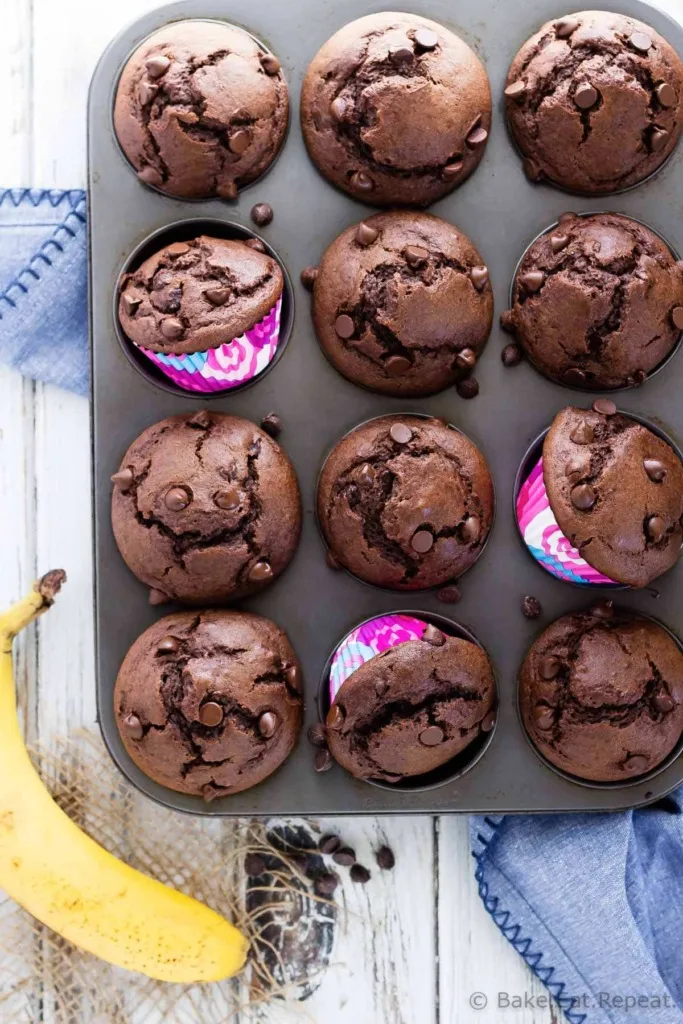 What flour is best for muffins?
I like to use all purpose flour for muffins, but often use half whole wheat flour as well.
If I really want them to be a healthier muffin I will use all whole wheat flour, but that does make for a noticeably denser muffin then one made with all purpose flour.
I find that half and half still keeps the muffin light, while adding some whole grains to the muffin so it's a bit healthier.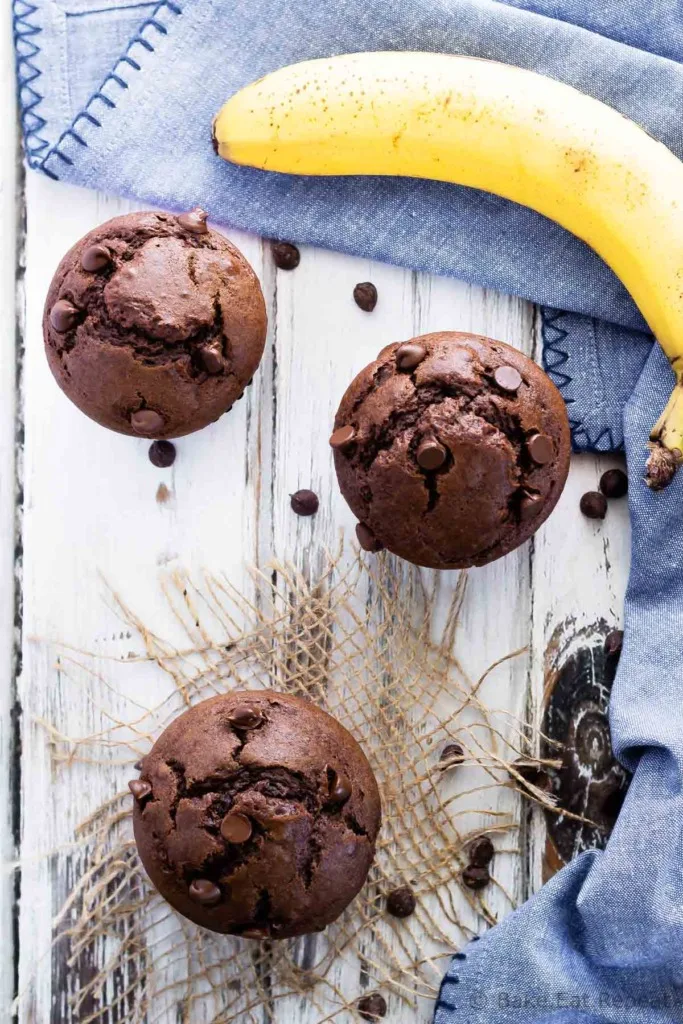 How to make Chocolate Banana Muffins:
I love making muffins in this stoneware muffin pan, they always rise a bit better. If you are using a similar muffin pan, keep in mind that muffins usually take another 4-5 minutes to bake in those, as opposed to a standard muffin tin.
Make sure not to over-mix the muffin batter. Muffins will be dense and tough if you mix the batter too much, stir with a spoon until the ingredients are just combined.
The muffin tin will be quite full with these muffins, almost to the top of the muffin cups. If you want you could probably fill them 3/4 full and get 15-18 muffins instead of 12, just watch the bake time then and start checking for doneness a few minutes earlier.
You can just spray your muffin tin with cooking spray, or use paper liners. I tried these muffin liners (that's an Amazon link – they were way less then that at the grocery store where I found them!) for these muffins and they popped right out, so they work very well if you want liners that don't stick at all.
These muffins will freeze well in an airtight container or ziplock bag for up to 3 months.
Here are a few more great muffin recipes for you:
I've also shared this Chocolate Banana Muffins recipe over on Food Fanatic.