Quick and easy Crispy Salmon with Greek Orzo for 30 Minute Thursday – this meal is on the table in 20 minutes and the whole family will love it!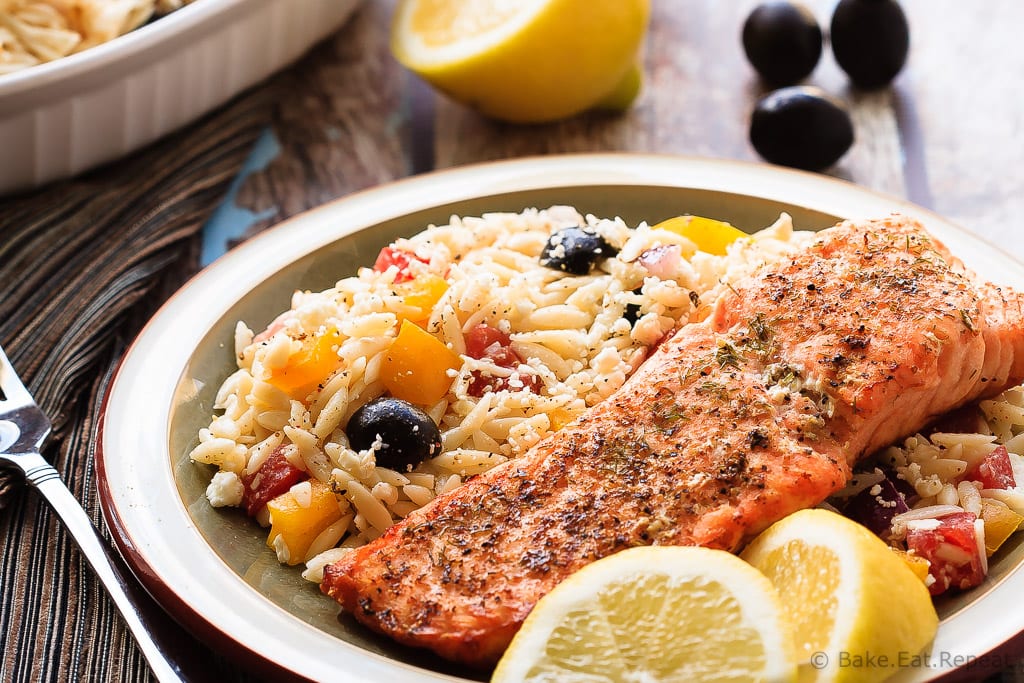 We love salmon around here.  Or any fish.  Actually, any seafood is probably what I should say!
Anytime I make salmon for supper though?  That's when I have a very happy family.  I must say, I am very happy that my kids like fish.  It's one of my favourite things to eat.  I'm that person that goes to a steakhouse for a fancy dinner and gets fish.  I just have a hard time not ordering fish when it's on the menu at a restaurant.  It's my favourite.
Salmon is the best though.  And my kids agree with me on that.  I actually made this crispy salmon with Greek orzo earlier in the day the first time I made it and had it for lunch.  My 8 year old was REALLY disappointed when he saw the leftover fish in the fridge and found out I had salmon without him.  How could I?
At least I don't have to convince them to eat fish.  That is one thing that is definitely not a struggle for us.  Their only complaint is that I don't make it often enough!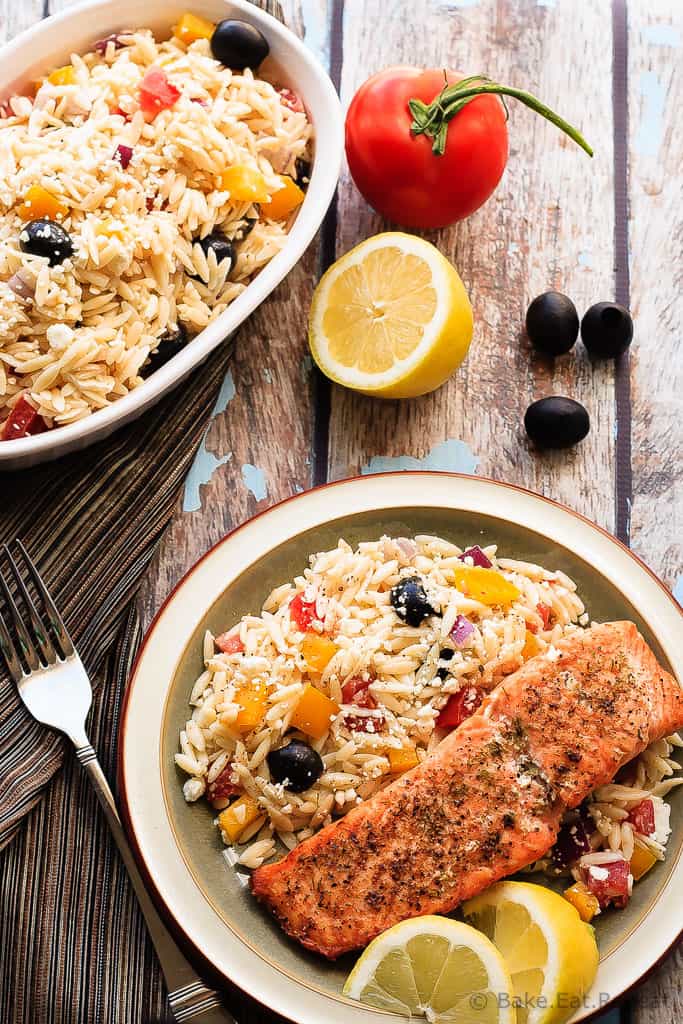 This crispy salmon is maybe the easiest possible way to prepare it.  It takes about two minutes to prep and then 10 in the oven under the broiler and you have perfect salmon with amazing crispy edges.  The crispy outside is maybe my favourite part.  You know, besides the fact that it's salmon.
Paired with this quick and easy Greek orzo, this makes the perfect meal for 30 Minute Thursday!  The crispy salmon takes about 15 minutes total, and the Greek orzo maybe takes 20, most of which is easily finished while the salmon is in the oven.  Plus, the orzo is great served a bit warm right after you make it, and it's also fantastic as a cold salad if you want to make it ahead of time.  Do that and supper is on the table in 15 minutes.
And if your family loves salmon as much as mine does, you will have a happy group.  Scroll down to below the recipe to check out more 30 minute meals from my friends, or you can find past 30 Minute Thursday posts here.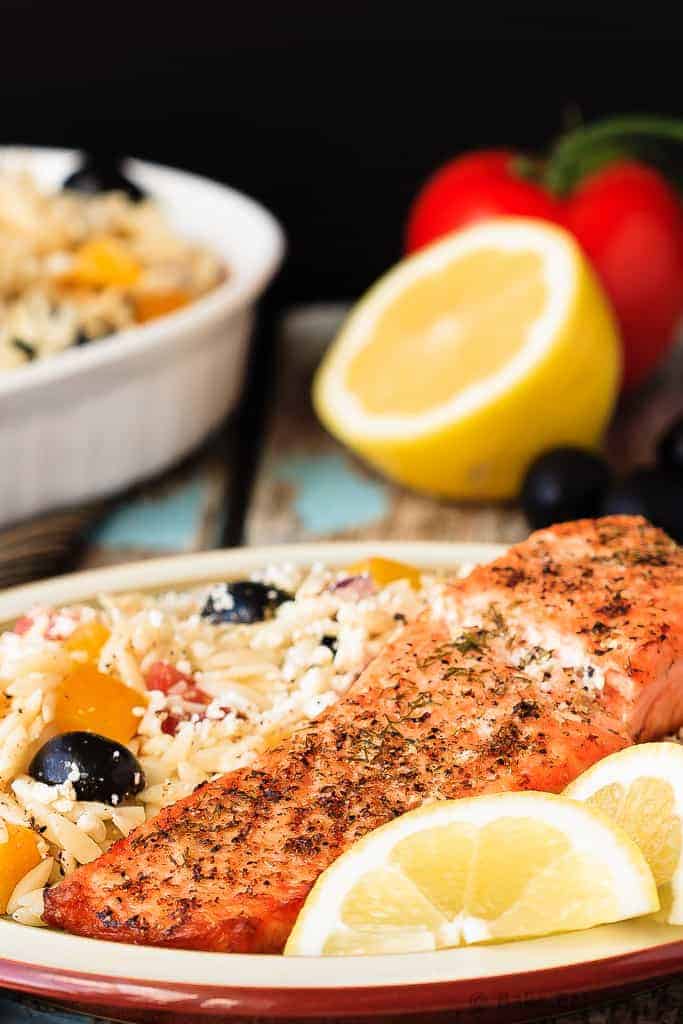 Yield: serves 4
Crispy Salmon with Greek Orzo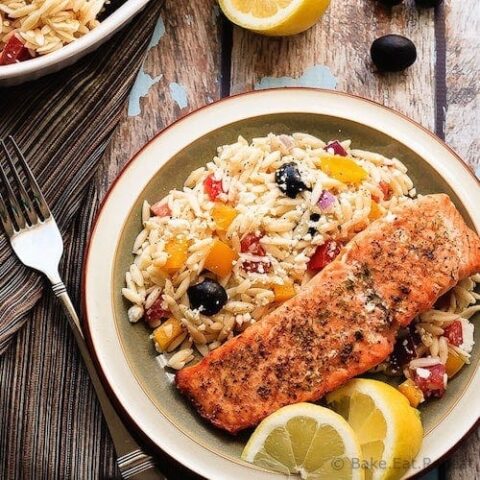 Quick and easy Crispy Salmon with Greek Orzo for 30 Minute Thursday - this meal is on the table in 20 minutes and the whole family will love it!

Prep Time 10 minutes

Cook Time 10 minutes

Total Time 20 minutes
Ingredients
For the salmon:
2 pounds salmon (about 1 inch thick)
2 tablespoons coconut oil, melted
1 teaspoon lemon pepper
1 teaspoon dried dill
For the Greek orzo:
1 cup dry orzo pasta
2 tablespoons olive oil
1/2 lemon, juiced
1 clove garlic, minced
salt and pepper to taste
1 tomato, chopped (or 1 cup grape tomatoes, halved)
1 cup cucumber, chopped
1/2 cup sliced olives (kalamata or black)
1/4 cup red onion, diced
1 yellow pepper, chopped
1/2 cup feta cheese, crumbled
Instructions
Preheat the broiler to high heat and adjust the rack so it is near the top of the oven.
Place the salmon on a baking sheet, brush both sides with the melted coconut oil and sprinkle it with the lemon pepper and dill.
Broil for 4-5 minutes per side until the fish is crispy on the outside and flakes easily with a fork.
Meanwhile, boil the orzo pasta until it is cooked to al dente, according to the package directions.
While it is boiling, whisk together the olive oil, lemon juice, garlic and salt and pepper in a small bowl.
In a large bowl, combine the chopped tomato, sliced olives, diced red onion, chopped yellow pepper and feta.
Drain the pasta, rinse it with cold water and add it to the bowl with the veggies.
Pour the olive oil mixture over top and toss it all lightly to combine.
Serve the orzo with the crispy salmon and lemon wedges.
Notes
I typically use skinless salmon, but if you use salmon with the skin still on, place it skin side down on the baking sheet and just brush the top with the coconut oil and seasonings. Bake it for 8-12 minutes without flipping, or until it flakes easily with a fork. It should slide off the skin easily to serve it.

Also, the orzo is great a bit warm if you serve it immediately, but is also really good as a cold pasta salad so you can make it ahead of time if you like. Also, there's no cucumber in the pictures, but I have added it to the salad and it's fantastic!
Recommended Products
This post contains affiliate links. As an Amazon Associate, I may receive a small commission from qualifying purchases.
Nutrition Information:
Yield:
4
Serving Size:
1/4 recipe
Amount Per Serving: Calories: 344Total Fat: 23.8gSaturated Fat: 10.8gTrans Fat: 0gUnsaturated Fat: 13gCholesterol: 17mgSodium: 560mgCarbohydrates: 17.9gFiber: 2gSugar: 2.8gProtein: 17g

Nutrition Information is estimated based on ingredients used and may not be exact.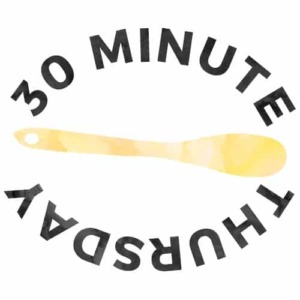 Basil Pesto Pasta with Broccoli and Mushrooms from Pumpkin 'n Spice
Blackened Grilled Salmon with 'Kickin Corn Pico de Gallo from Whole and Heavenly Oven
Avocado Toast with Spicy Marinated Chickpeas and Zucchini from Floating Kitchen
Unstuffed Bell Pepper Skillet from Kristine's Kitchen
Grilled Pineapple Teriyaki Chicken Caesar Salad from Life Made Sweeter
Sweet Potato Noodles with Black Beans & Avocado Sauce from Sweet Peas & Saffron
Honey Pineapple Barbecue Chicken Sandwich from Flavor the Moments