An easy honey garlic roasted brussel sprout recipe – they're tender on the inside, have crispy edges and an amazing honey garlic flavour – a great way to change up the usual side dish!
I have never liked brussels sprouts.  Just one of those things that never appealed to me.  But now I'm thinking that this is because I had never had them cooked any way other than steamed.  Roasted brussels sprouts?  That's a whole different thing.  This honey garlic roasted brussel sprout recipe was fantastic.
I discovered roasting brussels sprouts a couple of years ago, and I'm so happy I did.  Brussels sprouts are one of those sides that my husband loves, but I never cooked for him because I didn't like them.  Roasting them has convinced me to actually want to make this little vegetable occasionally, which equates to a happy husband.  And happy kids.  Evidently they like brussels sprouts.  Whose kids are these anyways?
Granted, I did coat them in honey, so maybe it's the honey they like?  That and the fact that my boys have decided that brussels sprouts make them strong and they'll be faster, better hockey players if they eat them.  I'm kind of okay with this.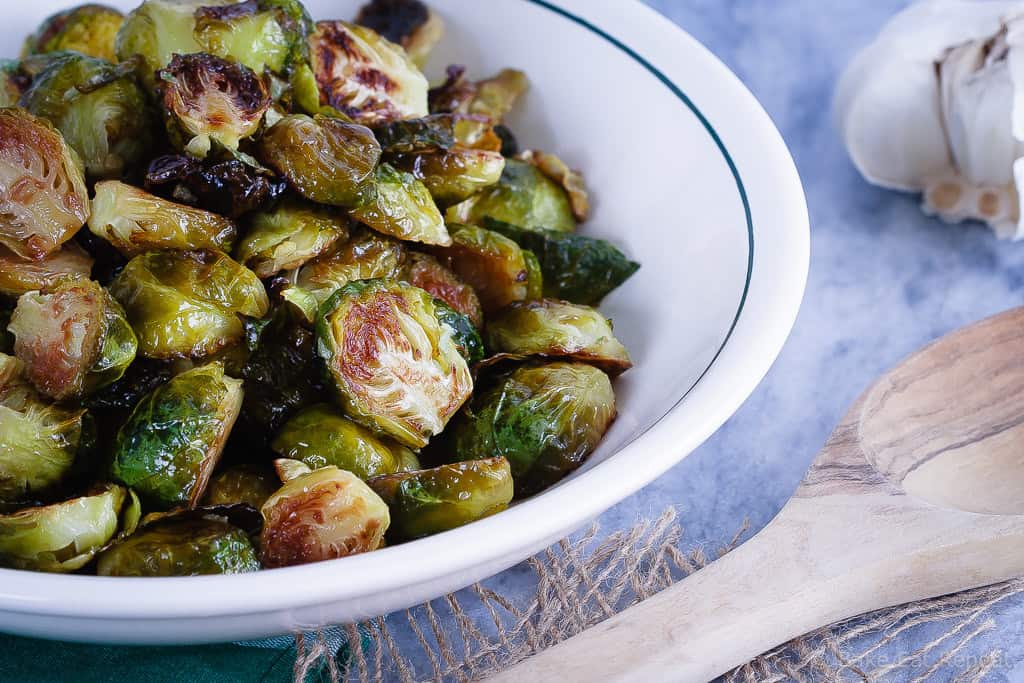 Hey, if it makes them gobble up their brussels sprouts, I'm all over that little idea.
Pretty sure all the veggies are going to be "make you better hockey players" food now.  Whatever works, am I right?
At any rate, these honey garlic brussels sprouts were quite tasty – and that's from a self professed brussels sprouts hater.
So if any of my American friends are still looking for a Thanksgiving side dish this week, try these honey garlic roasted brussel sprouts.  They're a bit sweet, tender on the inside, with some crispy edges that I adored.  If you like brussels sprouts, you'll love these.  And if you don't like them, try these ones, you may be surprised!  I was.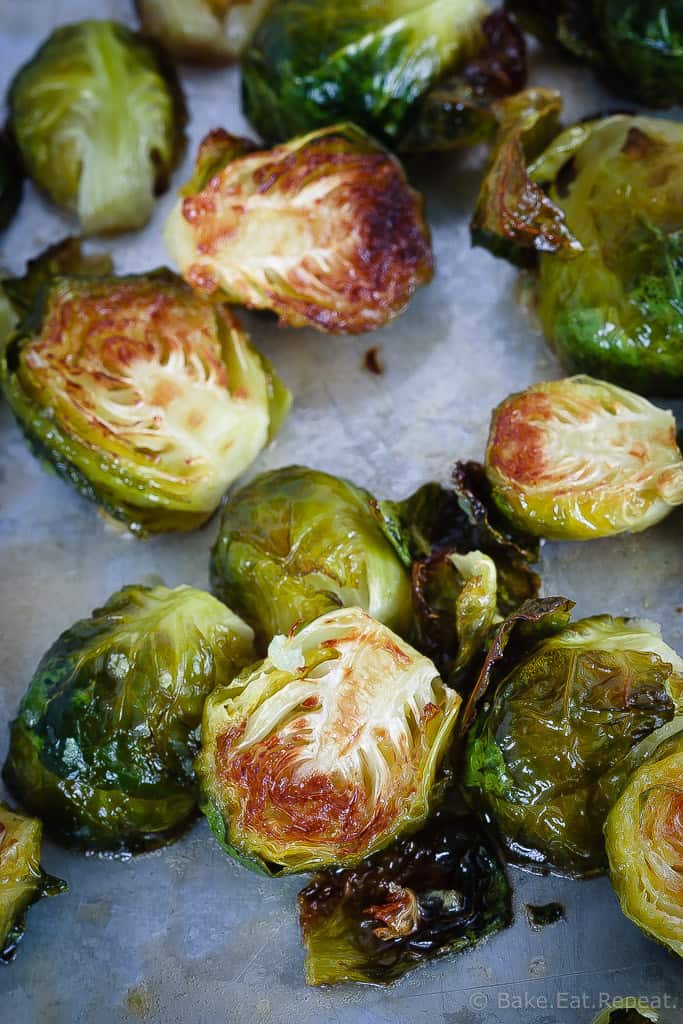 Updated Nov 23/16, originally posted Nov 25/14.
Honey Garlic Roasted Brussels Sprouts
---
Bake.Eat.Repeat.
Yield: Serves 6
Honey garlic roasted brussels sprouts - tender on the inside, crispy edges and honey garlic flavour - a great way to change up the usual side dish!
Ingredients
2 pound (907 g) brussels sprouts, trimmed and halved lengthwise
2 tablespoons olive oil
1 teaspoon kosher salt
3 tablespoons honey
1 lime, juiced (2-3 tablespoons juice)
3 cloves garlic, minced
Directions
Preheat the oven to 425 degrees F.
Spread the trimmed brussels sprouts on a rimmed baking sheet, drizzle them with the olive oil, and sprinkle the salt over top. Stir them around to coat them with the oil and then roast for 15-18 minutes, until tender.
In a small bowl, whisk together the honey, lime juice and minced garlic. Drizzle this over top of the roasted brussels and stir to coat. Roast for another 3-5 minutes and enjoy.
Notes
7.6.8
48
https://bake-eat-repeat.com/honey-garlic-roasted-brussel-sprout-recipe/