An easy honey garlic roasted brussel sprouts recipe – they're tender on the inside, have crispy edges and an amazing honey garlic flavour!
I have never liked brussels sprouts. Just one of those things that never appealed to me.
I think that this is because I had never had them cooked any way other than steamed.
Roasted brussels sprouts? That's a whole different thing. This honey garlic roasted brussel sprouts recipe was fantastic.
What is the best way to cook brussel sprouts?
I discovered roasting brussel sprouts a couple of years ago, and I'm so happy I did. Brussel sprouts are one of those sides that my husband loves, but I never cooked for him because I didn't like them. Some people like them steamed, but I think roasting them is the best way to cook brussel sprouts.
Roasting them has convinced me to actually want to make this little vegetable occasionally, which equates to a happy husband. And happy kids. Evidently they like brussels sprouts. Whose kids are these anyways?
Granted, I did coat them in honey, so maybe it's the honey they like? That and the fact that my boys have decided that brussels sprouts make them strong and they'll be faster, better hockey players if they eat them. I'm kind of okay with this.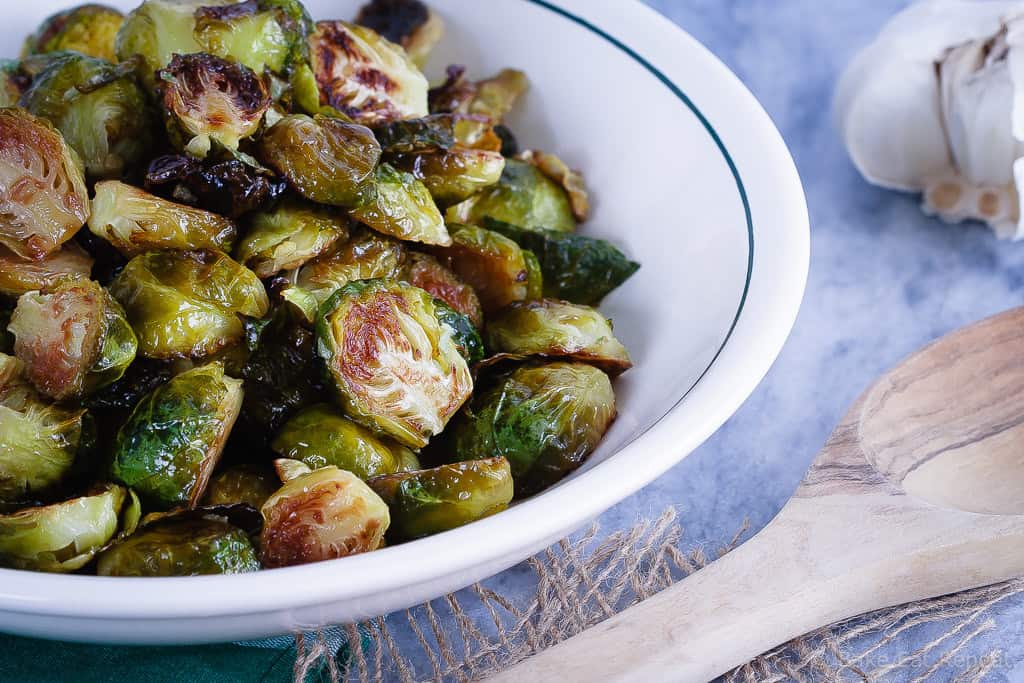 Hey, if it makes them gobble up their brussels sprouts, I'm all over that little idea.
Pretty sure all the veggies are going to be "make you better hockey players" food now. Whatever works, am I right?
At any rate, these honey garlic brussels sprouts were quite tasty – and that's from a self professed brussels sprouts hater.
These brussel sprouts are a bit sweet, tender on the inside, with crispy edges that I loved. If you like brussel sprouts, you'll love these.
And if you don't like them, try these ones, you may be surprised!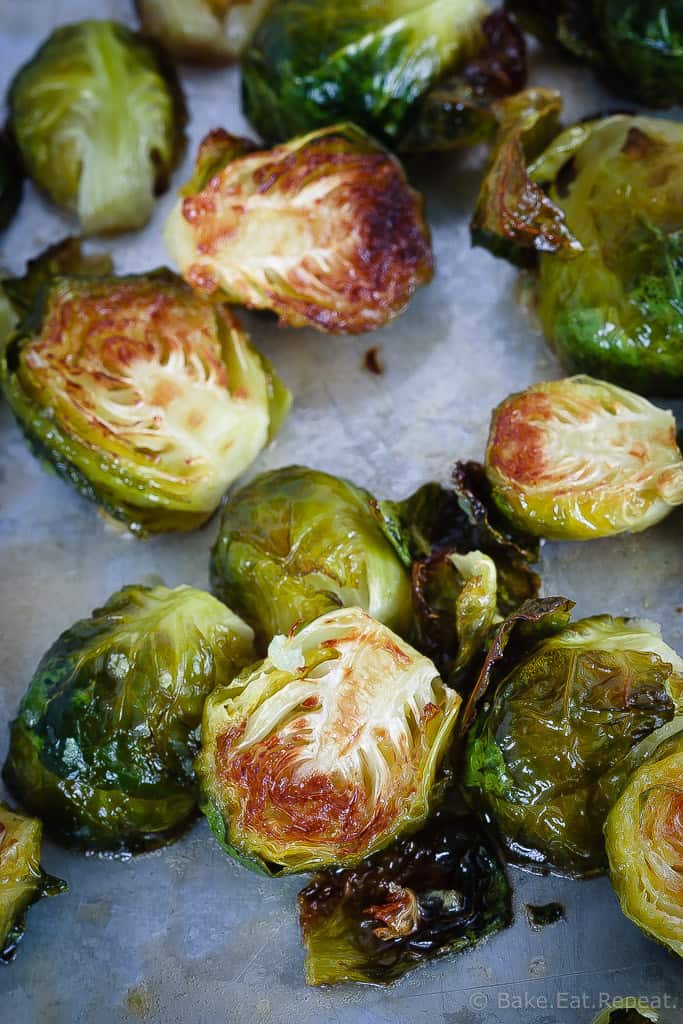 Are brussel sprouts just small cabbages?
I call them mini cabbages when talking about them to my kids – because you can pretend you're a giant when you eat them. Have to make vegetables fun somehow, right?
But if you're curious, they're not actually small cabbages, just part of the same family. With cabbages you eat the whole head of the vegetables that grows out of the ground, but brussels sprouts are buds that grow along a thick stalk.
Can you eat the whole brussel sprout?
Brussels sprouts keep for a couple weeks in the fridge. Smaller sprouts are usually a bit sweeter then the larger ones so look for smaller ones if you don't like the bitter taste they can have.
You can eat the whole sprout, just trim the dry part at the base of the sprout and pull off any loose outer leaves.
How to make perfect Honey Garlic Roasted Brussels Sprouts:
Make sure to spread the brussels sprouts out on your baking sheet. If they're close together and piled on top of each other you will end up steaming them more then roasting them. To get the crispy edges, they need a bit of space around them.
These honey garlic roasted brussels sprouts are fairly sweet. If you don't want them to be that sweet you could decrease the honey garlic mixture to half the amount called for for a less sweet version.
Here are a few more great side dishes for you: Twice Baked Potatoes with Cheddar and Broccoli, Mashed Carrots and Turnips, and Roasted Rosemary Potatoes.
This post contains affiliate links, meaning that if you make a purchase through these links, I may receive a small commission. I am a participant in the Amazon Services LLC Associates Program, an affiliate advertising program designed to provide a means for us to earn fees by linking to Amazon.com and affiliated sites.