I searched for the perfect buttermilk biscuit recipe for ages.  Ages and ages, I tried a ton of different recipes.  And most of them were really good, but I never got the huge, tall, flaky biscuits that you see in pictures.  Well, I'm happy to tell you that this is the perfect recipe for buttermilk biscuits.  Or at least I think so, but try it and I'm pretty sure you'll agree!
These biscuits are so light and fluffy and incredibly tall that every time I make them for someone I get asked for the recipe.  Not that this recipe is so very different from other buttermilk biscuit recipes, I mean really, how much can you change? But the technique is different then I have seen anywhere else, and I believe that's what makes the difference.
This recipe uses a folding technique to get all of the flaky layers in the biscuits.  Now maybe this is a well known technique, but I have never seen it in a recipe before.   What you do is dump the dough out and start forming it into a rectangle, then folding it over on itself while it is still really shaggy with lots of loose flour.  It will look more like a pile of floury bits than dough when you start, but after forming it into a rectangle and then folding it over 5-6 times, it will be a more cohesive dough.  You definitely need to start the folding technique (described in more detail in the recipe!) while it's still not looking like dough!  Overworking the dough will make for biscuits that are less tender and flaky.
If you've been searching for a great biscuit recipe too, you need to try this one, they are incredible!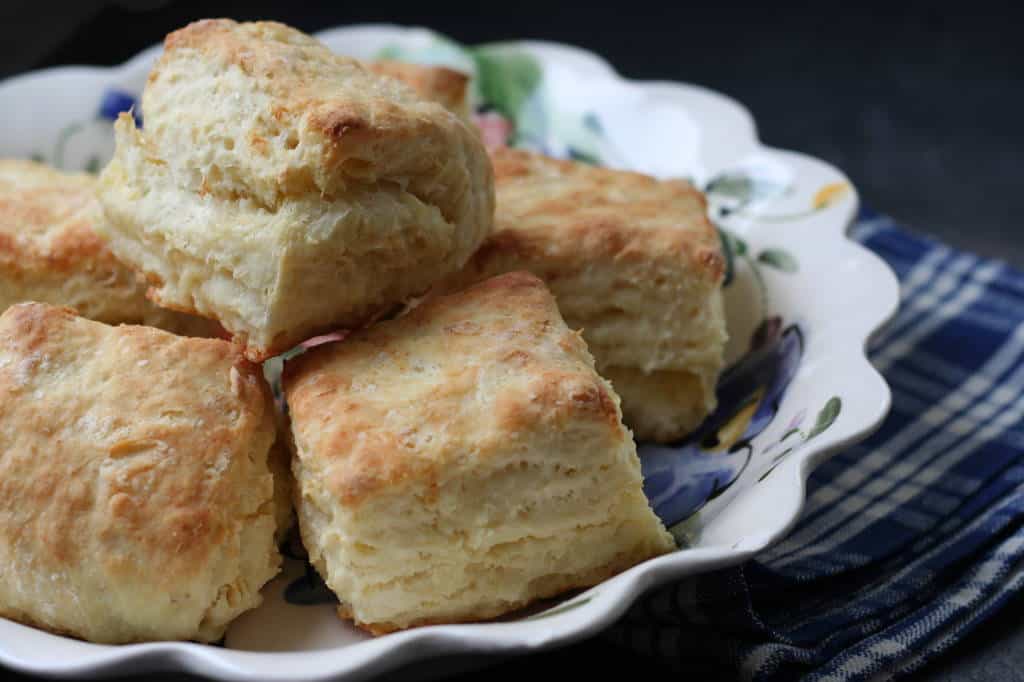 Yield: 8 biscuits
Buttermilk Biscuits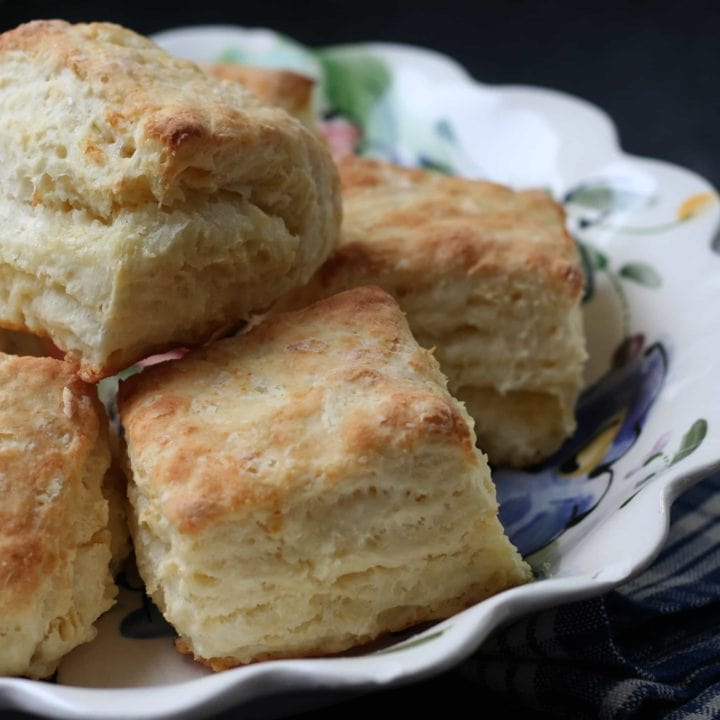 *Note:* This recipe is easily doubled, I generally make a double recipe and then we can enjoy the leftovers with jam for breakfast! I almost always sub whole wheat flour for half of the all-purpose flour, although when I want a real treat I stick with all all-purpose, they are a bit lighter that way. Also, frozen butter IS better as they get flakier when the butter is frozen, but I generally do not plan far enough ahead to stick the butter in the freezer so then I make them with butter that is cold from the fridge. I grate it in quickly and they are still amazing that way so don't decide not to make them because the butter isn't frozen! I've also made them many times with DIY buttermilk (1 cup of milk mixed with 1 tablespoon vinegar) and that works fine too, although I do use real buttermilk when I have it!
Ingredients
2 cups all-purpose flour
3/4 teaspoon salt
1/4 teaspoon baking soda
2 teaspoons baking powder
1/4 cup unsalted butter, frozen
1 cup buttermilk
Instructions
Preheat the oven to 450 degrees F. Line baking sheet with parchment paper or a silpat liner.
In a large bowl, mix together the flour, salt, baking soda and baking powder until well combined. Grate in the frozen butter (or cut it in with a pastry cutter until the mixture resembles coarse crumbs, I find grating faster and easier) and mix it together gently. Pour in the buttermilk and stir until the dough starts to come together. It will be very shaggy with lots of loose bits and flour, that's okay.
Dump the mixture out onto a lightly floured counter. It won't really look like a cohesive dough at this point. That's okay, you don't want to overwork the dough so don't worry about it! With lightly floured hands, shape the dough into a rough rectangle, about one inch thick. Lift one end up and fold it in half. It will fall apart, just pick up all the bits and pieces and put them on top. Turn the dough a quarter turn and press out into a one inch thick rectangle again. Repeat this folding and turning process 5-6 times, at which point your dough will be more cohesive, and not crumbling all over the place anymore. Add a bit more flour underneath and on your hands if it gets too sticky.
Press out one last time into a one inch thick rectangle. Cut into squares with a knife, making sure to cut straight down and not slide or twist at all when you're cutting. If you use a biscuit cutter, don't twist it as this will seal the edges and it won't rise well in the oven. I usually cut them into squares as it's faster and there are no scraps to reshape then, but if you prefer circles go for it!
Place biscuits on the prepared baking sheet and bake for 15-20 minutes, or until risen and lightly browned on top. Serve warm.