Make this easy Instant Pot creamy chicken noodle soup for the perfect weeknight meal. It's fast and easy to make, with only 5 minutes of prep work!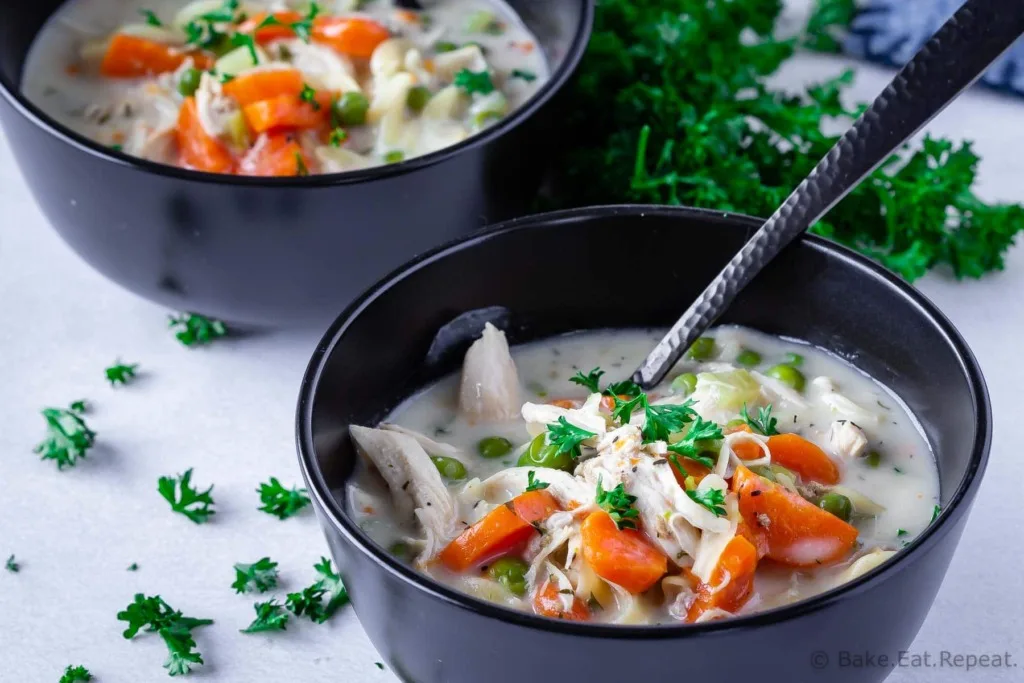 This Instant Pot creamy chicken noodle soup is one of our favourites. It's so easy to make. It literally takes 5 minutes to get it going in the Instant Pot.
And then it only needs to cook for 8 minutes at high pressure before shredding the chicken and adding the noodles.
Aside from the time the Instant Pot takes to come to pressure, this creamy chicken noodle soup can be ready in about 20 minutes.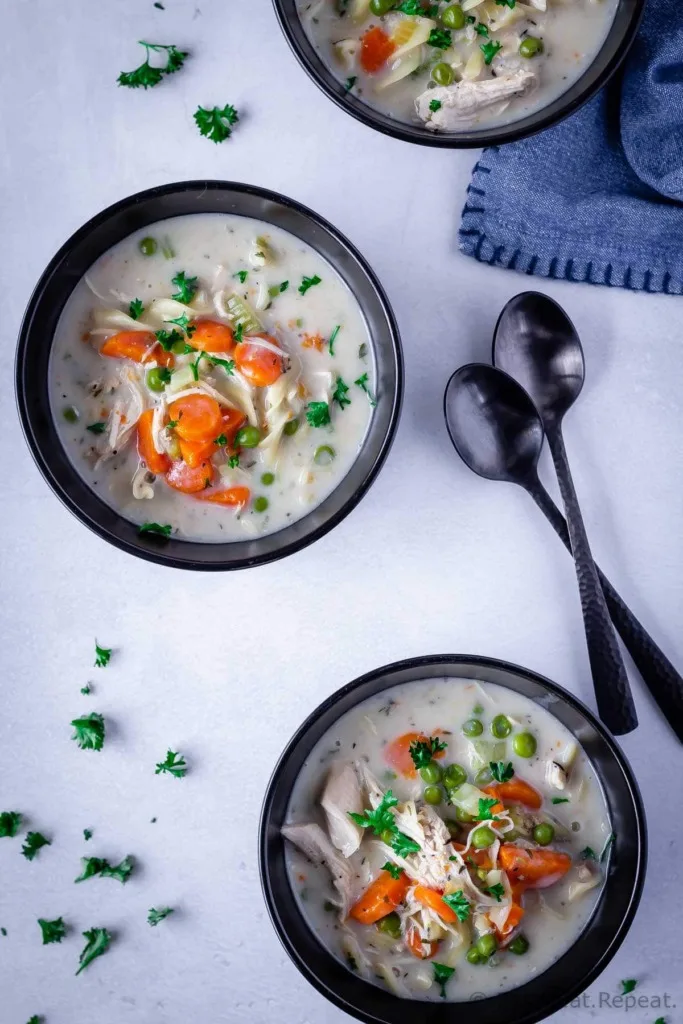 Just enough time to make some of these Drop Biscuits, or these Homemade Cream Biscuits, to have with it.
Not that it needs anything with it. We are perfectly happy with just a bowl of this creamy chicken noodle soup all on its own for supper.
The whole family loves this soup.
I love how very easy it is to make!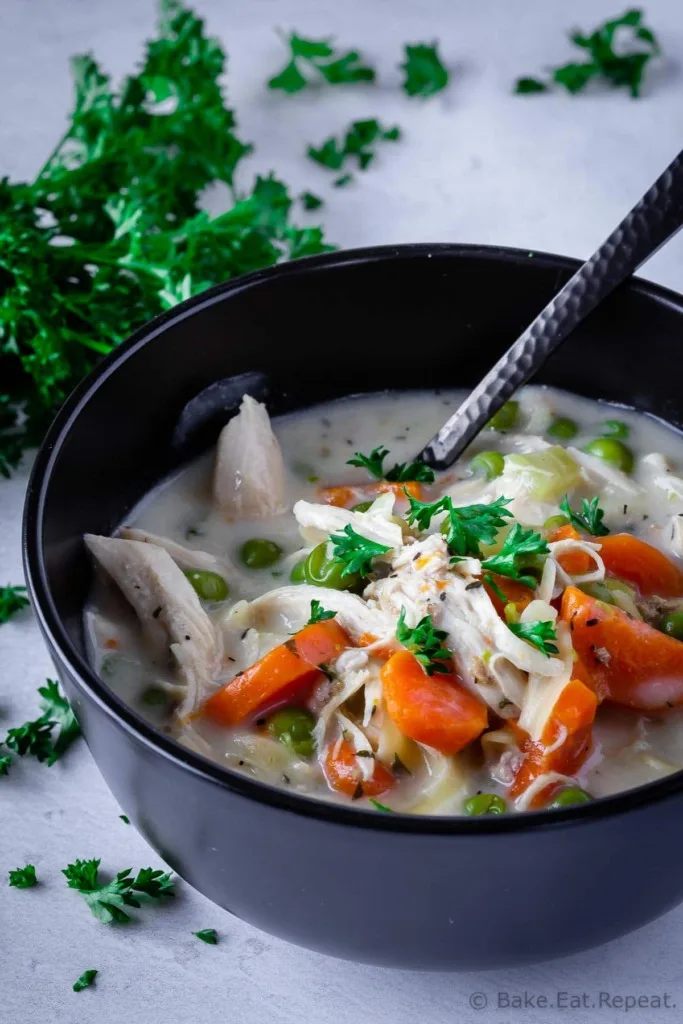 How do you make chicken noodle soup from scratch?
Chicken noodle soup is very easy to make from scratch.
Chop up some carrots and celery, cook them in some broth with the chicken and some seasonings, and add the peas and noodles.
To make chicken noodle soup creamy, like in this recipe, you also stir in a corn starch slurry and some milk.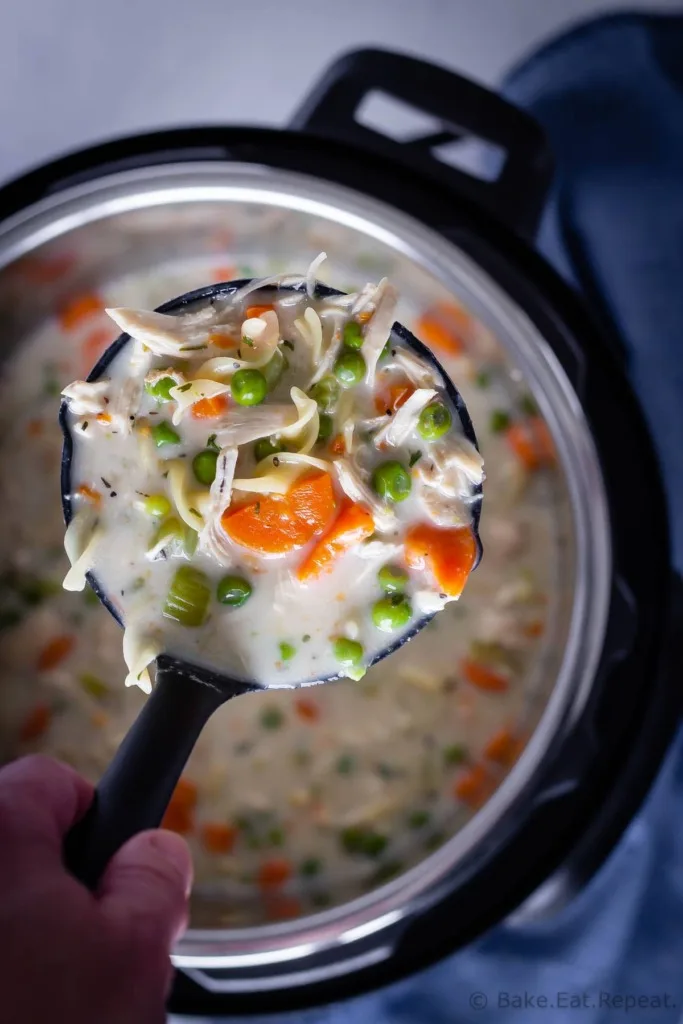 That's it. So easy, and so much better than the soup in a can.
And I think the Instant Pot makes it even easier because you don't have to keep an eye on the soup while it's on the stove, and it's ready in minutes.
We love this Instant Pot creamy chicken noodle soup!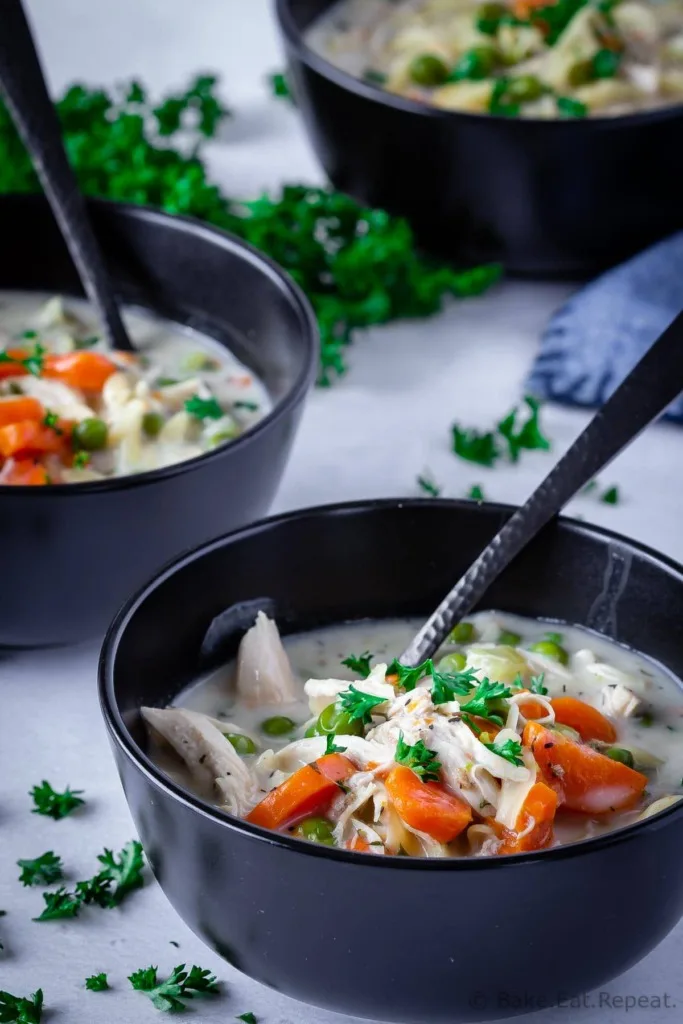 Can I put frozen chicken in soup?
You can cook frozen chicken in the Instant Pot, but I haven't yet tried it with this creamy chicken noodle soup.
For frozen chicken, you need to pressure cook for 12 minutes instead of 8, so I think that the vegetables would be overdone if you used frozen chicken.
For that reason I prefer to use fresh or thawed chicken for this recipe, but I will probably try it at some point with frozen chicken to see if the veggies are too over cooked, or if it's still good.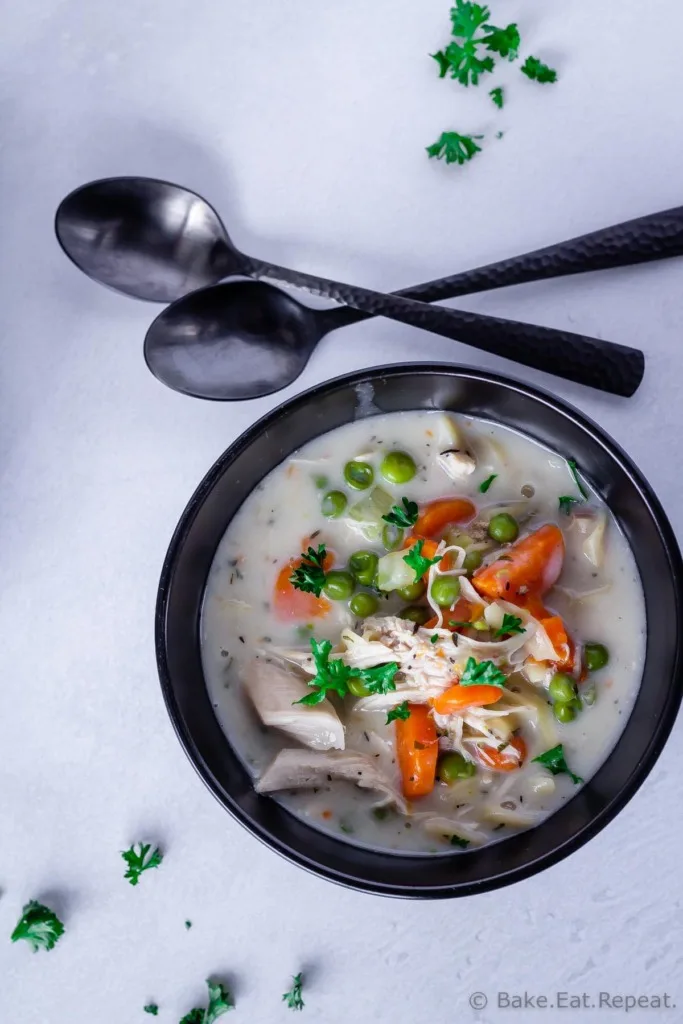 One option would be to pressure cook just the chicken, seasonings, and broth for 4 minutes, then release the pressure, add the carrots and celery, and pressure cook again for 8 minutes.
That would definitely work, you would just need to plan on the extra time for bringing the Instant Pot up to pressure twice, but it will come to pressure faster the second time.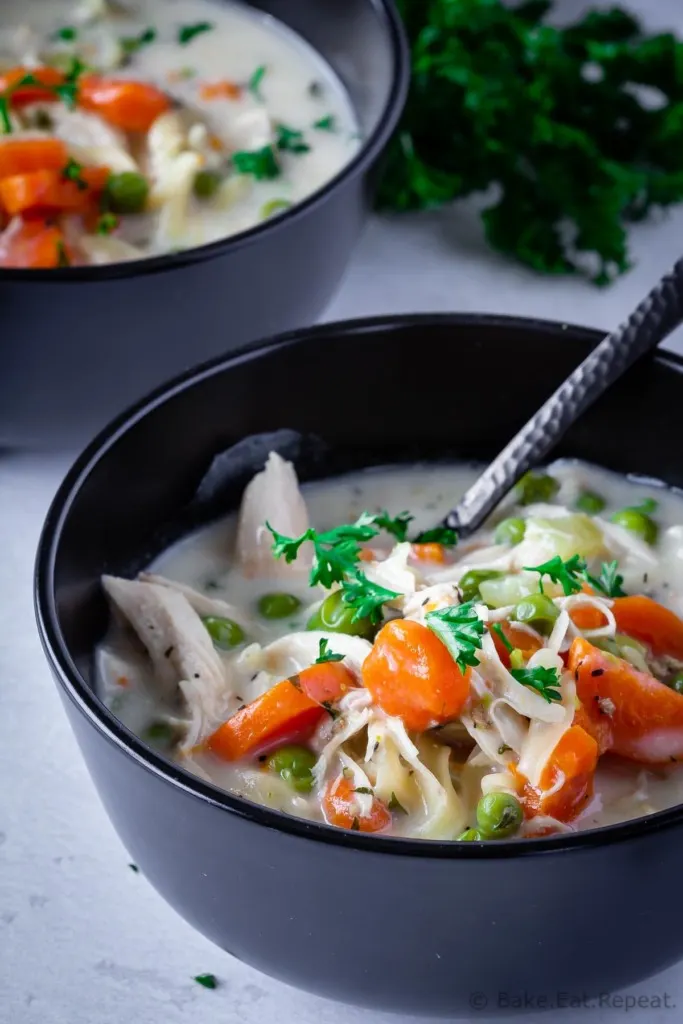 Do you pre-cook noodles for chicken soup?
No, you don't need to pre-cook the noodles for chicken soup. Add the noodles at the end, after everything else is cooked, and let the noodles cook in the soup.
I like to use broad egg noodles for my chicken noodle soup. These noodles only take 4-5 minutes to cook in the simmering soup after the pressure cooking time is done.
Any small pasta shape would be fine here so use whatever noodles you prefer.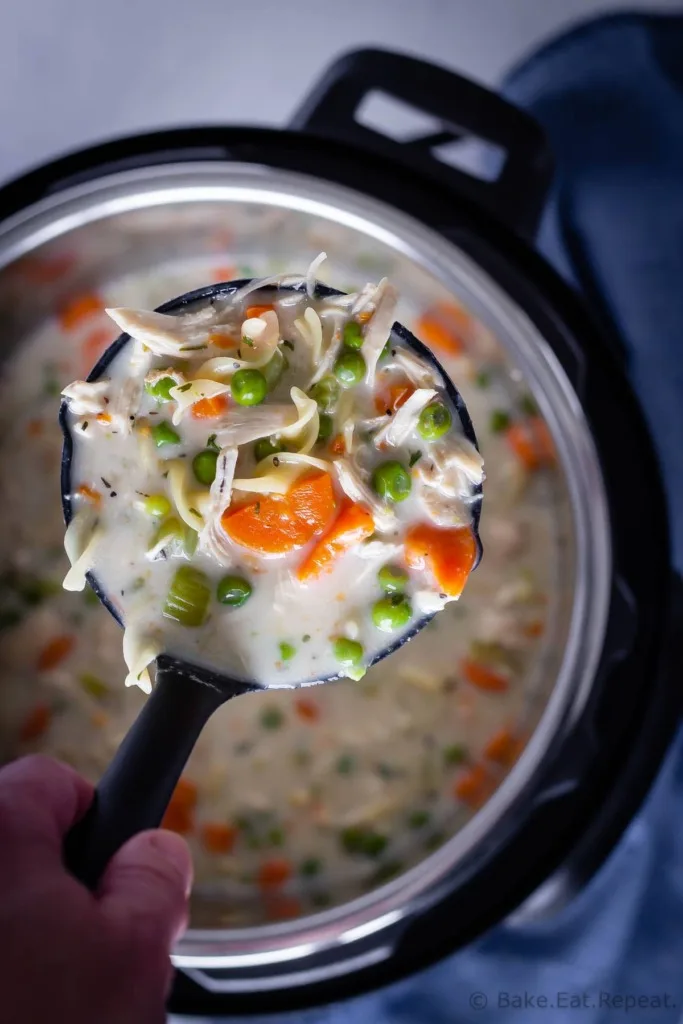 How to make Instant Pot Creamy Chicken Noodle Soup:
I always use 2% milk for this recipe, as that's what I always have on hand, but if you want your soup to be creamier, use 3% or half and half cream instead and it will have a creamier consistency.
Any kind of small pasta shape will work for this recipe. I like using egg noodles for chicken noodle soup, but use whatever you like. Just refer to the package for how long you will need to let them cook.
Leftovers will be okay for a day or two in the fridge, but the noodles tend to continue to soak up the liquid so it will be thicker and the noodles will get a bit mushy, so keep that in mind. It is best the day it's made.
Here are some more great soup recipes for you: