Roasted honey lime chicken that is tender and juicy and a hit with the whole family. Only 10 minutes of prep time to perfect roasted chicken!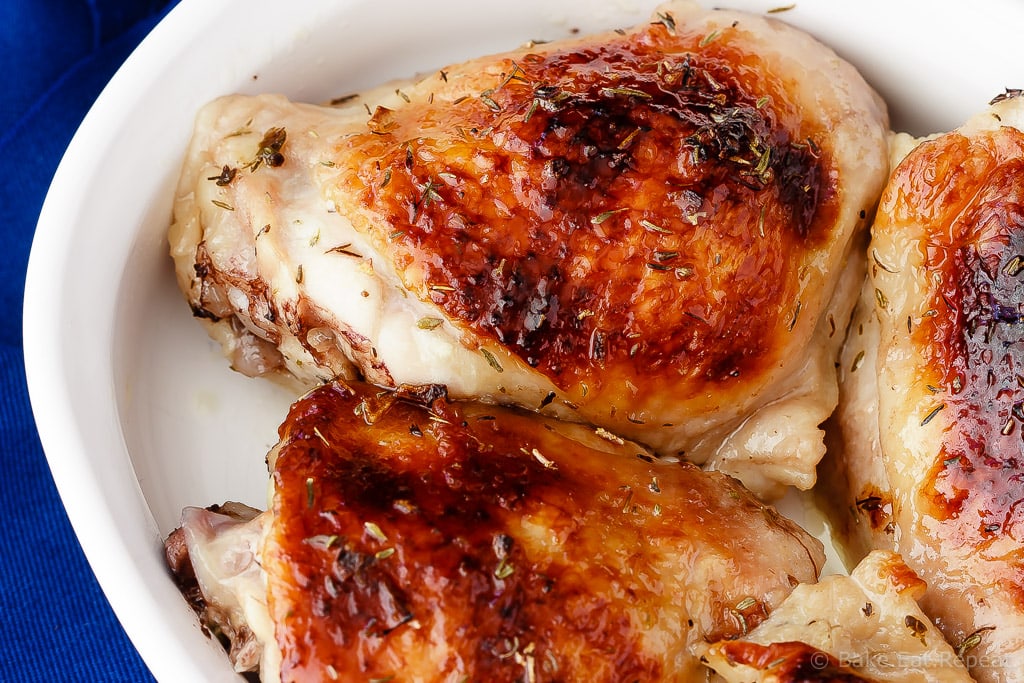 I have another main course recipe for you today.  Roasted honey lime chicken – an absolute favourite meal in our house.
As much as we love this chicken, I have to say I feel a little bit weird sharing four dinner recipes in a row here.  Fish tacos, then baked shrimp pasta, then ground beef tacos, and now honey lime chicken.  Clearly I just couldn't wait another second to share ALL of our favourite dinner recipes!
We may need to bring some dessert to these parts soon.  I'm starting to feel the lack.  You?
Oh well.  For today, honey lime chicken!  It's fantastic and totally worth pushing dessert back a few more days.  Which is maybe strange to hear from someone with a pronounced sweet tooth but there you go.  I guess because as much as I love my sweet stuff, cooking supper is something that I need to do every single day.  Dessert is only occasional – even if it IS more fun!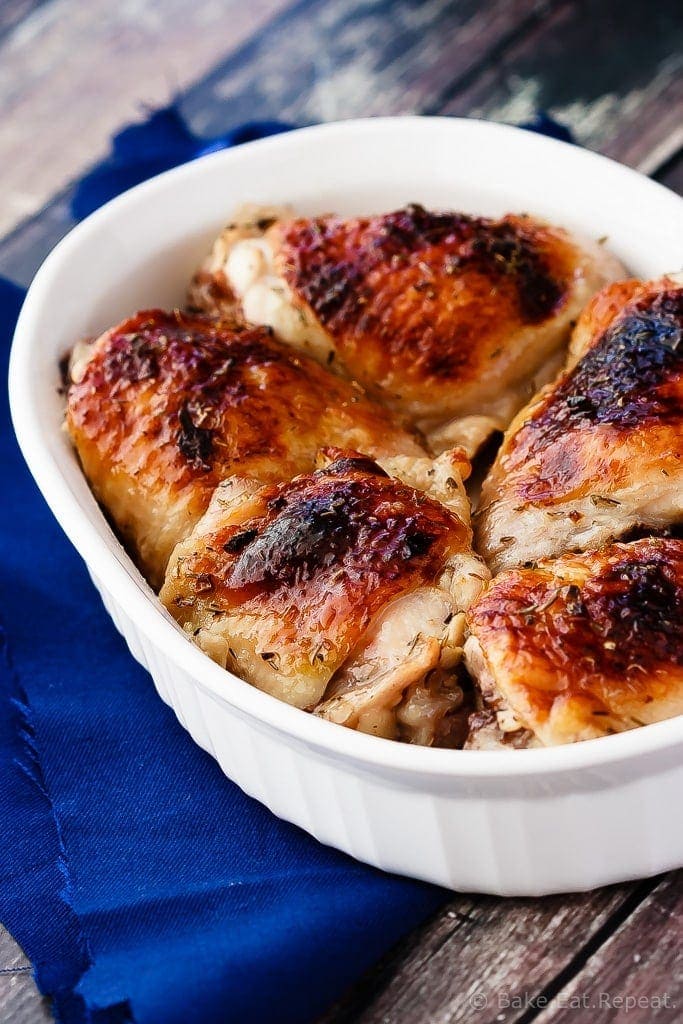 Since I know I'm not alone in that, I'm pretty sure that you're okay with more dinner recipes too.  There can never be enough foolproof, easy, loved by the whole family recipes to have tucked away for those nights you don't know what to make.
This honey lime chicken is amazing.  I have made it many, many times and we don't get sick of it.  In fact, my 10 year old daughter loves it so much that when she sees chicken thighs (or legs) are for supper she is very disappointed if it's not this honey lime chicken.  And she always claims the leftovers before anyone else can to bring to school for lunch.
It's super easy to make, maybe 10 minutes of prep work to whisk together the marinade (and you likely have everything for it already) then let the chicken sit for about an hour until you're ready to toss it in the oven for another 50 minutes.  That's it.
Plus, if you're a bit pressed for time because you can never remember to plan ahead and you just defrosted the chicken an hour before you want to eat (I know nothing about that….) it's still fine.  This chicken is almost as good without the marinating time.  Just turn it to coat in the marinade and toss it in the oven.  It's still great.  A little less flavour but still amazing, juicy chicken.
And the whole family will love it and ask for it incessantly.  I promise.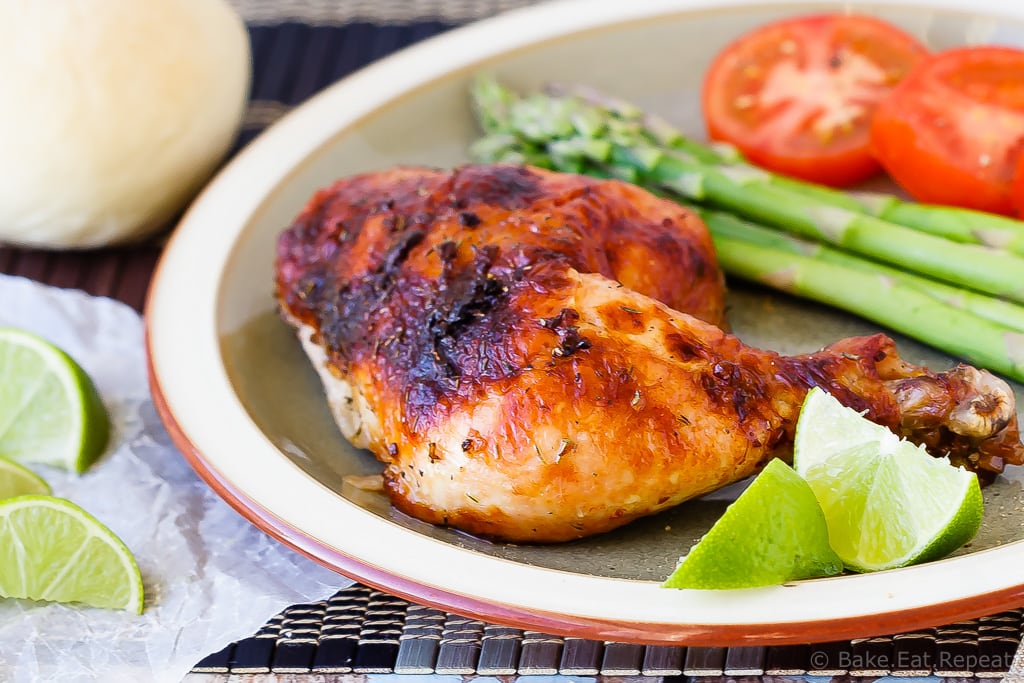 Note: Post and recipe updated May 9, 2016; originally posted September 17, 2014.


Yield: serves 6
Honey Lime Chicken
Roasted honey lime chicken that is tender and juicy and a hit with the whole family. Only 10 minutes of prep time to perfect roasted chicken!

Prep Time 10 minutes

Cook Time 50 minutes

Marinating Time 1 hour

Total Time 2 hours
Ingredients
2 kg (4.4 lbs) chicken legs with back attached (5-6 pieces) (or 6-8 bone-in chicken thighs)
6 tablespoons olive oil
2 tablespoon honey
2 limes
4 cloves of garlic, minced
1 teaspoon kosher salt
1 teaspoon dried thyme
3 tablespoons of butter
Instructions
In a large bowl or serving dish, whisk together the olive oil, honey, juice of both limes, garlic, salt and thyme.
Place the chicken pieces in the marinade, turning each several times so that they are completely coated.
Cover the dish tightly and place in the refrigerator for 45-60 minutes to marinate.
Preheat the oven to 425 degrees F.
Line a baking sheet with foil and place the chicken on it, skin side up.
Pour the marinade over top of the chicken pieces.
Cut the butter into small cubes and put 4-5 cubes on top of each piece of chicken.
Place the baking sheet in the oven on the middle rack, and roast for 45-50 minutes.
Chicken is done when the skin is golden brown, a thermometer placed in the thickest part of the thigh reads 165 degrees F, and the juices run clear.
Notes
This recipe calls for a marinating time of 45-60 minutes, but I have skipped it when I didn't plan ahead, and it was still fantastic just not quite as flavourful. I've also forgotten to put the pieces of butter on top a few times and again, still great but the skin didn't get quite as crispy, so if you prefer not to have the butter in there you can certainly skip it!


Source: Adapted from Taste and Tell.
Recommended Products
This post contains affiliate links. As an Amazon Associate, I may receive a small commission from qualifying purchases.
Nutrition Information:
Yield:
6
Serving Size:
1 piece
Amount Per Serving: Calories: 353Total Fat: 29.8gSaturated Fat: 8.4gCholesterol: 72mgSodium: 477mgCarbohydrates: 6.5gFiber: 0.1gSugar: 16.8gProtein: 16.1g