These monster cookies are so easy to make and taste fantastic! Loaded with oatmeal, peanut butter, chocolate chips and M&M's, they're the perfect treat!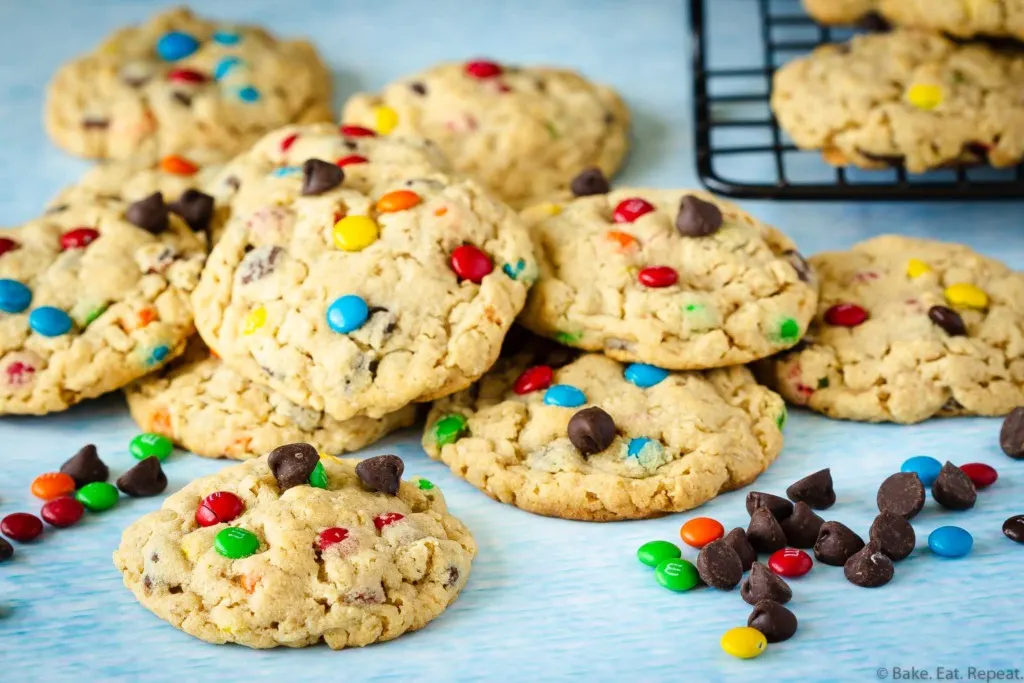 These are currently the favourite cookie at my house. Although, to be fair, they probably would have been the favourite long ago if I had made them.
You can't really beat soft and chewy oatmeal peanut butter cookies that are loaded with both chocolate chips and m&m's. The kids love them. Almost as much as the adults do.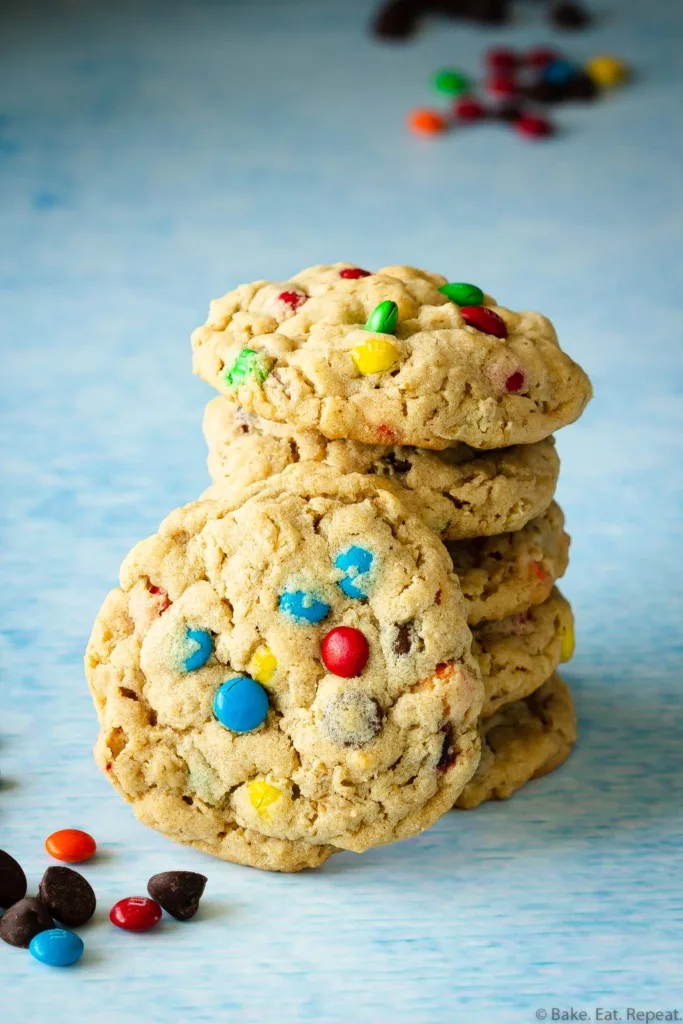 But to be honest, I've always just made oatmeal peanut butter cookies instead – heavier on the peanut butter flavour than the chocolate – because I love those cookies too. And m&m's just aren't something I keep stocked in my pantry.
I'm thinking they may need to be though, judging by how fast these monster cookies have disappeared when I've made them over the last few weeks!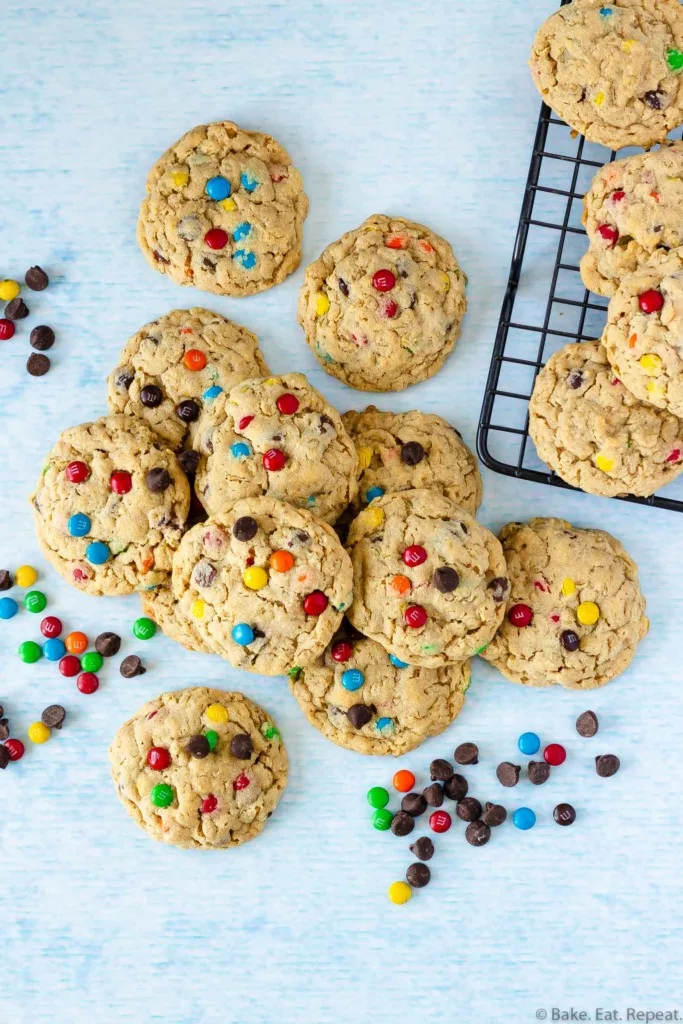 Can you use instant oatmeal in monster cookies?
I don't use instant oatmeal in this recipe. I think that quick oats would work fine in these cookies though, as this recipe is adapted from my Chocolate Chip Oatmeal Peanut Butter Cookies, which does use quick oats. So if that's what you have it should be a fine substitute, although I haven't tried it myself in this recipe.
For these monster cookies, I prefer to use old fashioned rolled oats. The rolled oats give the cookies a thicker, chewier texture than you will get with quick oats.
That being said, I think that quick oats would be tasty in these cookies too if that's what you have!
How do you make peanut butter oatmeal cookies from scratch?
These cookies are so easy to make from scratch, and are way better than store bought cookies!
A stand mixer with the cookie paddles attached will make very short work of mixing the cookie dough, but if you don't have one, an electric mixer will work fine for creaming the butter and sugar.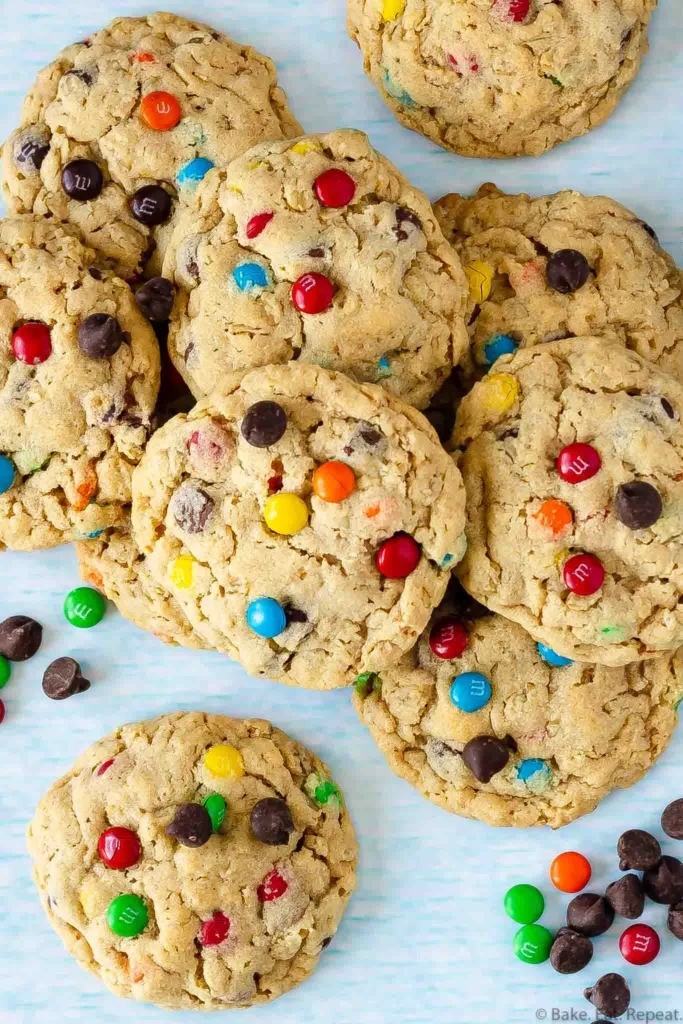 After the wet ingredients are mixed well, you simply mix in the dry ingredients, stir in the chocolate chips and M&M's, and drop the cookie dough onto a baking sheet.
There isn't even any need to chill this cookie dough, so you can be eating some delicious monster cookies in less than half an hour!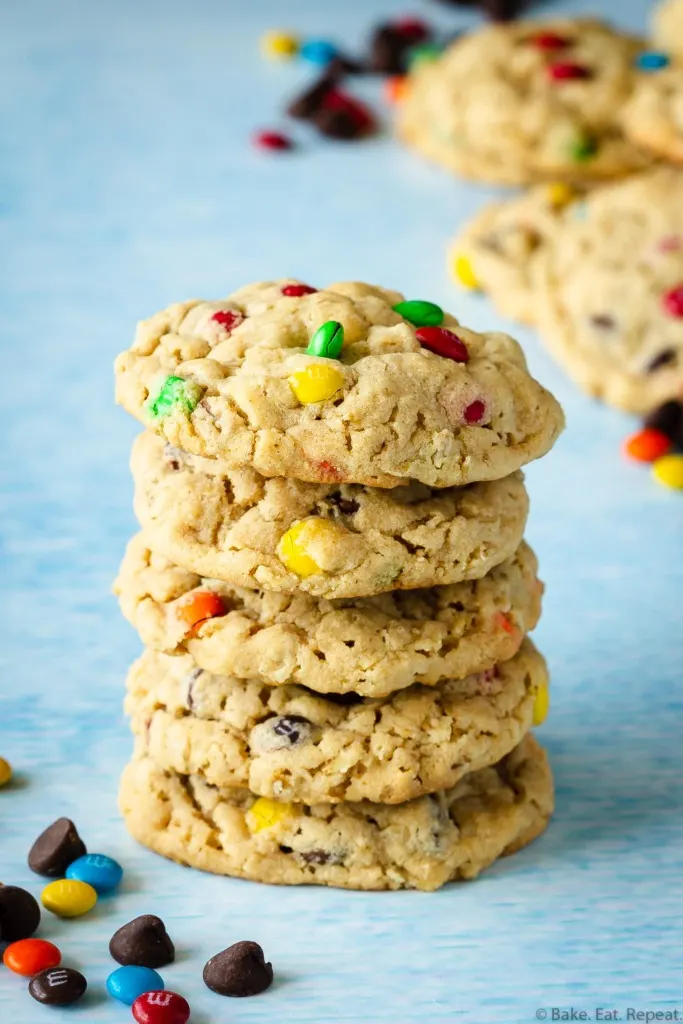 How to make Monster Cookies:
These cookies are 1 1/2 tablespoons of batter each, and are made as a drop cookie. A 1 1/2 tablespoon cookie scoop is perfect for dropping the dough onto a baking sheet quickly and evenly.
I use mini M&M's for these cookies, but regular sized M&M's would be fine here too.
Make sure not to over bake these cookies. They will be crispy instead of chewy if you bake them too long. They will still look slightly under done in the middle, with the edges just starting to brown, when you take them out of the oven.
Here are some more great cookie recipes for you: