These honey lime baked chicken thighs are so quick and easy to make! The marinade mixes up in minutes and that is all the prep work necessary for juicy, honey lime flavoured chicken. Pair it with some tasty Bush's® Baked Beans for the perfect summer meal!
This post was sponsored by Bush's® Beans as part of an Influencer Activation for Influence Central and all opinions expressed in my post are my own.
This honey lime baked chicken thighs recipe is one of the easiest dinner recipes I've ever made, which is saying something since I definitely aim for easy recipes around here.
Cooking dinner shouldn't be a chore that you dread, and easy recipes like this one help make dinner prep a breeze.
There are literally only about 5 minutes of hands-on work to make these chicken thighs. That's it. Mix up a simple honey lime marinade and toss the chicken in it. That is all the prep work you need to do.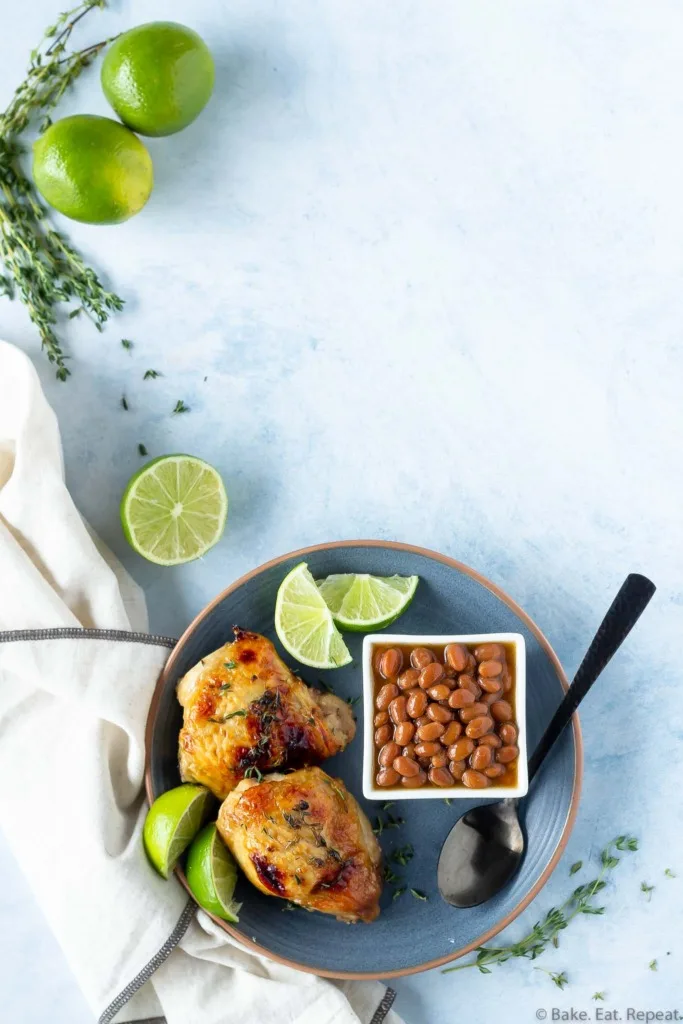 All that remains after that is throwing the chicken in the oven and waiting for dinner. Once you take it out, you can heat up a can of Bush's® Honey Baked Beans, toss together a salad, and dinner is served.
It's such an easy meal that is absolutely perfect for those busy summer nights when you'd rather not spend much time on dinner!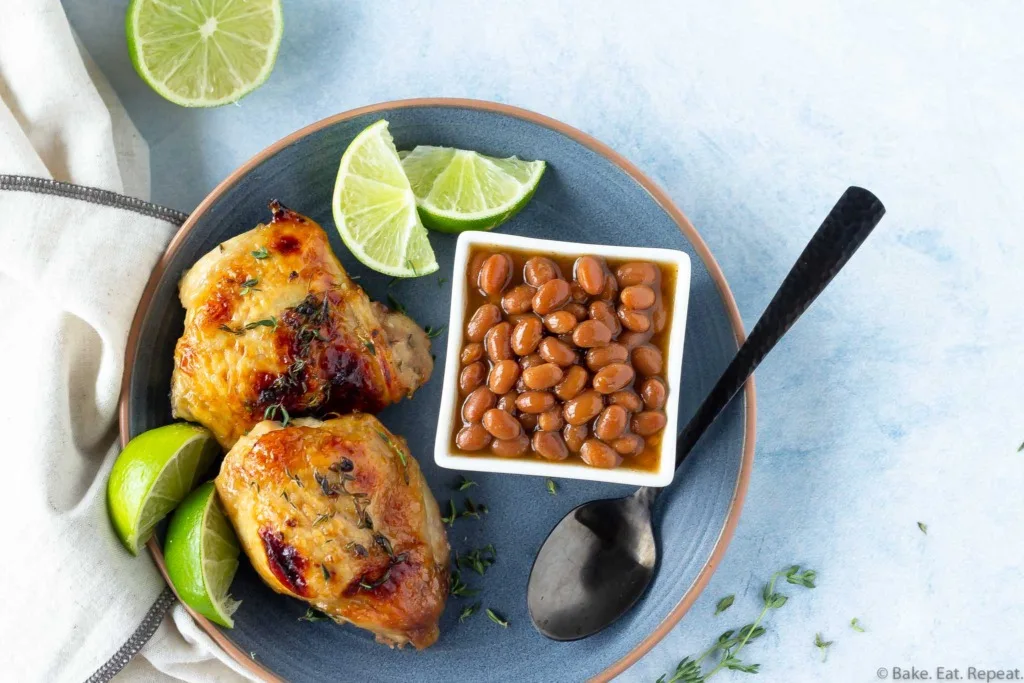 What should I serve with baked chicken thighs?
We loved these honey lime baked chicken thighs served with Bush's® Honey Baked Beans. They were absolutely delicious and went perfectly with the honey lime chicken. You can really taste the difference when premium quality, variety, and flavour are packed into every can!
Bush Brothers & Company is a family company that started over 100 years ago. There are 7 delicious flavours of Bush's® Baked Beans that are sold in Canada, all of them slow-cooked with a signature blend of spices.
We chose the Honey Baked Beans to enjoy with this meal, but any variety would be fantastic alongside this chicken.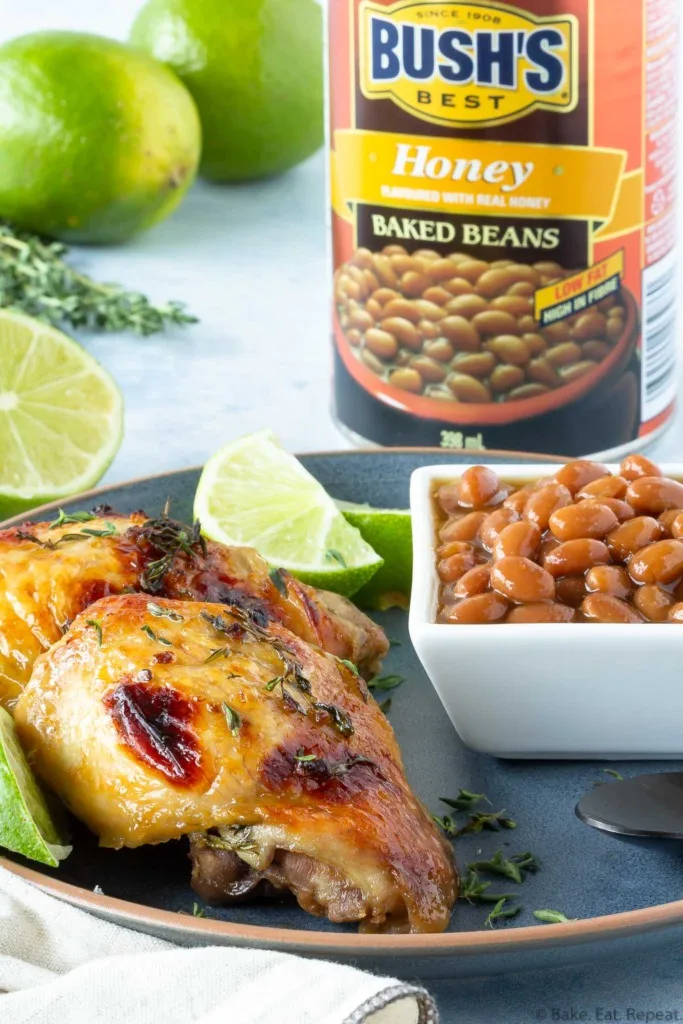 Here are some easy side dishes that go well with the chicken and baked beans: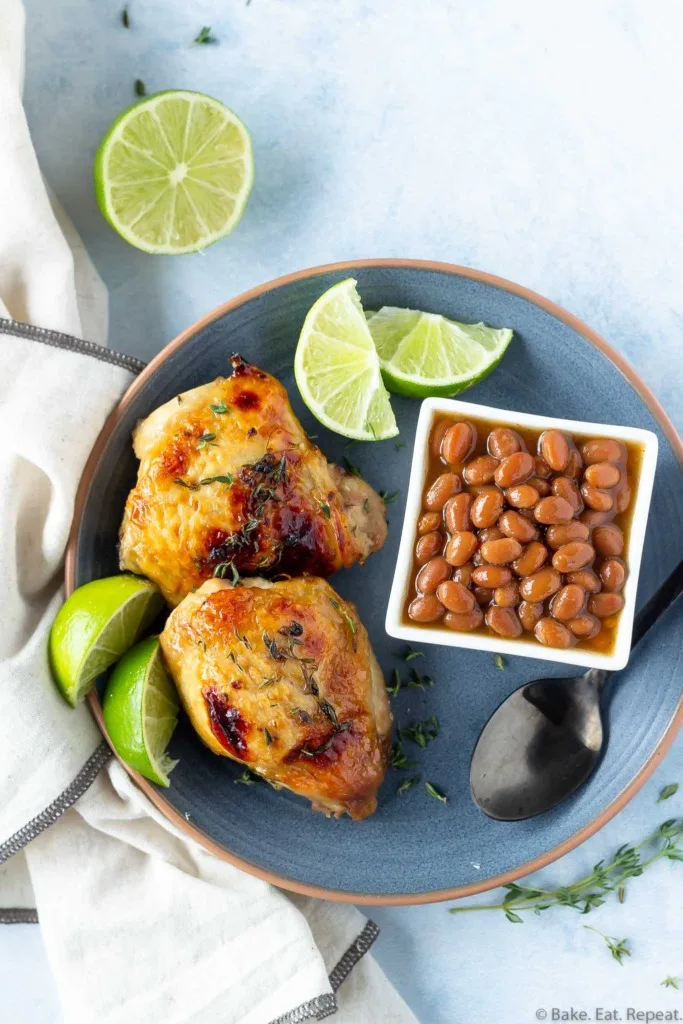 How long do you marinate chicken?
For this recipe, I marinate the chicken for 45-60 minutes. I find that this is long enough to give the chicken thighs a great honey lime flavour, but you could increase the marinating time to up to 2 hours if you like.
I wouldn't recommend increasing the marinating time any more than that, as there is an acidic component to this marinade (lime juice), and it will start to break down the meat after a certain point. This will result in mealy chicken if it's marinated for too long.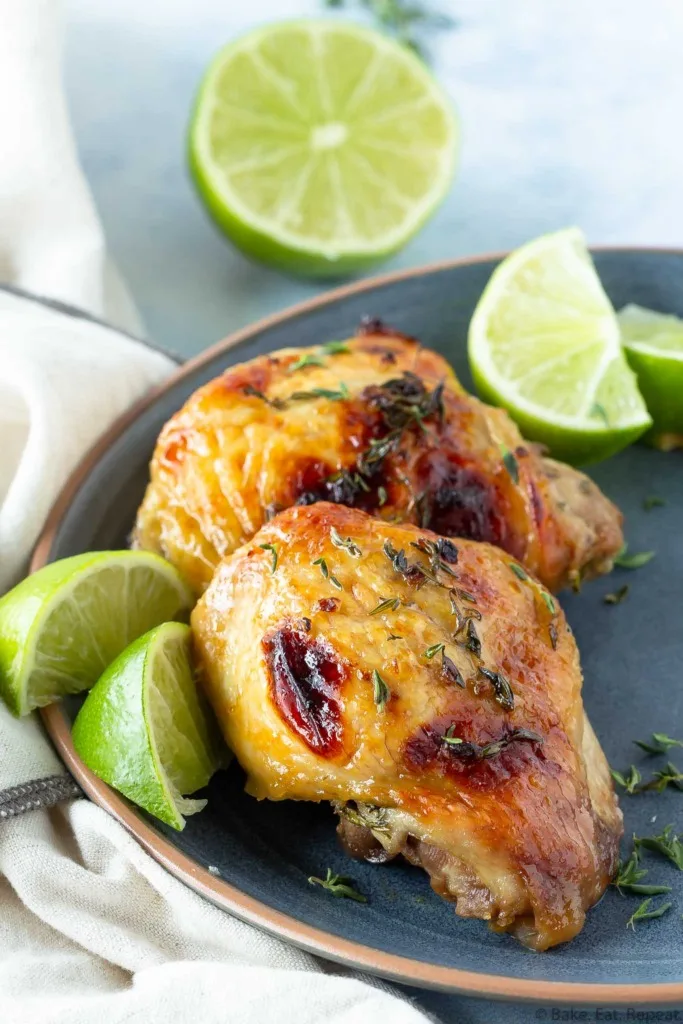 How to make Honey Lime Baked Chicken Thighs:
The honey lime marinade can be mixed up right in the baking dish. Add the chicken thighs and turn them to coat them in the marinade before refrigerating for 45-60 minutes.
If you don't have any fresh thyme, you can replace the tablespoon of fresh thyme leaves with 1 teaspoon of dried thyme.
If the chicken is cooked through before the skin is as crispy as you'd like, you can turn on the broiler for 2-3 minutes to crisp it up a bit more before removing it from the oven.
Make sure to serve up some Bush's® Baked Beans with your chicken to make this meal great!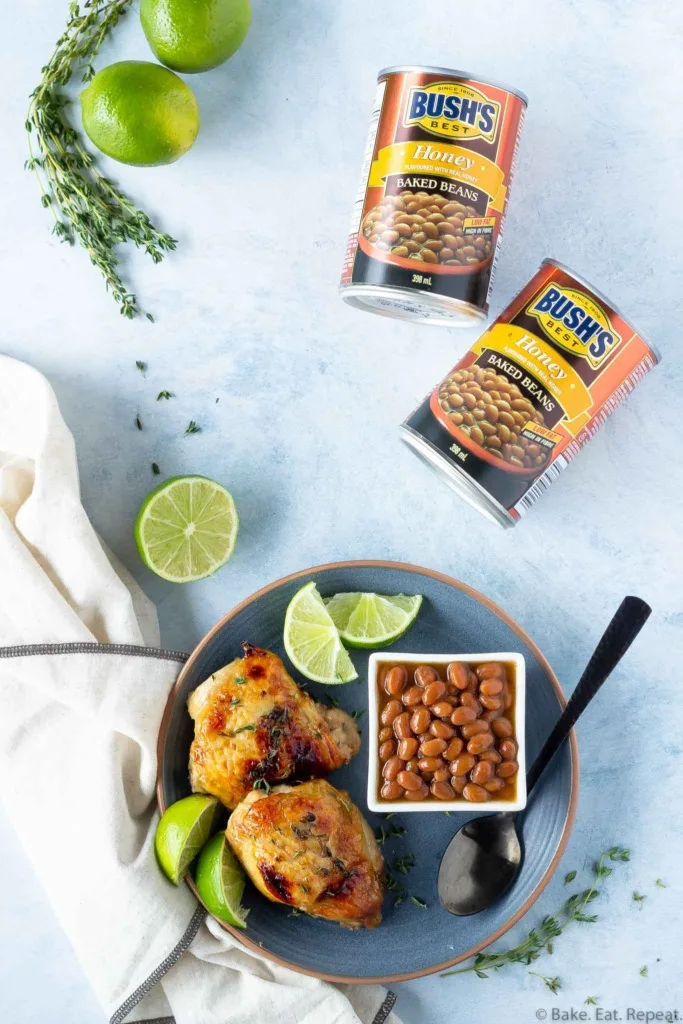 Here are some more great chicken thigh recipes for you: