This easy cucumber salad takes just minutes to mix up and then just waits in the fridge until you're ready to serve it! So tasty and so easy!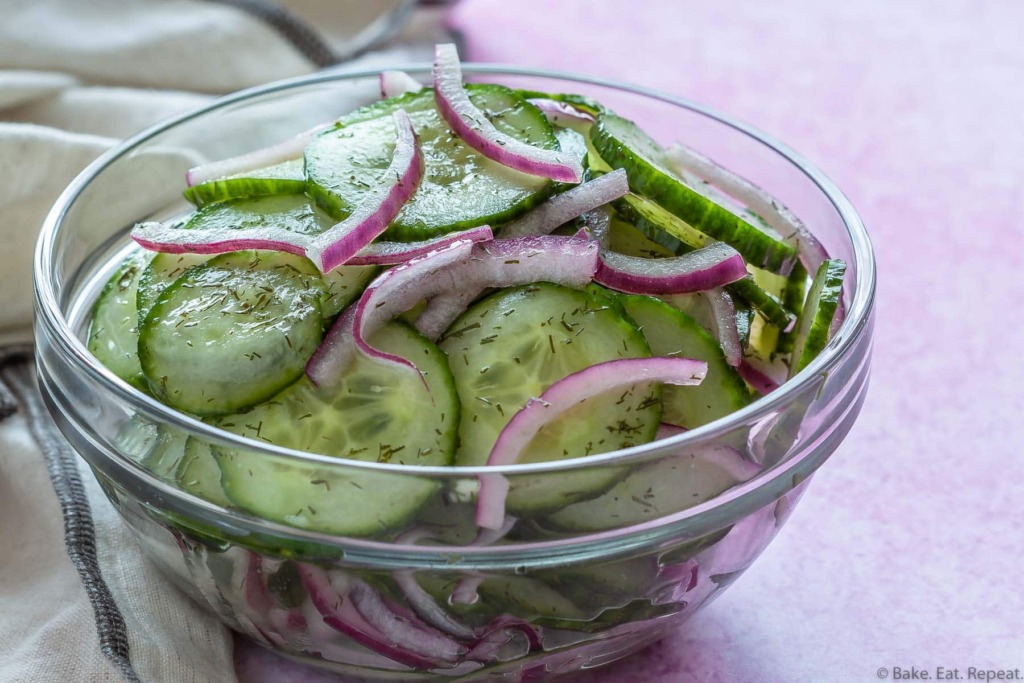 Cucumber salad is one of my favourite salads. Always has been.
I think the similarity with dill pickles but as a fresh salad is what I like about it, but how easy it is to make is a close second.
This salad takes just 5 main ingredients to make – cucumbers, red onion, vinegar, sugar, and garlic. Toss in a bit of salt and dill weed and you have a tasty salad in just minutes.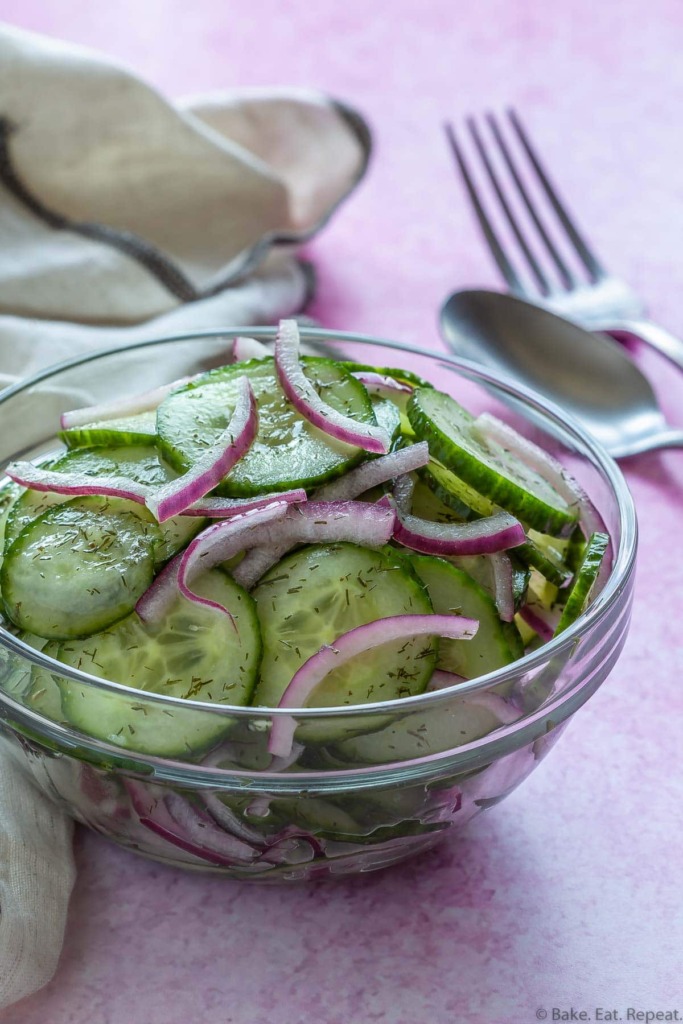 Or as fast as you can slice up a cucumber!
My kids aren't actually big fans of this salad, although I'm not sure why. They all love cucumbers and dill pickles and it does remind me of dill pickles with that vinegar and dill dressing. But for whatever reason they don't really care for it.
Luckily it keeps well in the fridge for up to 3 days, so I just have it with my lunch for a few days after making it for supper.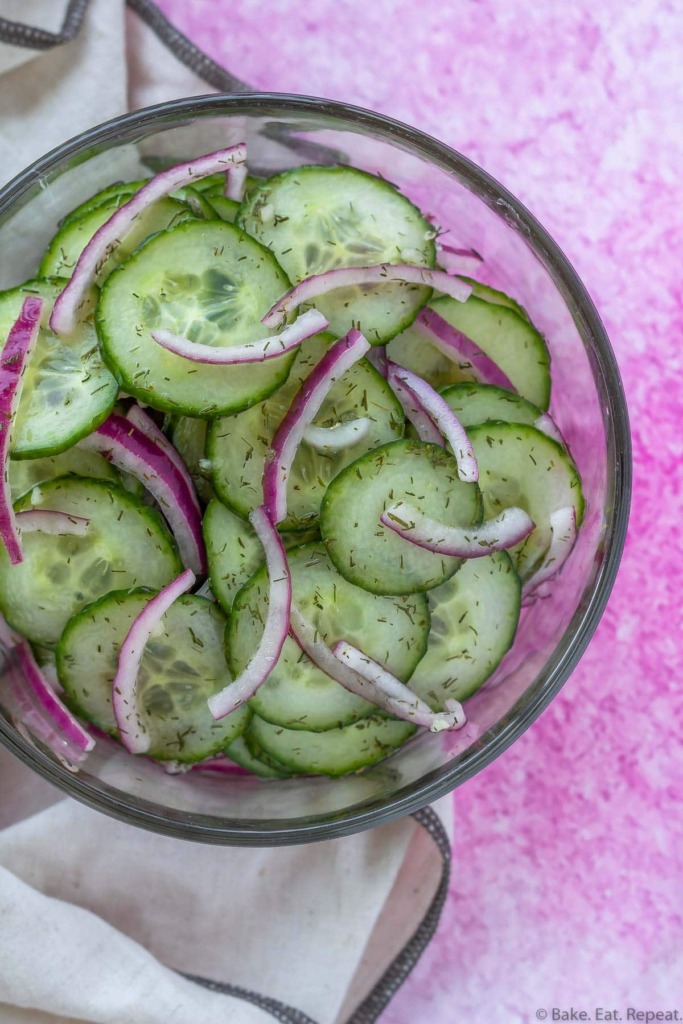 How do you drain cucumbers for cucumber salad?
If you want to drain the cucumbers before making the salad, layer them with a sprinkle of salt in between each layer in a colander. Let them sit for about 15-30 minutes to drain before mixing up the salad.
In all honesty though, I never bother with this step. After mixing up the salad it needs to chill for an hour before serving so they drain while chilling and I just pour out the excess liquid before serving the salad.
But if you prefer, you can definitely drain the cucumbers beforehand to limit the extra liquid in your cucumber salad.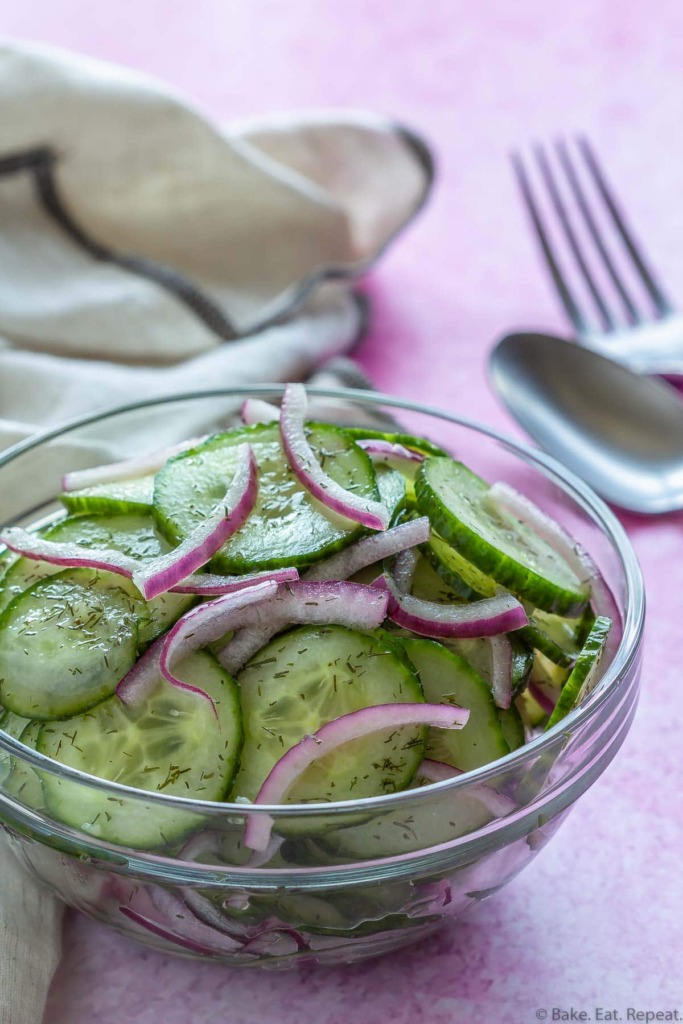 Should the cucumbers be peeled for cucumber salad?
I never peel my cucumbers for cucumber salad. I like the bright green colour in the salad, they're more nutritious with the peel on, and it's a whole lot faster to not bother peeling them!
If you prefer to peel your cucumbers though, go right ahead!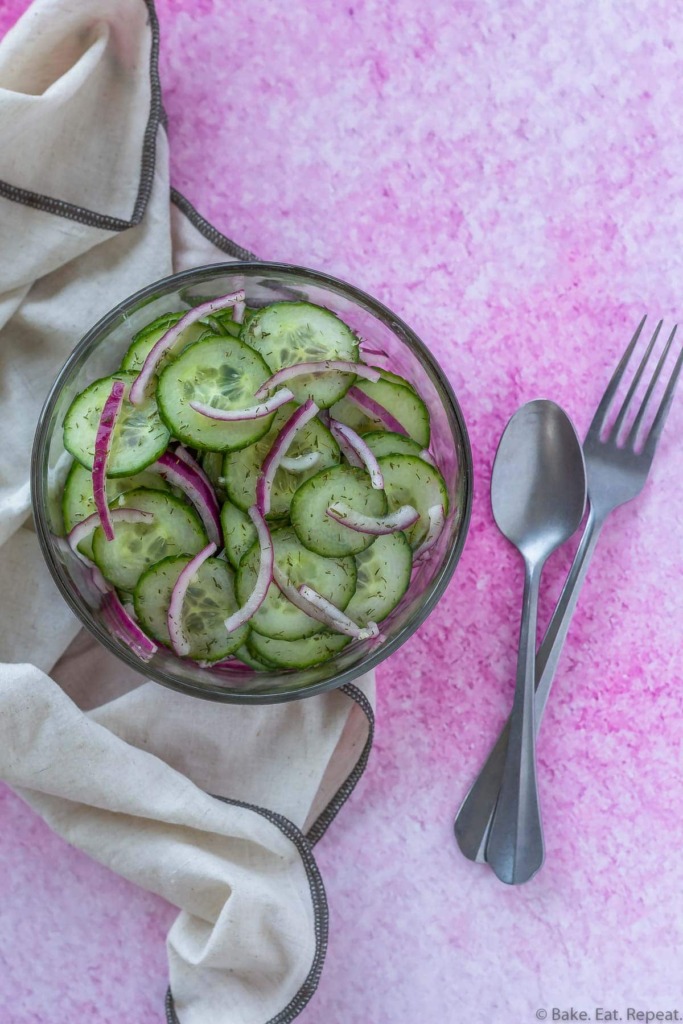 How to make Easy Cucumber Salad:
Cucumber salad is one of the quickest, easiest salads to make. Simply chop up your cucumber and red onion and toss them together with vinegar, sugar, garlic, dill, and salt. The hardest part is letting it chill for an hour to meld the flavours together!
I find this easy cucumber salad is good for up to three days in the fridge, but it is best the day it's made. The cucumbers lose a bit of their crispness each day, but we definitely eat it for a few days until it's gone.
I have this garlic press and love it for mincing the garlic quickly.

Here are some more great salad recipes for you:
Yield: serves 4
Easy Cucumber Salad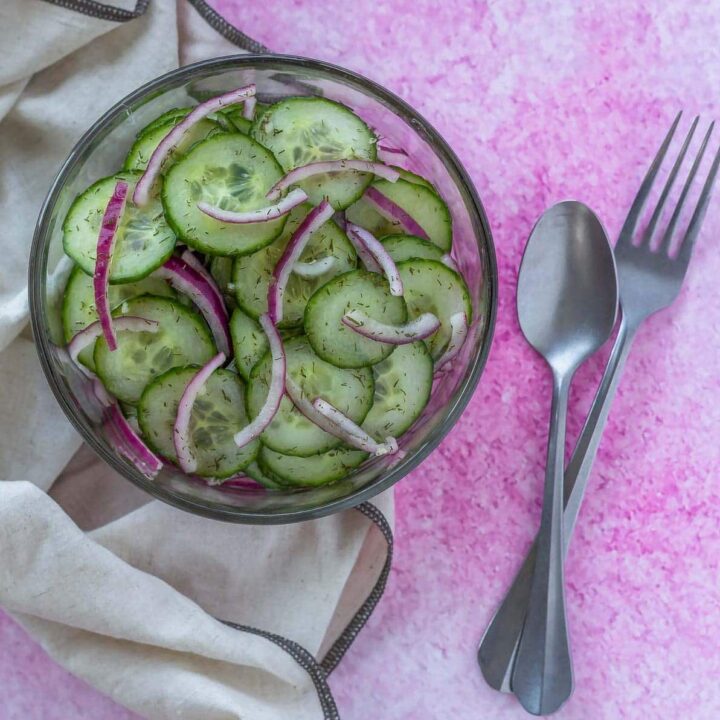 This easy cucumber salad takes just minutes to mix up and then sits in the fridge until you're ready to serve it! So tasty and so easy!

Prep Time 10 minutes

Chill Time 1 hour

Total Time 1 hour 10 minutes
Ingredients
1 English cucumber, sliced thin
1/4 red onion, sliced thin
2 tablespoons white vinegar
1 tablespoon granulated sugar
1 clove garlic, minced
1 teaspoon dried dill weed (or 1 tablespoon chopped fresh dill)
1 teaspoon salt
Instructions
In a medium bowl, toss together the cucumber, red onion, white vinegar, sugar, garlic, dill, and salt, until well combined.
Refrigerate for one hour before serving to allow the flavours to combine.
The salad is best the day it is made, but leftovers will keep well for up to 3 days in an airtight container in the fridge.
Recommended Products
This post contains affiliate links. As an Amazon Associate, I may receive a small commission from qualifying purchases.
Nutrition Information:
Yield:
4
Serving Size:
1/4 salad
Amount Per Serving: Calories: 25Total Fat: 0gSaturated Fat: 0gTrans Fat: 0gUnsaturated Fat: 0gCholesterol: 0mgSodium: 531mgCarbohydrates: 6gFiber: 0gSugar: 4gProtein: 1g

Nutrition Information is estimated based on ingredients used and may not be exact.