These strawberry lemon sweet rolls make the perfect sweet treat for brunch! Filled with fresh strawberries and covered in a sweet lemon cream cheese glaze, everyone will love them!
Disclaimer: This post has been sponsored by California Strawberries and I have been compensated monetarily. All opinions are, as always, my own.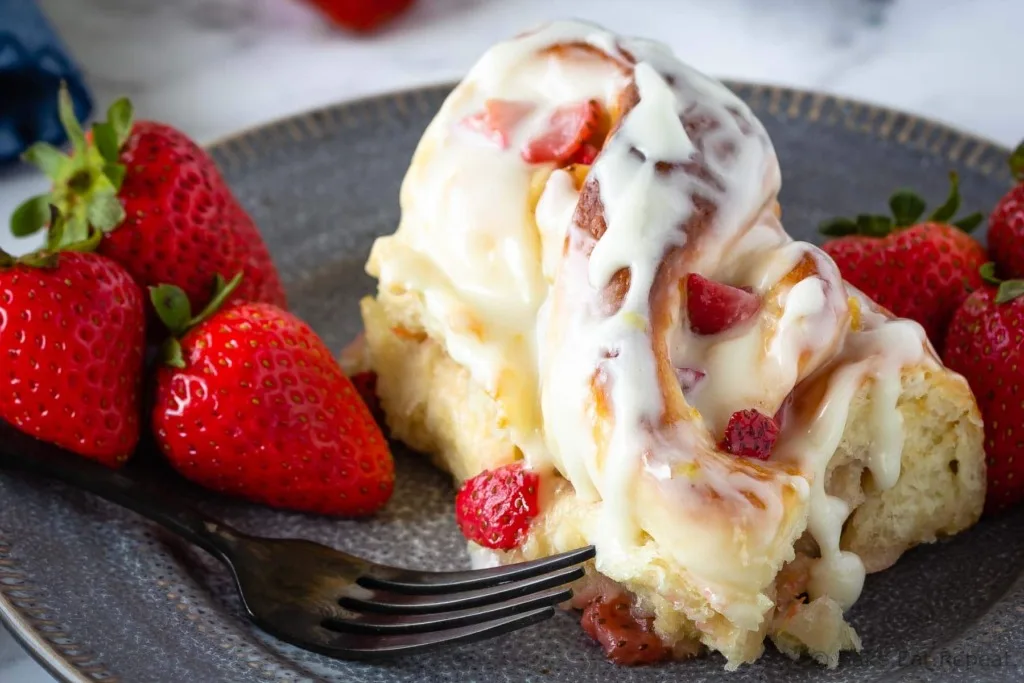 One of my favourite things to make for a weekend brunch is sweet rolls. I love making homemade bread – and a sweet version like this, that is easy to make, and is basically dessert for breakfast, is maybe the best kind.
These sweet rolls are filling with a sweet, tangy lemon filling and chopped fresh California Strawberries, and are then topped with a delicious lemon cream cheese glaze.
They're heavenly.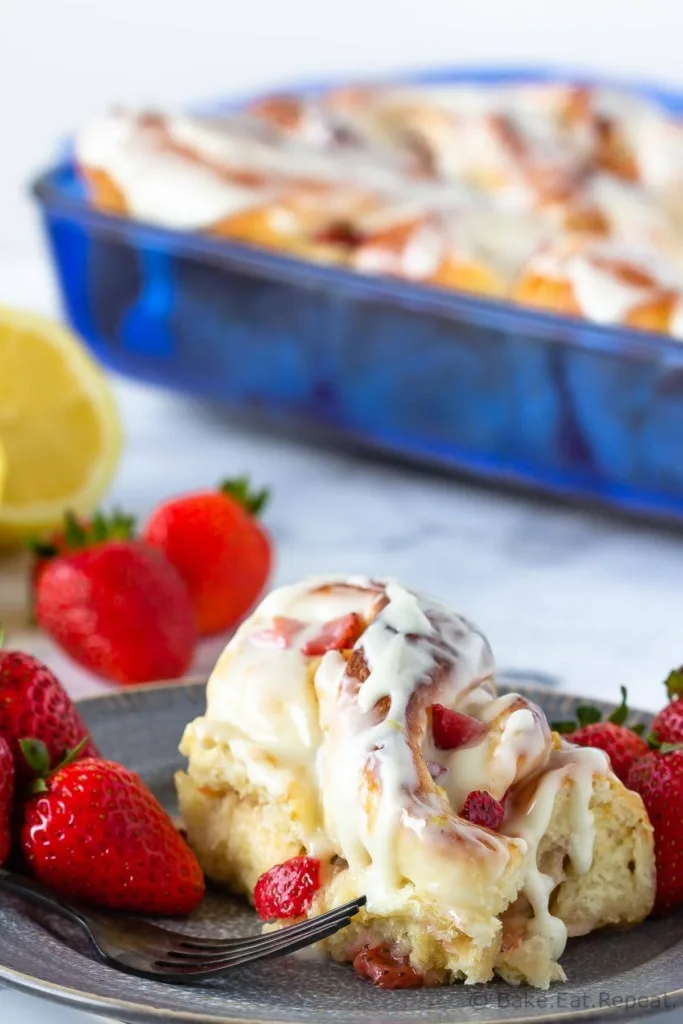 California Strawberries are in season and readily available at grocery stores right now, so it's the perfect time to make a treat like these strawberry lemon sweet rolls!
Just make sure you get more then you need for the recipe, because if you're anything like me (and the rest of my family), you will definitely want some fresh strawberries alongside these tasty sweet rolls.
I'm probably going to have to make these lemon strawberry sweet rolls again next weekend, because they disappeared way too quickly!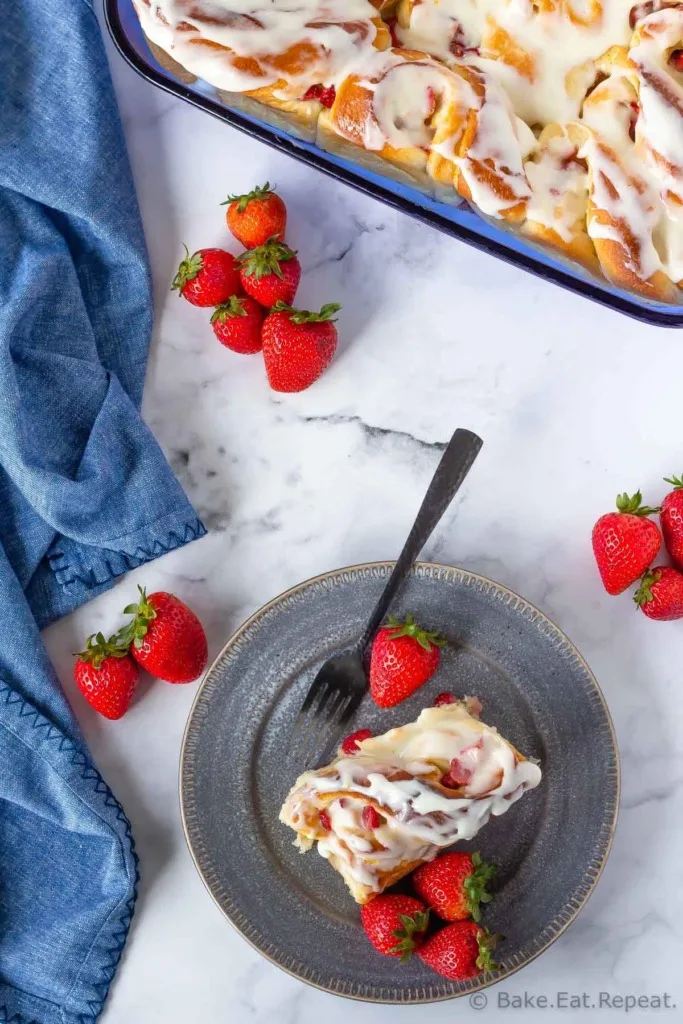 What are the benefits of eating strawberries?
There are a lot of benefits to eating strawberries. California Strawberries are an excellent source of Vitamin C. One serving of California Strawberries (8 berries) has more Vitamin C then an orange.
Plus, one serving of 8 California Strawberries is only 50 calories, and is an excellent source of fibre.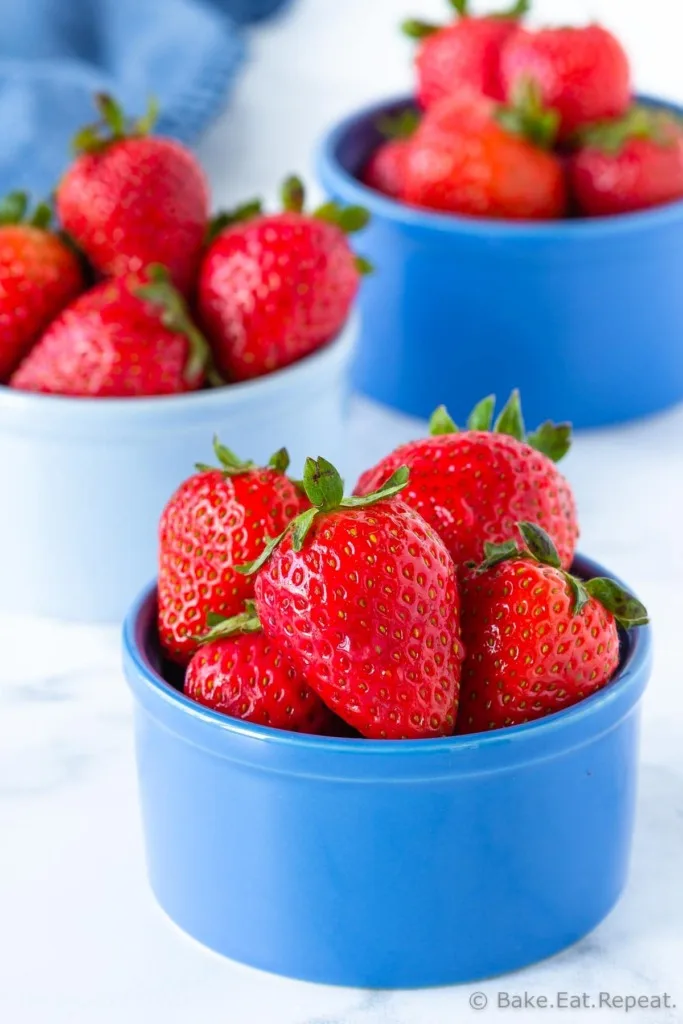 We love snacking on strawberries at my house. With five people, all crazy for strawberries, we go through a package of California Strawberries in no time at all here! Eight strawberries make the perfect after school or bedtime snack.
In fact, when I bought these strawberries to make this recipe I had to warn the kids that they couldn't snack on them until I made my recipe!
I had visions of going to make these strawberry lemon sweet rolls, opening the fridge to find two strawberries left, and having to run to the store to get more.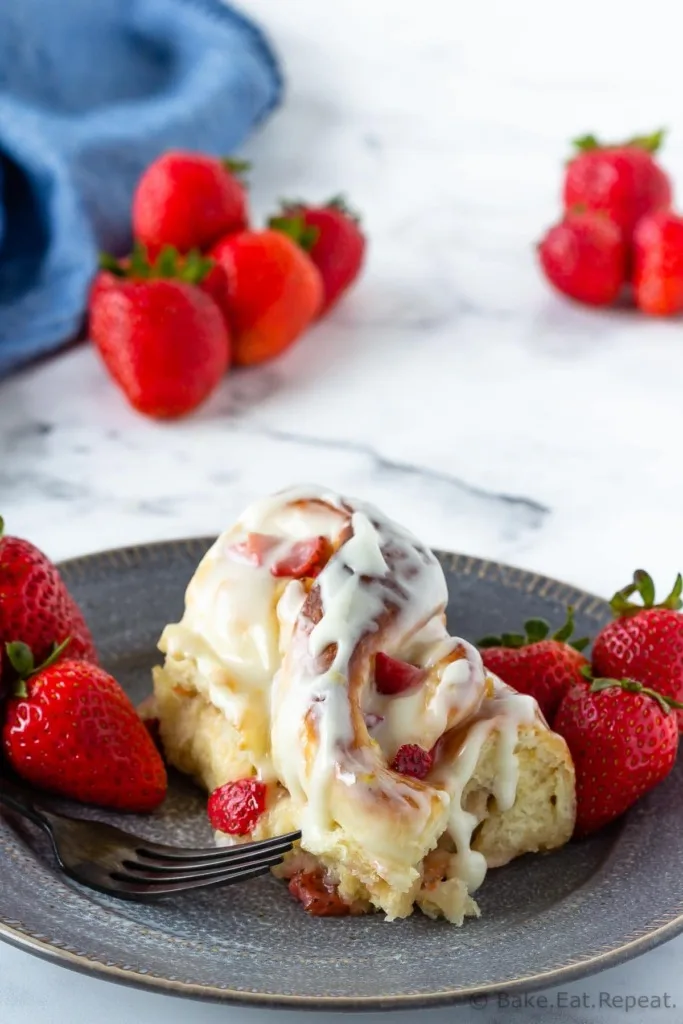 Can you make sweet rolls ahead of time?
Yes, you can definitely make sweet rolls ahead of time! There are actually several options with the rising and baking of these rolls.
You can shape the sweet rolls and then refrigerate them for up to two days, pulling them out 3-4 hours before baking to allow them to rise.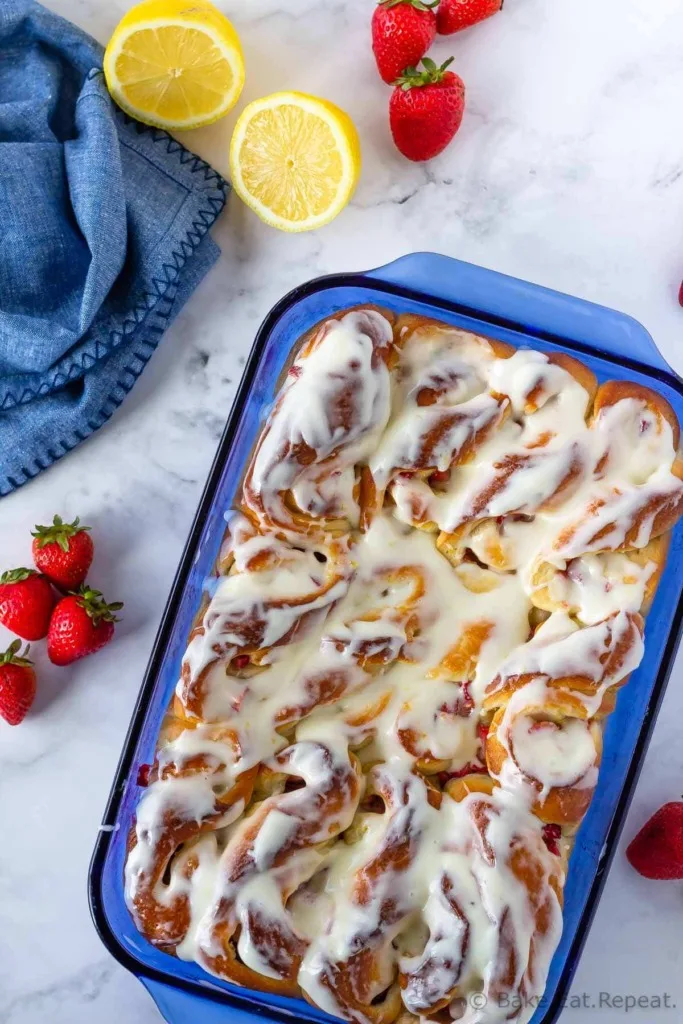 Or you can let them rise immediately after shaping them and then refrigerate them for up to 2 days, pulling them out and allowing them to come to room temperature (about 30-60 minutes) before baking.
Or you can let them rise immediately after shaping and then bake them right away.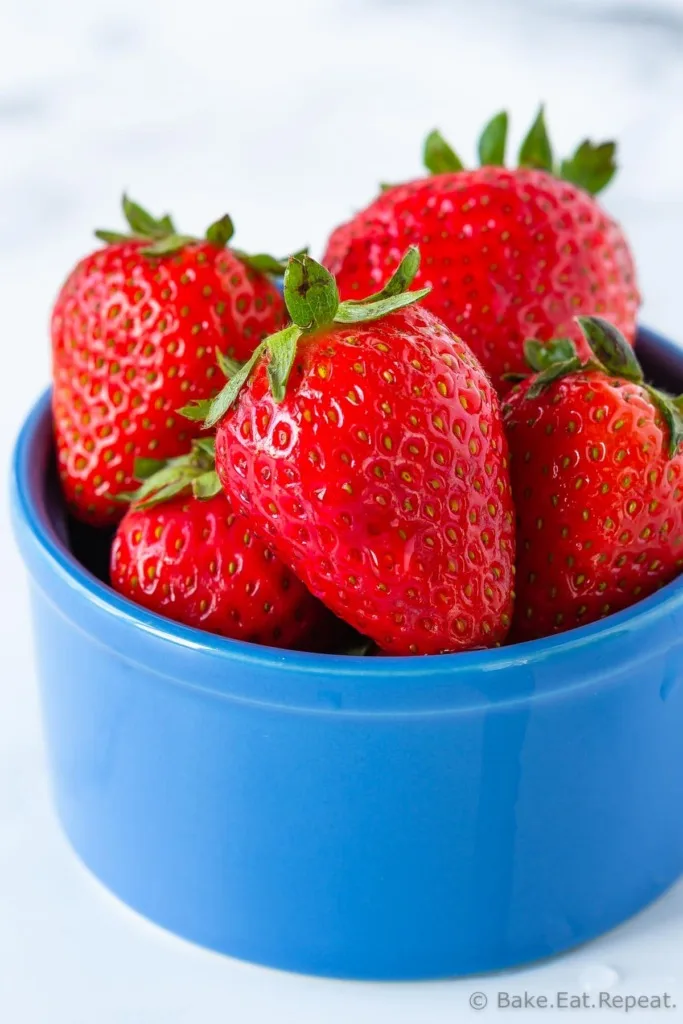 How do you reheat sweet rolls?
If you have leftover sweet rolls, the best way to reheat them is simply in the microwave, individually.
Place one on a plate and reheat for about 30-60 seconds in the microwave. The amount of time needed will really depend on your microwave though.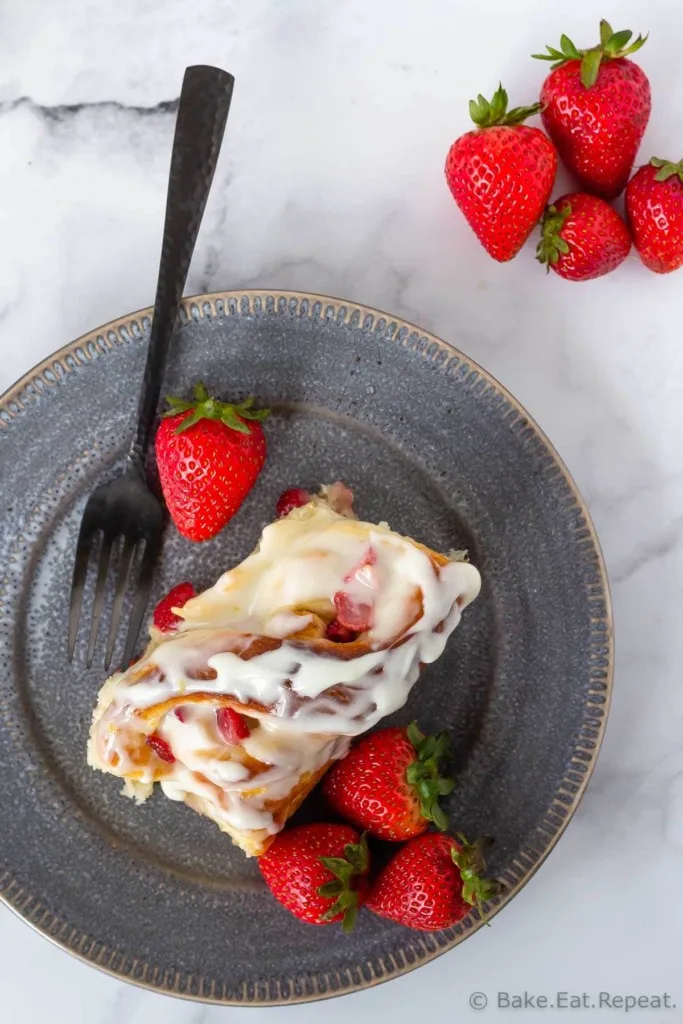 How to make Strawberry Lemon Sweet Rolls:
I made these sweet rolls with a twisted shape, just because I think they look nice that way. But you can definitely bake them as regular rolls with the classic cinnamon roll shape instead. Nothing changes in the instructions, just lay them flat after cutting them, instead of twisting them before placing them in the baking dish.
The easiest way to slice the rolled up log of dough and filling is to use a piece of unflavoured dental floss to do so. Simply slide the piece of floss underneath the log of dough until you have it at the place you want to cut, cross the ends over top of the dough, then pull them tight. As the loop of floss pulls tight around the log of dough, it will cut through. Repeat this at even intervals to cut your 12 sweet rolls.
We loved these strawberry lemon sweet rolls for weekend brunch with some scrambled eggs and more fresh California Strawberries!
Here is a look at the step by step process of making these sweet rolls: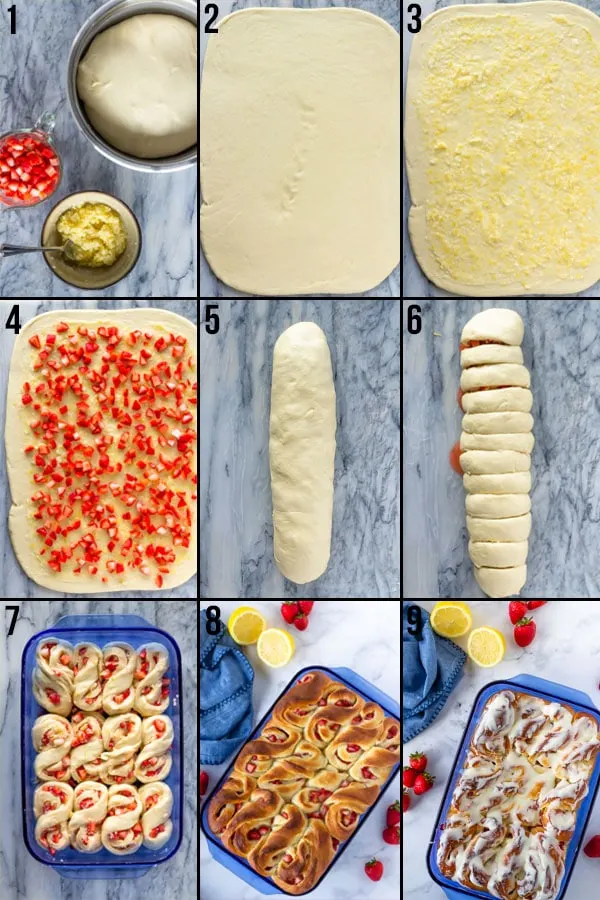 And here are some more great brunch recipes for you: