These easy chocolate chip cookies are quick to mix up and bake into perfectly chewy chocolate chip cookies. Easy and delicious!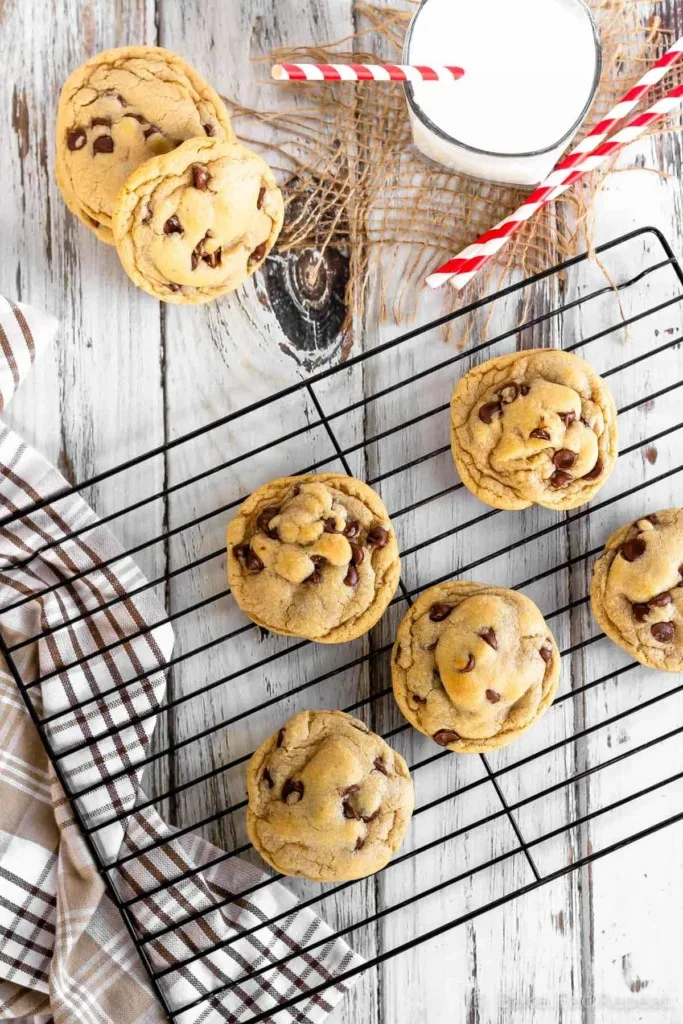 I'm sharing my favourite cookie recipe with you today.
Yes, I do like the classics the best. You just can't beat a good chocolate chip cookie in my humble opinion.
It's one of those things that I just can't say no to.
The beauty of this recipe for easy chocolate chip cookies is just that. They're easy.
All the usual ingredients, it only takes a couple minutes to mix up the dough, and you don't have to chill it before baking.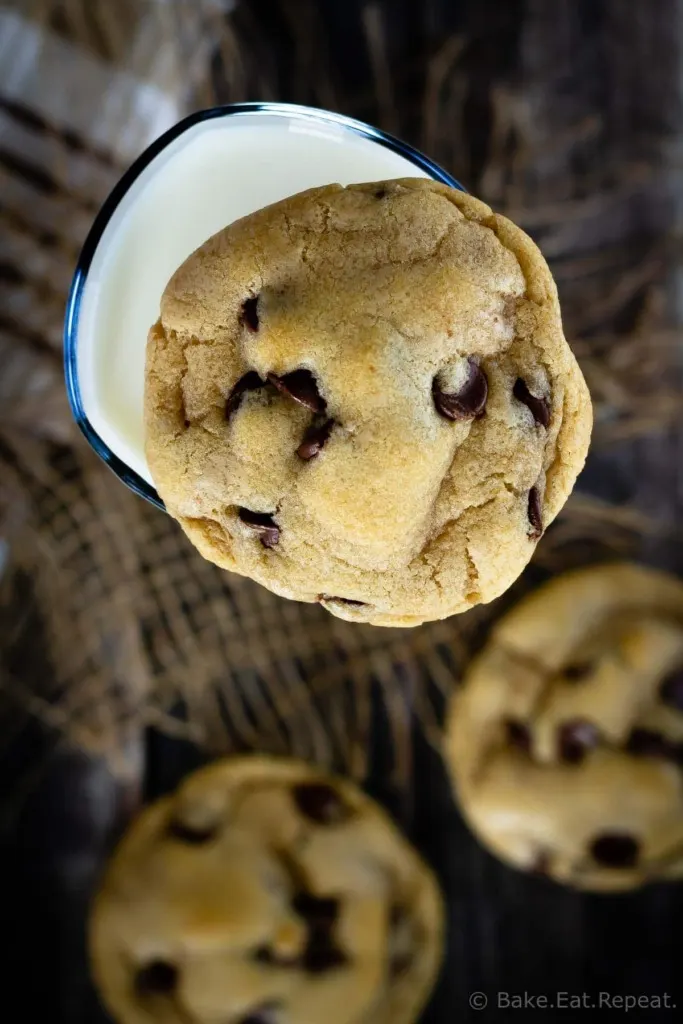 I rarely bother with chilling this dough and you usually can't tell. Although I will say that if the kitchen is really warm, or I've let the butter get too soft, I will add a chilling step so that the cookies don't spread way too much. But typically, I don't find it necessary with this recipe.
And that, my friends, is why I love this recipe. I likely won't ever make another chocolate chip cookie recipe quite as often as I make this one.
Because who wants to wait for cookies?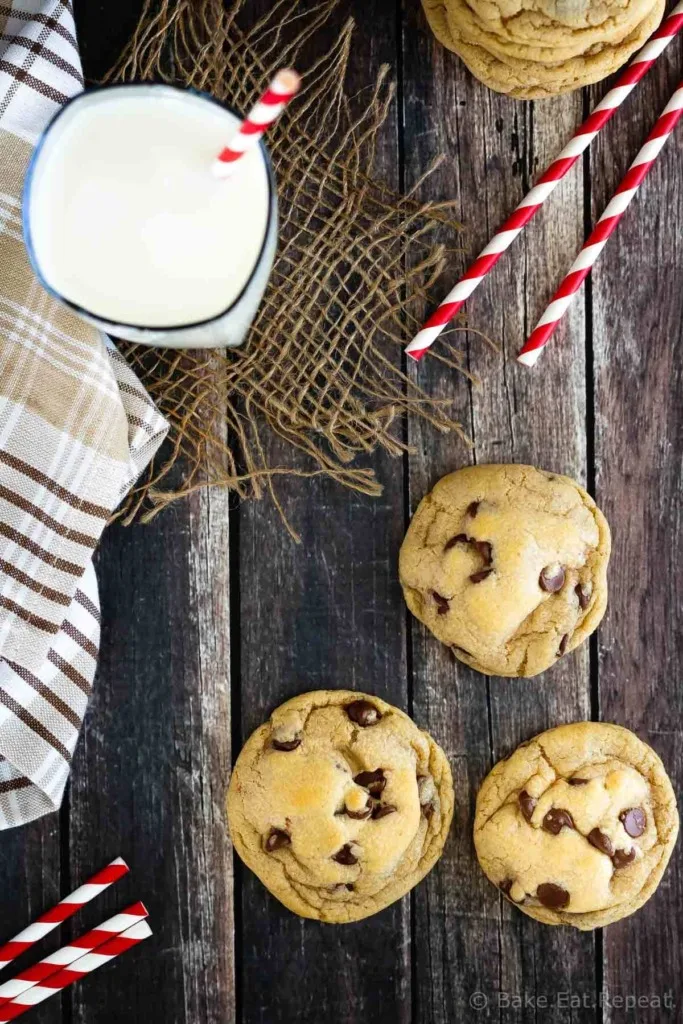 Why do my chocolate chip cookies go flat when I bake them?
Cookies they will spread too much in the oven when the butter is too soft and warm. I usually bake these cookies without chilling the dough and they bake perfectly.
But, if it's a warm day and the butter is super soft when I mix up the cookie dough, they will can spread too much and be really flat. So on a really warm day, I will sometimes chill the dough for 30-60 minutes before baking it.
Your butter should be soft enough that it indents fairly easily if you press your finger against it, but not so soft that it slides right through.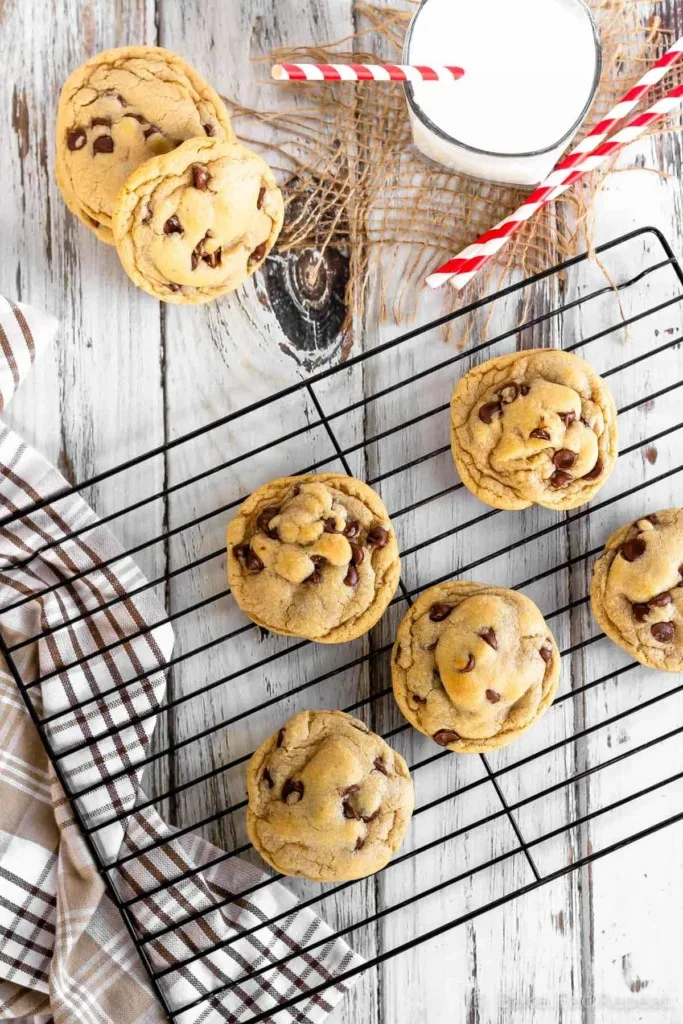 What is the best way to store chocolate chip cookies?
The best way to store these cookies is in an airtight container at room temperature. Make sure to let the cookies cool completely on a wire rack first.
Can you freeze fresh baked cookies?
I freeze freshly baked cookies all the time. After they cool completely you can freeze them in an airtight container for up to 3 months.
How to make Easy Chocolate Chip Cookies:
Make sure your butter is softened before mixing up your cookie dough, but not too soft. It should be soft enough that it indents fairly easily if you press the back of a spoon against the side of it, but not so soft that the spoon slides right through.
Like most cookies, these will not look like they're completely done when you take them from the oven. They should just be starting to brown on the edges, but the middles should still look under-baked. That's okay, they will firm up as they cool, but if you leave them in the oven until they look totally done, they will be crispy instead of chewy.
I generally don't bother chilling this dough before baking, but if you like your cookies to be really puffy and not spread out much, you can chill the dough for 30-60 minutes before baking it.
Here are some more great chocolate chip cookie recipes for you:
I've also shared this Chocolate Chip Cookies recipe over on Food Fanatic.