Cook your spaghetti squash the quick and easy way this fall! Perfect spaghetti squash only takes 4 minutes cooked at high pressure in the Instant Pot!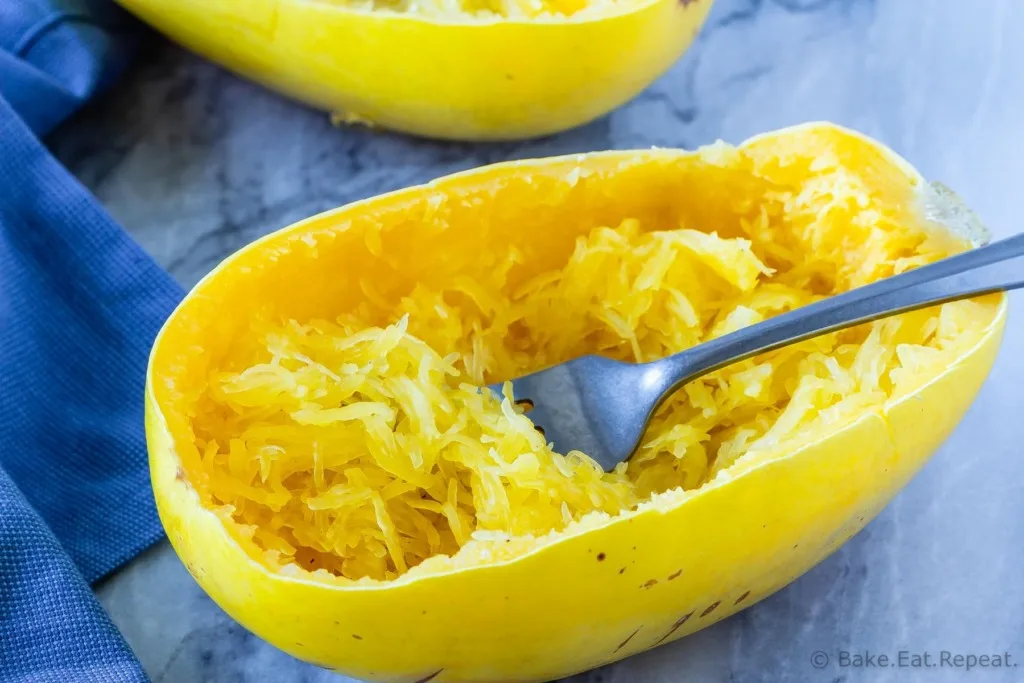 Spaghetti squash is one of my favourite side dishes in the fall. It makes such a great side dish just tossed with a bit of butter and salt and pepper.
Or add your favourite pasta sauce and it can be your main course.
Now I will admit that most of my family is not thrilled with that idea. They like their pasta.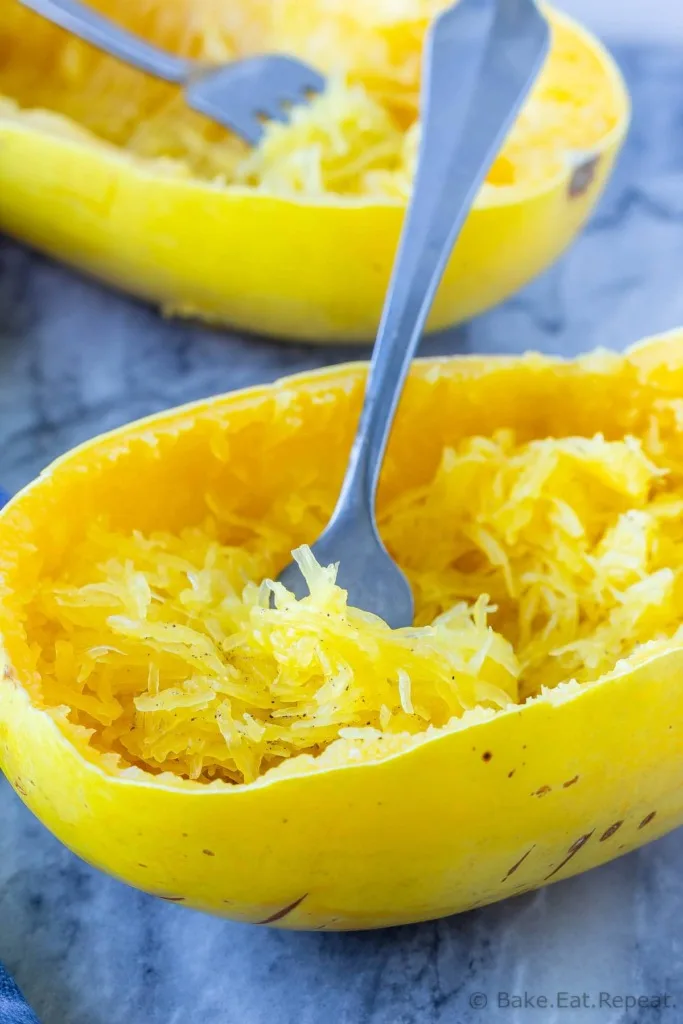 But my daughter and I both love having spaghetti squash "noodles" occasionally instead.
So I usually just boil some regular pasta as well when I want spaghetti squash "noodles" for dinner. Then everyone is happy.
And really, when you make Instant Pot spaghetti squash it takes so little time that making regular pasta as well is no big deal.
Having an Instant Pot option for spaghetti squash is really just going to mean that my family will be very sick of spaghetti squash this year.
It's gonna happen. My daughter and I will be happy though!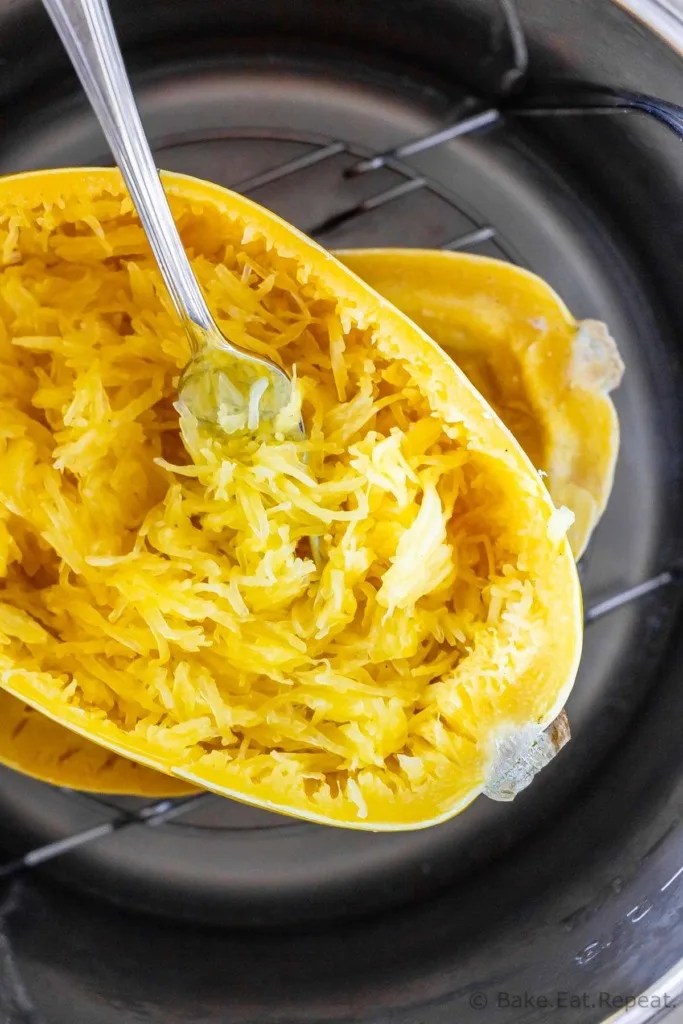 How do you cook spaghetti squash?
You can cook spaghetti squash several different ways. The Instant Pot is the fastest and easiest way to cook your spaghetti squash.
Simple slice the spaghetti squash in half length-wise, scoop out the seeds, and place the halves on the rack in your Instant Pot.
Drizzle the halves with a bit of olive oil and sprinkle with salt and pepper, and cook at high pressure for only 4 minutes.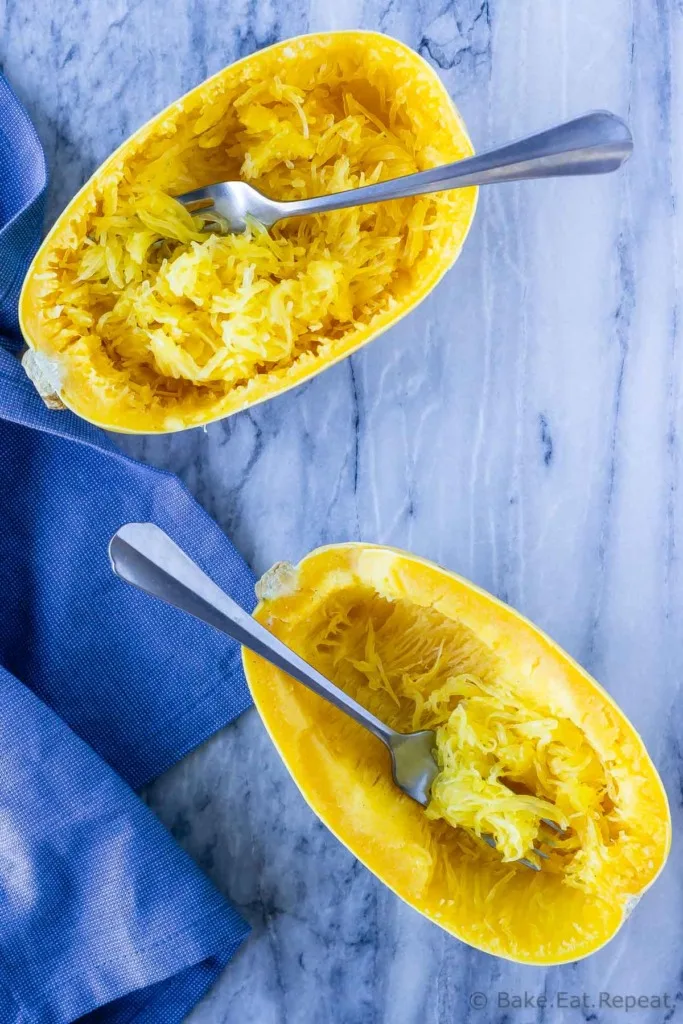 Alternatively, you can roast your spaghetti squash in a 400 degree F oven for 45-55 minutes.
Slice the squash in half, scoop out the seeds, drizzle with olive oil and sprinkle with salt and pepper. Roast the squash cut side down on a baking sheet until tender.
I've also cooked spaghetti squash in the microwave. I do find that it tends to cook a little unevenly in the microwave though so this isn't my preferred method.
To cook in the microwave, scoop the seeds out of one half of the squash, put a couple tablespoons of water in the cavity, and cover it tightly with plastic wrap.
Then microwave on high power for about 10 minutes, or until the squash is tender when pierced with a fork. The time will vary depending on your microwave.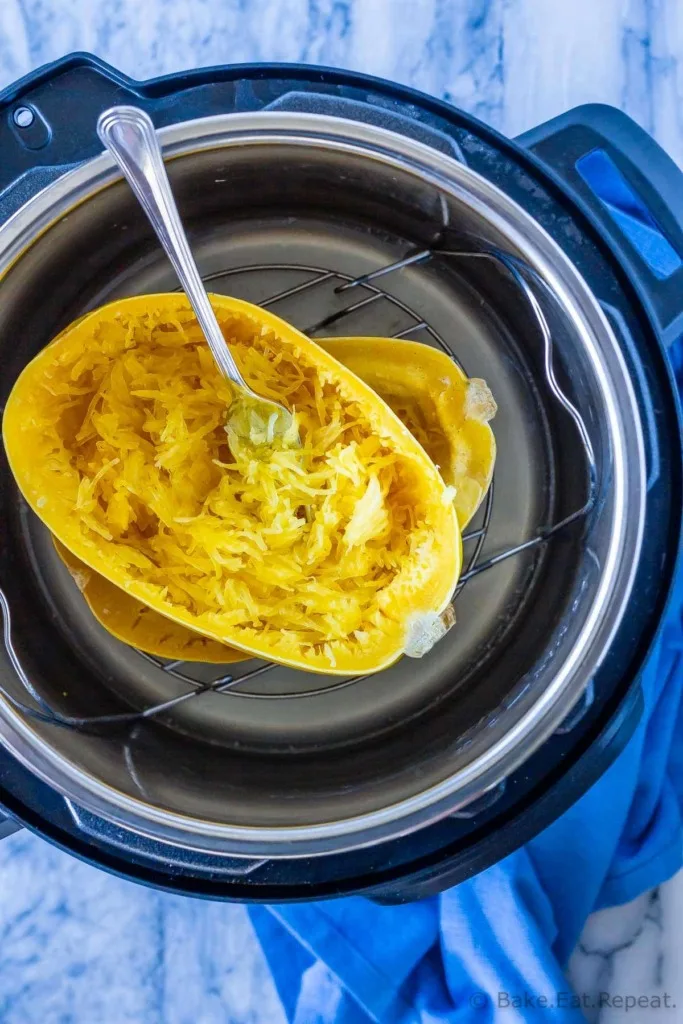 Is spaghetti squash healthy?
I love spaghetti squash, and one of the reasons is that it is very healthy.
It is high in fibre, low calorie, and rich in vitamins, minerals and antioxidants. Plus it just tastes great!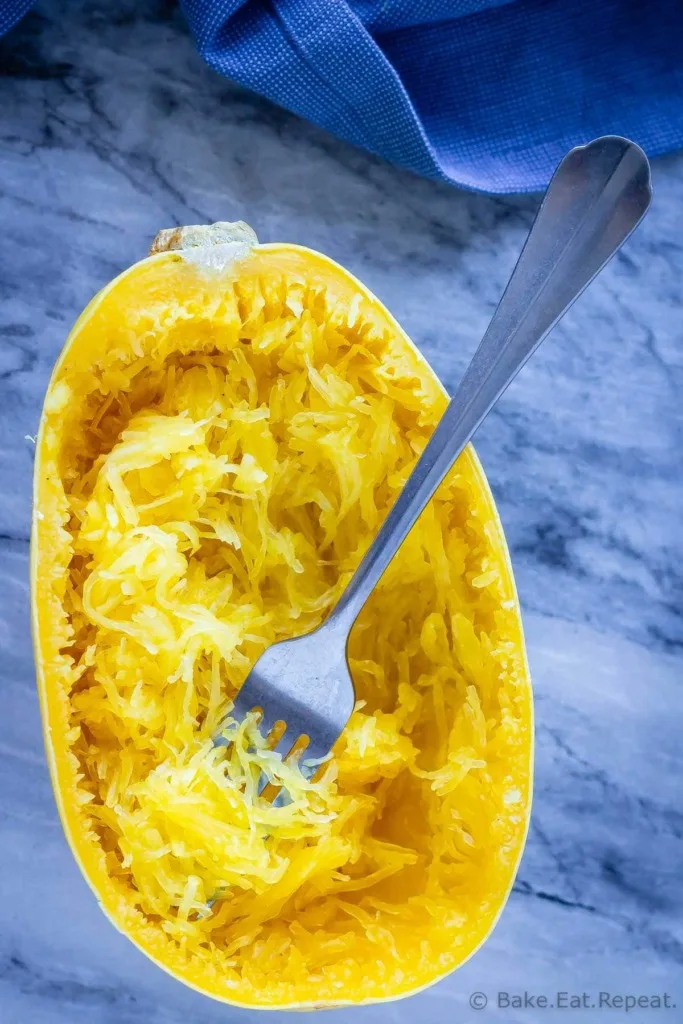 How long is spaghetti squash good for?
If you store your uncooked spaghetti squash in a cool, dry place, it should last for up to 3 months.
I buy them in the fall in the 3 packs at Costco and they last for months stored in my pantry.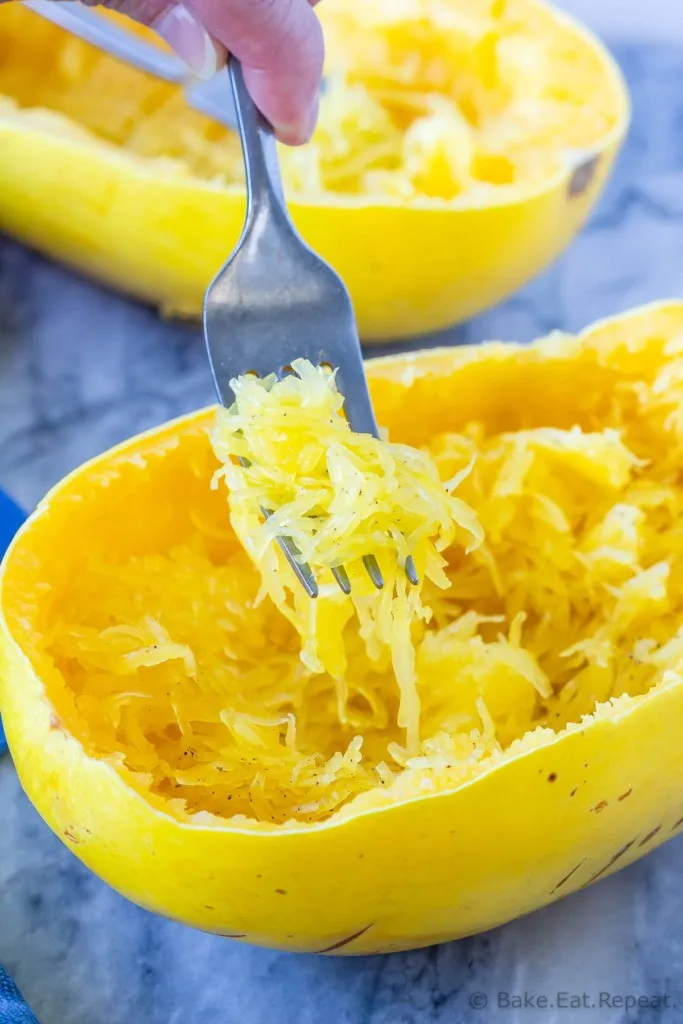 How to make Instant Pot Spaghetti Squash:
I have an 8 quart Duo Instant Pot and it easily fits a large spaghetti squash. There was plenty of room so I think that a 6 quart model would fit a whole squash easily. Don't fill your Instant Pot more than 2/3 full when pressure cooking – just cook one half at a time if that's all that fits in yours.
I like to drizzle my spaghetti squash with olive oil and sprinkle it with salt and pepper before cooking, but this step isn't necessary if you prefer to skip it.
Once your Instant Pot has finished the pressure cooking cycle, quick release the pressure. You will then want to check if your squash is cooked enough. If it doesn't pierce easily with a fork, it's not cooked enough, so bring your pot to pressure again and cook for another couple minutes. It will come to pressure faster the second time.
Here are some more great Instant Pot recipes for you:
I've also shared this Instant Pot Spaghetti Squash recipe over on Food Fanatic.