This southwest stuffed spaghetti squash is absolutely fantastic. Filled with southwest flavours and so quick and easy to make! Originally posted Oct. 27/14, updated Sept 15/16.
I love Mexican flavours in my food. Whenever I'm not sure what to make for supper, my mind always goes to Mexican food. Or some version of it. This Mexican Baked Pasta is one of my family's favourite meals of all time. Same with this Mexican One Pan Pasta. And these Fish Tacos, and these Ground Beef Tacos, and… you get the idea.
Mexican food is good. We like it.
This southwest stuffed spaghetti squash is one of my favourites. I can't say it's a family favourite quite yet because I haven't convinced the rest of them that squash is tasty, but I'm determined that they will all eventually love it as much as I do. Because I do the cooking around here. So they get to eat spaghetti squash.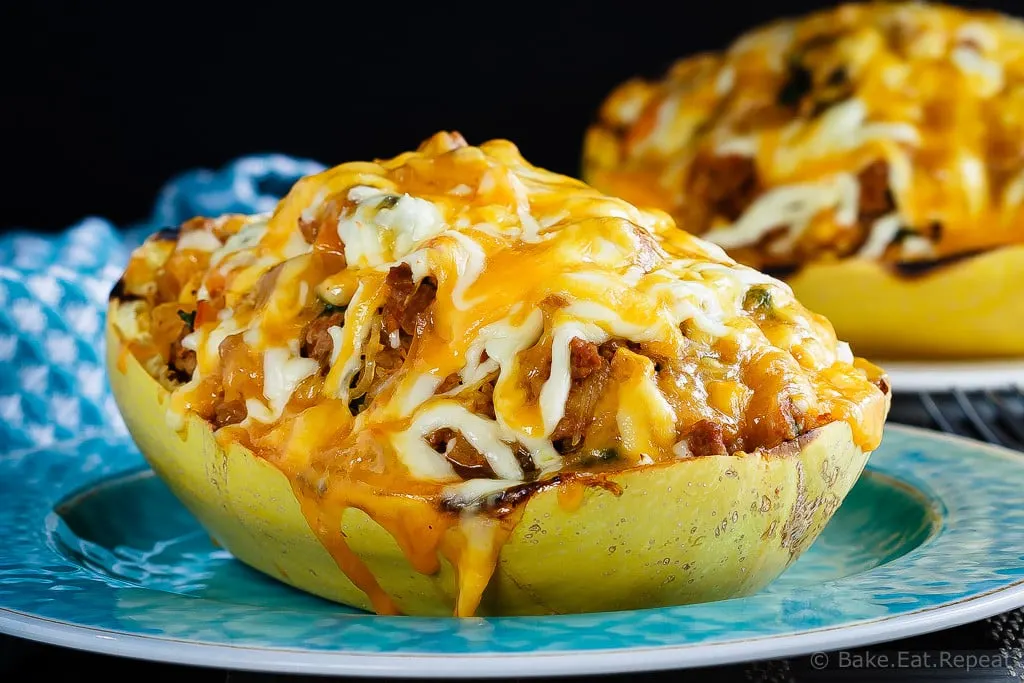 And they are starting to come around. I have been making this dish for a while now, I originally posted this almost two years ago and back then none of my kids would even try it. Well, I am thrilled to say that they all not only tried it, but liked it enough to eat their full helping. They didn't have seconds but hey, they ate it. Progress.
So if you have picky kids too, don't give up hope that they will never eat anything. Just keep putting it on the table – eventually they will actually try it! My daughter even ate the black beans this time which has never happened before. Woohoo!
Anyhow, I had actually forgotten about this stuffed spaghetti squash and how much I loved it until a friend mentioned that she makes it all the time. Immediately I had a craving for it and had to make it that week. And then I remembered how much I love it.
It's okay that the rest of the family didn't take seconds, because that meant leftovers for lunch for me for a few days. Perfect. Outgrowing the food dislikes slowly might not be a bad thing. I don't get the leftovers too often anymore – it was kind of nice for a change!