Skinny cajun shrimp alfredo pasta for #30MinuteThursday can be on the table in 20 minutes and everyone will love it! Alfredo pasta, but healthier!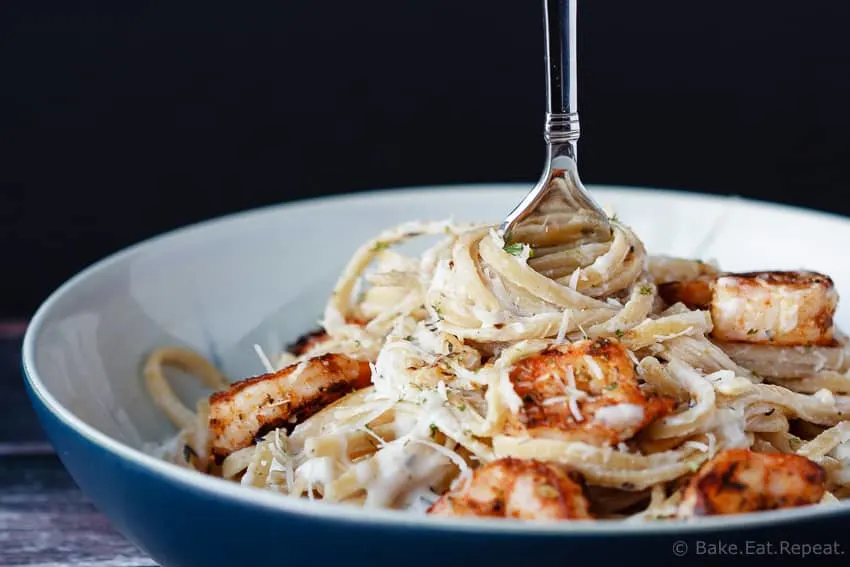 I needed to give you a great recipe to use that homemade cajun seasoning in. Obviously. You knew this was coming next.
Skinny cajun shrimp alfredo pasta. This one will be made often around here I think. So tasty, so easy, and so fast. Plus, it was super easy to make some plain shrimp and pasta (so boring right?) for the kids that don't really like sauce or spice. Usually I just make them eat whatever we're having because I'm really not one for making multiple meals every night.
But, every once in a while, when it's easy to modify stuff so I know they'll like it, I do. Leaving some of the pasta and shrimp plain is no extra effort and everyone is happy.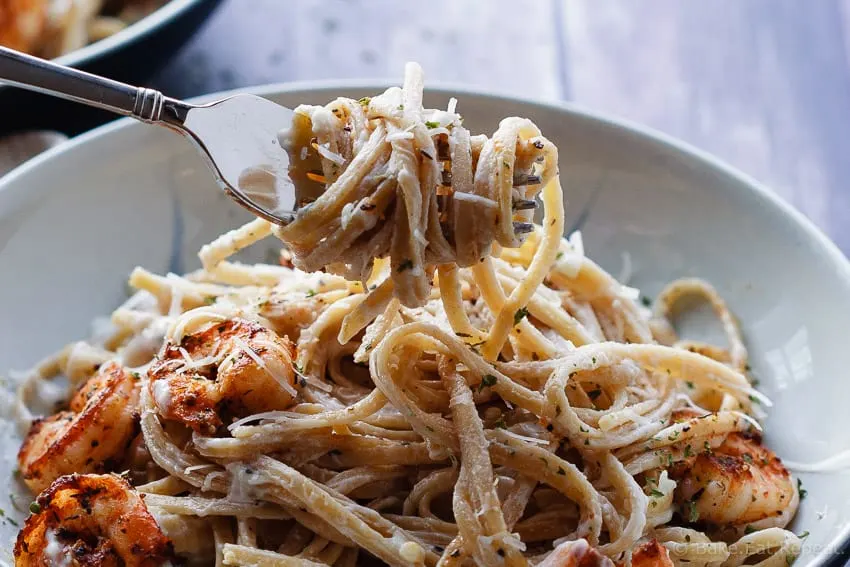 For the rest of us though, who enjoy some flavour in our food, cajun shrimp alfredo pasta is a fantastic meal. It's easy to make and is ready in 20 minutes. I even checked the nutritional information on the sauce compared to a regular alfredo sauce (I was curious how skinny it was) and it's half the calories of regular alfredo sauce, and we enjoyed it just as much, so there's that. If you've got an alfredo pasta craving, this will do the trick but will be much healthier. And you should definitely top it with some cajun shrimp – obviously.
Also – it's the first Thursday of the month! That means it's 30 Minute Thursday and there's a whole list of great 30 minute meals at the bottom of this post, below the recipe.
If you're new around here, 30 Minute Thursday is where myself and a group of my blogging friends get together to bring our readers some 30 minute meals to get you through those busy nights when you don't have much time to cook. If you'd like to check out past 30 Minute Thursday posts, you can click here to get to those for more 30 minute meal inspiration!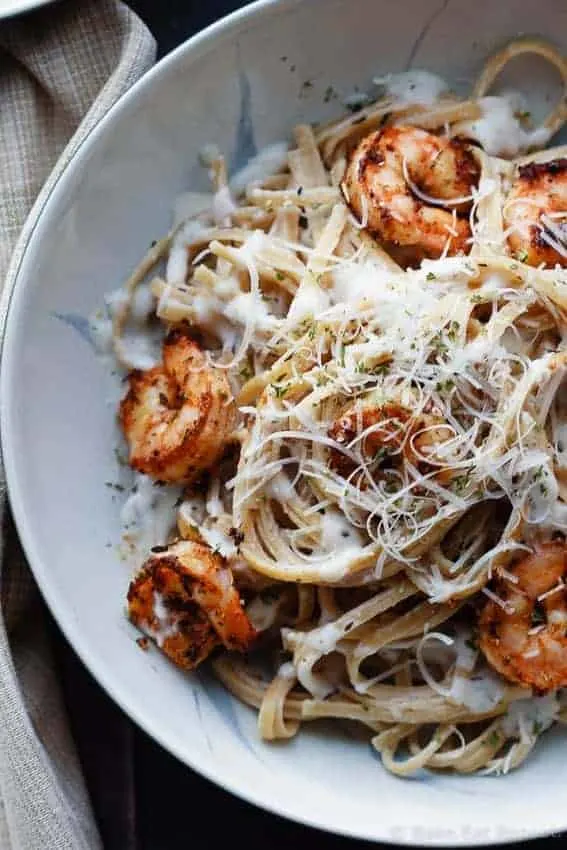 Tips for perfect skinny cajun shrimp alfredo pasta: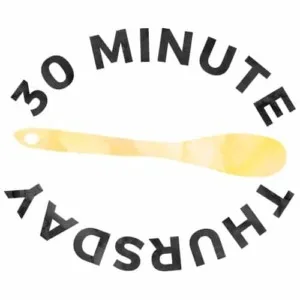 Baked Ham and Cheese Roll-Ups by Pumpkin 'N Spice
30 Minute Tuscan White Bean and Kale Soup by Kristine's Kitchen
One Pot Pizza Gnocchi Pasta by Savory Nothings
30-Minute Cheesy Mexican Rice Skillet by Flavor the Moments
Vegetable Noodle Stir Fry with Orange by Floating Kitchen
One Pot BBQ Bacon Cheeseburger Rice by The Recipe Rebel
Kale Pesto Pasta with Tofu by She Likes Food
Garlic Butter Monte Cristo Pull-Apart Sliders by Whole and Heavenly Oven
Shrimp and Vodka Penne Pasta by My Kitchen Craze
This post contains affiliate links, meaning that if you make a purchase through these links, I receive a small commission.