These chocolate zucchini muffins are a great way to use up all that garden zucchini! Moist, chocolatey, delicious muffins that everyone will love!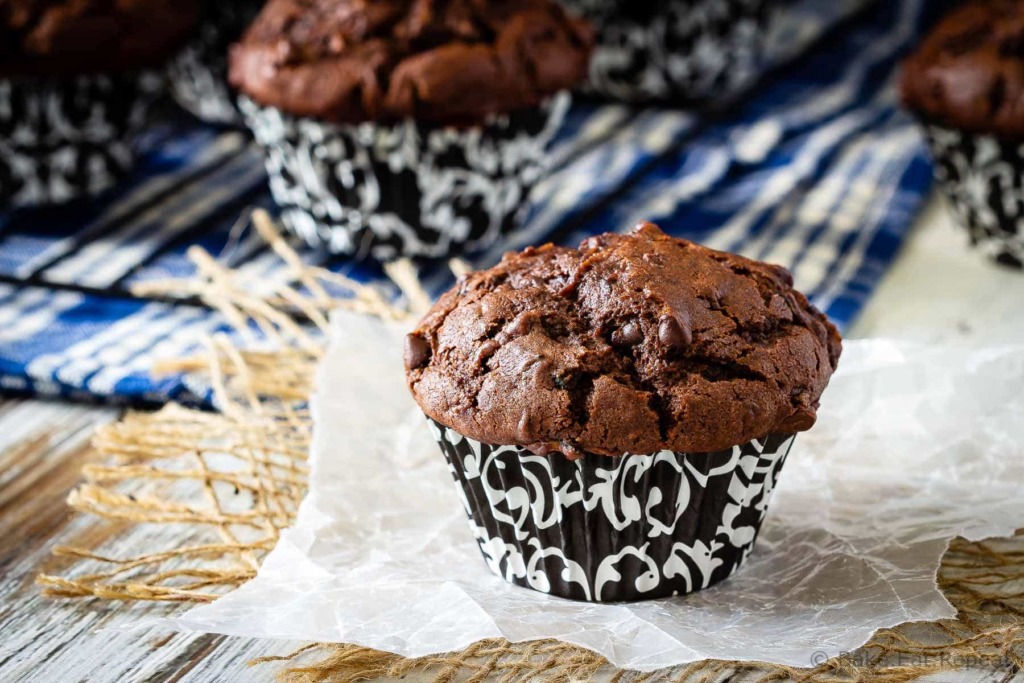 So….I can't grow zucchini.
Really.
I've been told that's not a thing. Many people have insisted that that's not possible, while laughing at me and assuming that I'm joking.
I'm not kidding, I really can't grow it.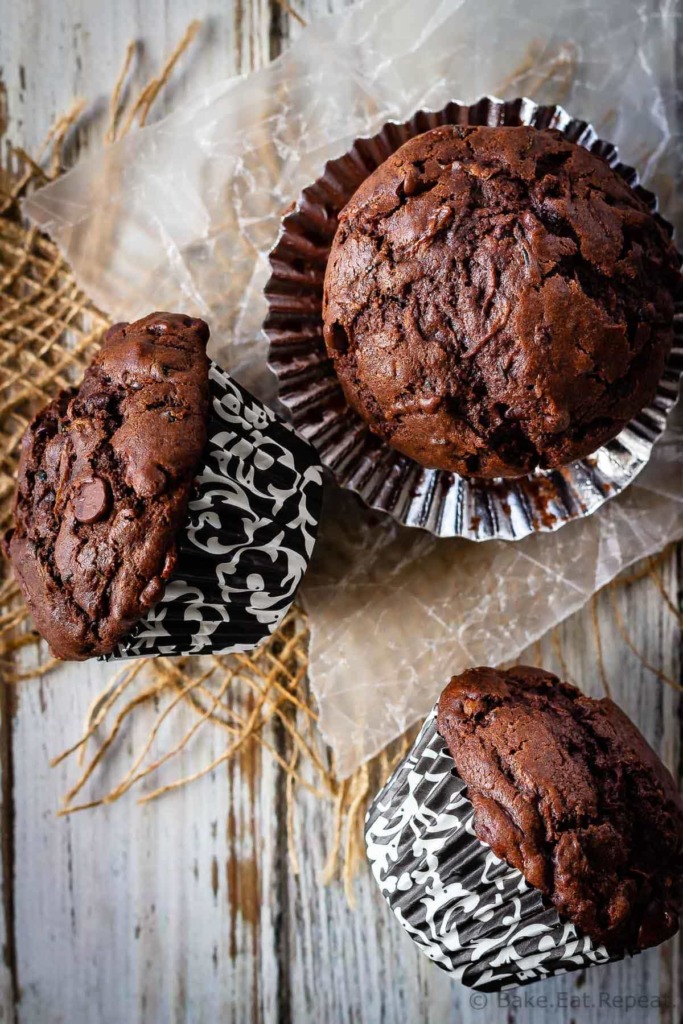 I try every single year. I plant lots of zucchini seeds and they don't sprout.
I try again.
A few may sprout but even if they grow to a decent size (most of them don't), they don't actually produce any zucchini.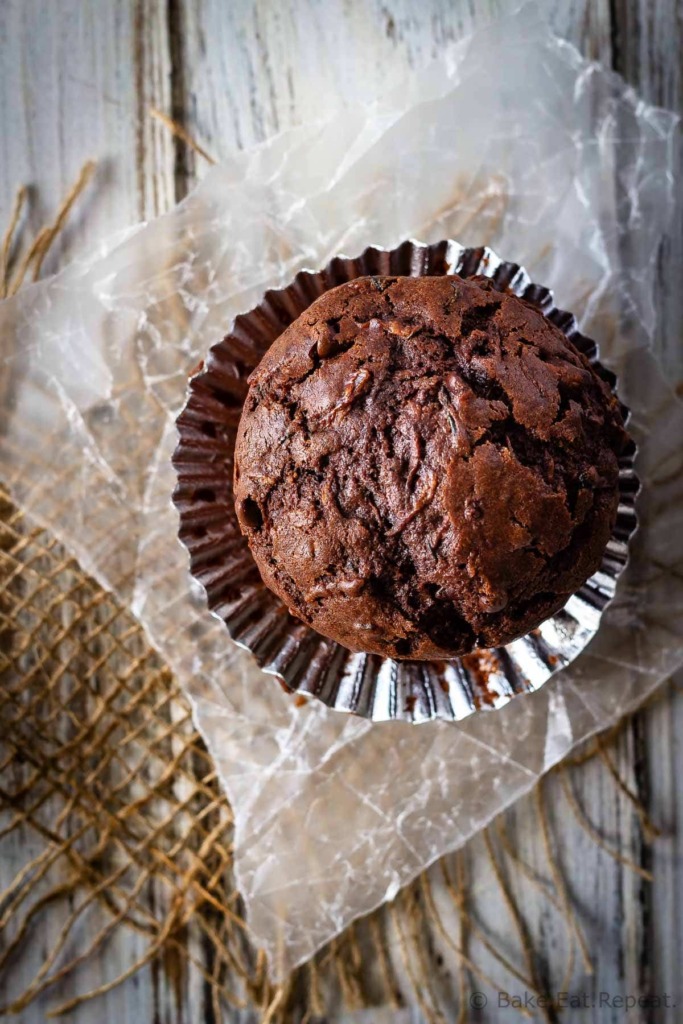 I think after about 10 years of trying every single year to grow zucchini, I can count on one hand how many zucchini I've actually had my garden produce.
And those few zucchini were teeny tiny. Not the giant things most people have exploding out of their gardens!
Lucky for me, I have friends that take pity on me, and after they stop laughing about my gardening ineptitude, they share their excessive zucchini with me. Yay for friends that are capable of growing the stuff.
I really just don't even understand it. Everything else grows. I have a watermelon growing right now for goodness sake. Now, it may not get large enough to actually eat – we are expecting snow this week after all (WHY??), but still, it's there.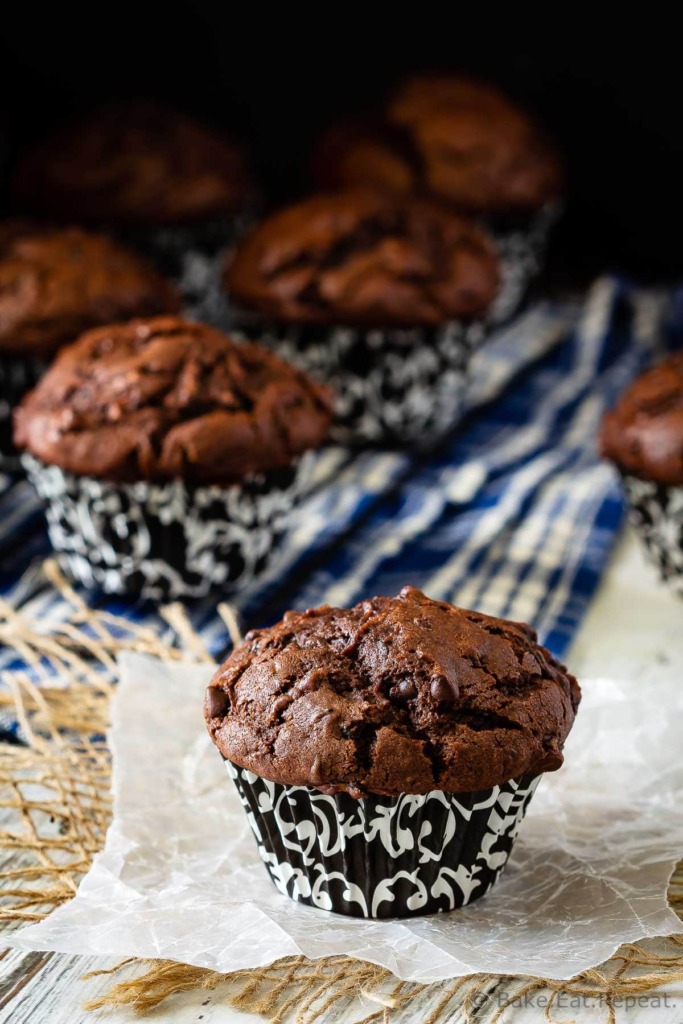 Zucchini though? No.
Anyhow – if you DO have some zucchini to use up (I hear most people have more then they know what to do with!), these chocolate zucchini muffins need to happen in your kitchen soon!
Soft, chocolate zucchini muffins with extra chocolate chips (because why not?), they are moist and delicious and, like most muffins, don't take very long to mix up and get into the oven.
Perfect for a sweeter breakfast or a morning snack, we've gone through several batches of these already.
And, since I have friends, there's still a zucchini sitting on my counter waiting to be made into more.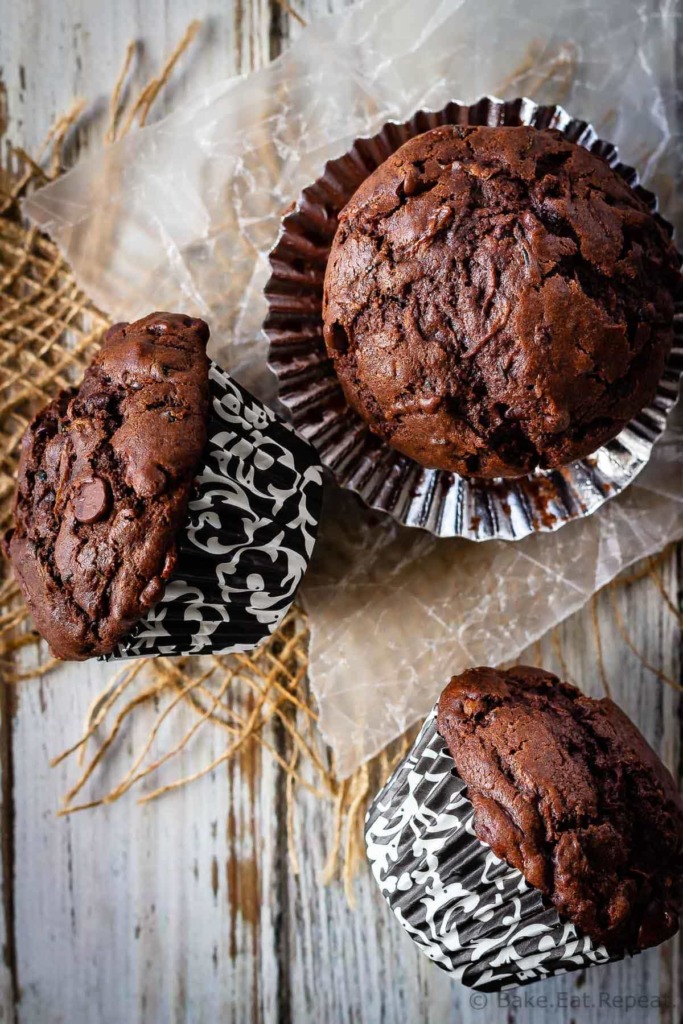 How do you shred zucchini for muffins?
I like to shred zucchini in my food processor. This is the fastest way, but you can also use a box grater (use the large holes) instead.
There's no need to peel the zucchini first, but quarter it and scrape out the seeds with a spoon if your zucchini are large.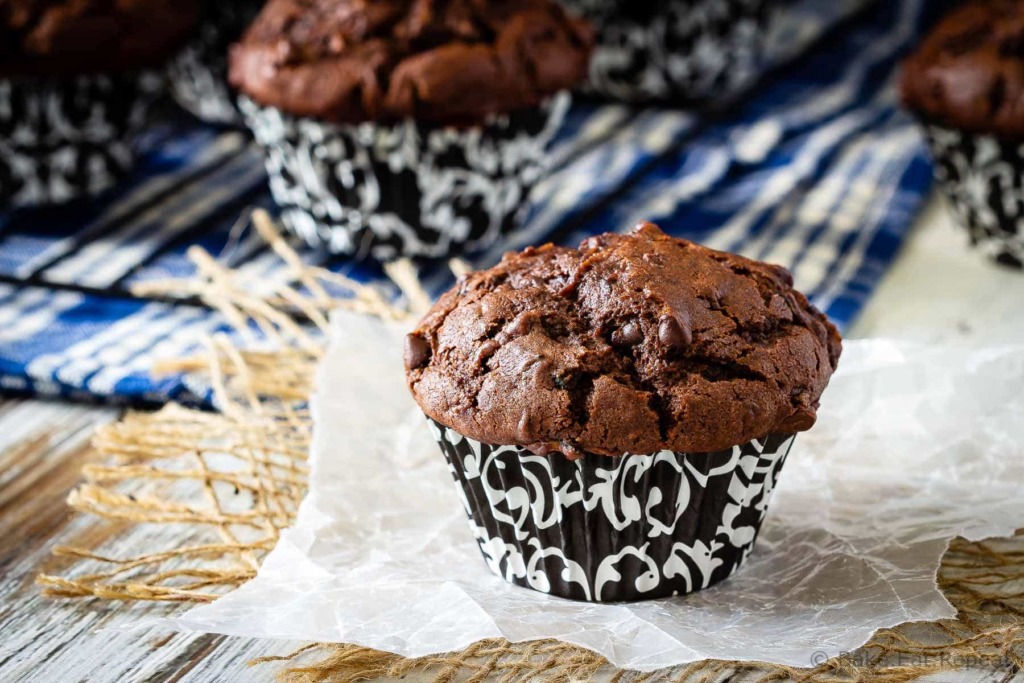 How do you get the water out of zucchini?
Zucchini needs to be drained after shredding it to use it in baked goods like these chocolate zucchini muffins. Place the shredded zucchini in a fine mesh strainer and let the liquid drain out of it, pressing it with a spoon to get most of the liquid out.
You can wring out even more liquid in a clean kitchen towel if you like – just place the shredded zucchini on the towel, fold it over, twist the ends to seal it and the wring out as much liquid as you can. But for muffins I usually just press out as much as I can in the strainer and that's good enough.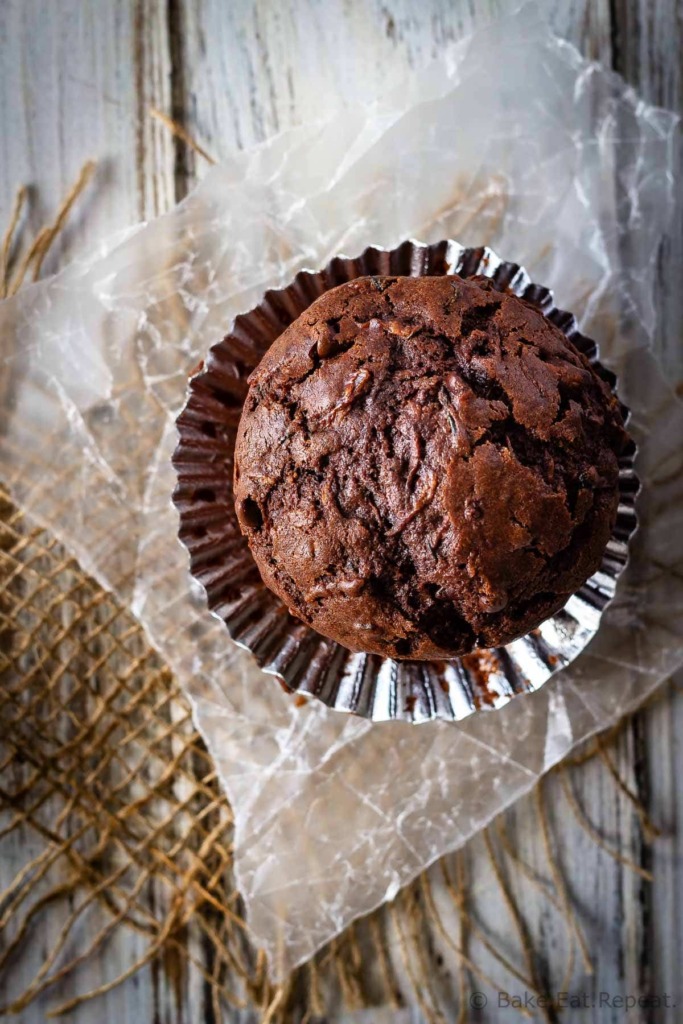 Can zucchini muffins be frozen?
I freeze muffins all the time! Let them cool completely after baking and then freeze them in an airtight container or large ziplock bag for up to 3 months.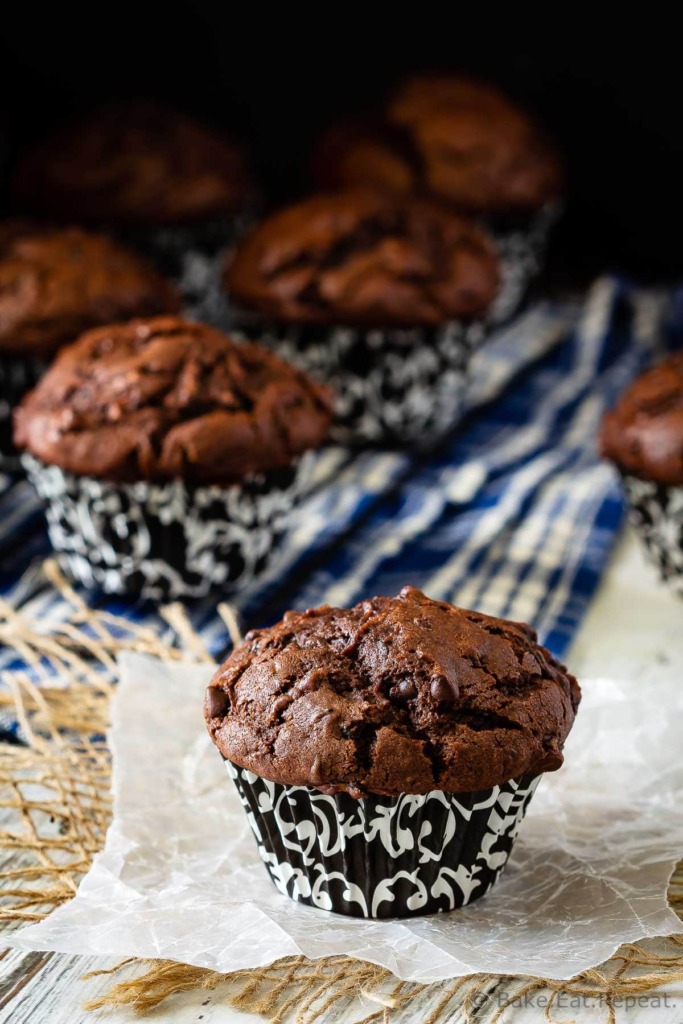 How to make Chocolate Zucchini Muffins:
Make sure not to over-mix the muffin batter. Muffins will be dense and tough if you mix the batter too much, stir with a spoon until the ingredients are just combined.
You can make these chocolate zucchini muffins healthier by using half whole wheat flour, or by decreasing the sugar and using 1/4 cup granulated sugar instead of 1/2 cup, or both. I've made them this way and they're still delicious, although less sweet (obviously). I don't recommend omitting the chocolate chips though, they add a lot of sweetness to the muffins and I found them a little bit bland when I tried this.
If you have an ice cream scoop or large cookie scoop, use that to portion the batter into the muffin tin – it helps with getting those nice domed tops on your muffins.
You can just spray your muffin tin with cooking spray, or use paper liners. I tried these muffin liners (that's an Amazon link – they were way less then that at the grocery store where I found them!) for these muffins and they popped right out, so they work very well if you want liners that don't stick at all.
Here are some more great muffin recipes for you: