I have made three batches of these cheesecake topped carrot banana muffins in the last week.  Granted, some were to give away, but still, that may be rather excessive!  And yet, I kind of want to make them again.  Mostly to see if maybe they'd be even better with the cheesecake portion in the middle instead of on top.  (If you try that please let me know!)  But also just because they're that good.
So good, that you definitely need to make them right now.  I've never made a banana muffin with carrots in it before, so now I sort of feel like I've been missing out all these years.  Carrots and bananas actually go together, who knew?!  And the dollop of cheesecake on top just finishes off the muffin perfectly.
These are actually quite healthy too, if you ignore the cheesecake part that is!  The muffins themselves have only half a cup of sugar for 20 muffins, and a third of a cup of oil.  And yet they aren't dry at all, and are perfectly sweet enough with the bananas, carrots and plain yogurt added in.  And really, there's only a tablespoon of cheesecake on each one, so it's okay.  It just adds the perfect finish to these delicious muffins, making them almost like a healthified version of carrot cake – for breakfast!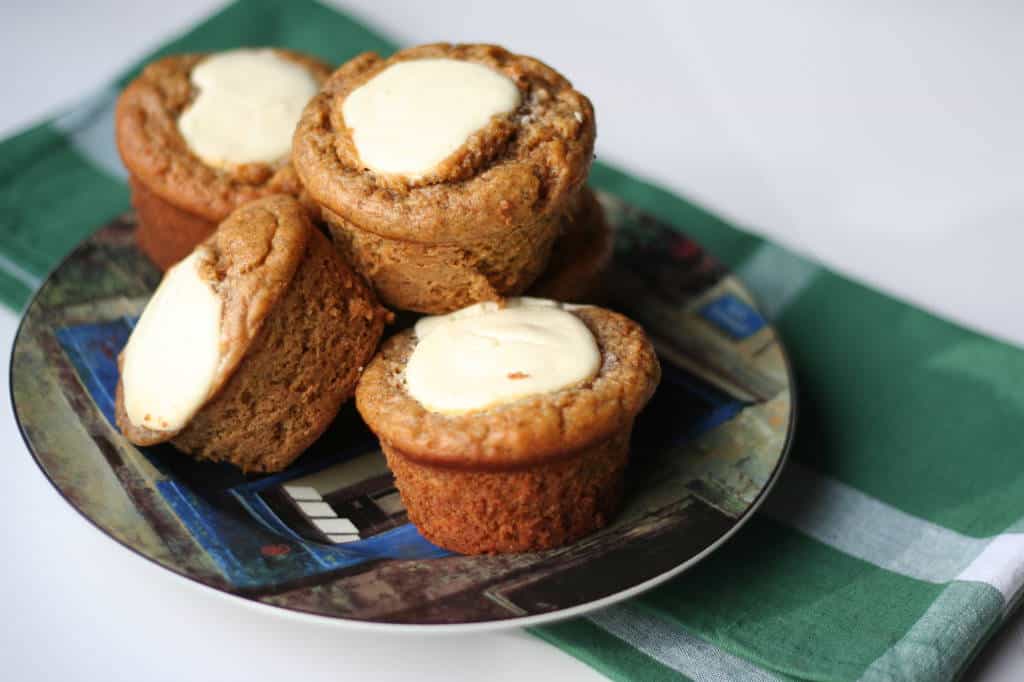 Yield: 18-20 muffins
Cheesecake Topped Carrot Banana Muffins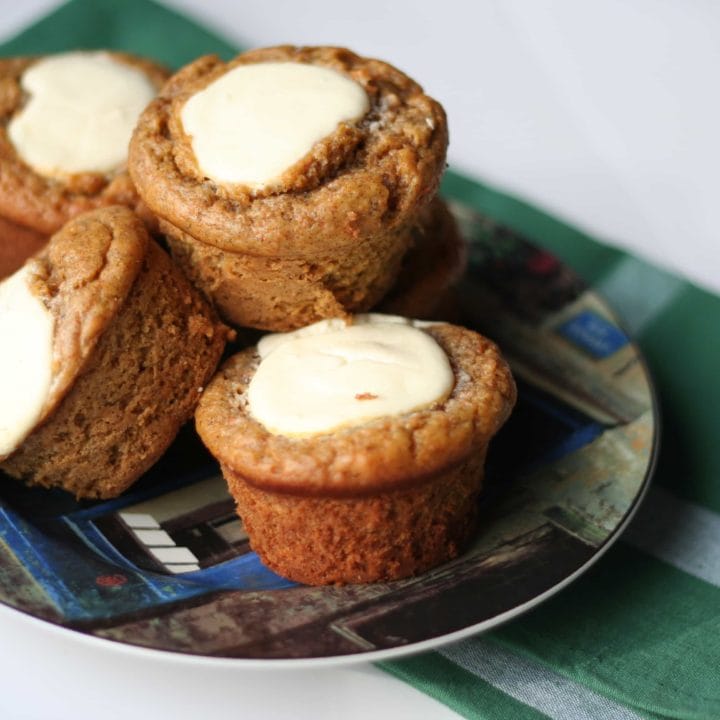 *Note:* I mixed all the wet ingredients together in a food processor, mostly because I'm lazy and hate grating carrots so it was faster. But also because I have a child that wouldn't eat the muffins if he saw carrots bits, but gobbles them up if it's a smooth batter! The wet ingredients could easily just be mixed together in a bowl though if you don't have or don't want to use a food processor. The batter would just be a little less smooth with mashed banana and grated carrots rather than a puree. Whatever you prefer would work just fine.
Ingredients
For the cheesecake topping:
1 - 8 oz (250g) package cream cheese, softened
1/3 cup granulated sugar
1 egg, slightly beaten
For the muffins
2 cups all-purpose flour
1 teaspoon baking soda
1/2 teaspoon salt
1/2 teaspoon cinnamon
1/2 teaspoon nutmeg
3 medium bananas, mashed
1/2 cup brown sugar, lightly packed
1/3 cup canola oil (or other vegetable oil)
1/4 cup plain Greek yogurt
2 large eggs
1 cup carrots, grated
Instructions
Preheat the oven to 350 degrees F. Prepare 2 muffin tins by lightly spraying with non-stick cooking spray or lining with paper liners. Set aside.
In a medium bowl, whip the cream cheese with an electric mixer until smooth and creamy. Add the sugar and the beaten egg and whip again until it is smooth. Set aside.
In a large bowl, combine the flour, baking soda, salt, cinnamon and nutmeg. Set aside. In a food processor, combine the bananas, brown sugar, oil, Greek yogurt, eggs and carrots and mix until smooth and well combined. (Alternatively, you can whisk the bananas, sugar, oil, yogurt and eggs together in a bowl until smooth and then stir in the grated carrots.) Pour the banana mixture into the dry ingredients and stir until just combined.
Divide the batter between the muffin cups, filling each 1/2 to 2/3 full. Then place a spoonful of the cheesecake mixture on top of each muffin, about 1 to 1 1/2 tablespoons on each one. Bake the muffins for 24-28 minutes, or until a toothpick inserted in the center comes out clean. The keep well in an airtight container in the refrigerator for 7 days.