These baked chicken tenders are coated in corn flake crumbs (or panko) and bake in the oven. They're super crispy and so easy to make!
These baked chicken tenders are so easy to make and taste fantastic!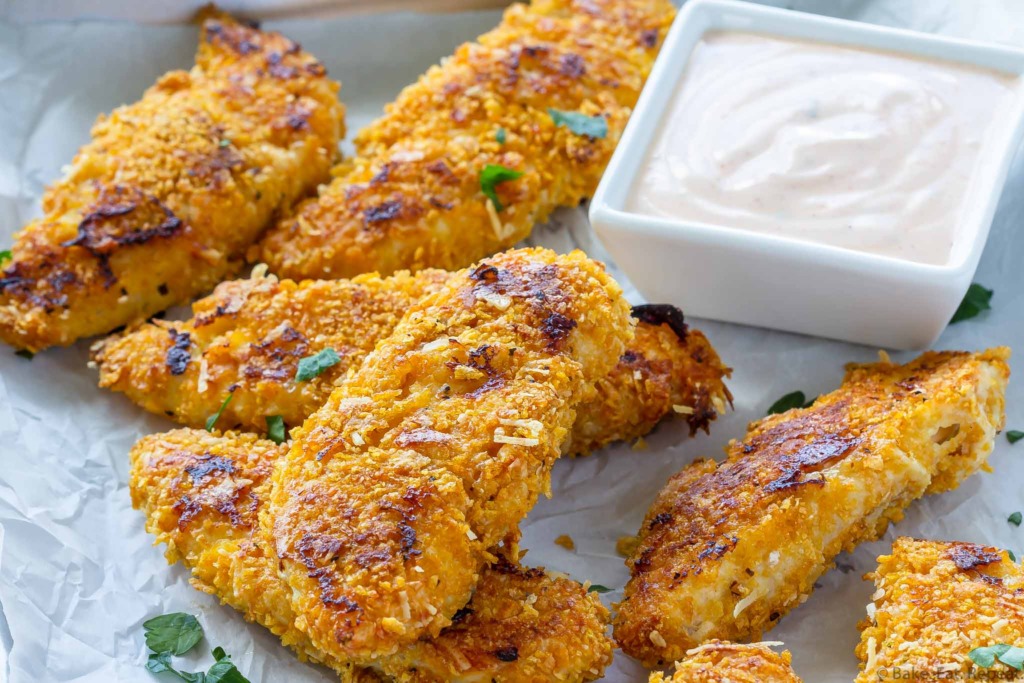 They're surprisingly crispy, since they're baked in the oven instead of fried. I often find oven baked "fried" foods are disappointing and not quite crispy enough.
But these baked chicken tenders turned out very crispy. We even taste tested them beside some cooked in the air fryer, and there wasn't a noticeable difference, which actually surprised me. I expected the air fryer ones to be crispier.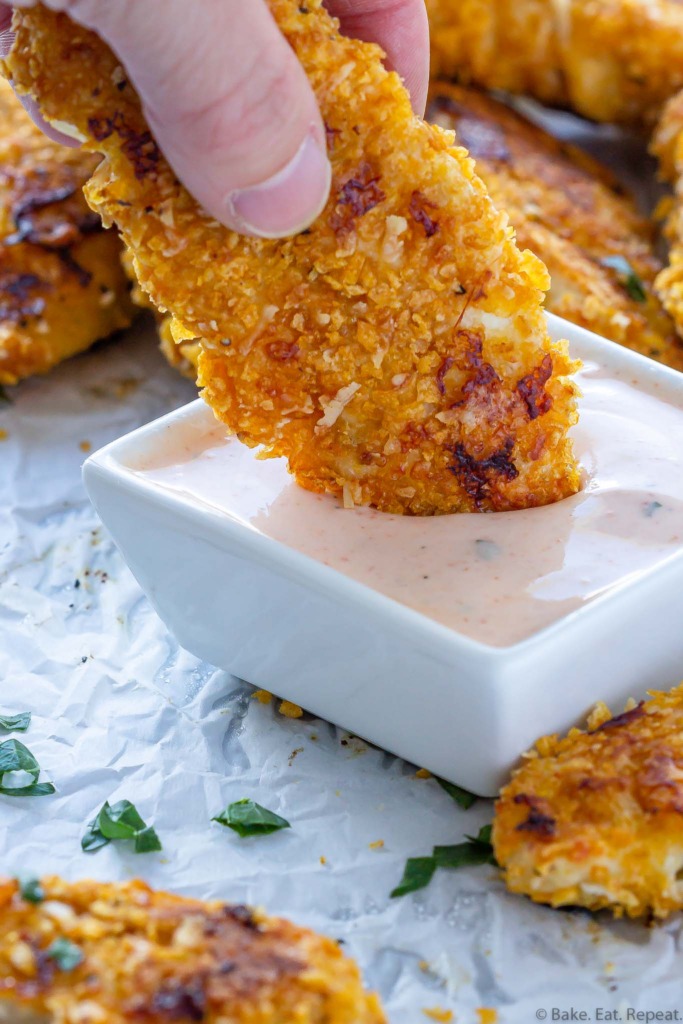 That being said, we did not fry some in oil to see if those were crispier, but I was perfectly happy with how crispy these chicken fingers were, and I am definitely not a fan of chicken with soggy breading!
These baked chicken fingers are super easy to make and make the perfect appetizer or meal. We loved these, and they disappeared in no time!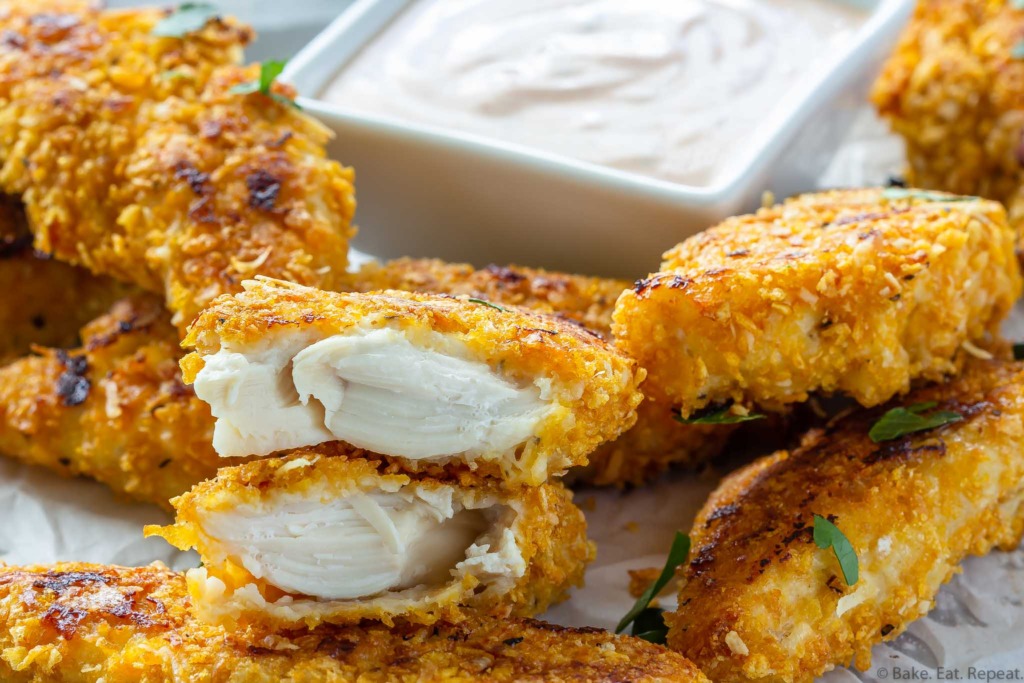 How long should chicken tenders bake at 375F?
Chicken tenders need to bake for 20-25 minutes at 375F. This does depend a little bit on the size of your chicken pieces though, so make sure to check the internal temperature of the chicken so you know that it's done.
The chicken should be 165F at the thickest part. I have this instant read thermometer and love it. It reads the internal temperature in just a couple seconds.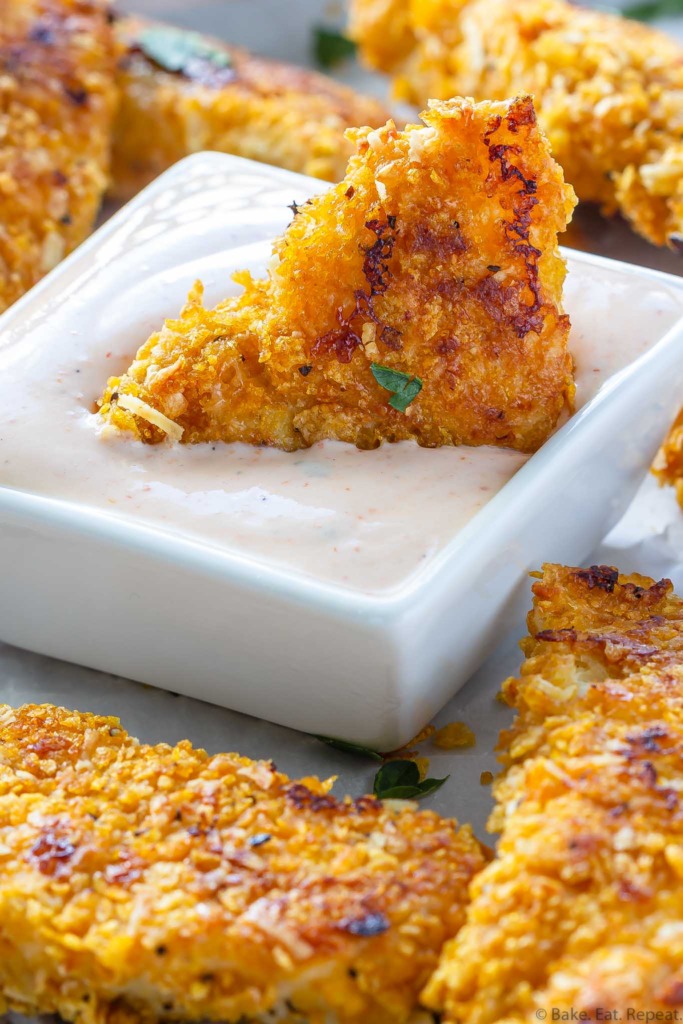 What does buttermilk do to raw chicken?
Buttermilk is slightly acidic, so it can be used to tenderize the meat. If you use a strong acid like lemon or lime juice, it will break down the meat after a few hours resulting in a mealy texture, but buttermilk isn't acidic enough to do that.
Soaking your chicken tenders in buttermilk for a few hours before cooking them will tenderize the meat and result in better chicken tenders.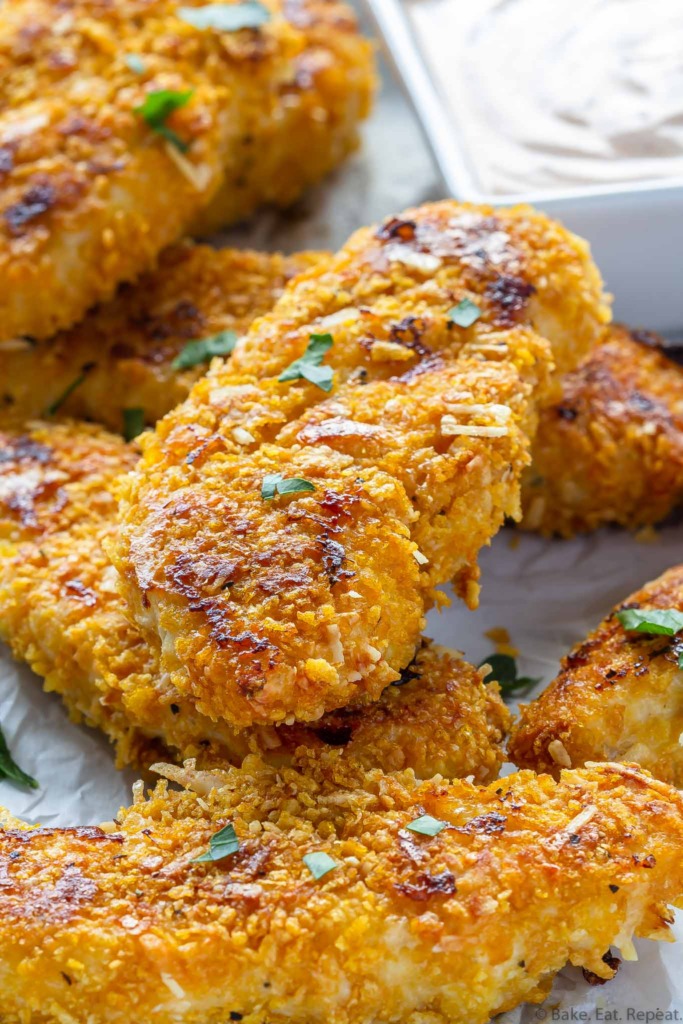 How do you get breading to stick to chicken tenders?
It's very easy to get the breading to stick to these chicken tenders. After soaking the chicken pieces, let the excess buttermilk drip off, and then dredge the chicken in flour. After it's coated in flour, dip it in beaten egg, and then in panko or corn flake crumbs, pressing the crumbs lightly so that they adhere to the chicken.
I also spray the baking sheet with oil, as well as the tops of the chicken tenders before baking them. They always turn out very crispy this way.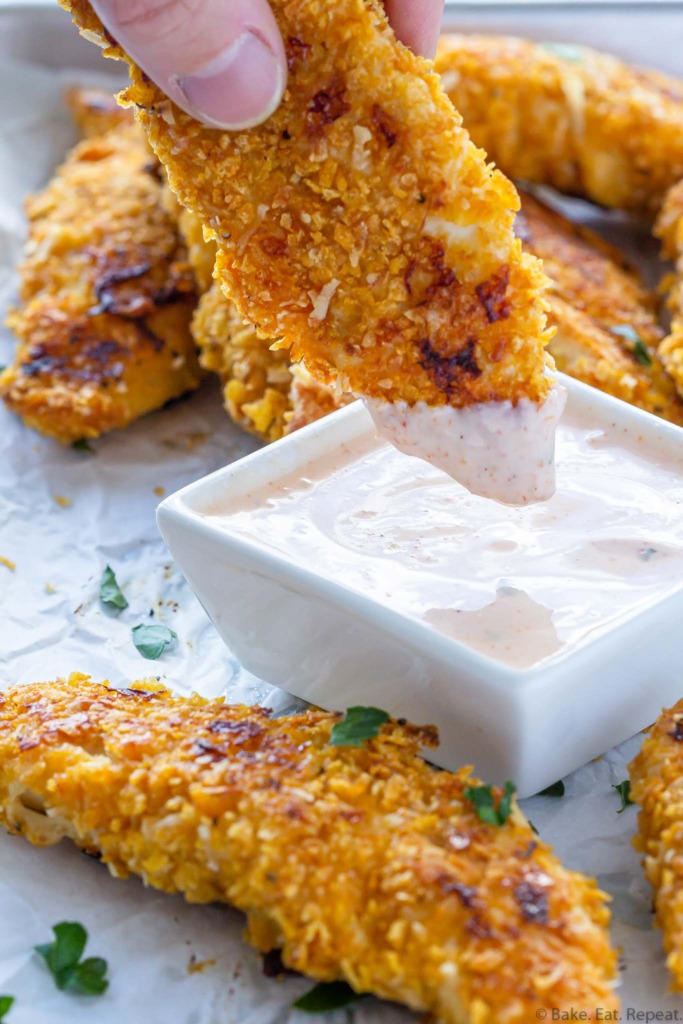 How to make Baked Chicken Tenders:
Don't skip the marinating time in the buttermilk. It helps to tenderize the meat. Soak the chicken for at least 3-4 hours or overnight.
I've made these chicken tenders with both corn flake crumbs and panko breadcrumbs. Both are delicious and turn out very crispy so use your preference.
We love the sriracha ranch dip with these. It's not overly spicy, but if that's not your thing, any dipping sauce that you like with chicken fingers would be good here too.
I also have a recipe for Air Fryer Chicken Tenders if you prefer.
Here are some more great appetizer recipes for you: