An easy and delicious appetizer that can be made ahead of time. These creamy, cheesy, crab stuffed mushrooms are wrapped in bacon for the perfect appetizer!
Watch how easy it is to make these Bacon Wrapped Crab Stuffed Mushrooms here: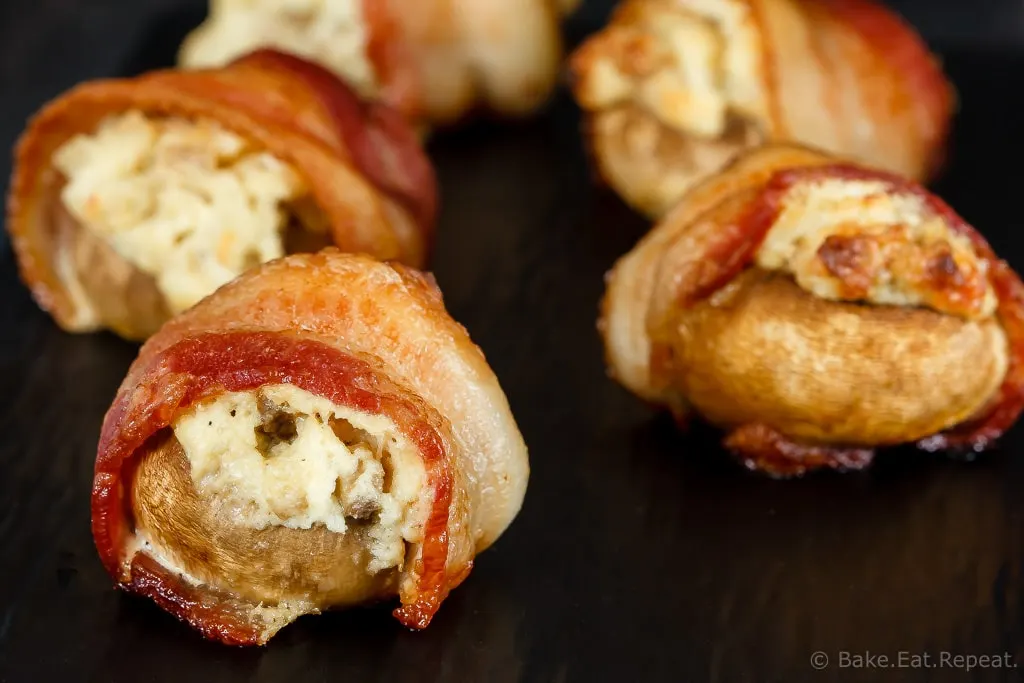 Bacon wrapped crab stuffed mushrooms today – because the holidays call for a little indulging. And I've probably given you enough sugar already this month to last for the next couple of years so I thought we'd branch out a bit today!
As much as I enjoy the Christmas baking, I find you also often need a great appetizer for parties and things during the holidays. And these bacon wrapped crab stuffed mushrooms are perfect.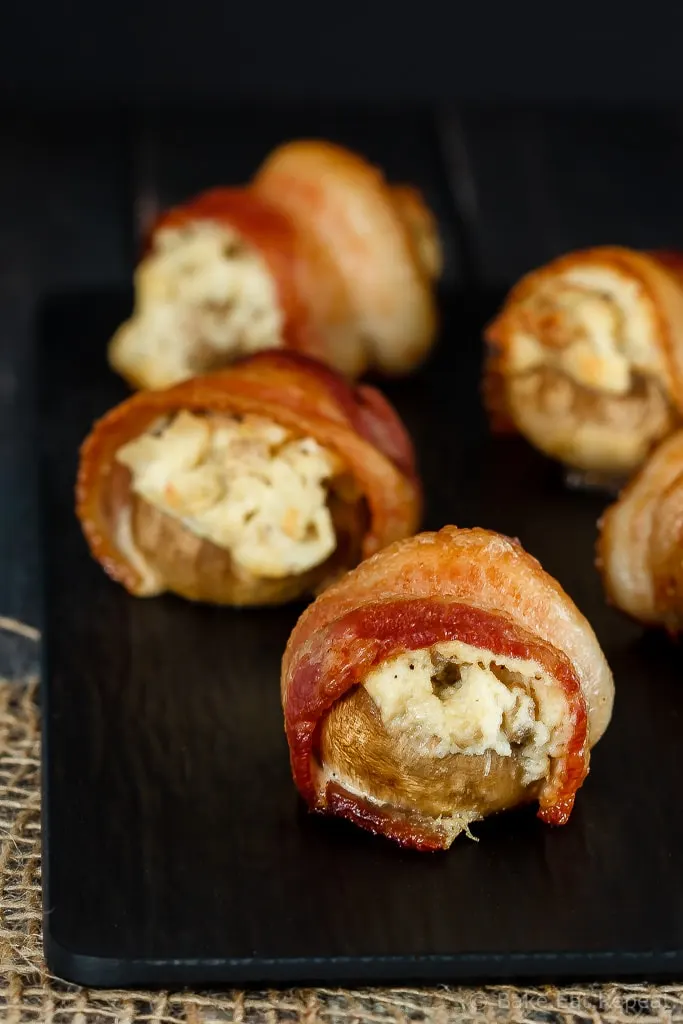 I made these for Christmas Eve a couple of years ago. My extended family always gets together for Christmas Eve and everyone brings various appetizers and treats for a giant potluck dinner. And it IS giant because my family is huge – so much good food. These stuffed mushrooms didn't take long to disappear, and since then it's the first appetizer I think of when I need to bring one somewhere!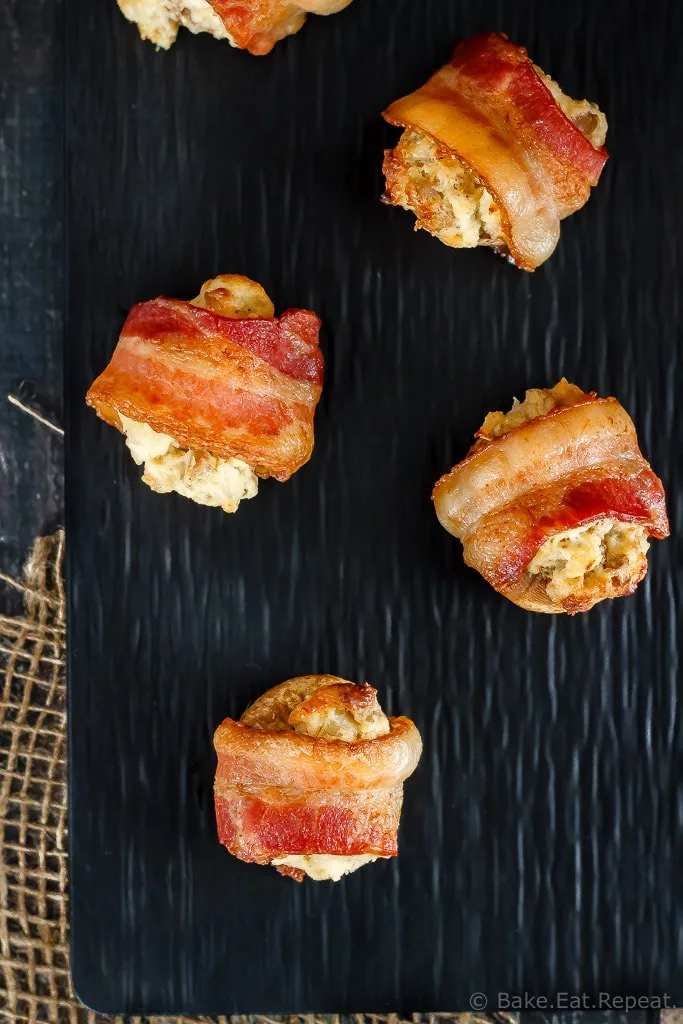 The wonderful thing about these crab stuffed mushrooms is that you can make them ahead of time. Make them a day ahead and refrigerate them before baking, or make them and freeze them before thawing and baking, or you can bake them and then allow them to cool and freeze them to reheat later. So many options.
These were also delicious without the bacon if you prefer plain crab stuffed mushrooms. Although in my opinion, more things should probably be wrapped in bacon, so….you know which option I'm going for when I make these!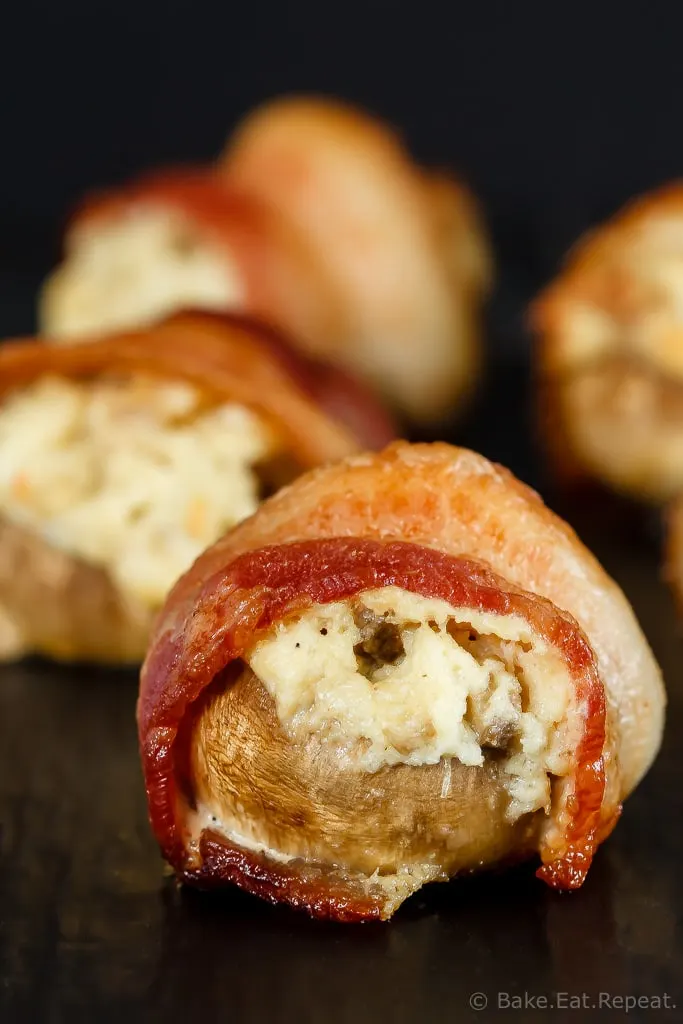 Tips for perfect Bacon Wrapped Crab Stuffed Mushrooms:
the bacon is optional here – if you're not using it, lower the oven temperature to 400 degrees F and bake for 20-25 minutes or until the tops are golden brown. Make sure to line your baking sheet with parchment paper or a baking mat (I love these ones) so your mushrooms don't stick.
the mushrooms can be prepared a day in advance and kept in the refrigerator until baking, or you can prepare them and then freeze them before thawing and baking, or bake and then freeze to reheat them later. From frozen reheat at 350F for 20-25 minutes until heated through.
I try to get button mushrooms on the smaller side for these – if your mushrooms are larger, a half piece of bacon may not be long enough to wrap all the way around
here are a few more great appetizer recipes for you: Mexican 7 Layer Dip, Crispy Oven Baked Wings, and Sweet Potato Taco Cups
This post contains affiliate links, meaning that if you make a purchase through these links, I may receive a small commission.