These pretzel dogs are easy to make for the perfect tasty snack or lunch – hot dogs wrapped in buttery, soft pretzel dough and sprinkled with coarse salt!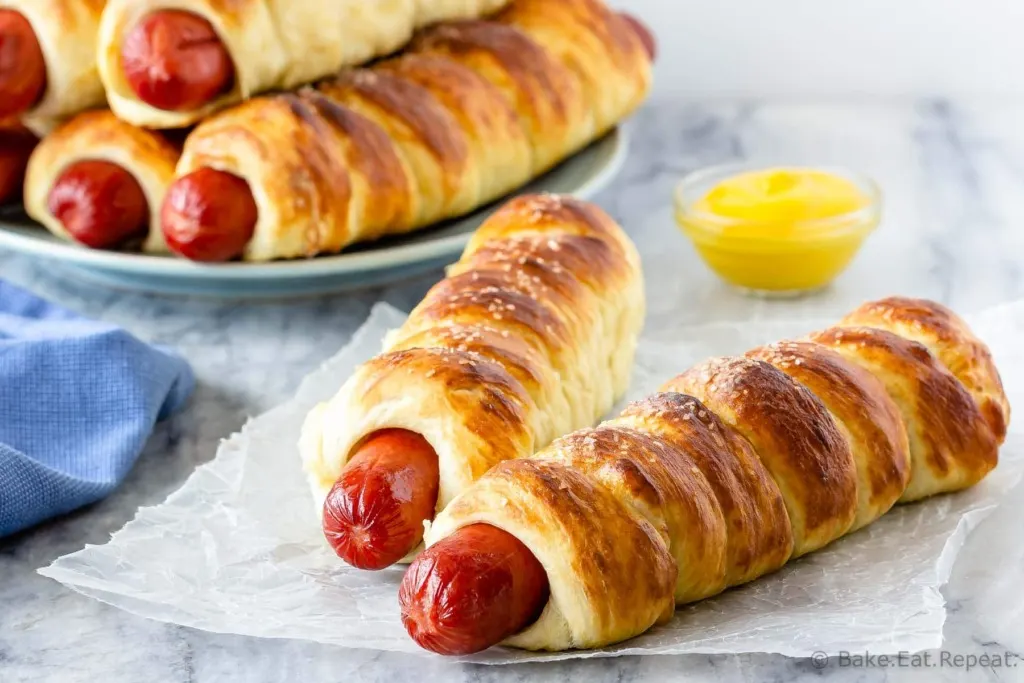 Who loves soft pretzels? They just might be one of my favourite snacks ever. Yes, I love my carbs.
It's actually probably a good thing that we don't have Auntie Anne's pretzel shops here in Canada because I would probably have to get one every time I passed. They're so good.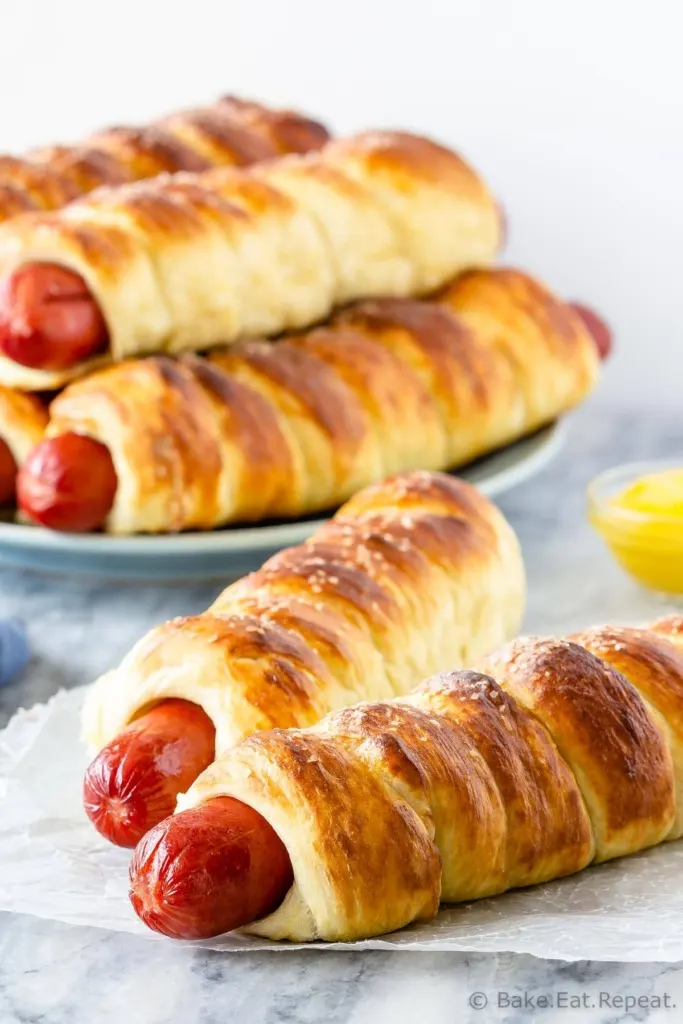 Fortunately (unfortunately?) I can make them at home. And the homemade ones are pretty similar.
Soft, chewy, salty, buttery pretzels. Doesn't get much better then that as far as snacks go.
Unless you wrap that pretzel dough around a hot dog and call it dinner. That might be better.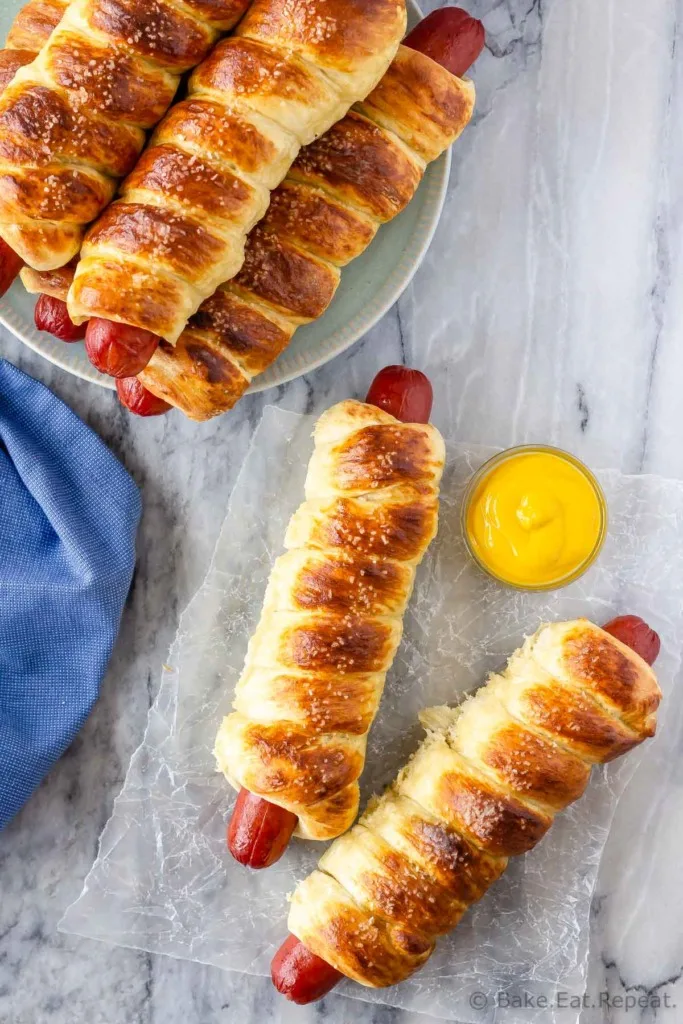 I had some very happy kids when they found out they got to have pretzel dogs for dinner. Don't worry, I made them eat some salad with it. It wasn't just junk food for dinner.
Totally worth it. These pretzel dogs were fantastic. And that's coming from someone that doesn't even love hot dogs.
Soft pretzels though – I love those. So I am definitely on board with these pretzel dogs!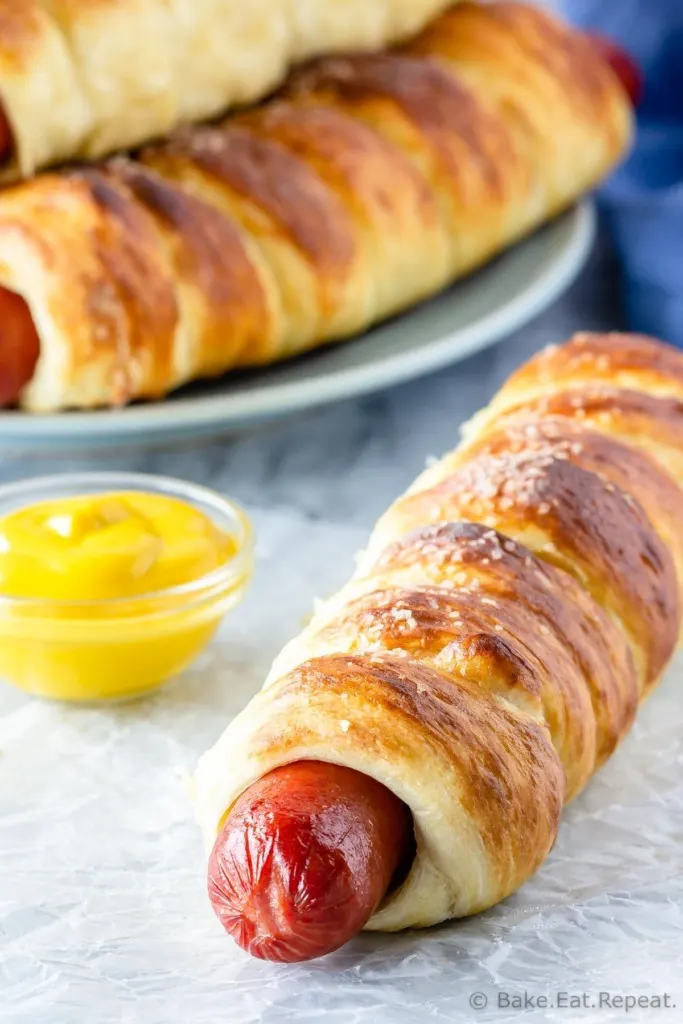 How do you get salt to stick to pretzels?
After wrapping the pretzel dough around the hot dogs, you boil them for 30 seconds in a baking soda solution. This gives them the "pretzel" taste that commercial pretzels get from lye.
When you take them out of the boiling water, you place them on a parchment lined baking sheet and sprinkle them with salt immediately. The salt will stick to the dough since it's damp, and bakes into the pretzel in the oven.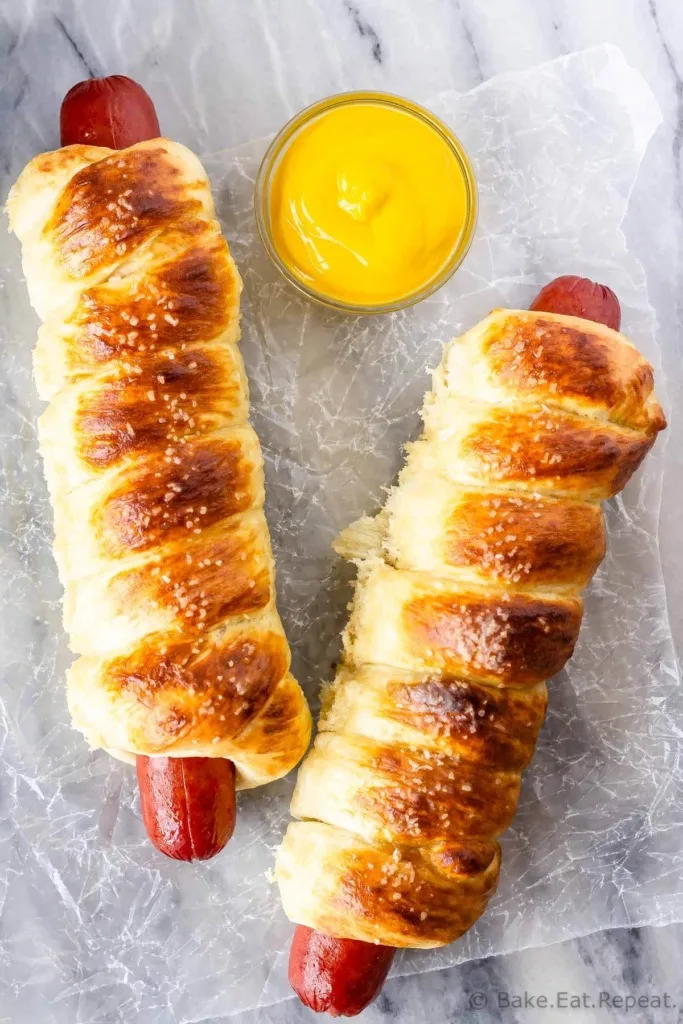 Are pretzels made with milk?
There's no milk in soft pretzels, but there is some butter in this recipe. If you need them to be dairy free, you could use hard margarine as a substitute for the butter.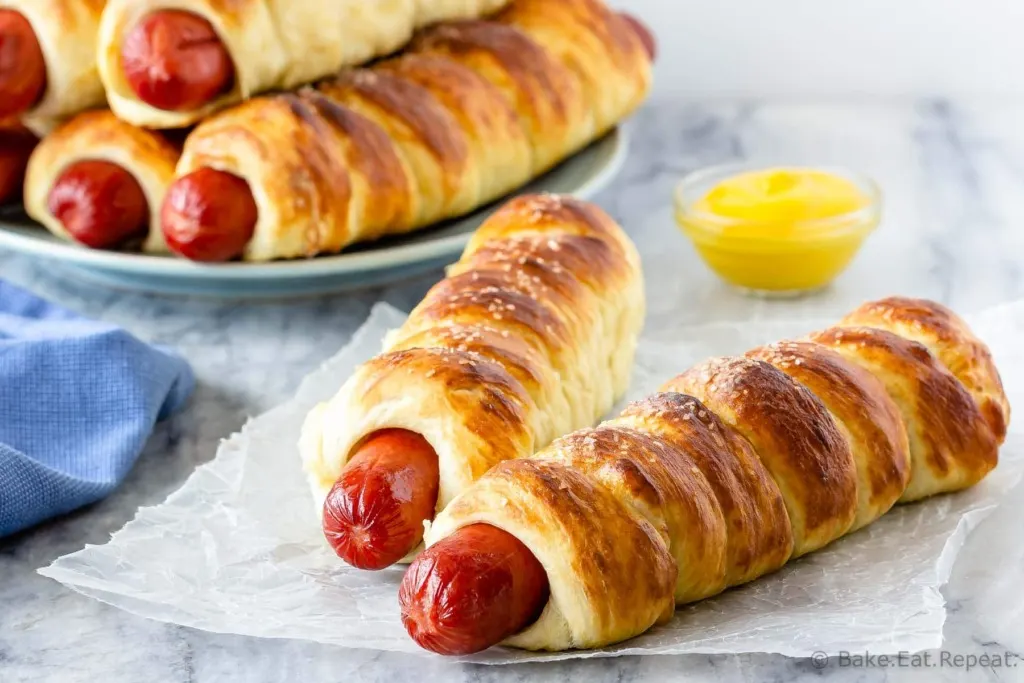 What salt do you use for pretzels?
Any coarse salt is fine. I typically use kosher salt, just because I always have it on hand. But sea salt, bagel salt, or any other coarse salt will work.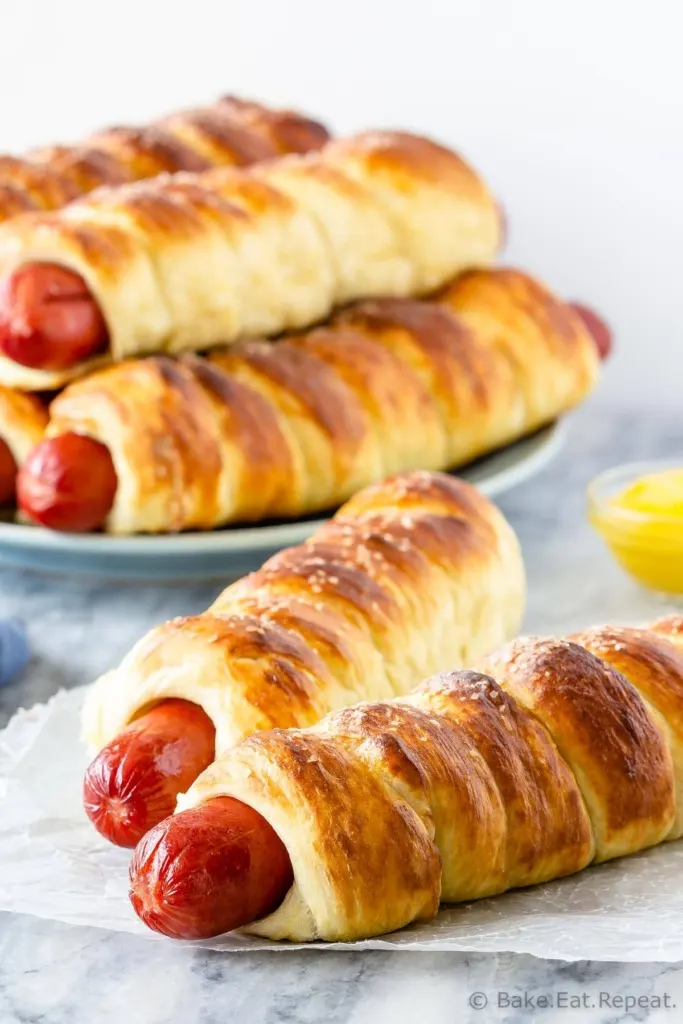 How to make Pretzel Dogs:
Any hot dogs will work for these so use the kind you like. The only difference is how many you will get from the recipe depending on the size of your hot dogs. I've found it makes about 10 pretzel dogs when you use regular sized hot dogs, and about 6 if you use the extra long or Costco sized hot dogs.
If you don't love working with yeast dough, this recipe is a great one to start with. Soft pretzel dough is very easy to make, and very easy to work with. I always mix this dough in my stand mixer because it's fast and easy, but you can knead it by hand as well if you don't have one. You will just need to knead it for about double the time if doing so by hand.
Use spray oil to coat your working surface and your hands before shaping the dough to prevent it from sticking.
These pretzel dogs can be reheated in the oven at 350F for about 10 minutes. Cover them with aluminum foil if you don't want them to brown any more.
Here are some more great snacks for you: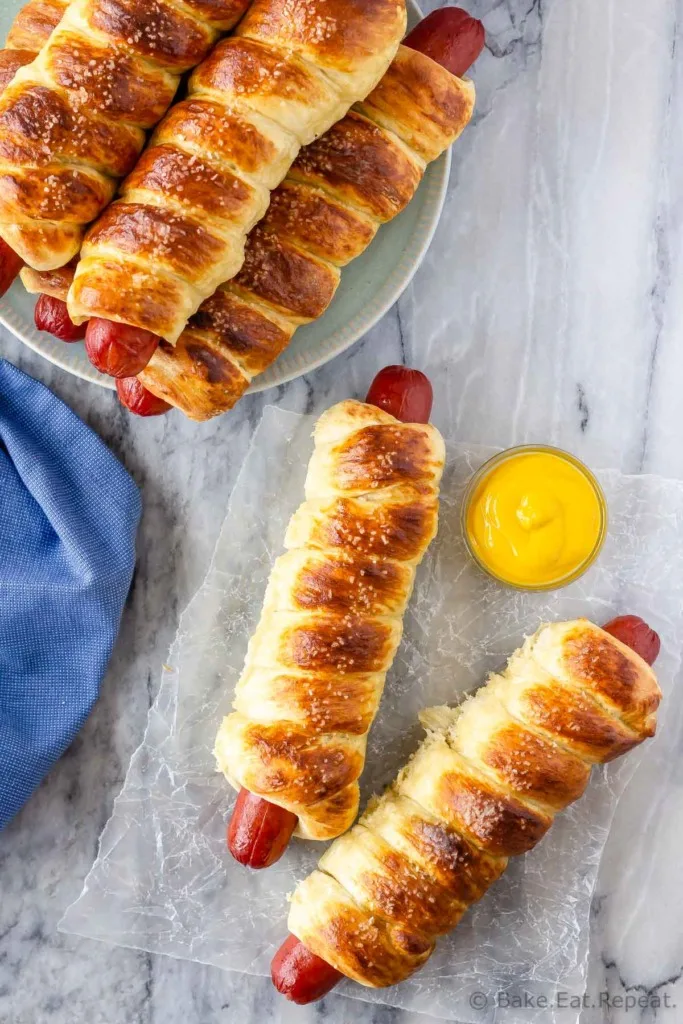 I've also shared this Pretzel Dogs Recipe over on Food Fanatic.