These strawberry banana muffins are light and fluffy, while still being on the healthier side, made with whole wheat flour, and less oil and sugar!
Banana muffins get made on a regular basis around here. My kids go through them in record time. And these strawberry banana muffins are one of our favourites!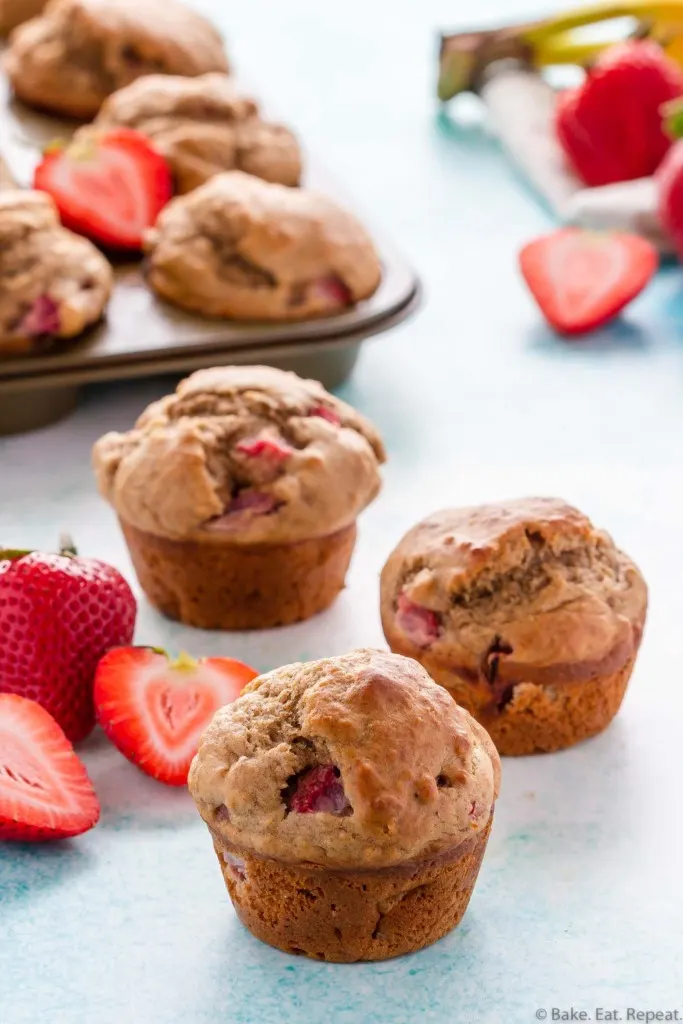 I've been making these muffins for at least 15 years now, and we still love them just as much as we did the first time I made them.
They taste great, they're super light and fluffy, even though they're made with 100% whole wheat flour, and they're filled with juicy strawberries and great banana flavour.
Plus, I always seem to have over-ripe bananas ready to bake with so I need to have lots of banana muffin recipes to choose from!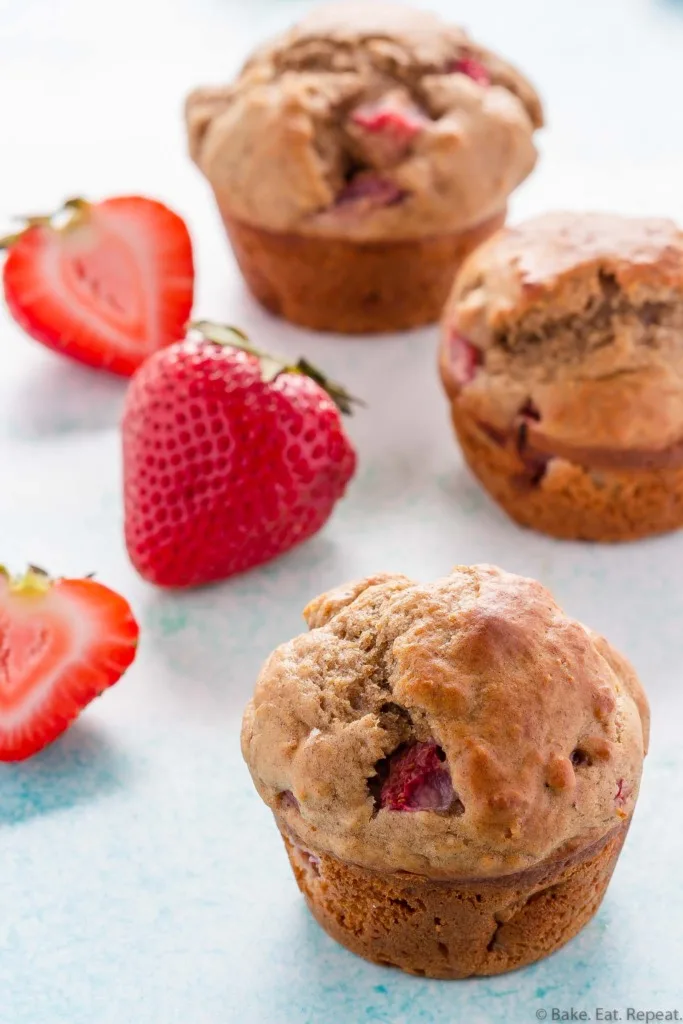 You can even use fresh or frozen strawberries for these muffins. I do tend to use fresh strawberries for this recipe, as I don't love chopping up frozen strawberries, but I have made them with frozen berries as well. If you're using frozen strawberries, don't thaw them before using. Just stir in the frozen berries.
If you're looking for a great recipe to use up some over-ripe banana, give these strawberry banana muffins a try. They make a great breakfast or snack!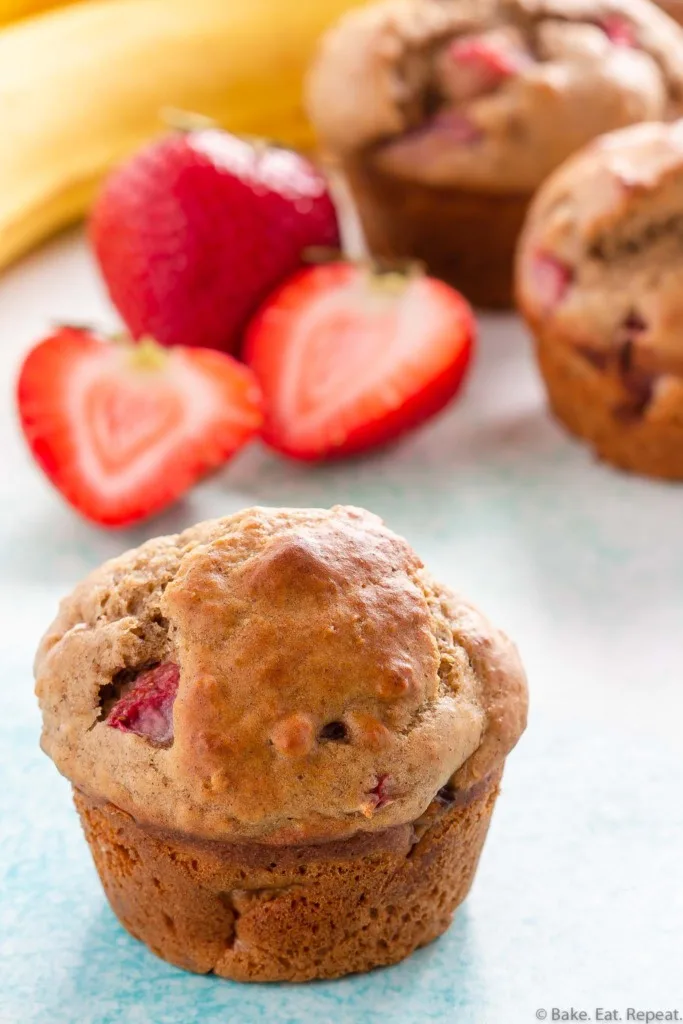 How do you make muffins from scratch?
Making muffins from scratch is very easy to do. Mix the dry ingredients together in one bowl, and the wet ingredients together in another. Then make a well in the dry ingredients, pour the wet ingredients in, and stir just until combined.
The most important thing with muffins is to not over-mix the batter. You want to stir just until the ingredients are combined. It's even okay if there are a few streaks of flour left in the batter.
If you mix the batter for too long you will end up with dense muffins rather than light and fluffy ones.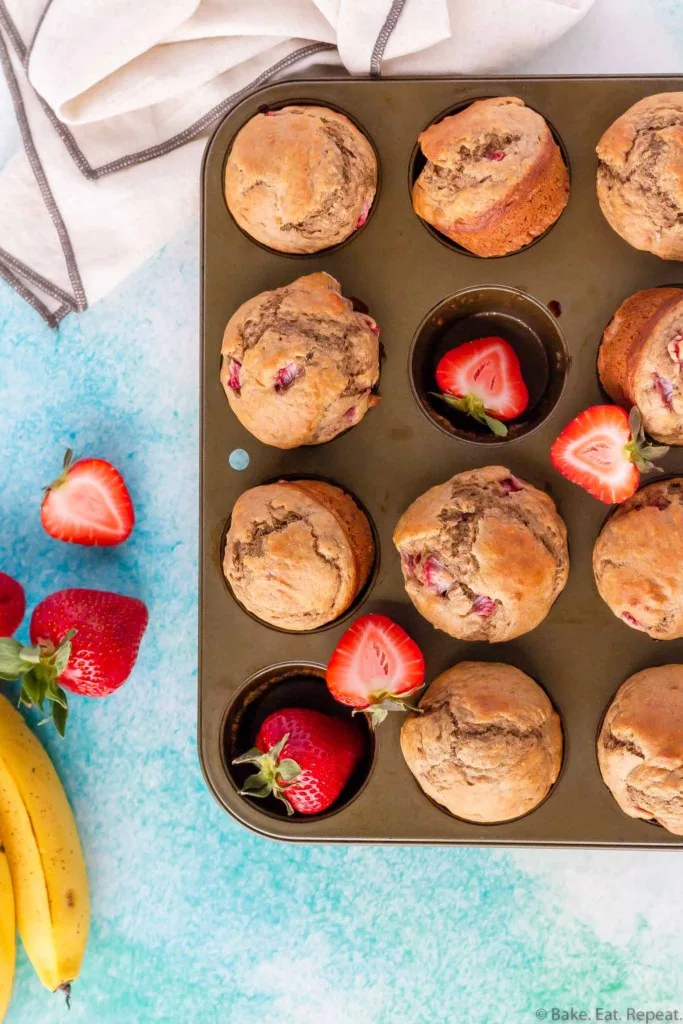 Are muffins a healthy breakfast?
I think it depends on the muffin. Some are no better than cupcakes as far as how healthy they are, some make a great breakfast of snack.
These strawberry banana muffins fall into the second category. They're made with whole wheat flour, and less oil and sugar than you typically find in a bakery style muffin. So I have no problem enjoying one of these muffins for breakfast.
Not all the muffins on this site are really meant for breakfast though! My kids are always asking if the muffins are available for breakfast or not. These strawberry banana muffins, yes; these apple muffins with a crumb topping, no. Delicious, but not super healthy!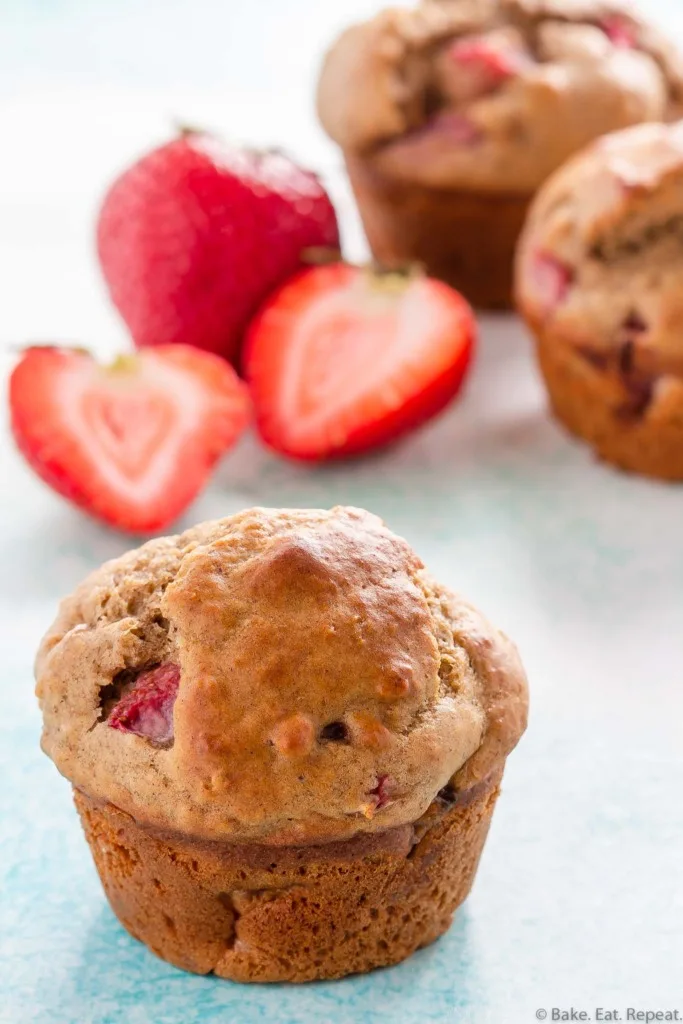 What is the best way to store strawberry banana muffins?
I find the best way to store muffins is in a container that is covered, but not sealed tightly. This is because muffins have a lot of moisture and tend to get sticky on the tops if they are stored in an airtight container. Keeping them covered loosely helps with this, although they won't last as long this way, usually just 3-4 days.
Layers of paper towels below and on top of the muffins will also help absorb any excess moisture.
If you want your muffins to last a little longer, keep them in an airtight container, but be aware that they will get sticky on the tops. To bring them back to that "just baked" state, you can reheat them in the oven at 350F for about 5 minutes to warm them up and re-crisp the tops.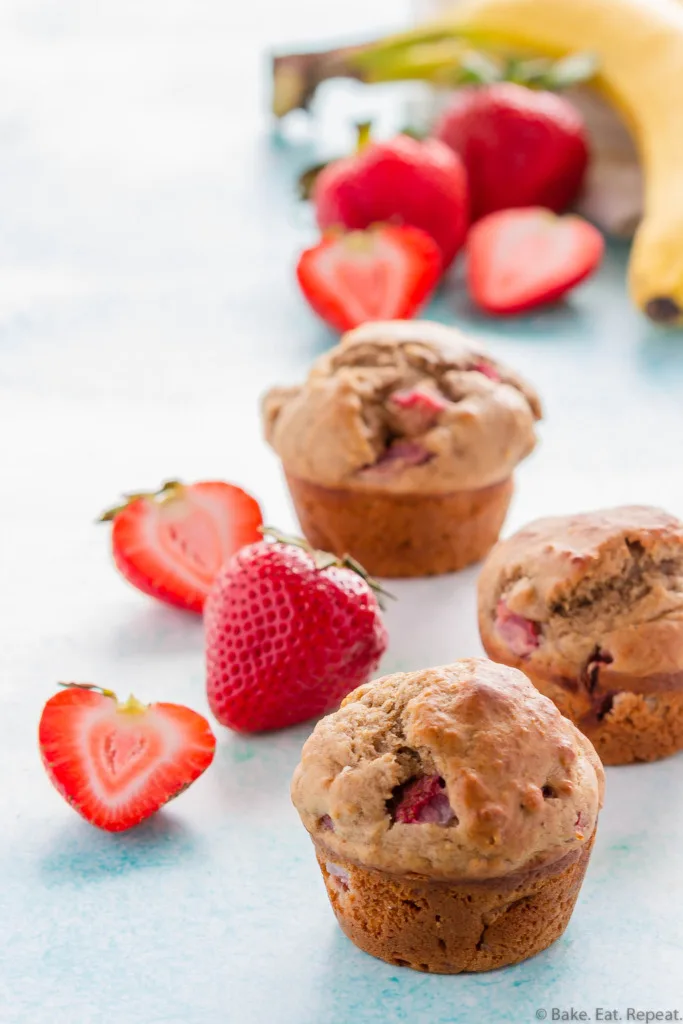 How to make Strawberry Banana Muffins:
Make sure not to over-mix the muffin batter. Less is more with muffins, and if you over-mix the batter you will end up with dense muffins. Stir just until the ingredients are combined.
I've made these muffins with whole wheat flour, or with all purpose flour, and both are tasty so use whichever you prefer, or a combination of the two.
I like to use an ice cream scoop to portion out the batter into the muffin tin. This helps with getting the muffins all the same size, and with getting nice domed tops on the muffins.
Here are some more great muffin recipes for you: