These carrot zucchini muffins are healthier option for your breakfast muffin, with whole wheat flour, less sugar and fat, and loads of veggies!
I've been making these carrot zucchini muffins for about 15 years now, and my kids still love them. If you have a child that refuses to eat vegetables, these muffins are a great way to get a few into them!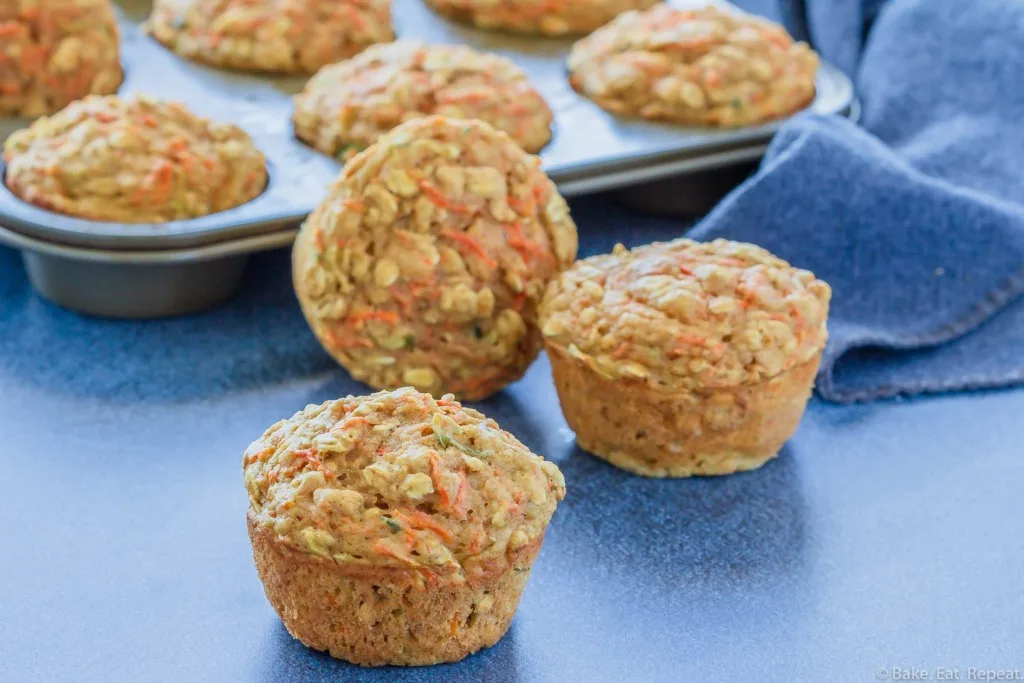 I made mini muffins with this recipe incessantly when my youngest was a toddler because he wouldn't eat any veggies at all. But blend up the wet ingredients in this recipe and you can't see any telltale orange or green. Then it's just a treat instead of a healthy muffin – at least in the eyes of a toddler!
My kids are older now, and all eat their vegetables quite happily, but they still love these muffins. They're tasty, they're filling, and they're allowed to eat them for breakfast, since they're on the healthier side of the muffin spectrum.
If you're looking for a great healthy muffin recipe, try these easy carrot zucchini muffins. They're delicious!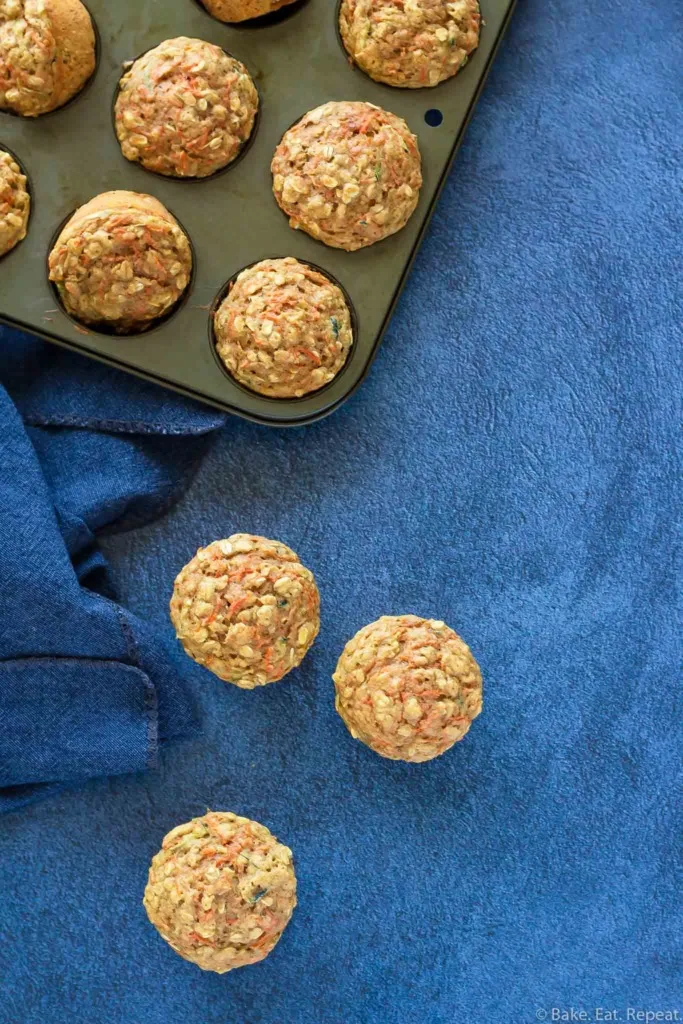 How can I make my muffins light and fluffy?
To make your muffins light and fluffy, make sure not to over mix the batter. When muffin batter is over mixed, the flour starts to develop gluten and the muffins end up being tough and dense.
Mix the wet and dry ingredients together just until the are combined. It's even okay if there are still some bits of flour visible. The batter will be lumpy, but that's okay!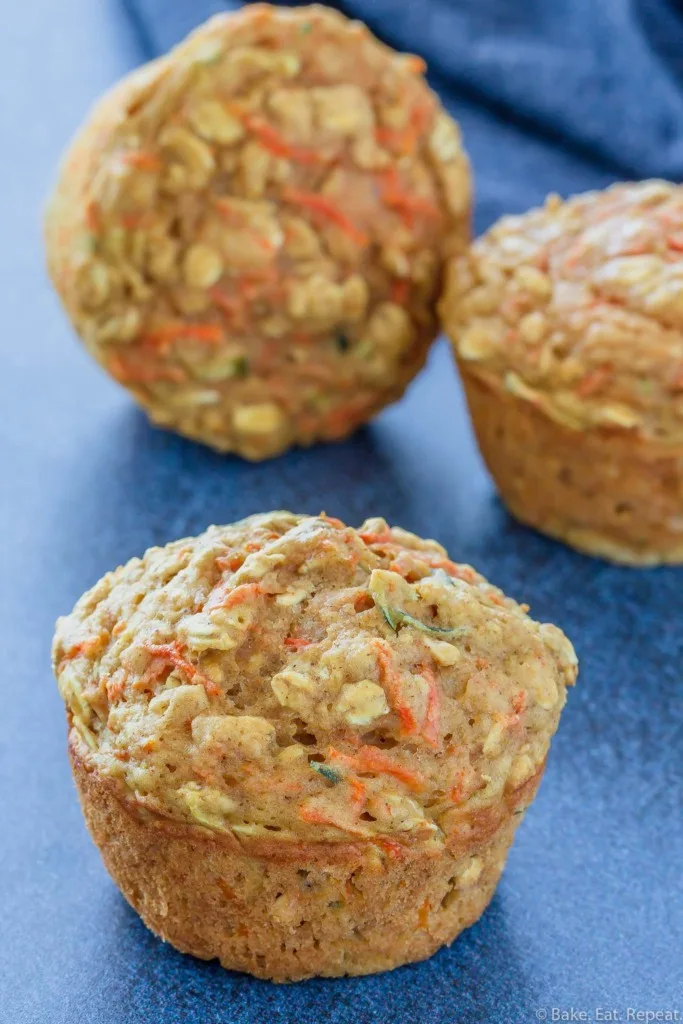 What is the best way to store carrot zucchini muffins?
The best way to store muffins is at room temperature in a container that is not airtight. While an airtight container will keep them fresh longer, they will get very sticky in a sealed container.
Placing a layer of paper towel above and below the muffins and leaving the lid of the container on loosely helps. The paper towel absorbs some of the extra moisture, and not sealing the lid lets some air circulate so the tops don't get as sticky.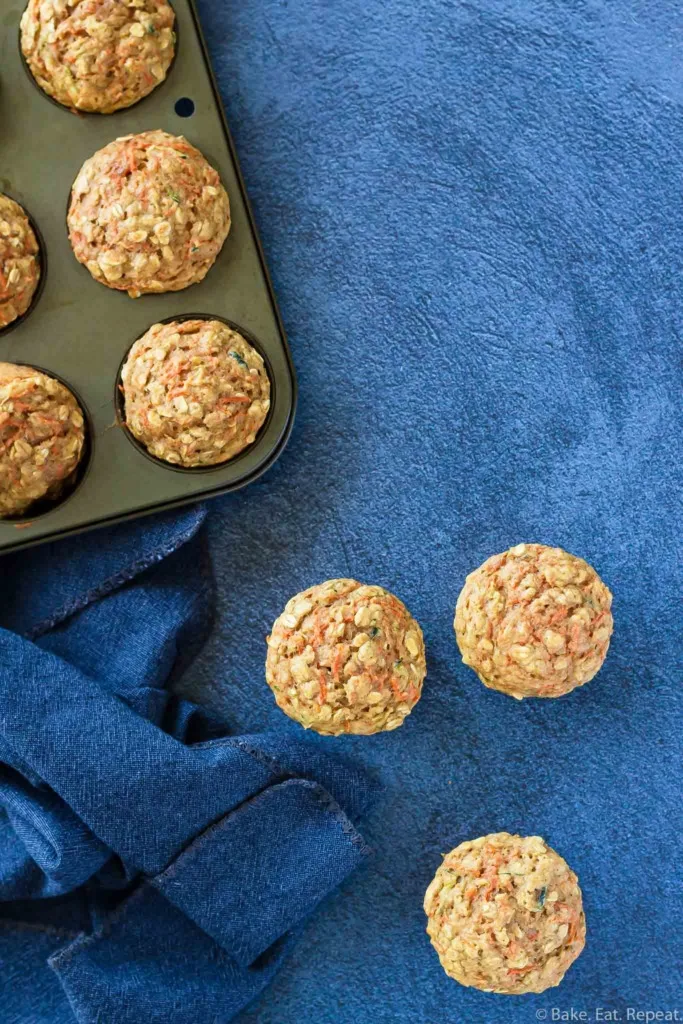 That being said, muffins definitely don't keep as long when stored this way. They will only keep for about 3 days like this. If you want them to last longer, keep them in an airtight container at room temperature, or freeze them for up to 3 months.
If your muffins are really sticky after a day or two from all the moisture (these ones in particular have a lot of moisture from all the vegetables), you can refresh them by heating them up in the oven at 350F for about 5 minutes.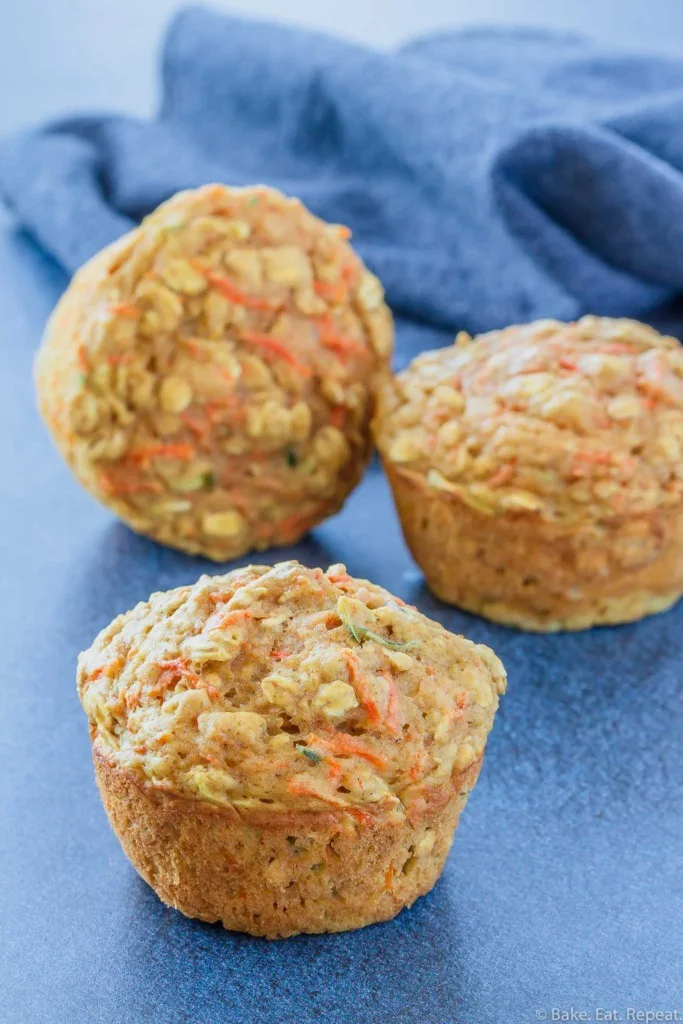 How to make Carrot Zucchini Muffins:
If you don't want visible carrots and zucchini in your muffins (my kids hated seeing veggies in muffins when they were younger!), you can blend all the wet ingredients together instead of just whisking them.
These muffins have a lot of moisture, even without any oil, so they tend to get quite sticky, and are definitely best the first day or two after baking them. They can be frozen for up to 3 months if you don't go through muffins quite that quickly.
I've also made these with raisins in them, and they were tasty that way as well. Add 1/2 cup if you like raisins in your muffins.
I've decreased the brown sugar to 1/3 cup with good results.
If you prefer, you can substitute all purpose flour for the whole wheat flour.
Here are some more great muffin recipes for you: