Cheesy baked pasta with a clam and mushroom alfredo sauce – cheesy comfort food at it's best! You will make this pasta again and again!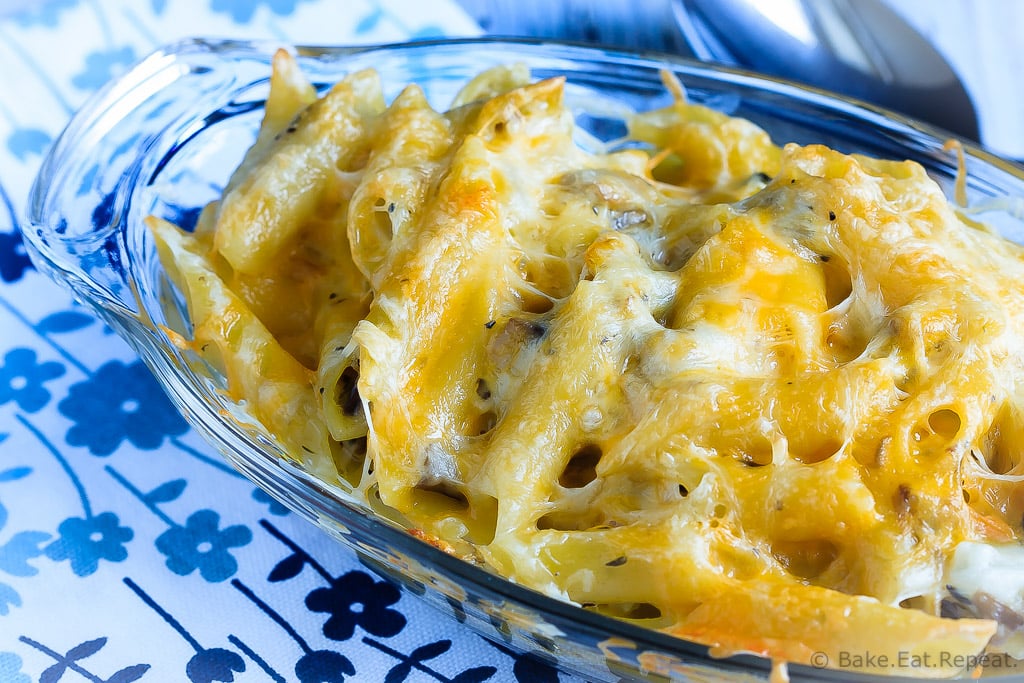 Cheesy pasta.  That's pretty much the definition of comfort food right?  And this baked shrimp pasta with mushroom alfredo sauce is most definitely comfort food.
It's also perfect for Mother's Day which is coming up this weekend.  This recipe is actually one that my mom used to make on a fairly regular basis when I was growing up, but I haven't had it in years.  Mostly because I didn't have any individual pasta dishes to make it in and it just didn't seem right to make it in a big casserole dish.  Because that's not how my mom made it.
And we all know that the way your mom made it is always the best.  You just can't mess with that.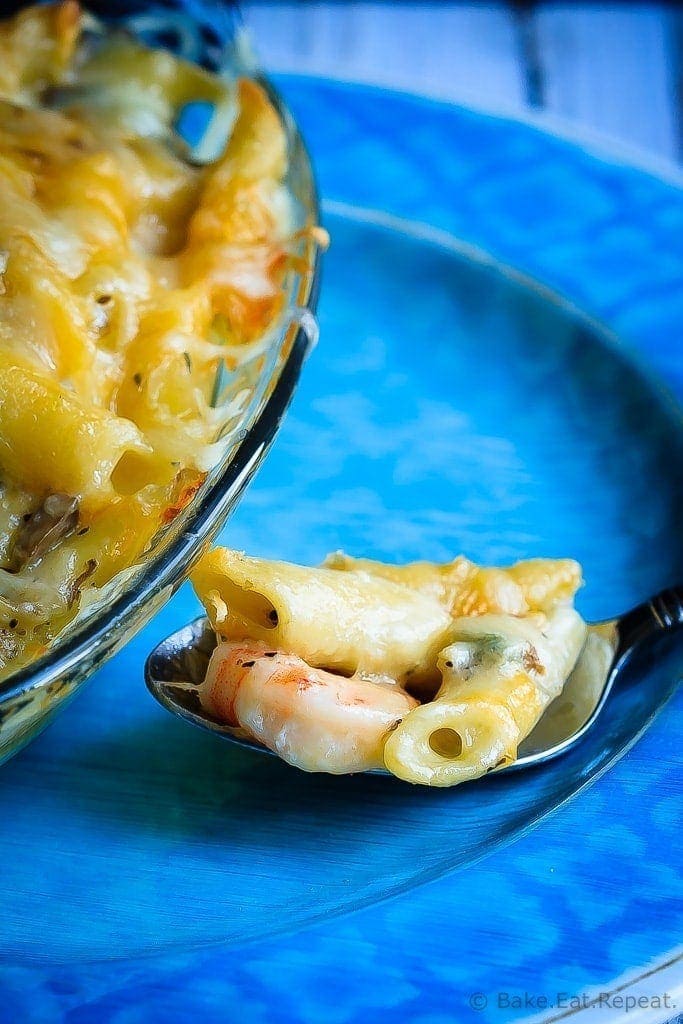 As a side note, I did make this in a casserole dish just to see if it was still good (because I'm guessing some of you also don't have individual pasta dishes!) and it was still pretty fantastic, but the individual ones are better.  I think it's all the crispy edges that make the difference.  That, and the fact that you are guaranteed to get your fair share of the shrimp.  Nothing worse then having shrimp pasta and only getting one shrimp.  No one wants that.
My whole family loved this baked penne when my mom would make it.  It would always be a hit – I remember my brother and sister and I even requesting it for those special meals like birthday dinners.  It was the perfect family meal – special enough for big events like birthdays or Mother's Day, but easy enough that it can be a simple weeknight meal as well.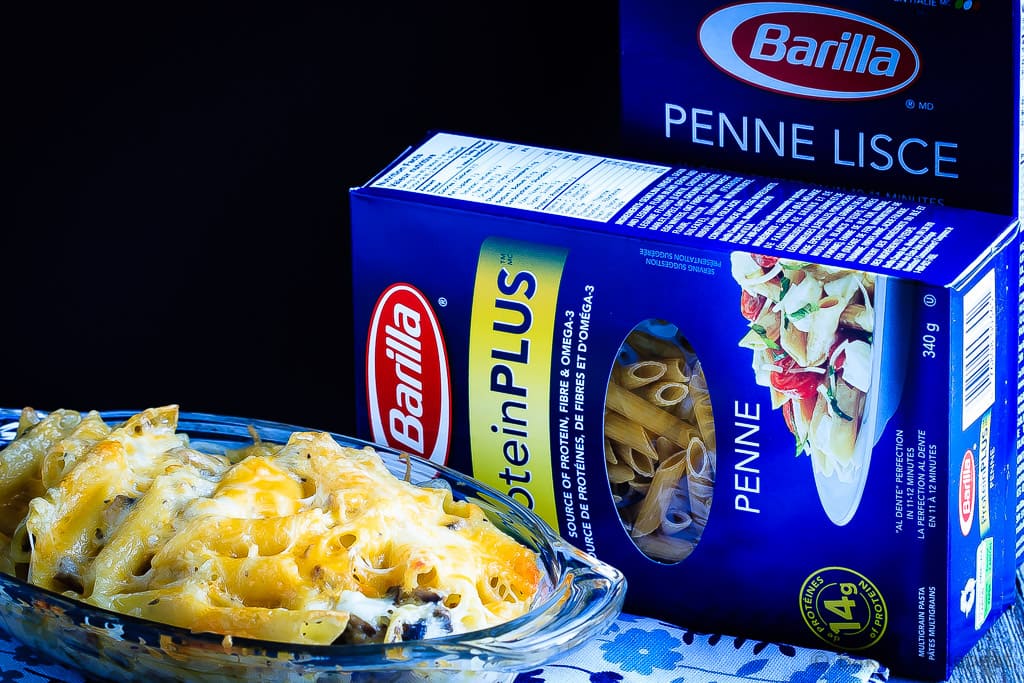 So when Barilla Canada approached me about creating a recipe for Mother's Day for their Share the Table initiative – I didn't have to think too hard about what to make.  Having family dinners together has always been important to me – growing up I don't recall too many evenings when we didn't eat together, and that has remained a priority as I've had children of my own.  And on days like Mother's Day, we definitely try to share a special meal together.
So if you're looking for a special dish to share with your family this Mother's Day (or just any day really) try this baked shrimp pasta with mushroom alfredo sauce.  Cheesy penne with shrimp, baby clams, and a homemade mushroom alfredo sauce – fancy enough for a big meal, but easy enough for a weeknight.  Plus, it can be made ahead of time and either refrigerated or frozen before baking it.
Doesn't get much better then that!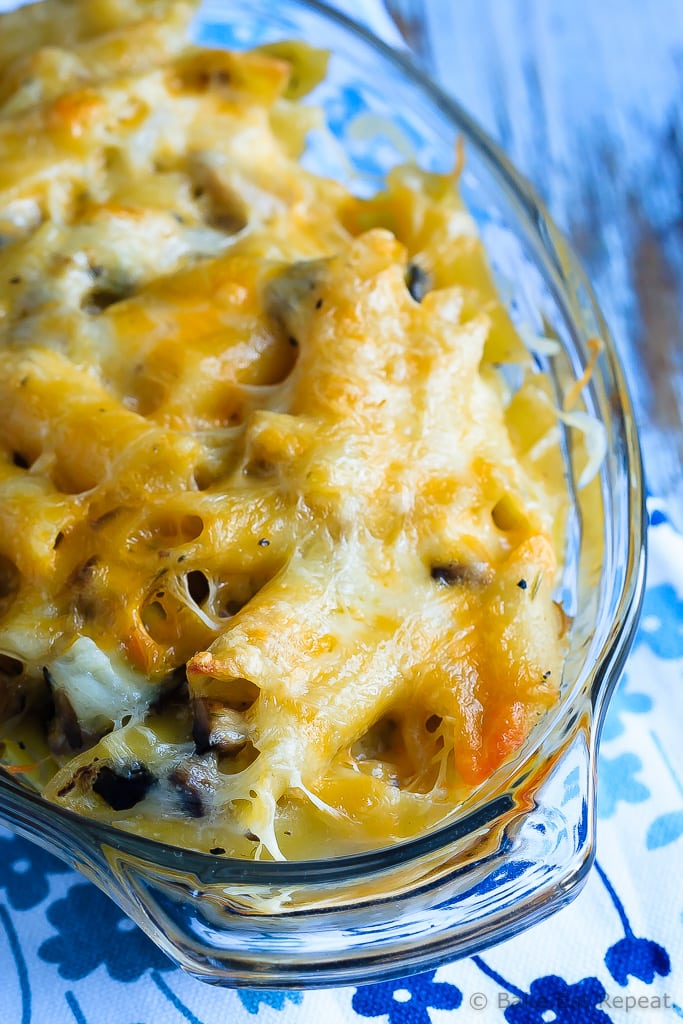 Disclaimer:  This post was sponsored by Barilla Canada, and I have been compensated for my time and provided with product for recipe testing purposes.  As always, all opinions are my own.


Yield: serves 6
Baked Shrimp Pasta With Mushroom Alfredo Sauce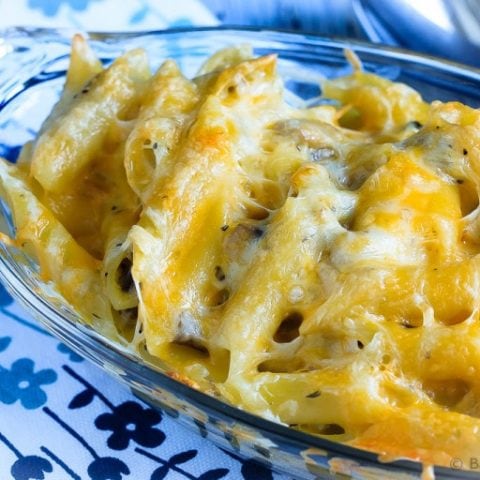 Cheesy baked pasta with a clam and mushroom alfredo sauce - cheesy comfort food at it's best! You will make this pasta again and again!

Prep Time 30 minutes

Cook Time 25 minutes

Total Time 55 minutes
Ingredients
454g (16oz) box Barilla Penne Lisce
3 tablespoons butter
4 cloves garlic, minced
1 1/2 cups chopped mushrooms
1/2 cup chopped onion
3 tablespoons all-purpose flour
1 1/2 cups chicken stock
1 cup milk
1/2 cup heavy cream
1 teaspoon salt
1/2 teaspoon pepper
1/2 teaspoon dried thyme
1/2 teaspoon dried oregano
3/4 cup finely grated parmesan cheese
1 (142g, 5oz) can baby clams, drained
24-30 large raw shrimp, peeled and tails removed
1 cup shredded cheddar cheese
1 cup shredded mozzarella cheese
Instructions
Preheat the oven to 350 degrees F.
In a large pot of salted, boiling water, cook the pasta to al dente according to the package directions, then drain and set aside.
Meanwhile, in a medium saucepan, melt the butter over medium heat.
Add the garlic, mushrooms and onion and saute for 2-3 minutes, stirring, until softened.
Add the flour and cook, stirring for one minute, until it is lightly browned.
Slowly whisk in the chicken broth, milk and cream.
Stir in the salt, pepper, thyme and oregano and bring the sauce to a high simmer.
Cook, whisking constantly, for 5-6 minutes, or until it is slightly thickened.
Stir in the parmesan cheese and baby clams and cook for another 1-2 minutes until the cheese is melted. Remove from the heat.
Spoon about 1 tablespoon of the sauce into each of 6 individual pasta dishes.
Place 4-5 shrimp in the bottom of each dish.
Toss the cooked pasta with the rest of the sauce until it is evenly coated and divide it between the 6 pasta dishes.
Sprinkle the pasta with the cheddar and mozzarella cheese.
Bake the pasta for 20-25 minutes, or until the cheese is bubbling and the shrimp are cooked through (if your dishes are clear you can just look through the bottom to check if the shrimp are pink and cooked through).
Notes
We like this pasta made in individual pasta dishes, it fills 6 - 472mL/16oz pasta dishes perfectly. If you don't have pasta dishes you can make it in a 9x13 inch baking dish instead. This pasta can be prepared ahead of time and then refrigerated until you are ready to bake it. You can also freeze the prepared pasta, and then thaw and bake it as directed.
Recommended Products
This post contains affiliate links. As an Amazon Associate, I may receive a small commission from qualifying purchases.
Nutrition Information:
Yield:
6
Serving Size:
1 dish
Amount Per Serving: Calories: 416Total Fat: 28gSaturated Fat: 16gTrans Fat: 1gUnsaturated Fat: 9gCholesterol: 135mgSodium: 1327mgCarbohydrates: 17gFiber: 1gSugar: 4gProtein: 25g

Nutrition Information is estimated based on ingredients used and may not be exact.