I have the best pasta dish for you today!  No, seriously, it really is the best.
It takes just 15 minutes to throw together and it tastes amazing.  It's Mexican, it's cheesy, it's fast, and you quite likely have everything you need to make it already.  Oh, and everyone will love it.
Or, at the very least, everyone here loves it.  So I'm projecting that sentiment onto the entire world (or at least the few people that read this!) and proclaiming that everyone will love it.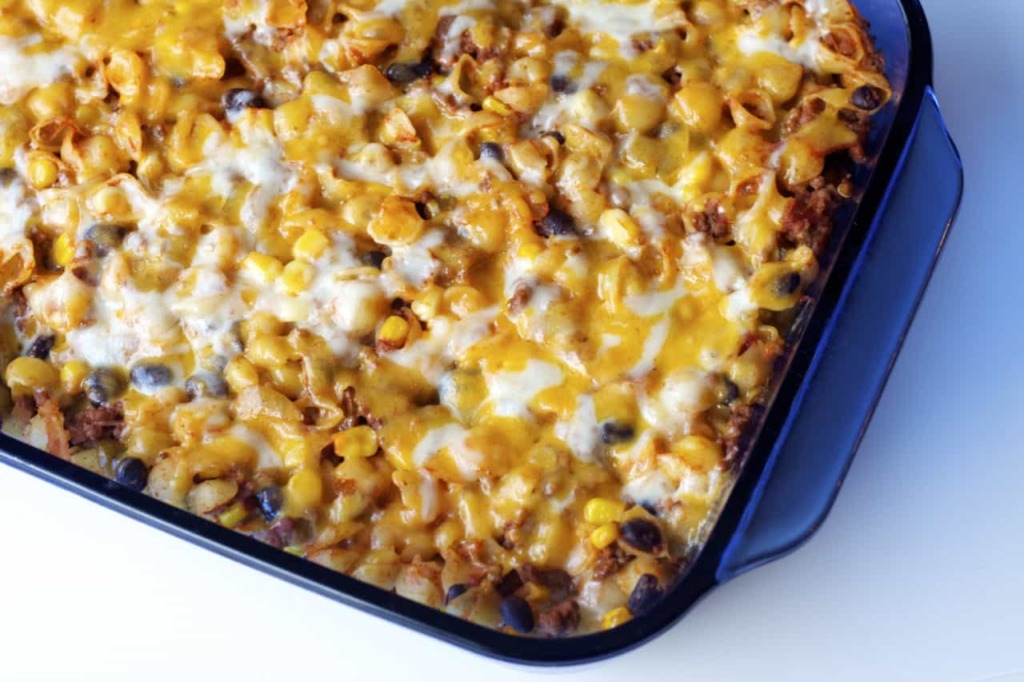 And I'm sure you will.
What's not to love?  Well, besides these awful photos that is.  Please excuse them.  I tried twice, they were still awful.  Just believe me when I say that it's a whole lot better than it looks.  Evidently baked pasta is hard to take pictures of.  Oh well.
I've been making this pasta dish for about 8 years now.  It's been modified a fair bit from the first time I made it based on what we like.  So it's fairly adaptable if you want to add more beans, less corn, more cheese.  It'll still turn out amazing.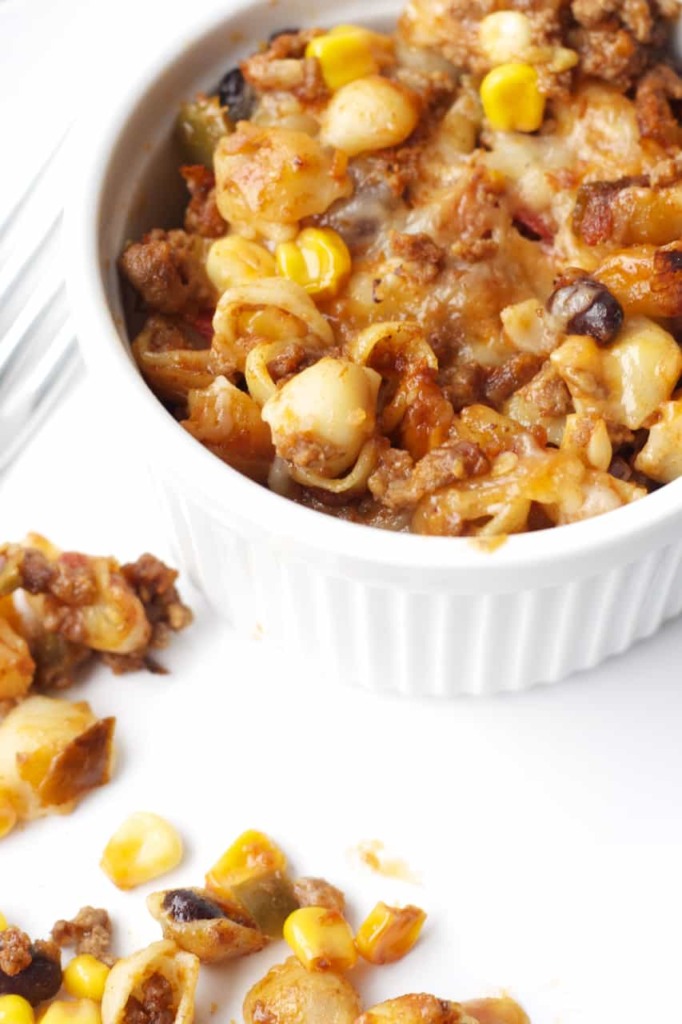 Maybe throw in some more veggies. I've done that on occasion.  But generally I'm making this pasta dish when I haven't bothered to meal plan and don't know what to make.  It's delicious, everyone will eat it, and I usually have everything I need to make it.  And it takes so little time to whip up.
Like I said, what's not to love?!  Fast, easy and tasty Mexican baked pasta.  So good.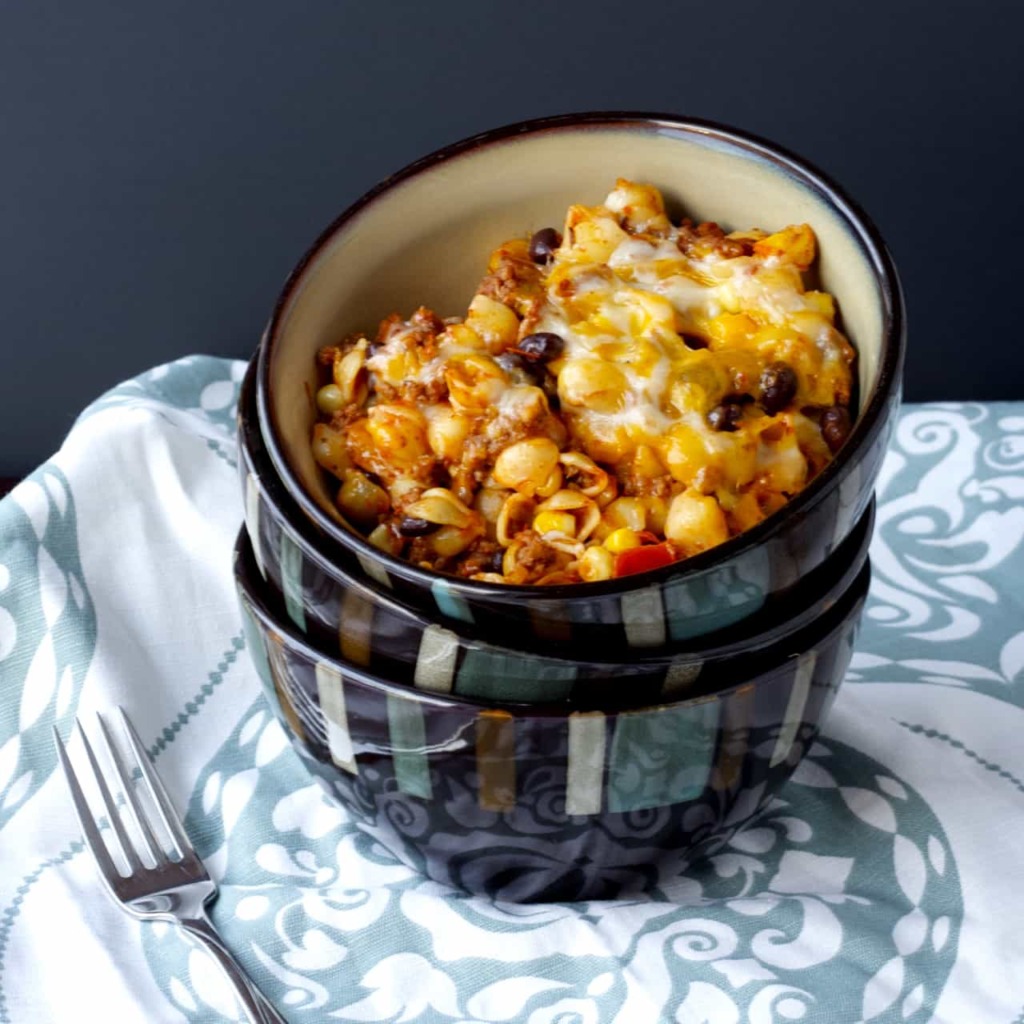 Yield: serves 6-8
Mexican Baked Pasta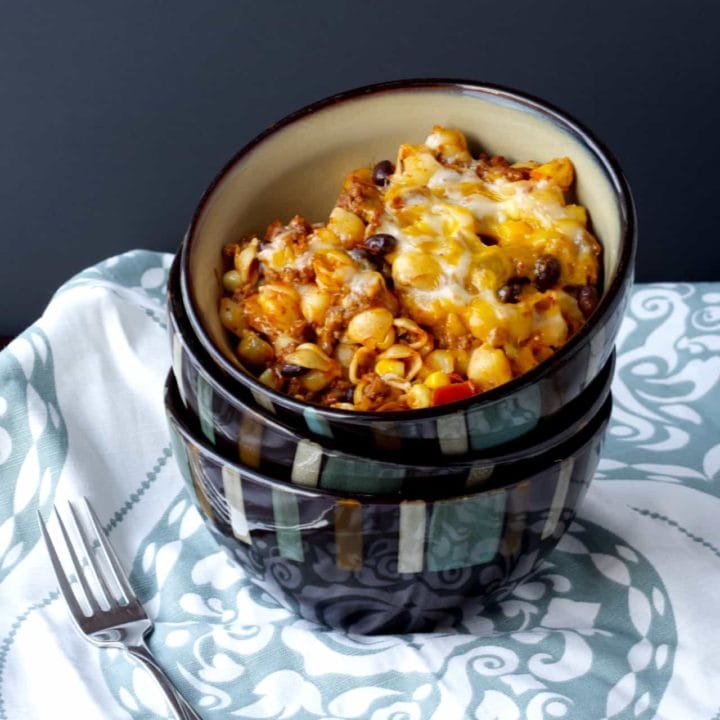 Ingredients
2 cups uncooked small pasta (shells, penne, rotini, etc.)
450 grams (1 pound) ground beef
2 cups salsa
1 cup corn kernels (I use frozen)
3/4 cup canned black beans, rinsed
2-3 cups shredded cheese (monterey jack, mozzarella, cheddar - we like a combination of all 3, but use your preference)
Instructions
Preheat the oven to 350 degrees F.
In a large pot of boiling, salted water, cook the pasta until al dente (don't overcook or it will become mushy during baking). Drain well.
In a large skillet, over medium heat, cook the beef until it is no longer pink, about 5 minutes, and drain the grease. Add the salsa, corn kernels, and beans and stir to combine. Cook, stirring for another 3-5 minutes to blend the flavours. Add to the pasta and stir to combine.
Spoon half of the pasta mixture into a 9x13 inch baking dish. Sprinkle half of the cheese over top. Add the rest of the pasta mixture in an even layer and cover with the rest of the cheese.
Bake for 30-35 minutes until hot and bubbling. Alternatively you can prepare the dish, then cover and refrigerate until ready to bake. You will need to add 5-10 minutes to the baking time. This pasta dish also freezes well. Prepare the dish, then cover well and freeze for up to 3 months. Thaw before baking.
Notes
Source: Adapted from Today's Parent Magazine (from a really old edition, this link is just to their homepage as they do not have the original recipe online - I've been making this dish for years!)