These homemade cinnamon twists, filled with cinnamon, brown sugar, and sweet California Raisins, are the perfect treat for a weekend brunch! They are so easy to make and they taste amazing – everyone will love them!
Disclaimer: This post has been sponsored by California Raisins and I have been compensated monetarily. All opinions are, as always, my own.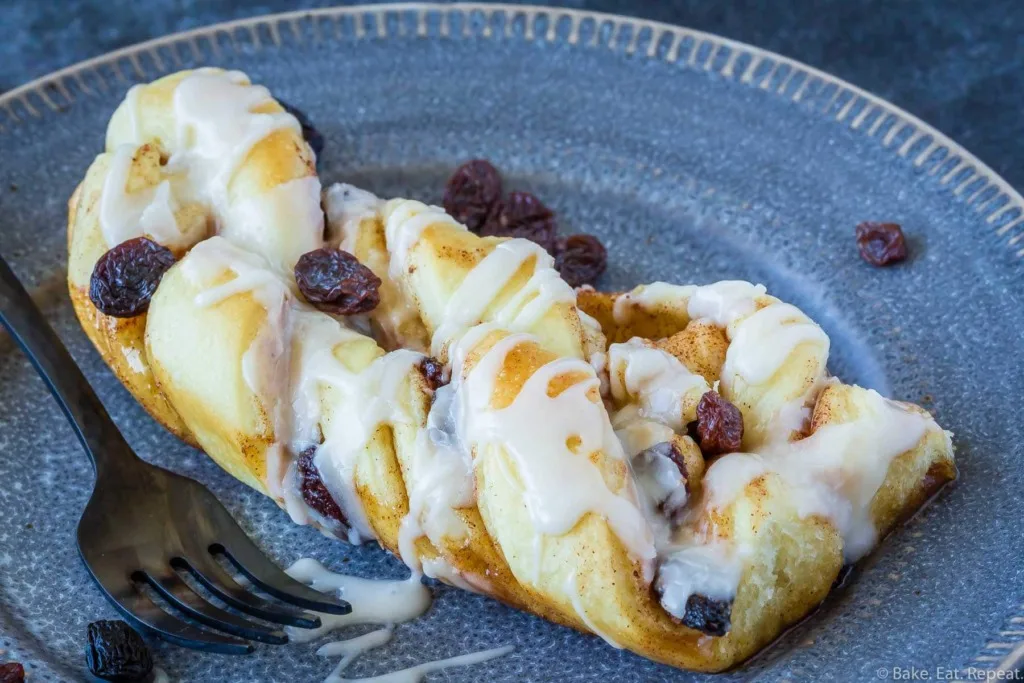 One of my favourite things to make on the weekend is sweet rolls of some sort.
They're easy to make, they taste fantastic, they can be made ahead of time so there's nothing to do but bake them on the weekend, and everyone loves them.
They make the best kind of weekend brunch in my mind. We usually cook up some sausage and scrambled eggs while the sweet rolls are in the oven.
It results in a very relaxed meal that still seems kind of fancy.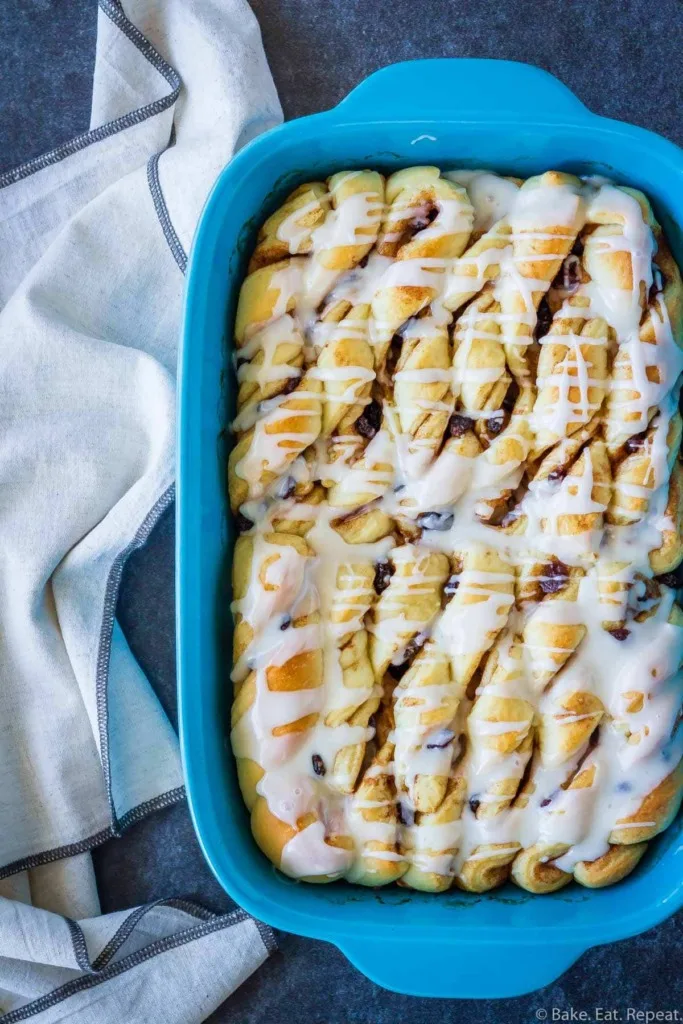 These cinnamon twists have been made here at least four times in the last couple months. They're so good.
Homemade cinnamon roll dough is filled with brown sugar, cinnamon, and naturally sweet California Raisins.
Fold it over a couple of times and cut it into thin strips.
Then simply twist them up before letting them rise and baking them.
Top them with a sweet vanilla glaze and you have some amazing cinnamon twists to wow your family with for a weekend brunch!
And I have to say that these cinnamon twists are not the same unless you add some California Raisins to them.
Raisins are such a versatile addition to so many baking and cooking recipes, and they are so tasty in these cinnamon twists.
We fight over the raisins that get left behind in the pan after all the sweet rolls are gone – they're so good!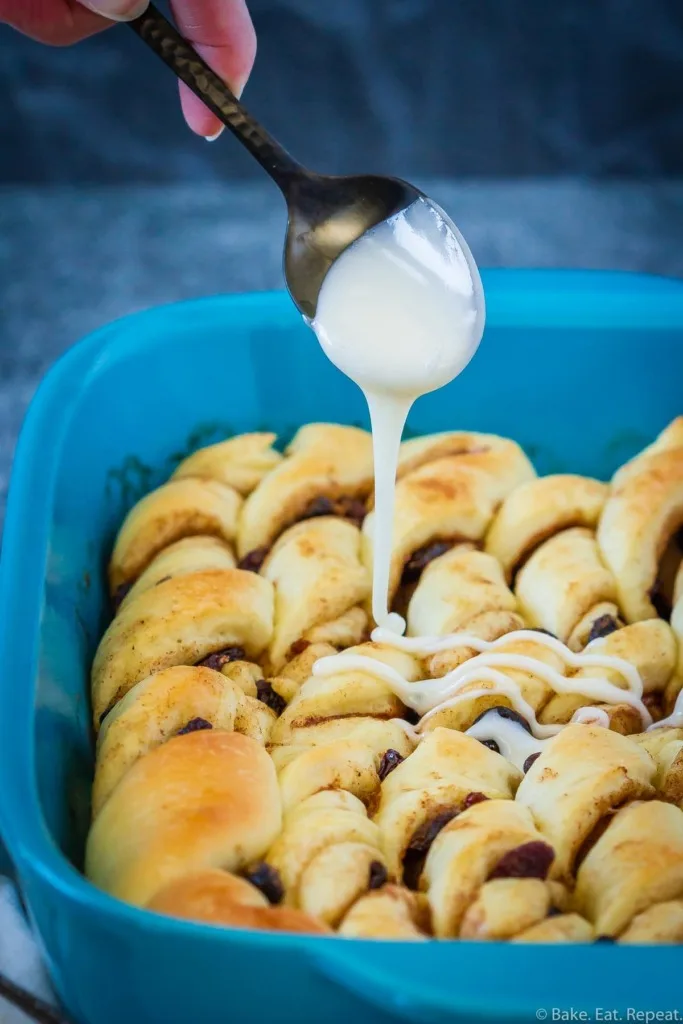 How do you make cinnamon twists from scratch?
These cinnamon twists are very easy to make, so don't be scared to try if you've never made your own cinnamon rolls before!
Sweet yeast dough is one of the easiest doughs to work with.
If you have a stand mixer, you don't even have to knead the dough yourself. Throw all of the ingredients in and let it do all the work for you.
The one thing to be aware of when making a yeast dough, is that the amount of flour that is called for is not a hard and fast rule, as it does change based on a number of factors, such as humidity.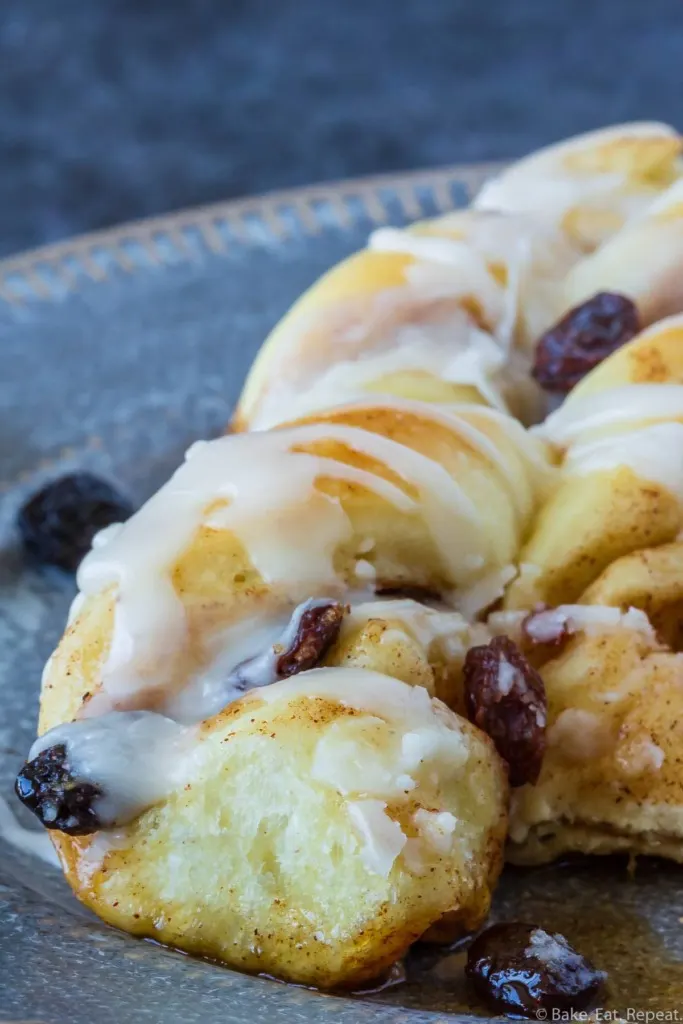 So after initially mixing all the ingredients, look at the dough.
If it is really loose and wet looking, and won't come together into a ball, then you need to add a bit more flour.
If it is really dry and some of the flour isn't hydrated, then you need to add a bit more buttermilk.
Perfectly floured dough should be a bit tacky to the touch, but not crazy sticky, and it should come together into a ball when you mix it, clearing the sides and bottom of the bowl.
If you're unsure what your dough should look like, take a look at the step by step photos I've included in the recipe video.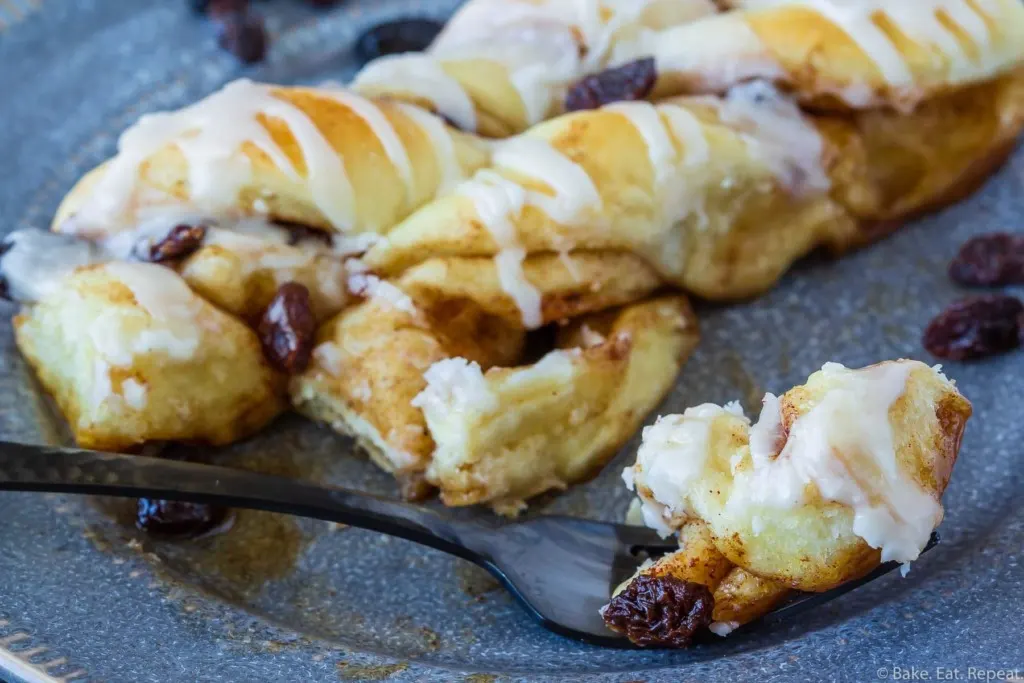 Can you make cinnamon twists ahead of time?
These cinnamon twists can be made ahead of time, which makes them absolutely perfect for a weekend brunch!
To make them ahead of time, follow the recipe up to the point that the cinnamon twists are shaped and ready to rise in the baking pans.
At this point, instead of letting them rise, cover them and place them in the refrigerator for up to two days.
The day you want to serve them, take them out of the fridge, and let them rise at room temperature for 2-3 hours, or until they have doubled, and then bake them as directed.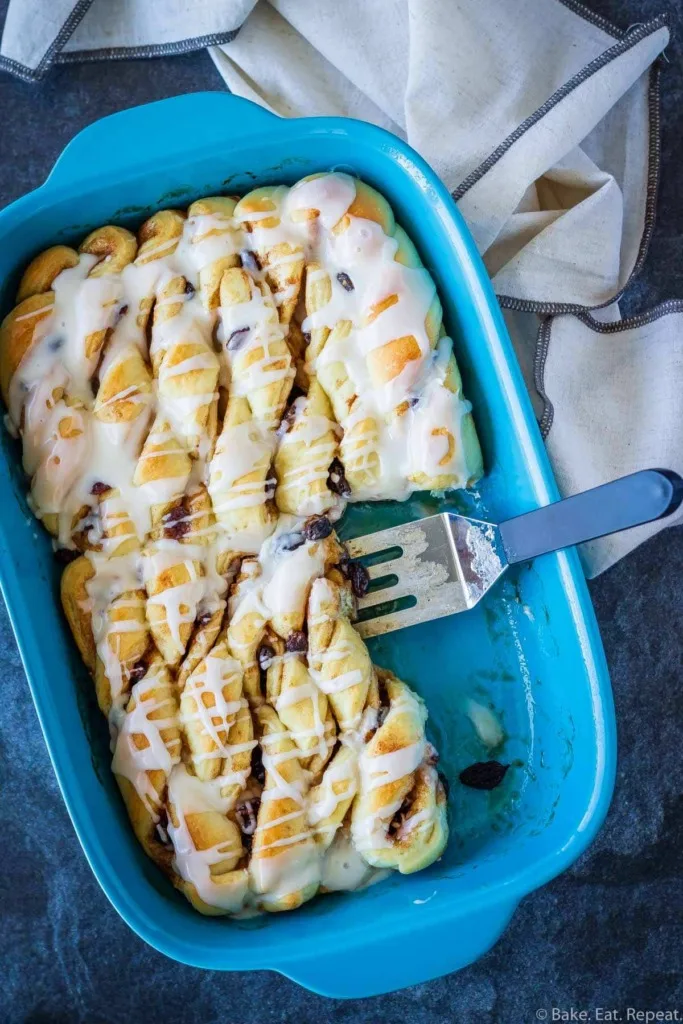 Can cinnamon twists be frozen?
Yes, cinnamon twists can be frozen. I like to freeze them after shaping them, but before baking them.
After shaping them, instead of letting them rise again, cover them tightly and freeze them for up to three months.
When you want to bake them, move them to the refrigerator to defrost overnight.
The next day, let them rise at room temperature for 3-4 hours, or until they have doubled, and then bake them as directed.
The exact amount of time they will need to rise will vary a bit depending on whether they have completely defrosted, and how warm the room is while they're rising.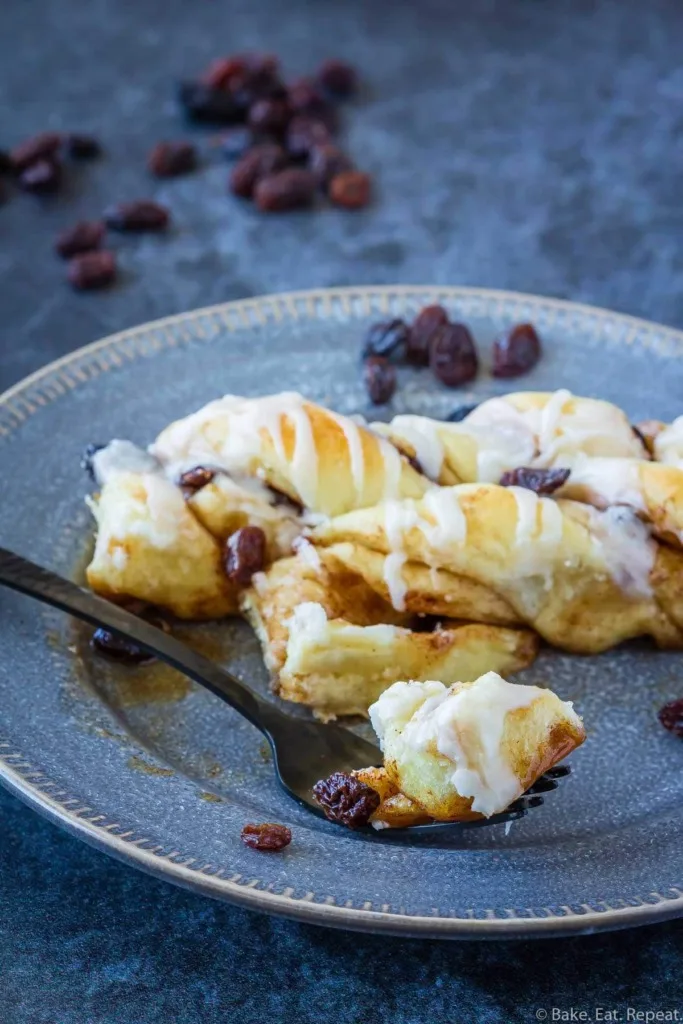 How to make Cinnamon Twists:
When you're shaping these cinnamon twists, the cinnamon sugar and raisins do tend to fall out a bit. Don't worry about it, just twist them up over top of the baking dish so most will fall in the dish, and sprinkle anything else over top of the shaped cinnamon twists. It will all bake up together and be delicious anyways.
These are shaped by rolling the dough out into a large rectangle, and then folding it in thirds over top of the filling. I usually cut the large rectangle in half before folding the thirds over top, simply because it makes the folding easier to do (see the video). Then you just cut the folded dough into one inch strips, and twist them up.
My family loves raisins, so I tend to add more than 1/2 cup of raisins, probably closer to 3/4 cup. The best raisins in the world come from California, and we are happiest when we get some in every bite while enjoying these sweet cinnamon twists. If your family is the same, feel free to add more than the 1/2 cup called for in the recipe!
Here are some more great sweet roll recipes for you: