These peanut noodles are so fast and easy to make. Add some chicken and vegetables for a more complete meal, or enjoy them all on their own!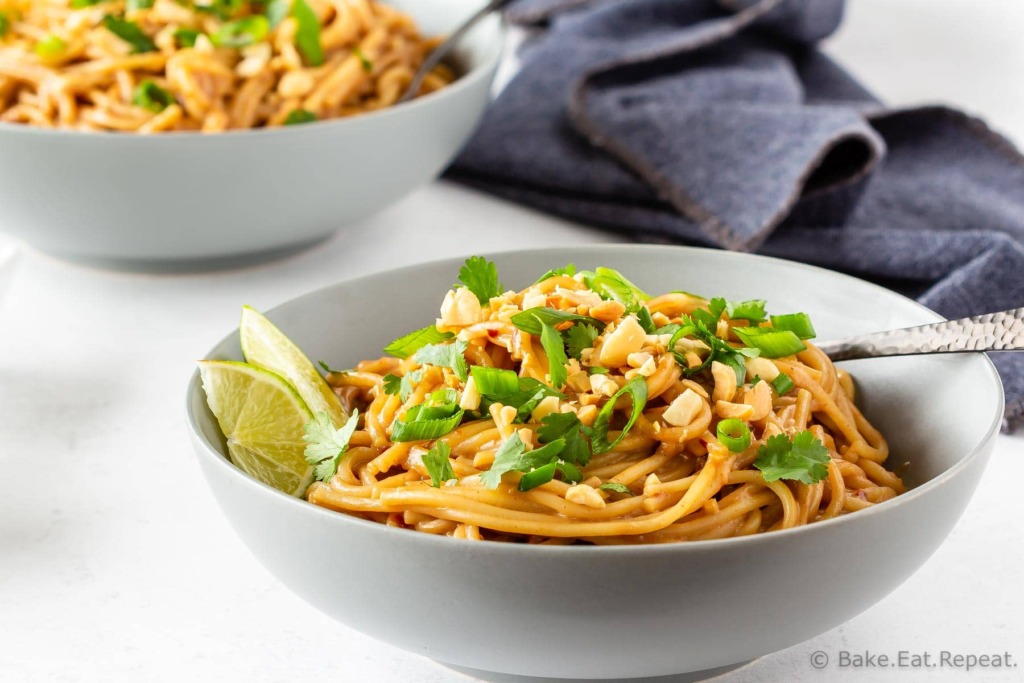 These peanut noodles are one of my family's favourite meals.
Everyone here absolutely loves peanut sauce, so having it with pasta for dinner makes for a happy group.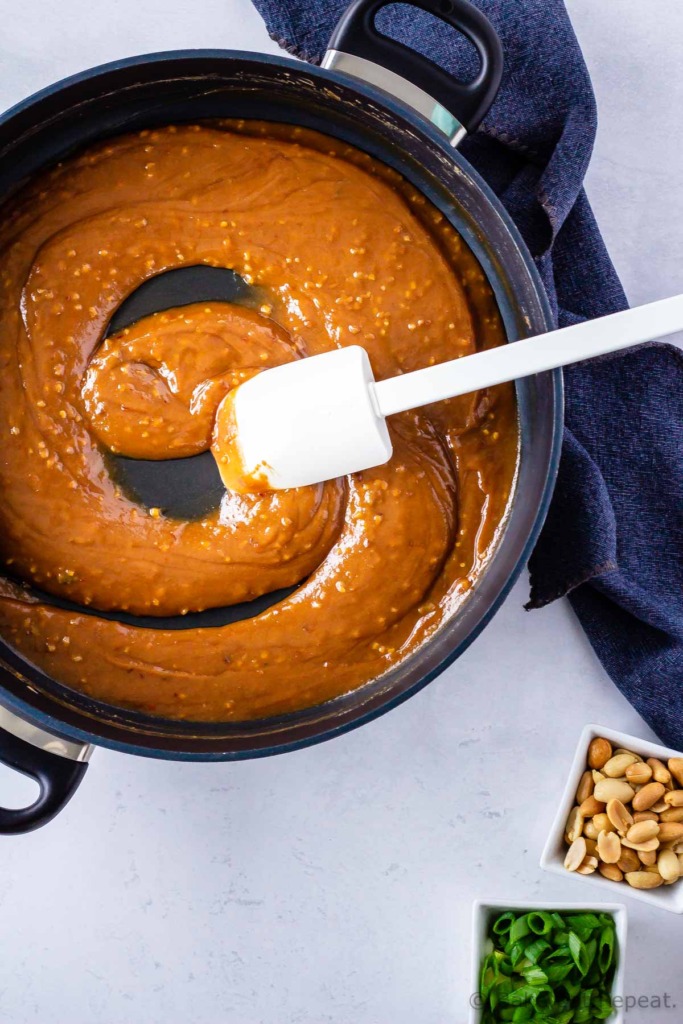 I love how tasty these peanut noodles are, but the best part might just be how easy this recipe is. It will literally be on the table in less than 20 minutes.
And that includes the time it takes to boil the water for the pasta.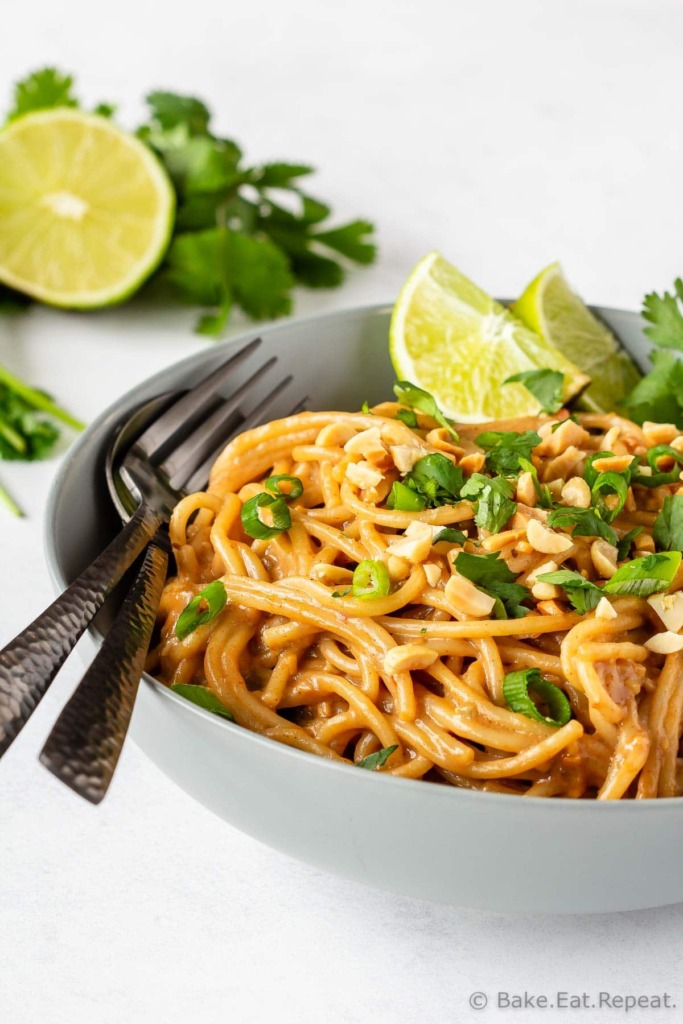 If you want to add some chicken and vegetables to the peanut noodles to make it more of a complete meal, it will take a couple extra minutes to saute them. But you can do that while the pasta is boiling, so it can still be ready very quickly.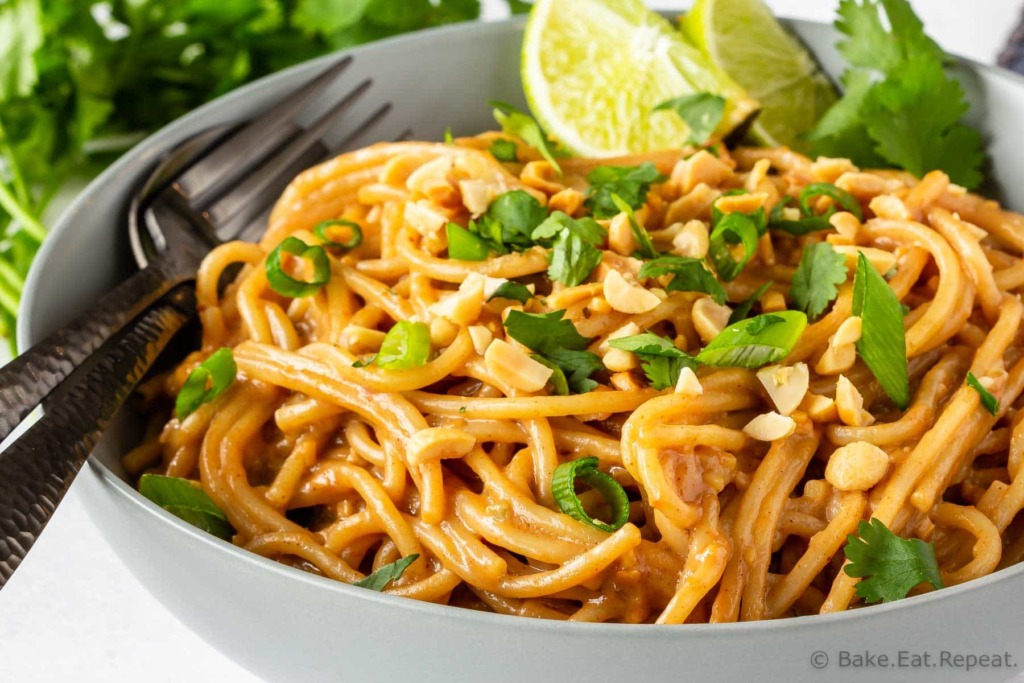 This peanut pasta sauce is fantastic. If you've never made peanut noodles before, you definitely need to try this recipe soon!
You may just find a new family favourite. It is certainly a favourite here!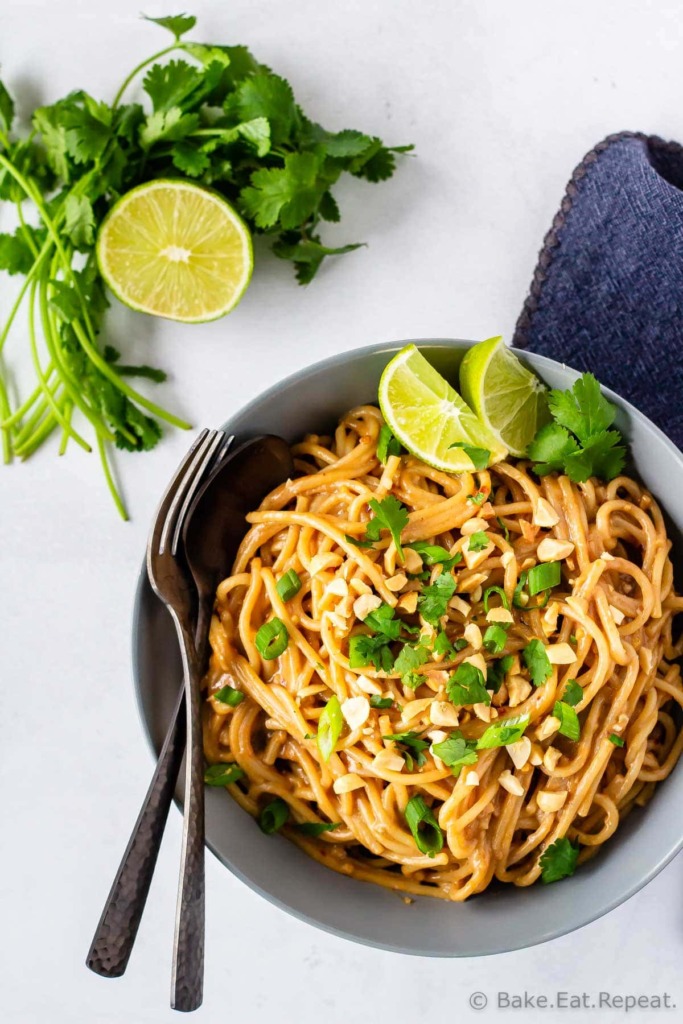 How do you make peanut sauce from scratch?
This peanut sauce is super easy to make from scratch. Melt some peanut butter, add everything else, and whisk to combine.
You can use it as a dipping sauce or a stir fry sauce as well.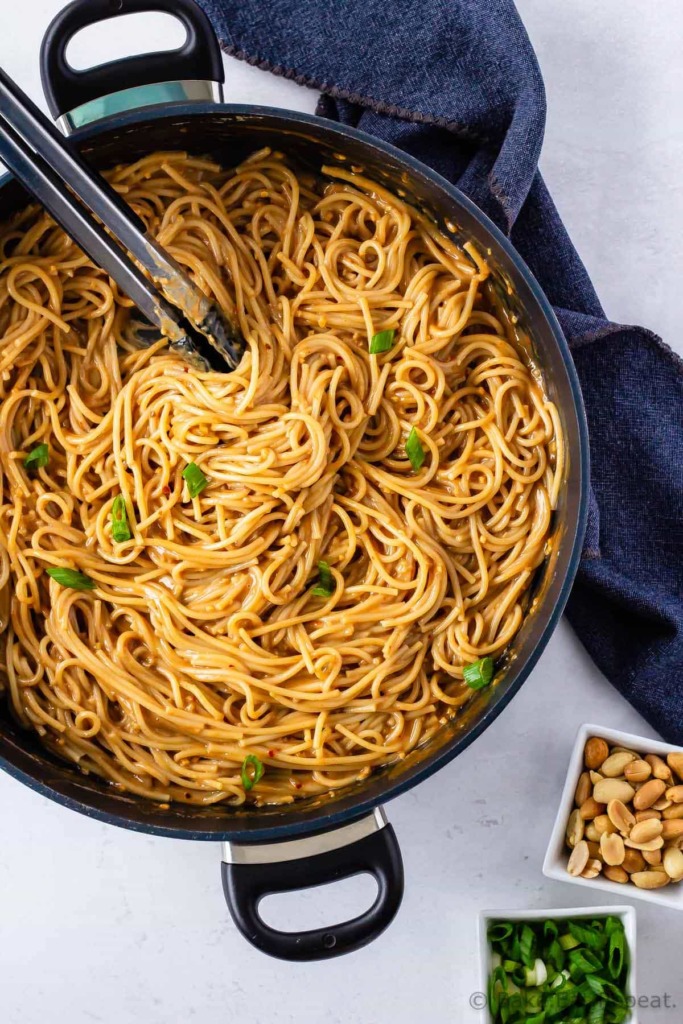 We love it in stir fry. I have a recipe for Peanut Chicken Stir Fry that uses this peanut sauce and it is one of favourite meals ever.
Plus, there's no cooking required for this sauce. Using this as a pasta sauce is as simple as whisking everything together and then heating it up in a saucepan with the cooked noodles.
Easiest peanut noodles ever. And the whole family will love them!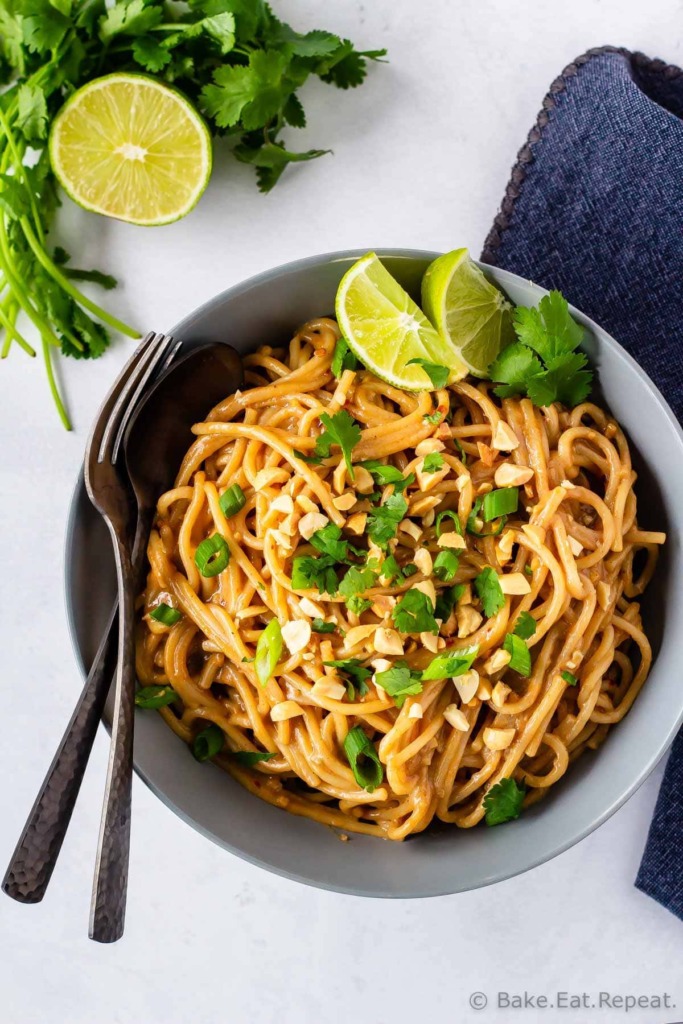 How to make Peanut Noodles:
These peanut noodles take no longer to make than the time it takes to boil the pasta. The peanut sauce mixes up in minutes, and is so tasty.
If you want this to be more of a complete meal, add some cooked chicken and vegetables to your peanut noodles. You can saute the chicken and vegetables first in a large saucepan, then add the cooked noodles and the sauce and toss to combine, until the noodles are coated and the sauce is heated through.
If you don't use fresh ginger very often, a great way to keep it on hand is to buy a larger piece of ginger root, slice it into one inch chunks, and freeze it in an airtight container. You can mince or grate it straight out of the freezer for your recipe (although it's a bit easier if you let it sit for a couple minutes at room temperature first). You don't even need to peel it if you don't want to bother.
We love these peanut noodles served with chopped green onions, cilantro, and chopped peanuts. Not necessary, but super tasty!
If you're looking for more great pasta sauce recipes, I have 12 Easy Pasta Sauce Recipes here that are all fantastic!

Here are some more great noodle recipes for you: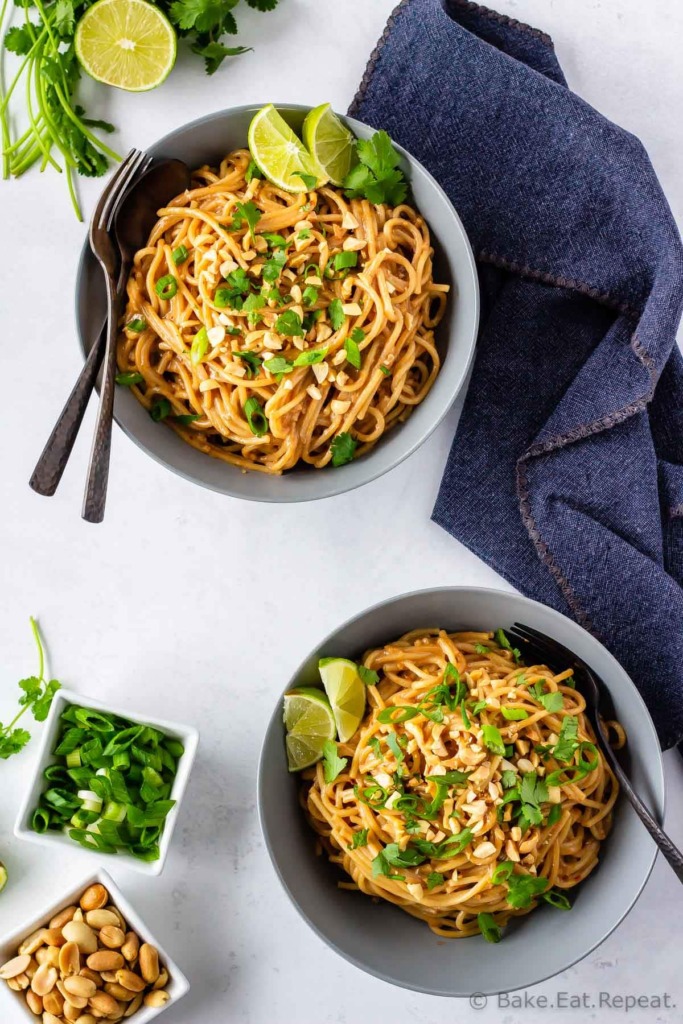 Yield: serves 4-6
Peanut Noodles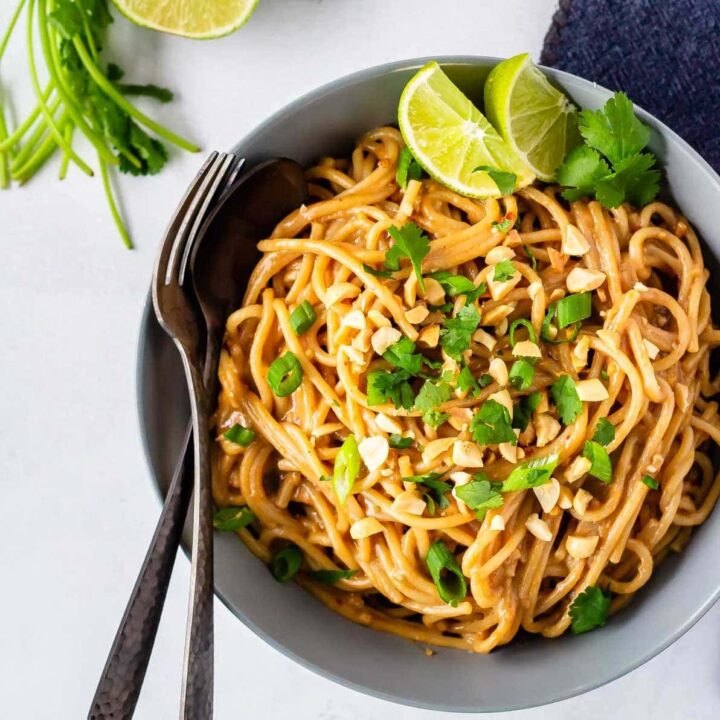 These peanut noodles are so fast and easy to make. Add some chicken and vegetables for a more complete meal, or enjoy them all on their own!
Ingredients
16 ounces long pasta
1 cup peanut butter, melted
1/2 cup chicken broth
2 tablespoons sesame oil
4 tablespoons lime juice
6 tablespoons soy sauce
3 tablespoons honey
4 cloves garlic, minced
2 tablespoons minced fresh ginger
1 teaspoon red pepper flakes
Instructions
In a large pot of salted, boiling water, cook the pasta until al dente, according to package directions. Drain.

Meanwhile, in a medium bowl, whisk together the melted peanut butter, chicken broth, sesame oil, lime juice, soy sauce, honey, garlic, ginger, and red pepper flakes until smooth and well combined.

Return the drained pasta to the stove, over low heat, and add the peanut sauce.

Toss the pasta and sauce with some tongs for 2-3 minutes, or until the sauce heats up and is coating all the noodles.

Serve immediately with chopped green onions, cilantro, and chopped peanuts.
Notes
If you prefer you can use vegetable broth instead of chicken broth in this sauce.

You can make these peanut noodles a full meal by adding some cooked vegetables (we like peppers, snap peas, and broccoli) and chicken to it. Saute these first and then add the pasta and sauce and toss to combine.
Recommended Products
This post contains affiliate links. As an Amazon Associate, I may receive a small commission from qualifying purchases.
Nutrition Information:
Yield:
serves 6
Serving Size:
1/6 recipe
Amount Per Serving:
Calories:

568
Total Fat:

28.2g
Saturated Fat:

5.5g
Cholesterol:

55mg
Sodium:

1184mg
Carbohydrates:

63.1g
Fiber:

3.1g
Sugar:

13.3g
Protein:

21.1g