This is my Grandma's recipe and it's so much better then the store-bought version. If you've never made homemade pumpkin pie, you need to try this recipe!
I know there's a million recipes out there (especially this time of year!) for pumpkin pie. But this recipe is the best pumpkin pie.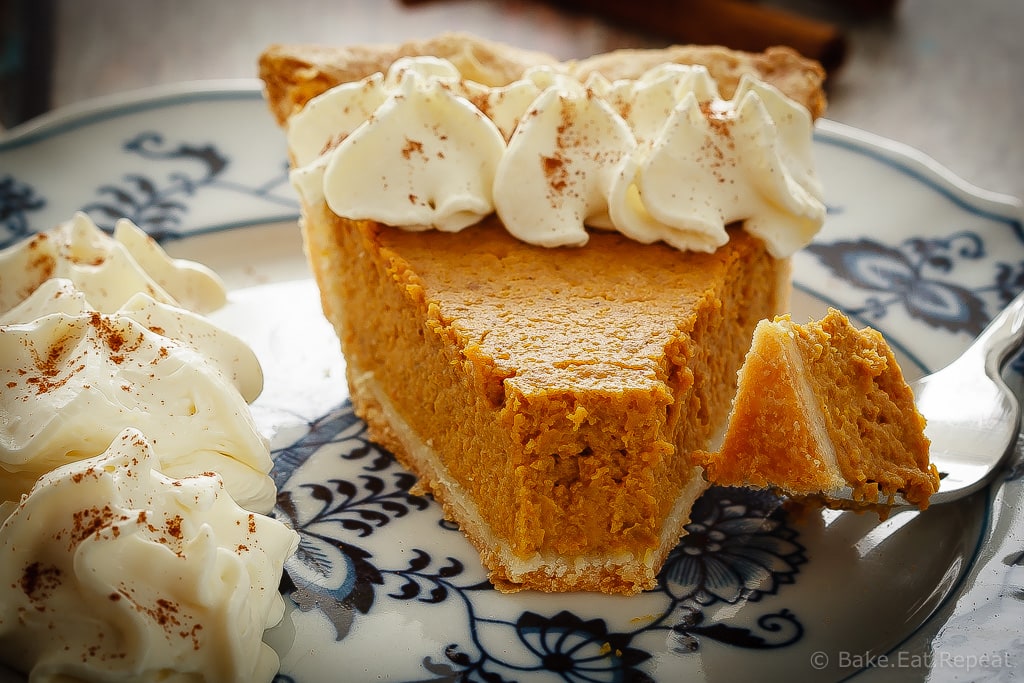 This is my Grandma's recipe, and I think we can all agree that grandmas make the best pie. Mine probably isn't even as good as hers (even though it's her recipe) just because I'm not a grandma. It'll maybe measure up in another 20 years.
We have taste tested this pie against several different bakery pies, and it always wins. Store-bought pumpkin pie just can't compare. It'll do in a pinch, but if you have the time to make this homemade version, I would highly recommend it.
My Grandma would always make this pie with homemade pumpkin puree as well. I've made it with both homemade puree as well as canned, and it works well with both. The benefit to using canned is it's obviously faster!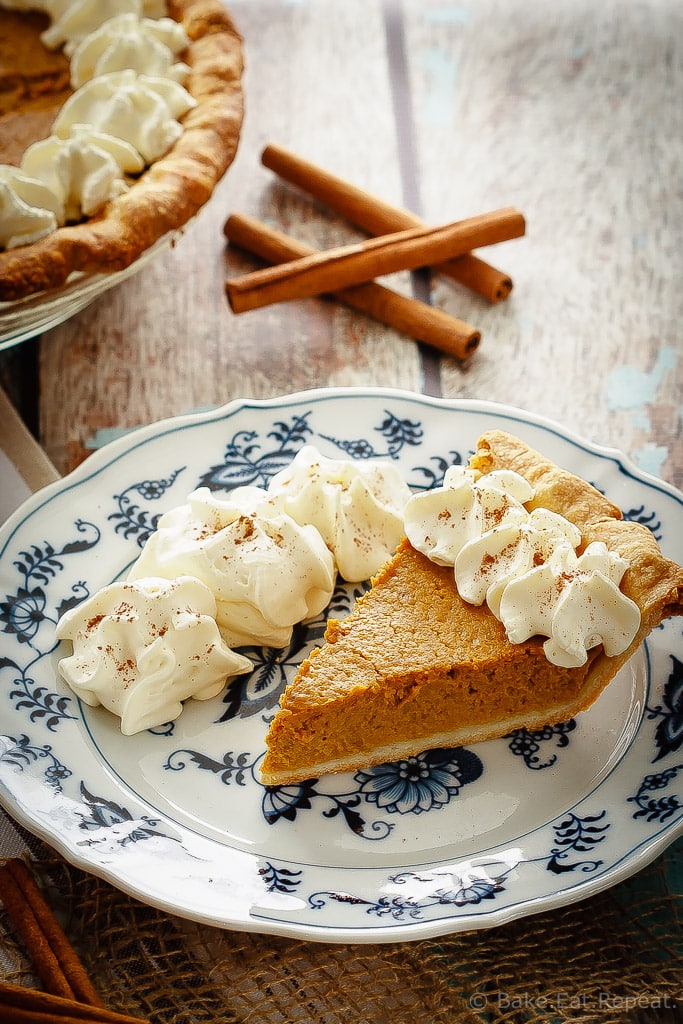 What is pumpkin pie filling made of?
The filling is made of eggs, cream, pumpkin puree, sugar, and some spices. It's cooked on the stove and then poured into a pie shell and baked until it sets up.
It's super easy to make and tastes fantastic.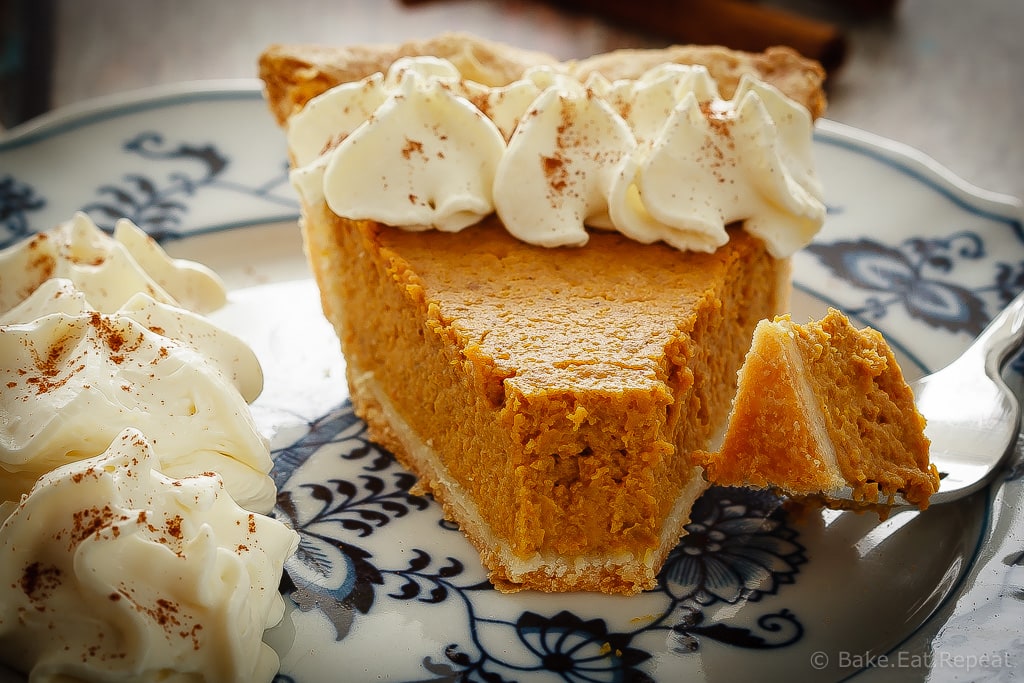 What is the difference between pumpkin pie mix and canned pumpkin?
The cans look the same at the store, but for this recipe, make sure you use pure canned pumpkin (or homemade pumpkin puree), not canned pumpkin pie filling.
The canned pie filling is already ready to fill your pie shell with, so it will not work well for this recipe.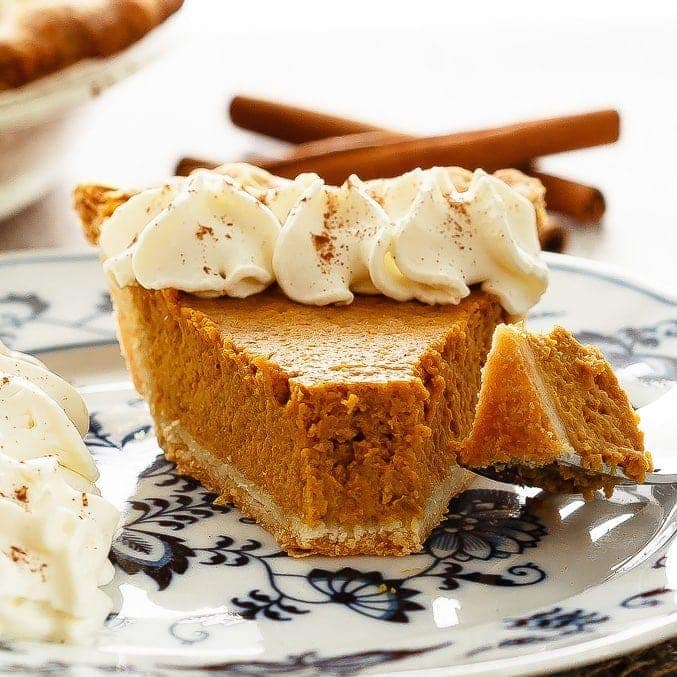 Should I use canned pumpkin or homemade pumpkin puree?
Either will work well here, but canned pumpkin is obviously easier.
If you're using homemade pumpkin puree, make sure to strain it really well. It will have a lot more liquid in it than the canned pumpkin does, and if it isn't strained well then the pie won't set up very well. You will end up needing to bake the pie a lot longer to get it to set.
Make sure to strain out the liquid really well and then homemade pumpkin puree will work just fine in this recipe.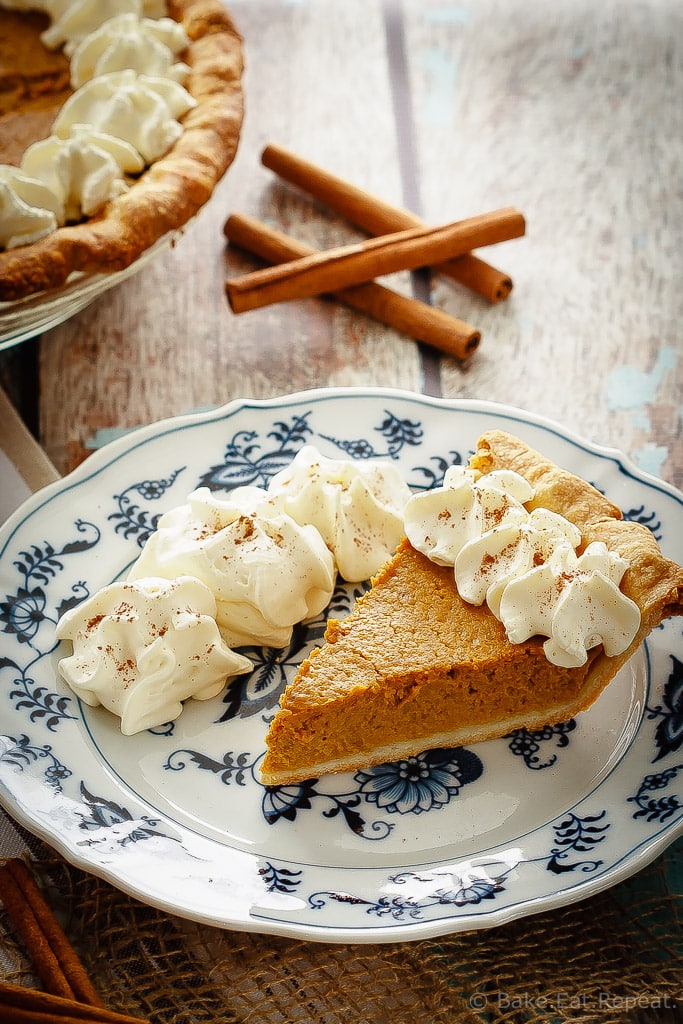 How to make Pumpkin Pie:
Pumpkin pie will still look a bit wobbly in the middle when it is done baking. It's finished when the centre is just set. If you over-bake it you will likely get some cracks in the pie, but it will still taste great so don't worry about it!
I love this homemade pie crust with this pie, but any pie crust will work fine here so use your favourite.
This recipe makes two pies. If you don't want two pies, you can freeze half the pie filling for up to six months and just bake one pie now. Just defrost it overnight in the fridge and bake it as usual.
Here are some more great pie recipes for you: