This caramel apple crisp pie is the perfect dessert when you can't decide between apple pie and apple crisp – just make both!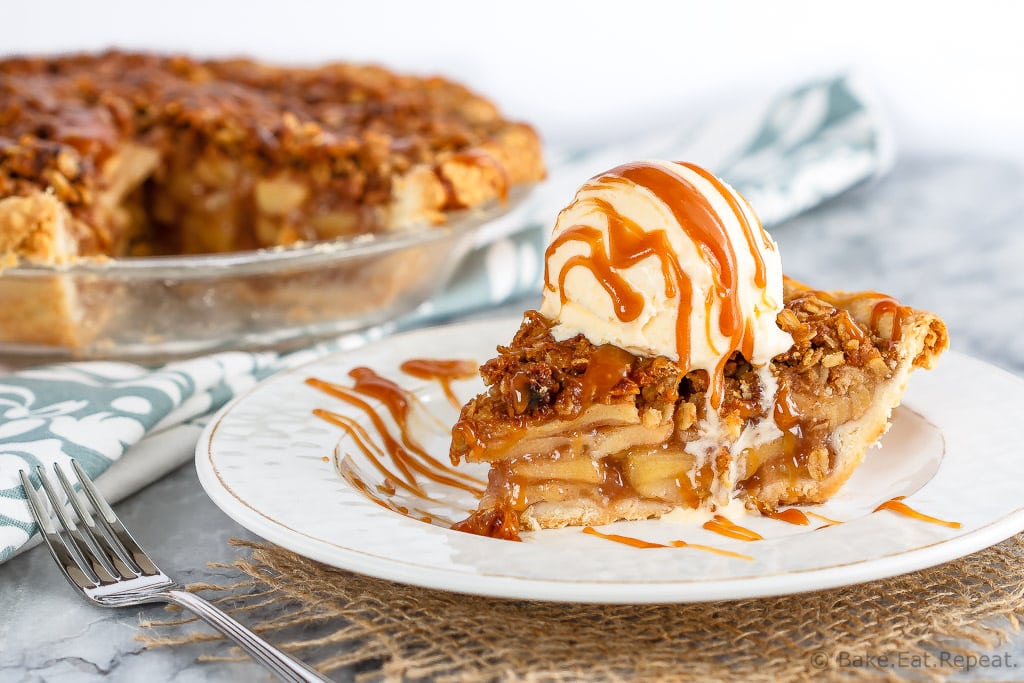 Do you ever have a problem deciding which dessert to make?  I definitely do.  There are far too many delicious dessert recipes out there waiting to be made so sometimes it's hard to choose.
We should probably just start having dessert every night of the week so I can try all those recipes calling my name!  Or….maybe not.  That could be a bad plan.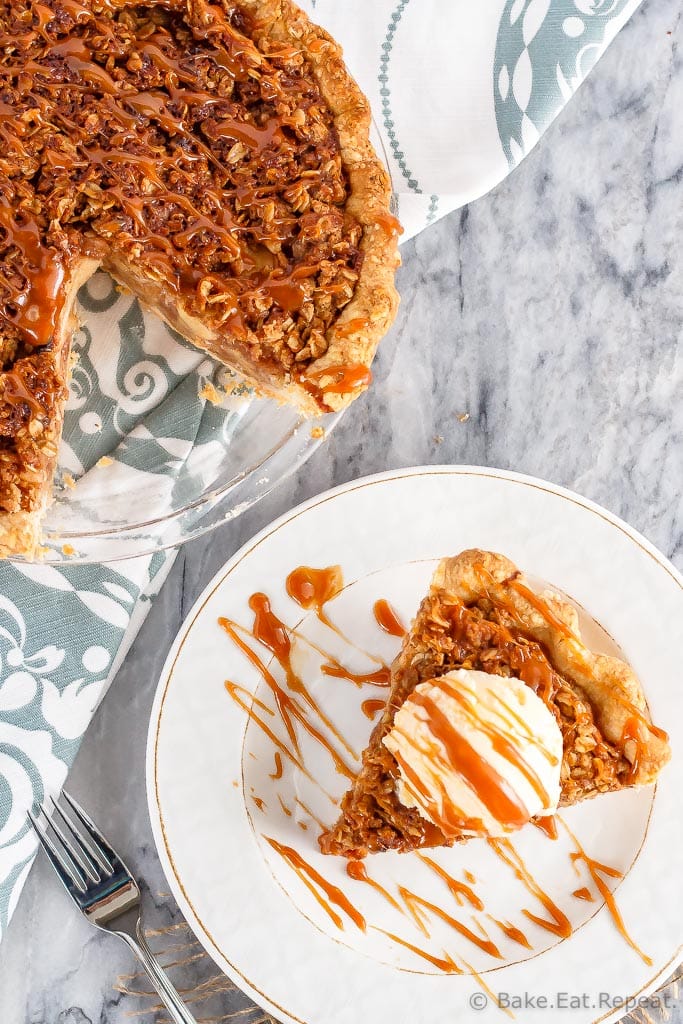 I think pie is probably my favourite dessert though.  Even though I have a hard time choosing, if there's pie available that's likely the dessert I'm going for.  Pie beats cake every time in my opinion.  Even chocolate cake, which is saying something coming from me.
And now I feel like going and making chocolate pie – the best of both worlds.
Not now though, there's still half of this caramel apple crisp pie sitting in the kitchen and we definitely don't need more pie available!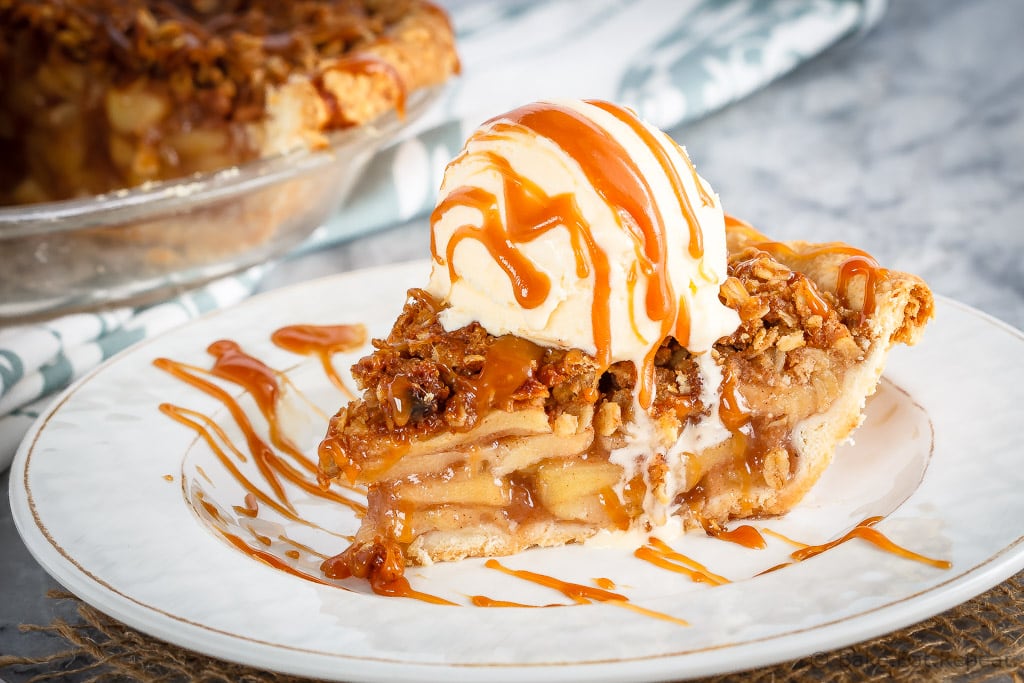 This caramel apple crisp pie was absolutely fantastic.  I had a bunch of apples in the fridge that needed to be used up, and this pie was the perfect way to use them.  I couldn't decide between apple pie and apple crisp – so I just made both.  The best of both worlds – that's what this dessert is.  Flaky pastry, tender spiced apples, crunchy oat streusel topping, and salted caramel sauce – it's a fantastic way to finish off a meal.
Top a slice with vanilla ice cream and drizzle it with a bit more caramel sauce for the perfect dessert.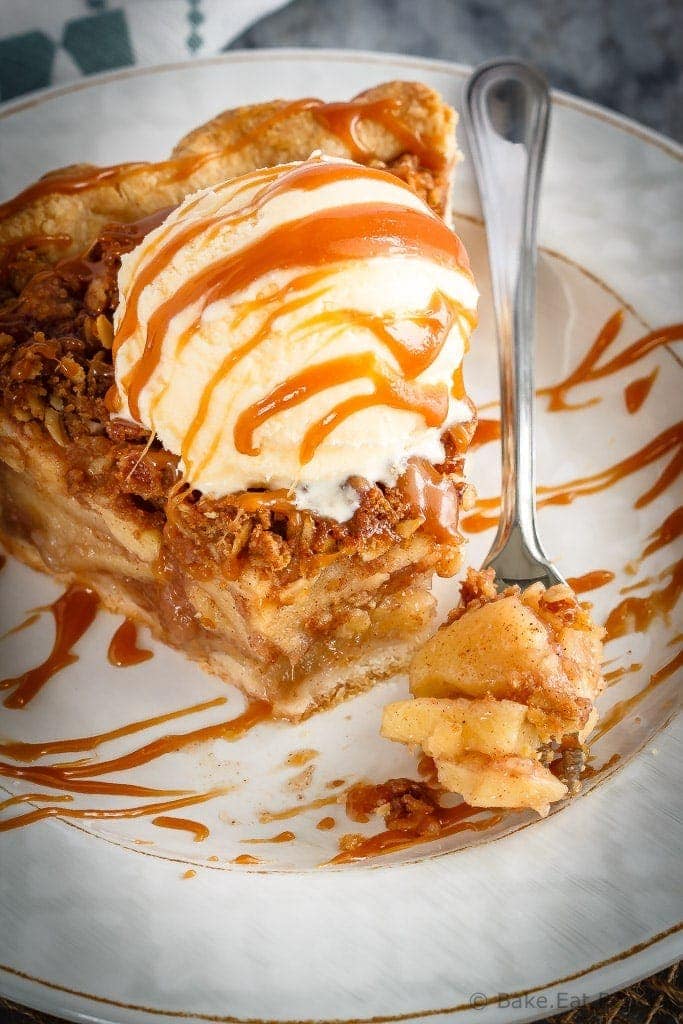 Tips for perfect Caramel Apple Crisp Pie:
Caramel Apple Streusel Pie
---
Bake.Eat.Repeat.
Yield: one 9" pie, serves 8
This caramel apple crisp pie is the perfect dessert when you can't decide between apple pie and apple crisp - just make both!
30 minPrep Time
1 hrCook Time
1 hr, 30 Total Time
Ingredients
1 pie shell, or enough
pastry
for a bottom shell, chilled
For the filling:
6 cups apples, peeled, cored and sliced thin (6-7 apples)
2 tablespoons fresh lemon juice (about half a lemon)
1/4 cup all-purpose flour
1/4 teaspoon nutmeg
1 1/2 teaspoon cinnamon
1/2 cup granulated sugar
For the streusel:
1/4 cup all-purpose flour
1/4 cup unsalted butter
1/2 cup rolled oats
1 teaspoon cinnamon
1/4 cup brown sugar
Directions
Preheat oven to 400 degrees F.
In a large bowl, toss the apples with the lemon juice, flour, nutmeg, cinnamon and sugar. In another bowl, mix the flour, oats, cinnamon and brown sugar for the topping. Cut in the butter with 2 knives or a pastry blender until the mixture is well combined and looks like coarse crumbs.
Roll out the chilled, lightly floured, pastry into a 12 inch circle. I like to do this between two pieces of wax paper or plastic wrap. Once it's rolled out to the desired size you can then peel off the top piece of wax paper, lift up the bottom one with the pastry on it, and flip it over carefully onto a 9 by 2 inch pie plate. Then the other piece of wax paper can be peeled off and the pastry can be smoothed out in the pie plate. Trim the excess with a sharp knife and crimp the edges.
Scoop the apple mixture into the pastry shell (the apples will be heaped up quite a bit). Drizzle the apples with the salted caramel sauce. Sprinkle the streusel topping over top of the apples, spreading it out evenly over the filling.
Place the pie on top of a baking sheet and then bake at 400 degrees F for 20 minutes. Lower the heat to 375 degrees F and continue to bake for another 40-45 minutes until the topping and crust is browned and the apples are tender. Drizzle with more salted caramel sauce if desired and let it cool before cutting and serving.
7.8.1.2
254
https://bake-eat-repeat.com/caramel-apple-streusel-pie-recipe/
This post contains affiliate links, meaning that if you make a purchase through these links, I may receive a small commission.