These pecan pie bars are the perfect dessert. A shortbread base covered with a gooey pecan pie filling – they're so easy to make and everyone loves them!
I have an amazing dessert for you to add to your holiday baking list this year. If you're not already finished your baking, that is.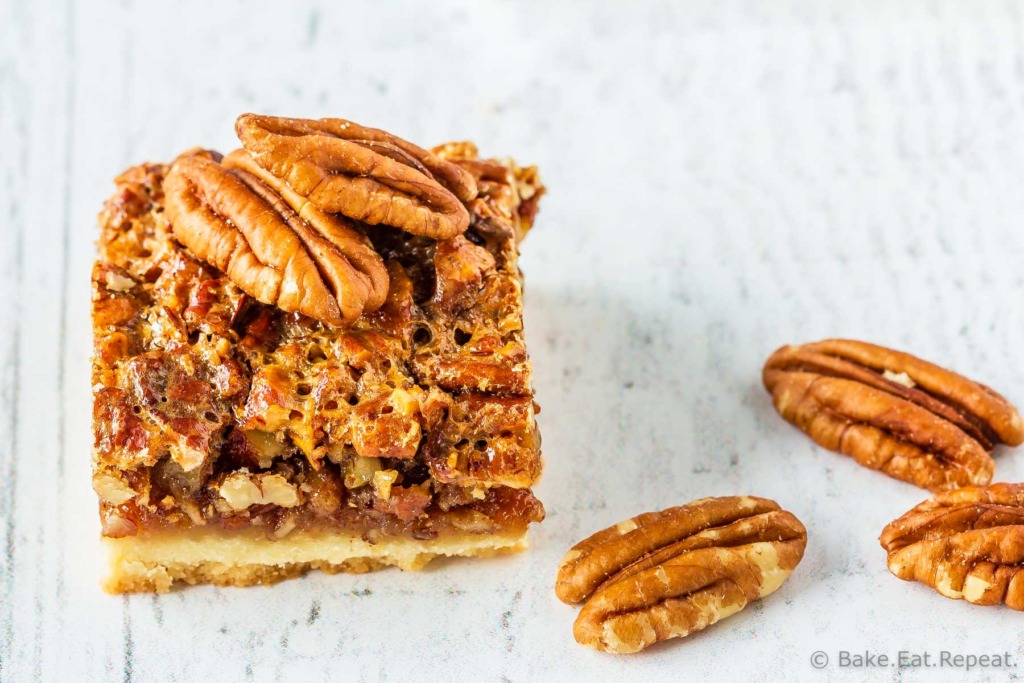 These pecan pie bars are fantastic.
And that's coming from someone that typically skips the desserts that involve nuts. Or sweet custardy type fillings of any kind.
But I loved these pecan pie bars.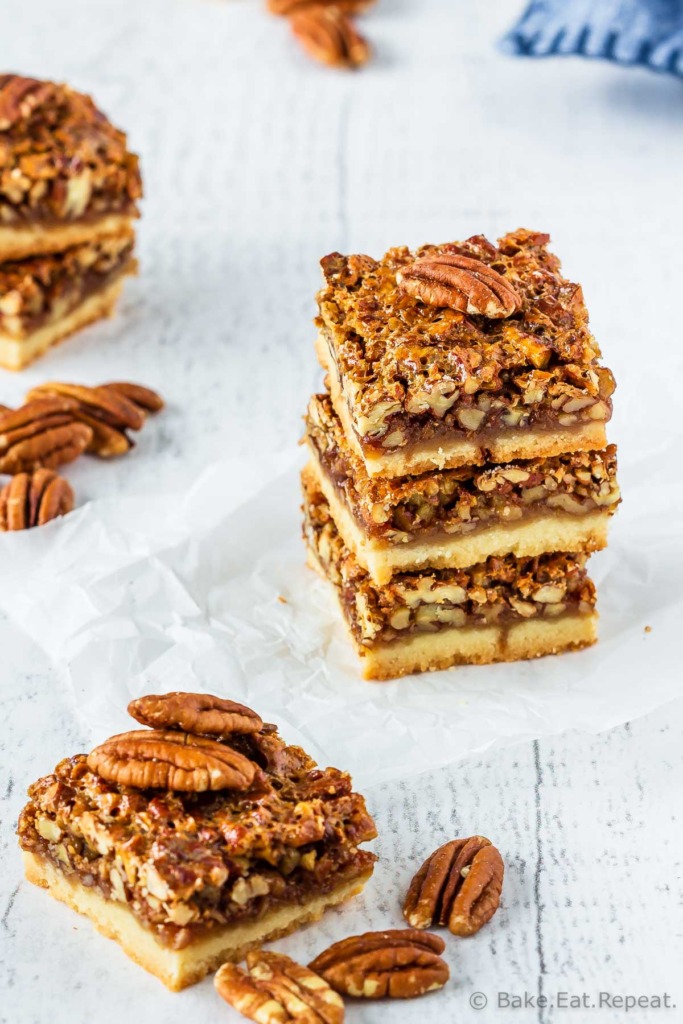 I'm kind of thinking that maybe I do like sweet dessert treats involving nuts after all, and just didn't know it until now.
These pecan bars are so easy to make, and everyone will love them. Or at least everyone here did. They were gone in record time, and I've already had multiple requests for another batch before Christmas.
Pretty sure that is going to happen.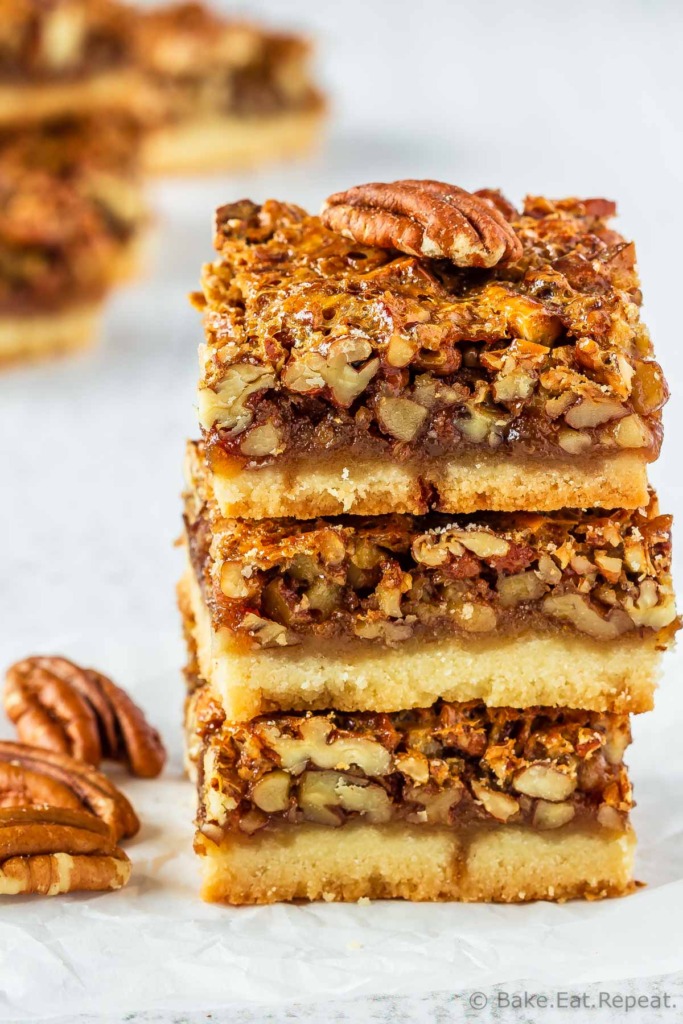 What is a pecan pie made of?
Pecan pie is typically made with a filling of butter, sugar, and eggs. It's basically a custard filling with pecans on top.
For pecan pie bars, the filling isn't as thick as it would be in a pie, and you use a shortbread base instead of pie crust.
These bars remind me a bit of butter tart squares actually, with the shortbread base and the sweet topping. I'd be hard pressed to pick a favourite between them though – they're both delicious!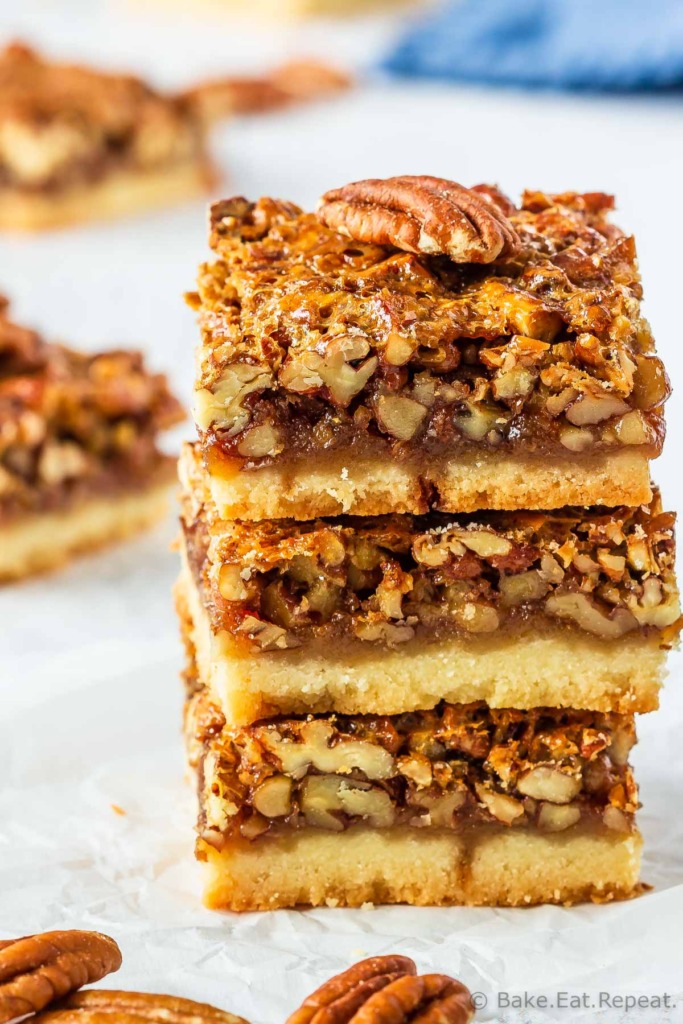 Can you freeze pecan pie bars?
Yes, you can freeze pecan pie bars. I freeze a lot of baking, and I find that most of it freezes very well.
You will want to let the pecan pie bars cool completely, for at least an hour, before slicing them into bars. Once they're cool, lift the bars out of the pan with the foil liner.
You can then slice them into bars and freeze them in an airtight container for up to 3 months. Let them thaw at room temperature before serving them.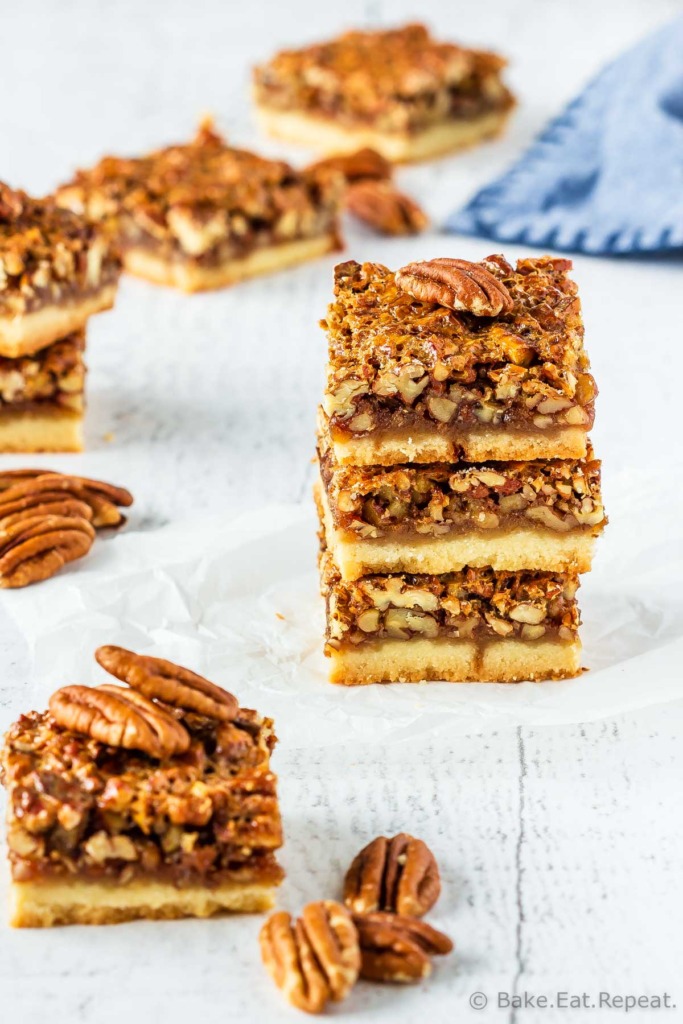 How to make Pecan Pie Bars:
The crust for these bars is a shortbread crust. The easiest way to make it is in a food processor. When it's ready to go into the baking dish, it will look like crumbs, not dough. Don't be alarmed, that's what a shortbread crust should look like. Simply pour the crumbly mixture into the prepared baking pan and press it firmly over the bottom of the pan with your hands.
You will want to pour the hot filling onto a hot crust for these bars. So plan on making the filling while the crust is in the oven. It should take about the same amount of time, probably a little less for the filling, but it will be fine if it sits for a few minutes while you wait for the crust to finish baking.
You don't need to brown the butter before using it in the filling, but it is better if you do. It doesn't take that much extra time, and adds an extra layer of flavour to the bars, so try to brown it if you can!
Here are some more great bar desserts for you to try: