Slow cooker French Dip Sandwiches – these sandwiches are fantastic and so easy to make. You will make them over and over again!
I've never really been a big fan of French dip sandwiches.  I'll just throw that out there.  Not my favourite thing of all time.  I can probably count on one hand the number of times I've even eaten one.
My husband, though, is a giant fan of the things.  Loves them.  Orders them in restaurants even.  And I have never made them for him, or even considered it if I'm honest.  Because I don't like them.  It's the soggy bread, I just can't handle the texture.
But.  Having a food blog evidently makes me more adventurous.  Or maybe I'm just getting older and more willing to try different things.  But I made these slow cooker French dip sandwiches thinking that I could have a sandwich but skip the dip part, the kids would likely do the same, and I'd have a really happy husband who would probably eat a whole lot of sandwiches until we ran out of meat.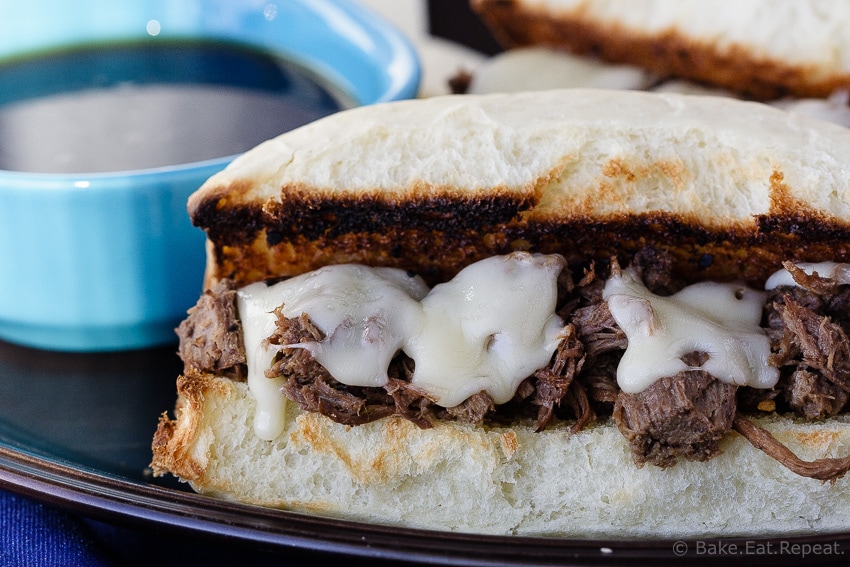 We all loved them.
I even dipped mine in the au jus.  Clearly there's something wrong with me.  I even had another French dip sandwich (with the dip!) for lunch the next day.  And I enjoyed it.  Immensely.
So bizarre.
I don't even know myself anymore.
All that being said, if you DO enjoy French dip sandwiches, I can pretty much guarantee you will love these.  Plus, the meat is made in the slow cooker so they're basically the simplest meal you can make.  Not hard at all, and virtually no hands on cooking time.  So easy.  So tasty.
Yeah, I'll be making them again.  Not even just for my husband.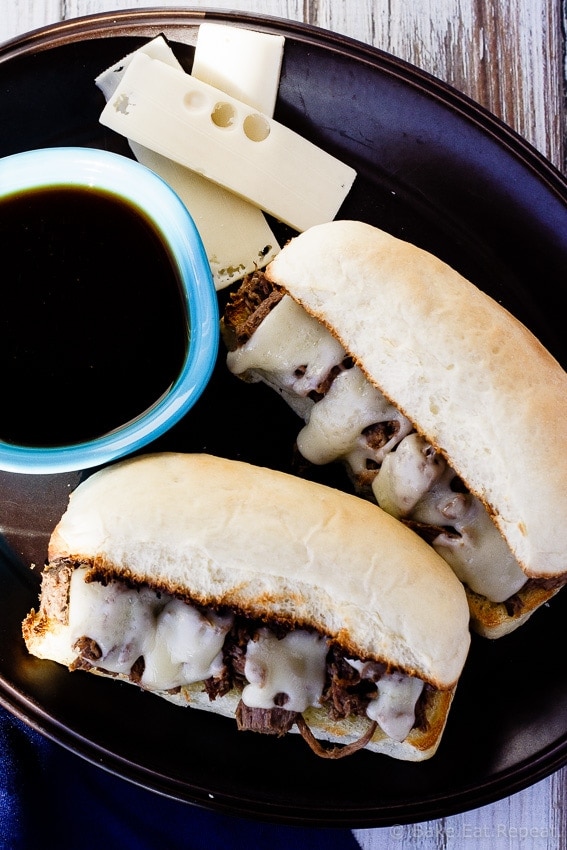 Yield: serves 10-12
Slow Cooker French Dip Sandwiches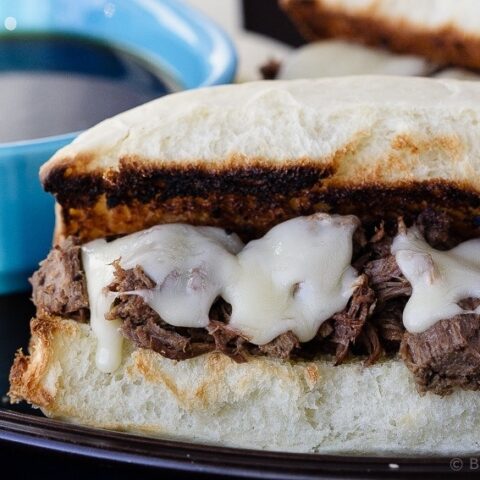 Slow cooker French Dip Sandwiches - these sandwiches are fantastic and so easy to make. You will make them over and over again!

Prep Time 20 minutes

Cook Time 10 hours

Total Time 10 hours 20 minutes
Ingredients
2-3 pound roast (I used a sirloin tip roast)
2 cups beef broth (I use low sodium broth)
1/2 cup soy sauce
1 bay leaf
1/2 teaspoon pepper
1/2 teaspoon salt
1 teaspoon rosemary
1 teaspoon thyme
1 teaspoon garlic powder
1 teaspoon onion powder
Dinner Rolls or hoagie rolls
provolone or swiss cheese, sliced
Instructions
Place the beef roast in the slow cooker and add the beef broth, soy sauce, bay leaf, pepper, salt, rosemary, thyme, garlic powder and onion powder.
Cover and cook on low for 6-8 hours, or until the meat is tender.
Remove the meat from the crockpot and shred it with two forks - it should shred easily.
Skim off any fat on the top of the drippings, and then return the shredded meat to the crockpot.
Cook for another 1-2 hours on low.
Preheat the broiler to high.
Remove the meat from the crockpot and strain the liquid, making sure to keep the liquid.
Slice the rolls in half and place them on a baking sheet under the broiler to toast them lightly. Remove from the oven and butter them.
Pile shredded beef on one half and top with cheese.
Broil again until the cheese is melted and bubbling.
Serve sandwiches with the meat drippings on the side for dipping.
Leftover meat and broth keeps well in the refrigerator for 3-4 days.
Notes
I use low sodium beef broth in this recipe. If you're using regular broth, you might want to omit the added 1/2 teaspoon of salt.

Source: Adapted from Oh Sweet Basil.
Recommended Products
This post contains affiliate links. As an Amazon Associate, I may receive a small commission from qualifying purchases.
Nutrition Information:
Yield:
12
Serving Size:
1 sandwich
Amount Per Serving: Calories: 27Total Fat: 1gSodium: 1165mgCarbohydrates: 3g