This homemade salted caramel sauce has just 4 ingredients and is so easy to make. If you love salted caramel sauce, you need to try making it!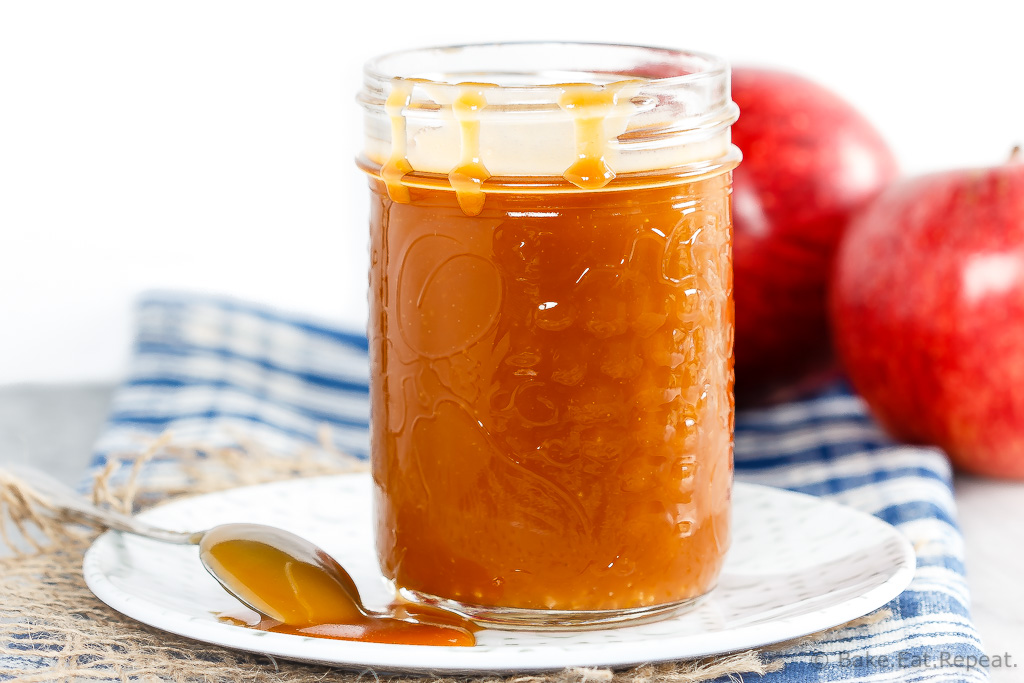 Have you ever made homemade salted caramel sauce?  If not, you should probably get on that.  Immediately, if not sooner.
This easy homemade salted caramel sauce is absolutely fantastic.  And that's coming from someone who typically doesn't really like caramel.
Yeah, I'm crazy.  I know.  People inform me of that every time I say that I don't really like caramel all that much.
I think it's just too sweet for me.  Although evidently those feelings go out the window when it comes to salted caramel sauce.  I think the salt gets rid of some of the sweetness, so I can get on board with it in this form.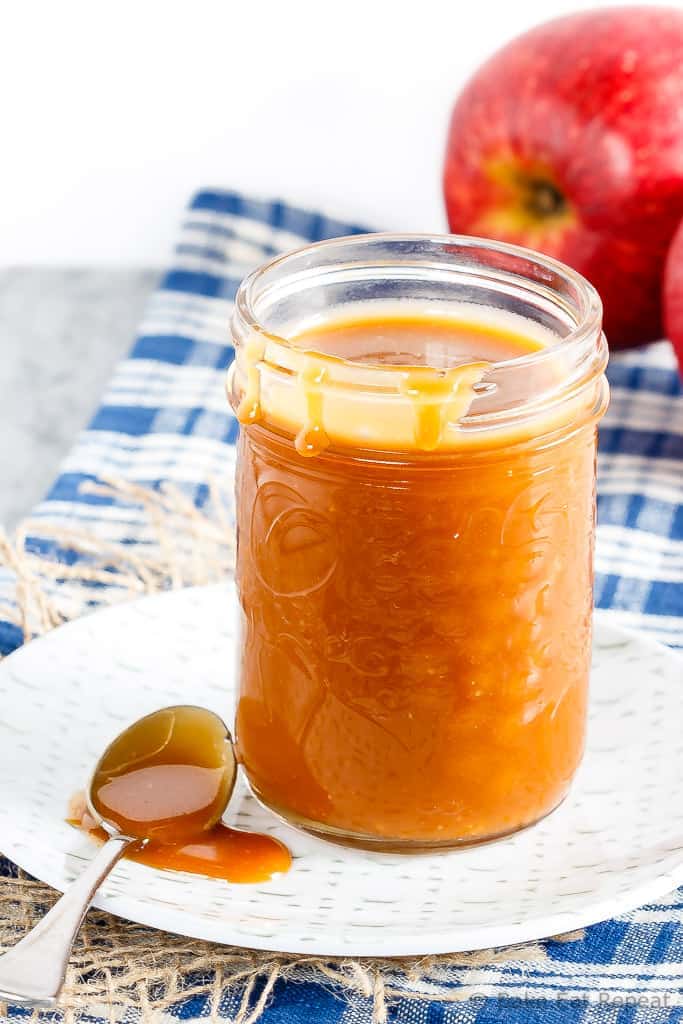 It's still not chocolate – but it's pretty tasty.  Especially drizzled over apple slices.  Or a bowl of vanilla ice cream.
Or, if you really want to get crazy, over these apple pie bars with vanilla ice cream – that's just dessert heaven right there.
This salted caramel sauce is incredibly easy to make.  It only takes about 15 minutes from start to finish, and you have a lovely jar of homemade sauce that beats anything you can get at the store.  And it makes a perfect gift for the holidays, if you like gifting food!
If you've never made your own, you should definitely try this recipe.  It convinced me that I like caramel – so it must be fantastic!
Tips for perfect Salted Caramel Sauce:
Yield: 1 cup
Salted Caramel Sauce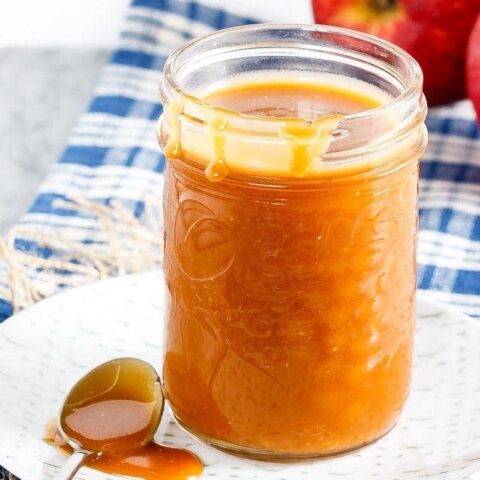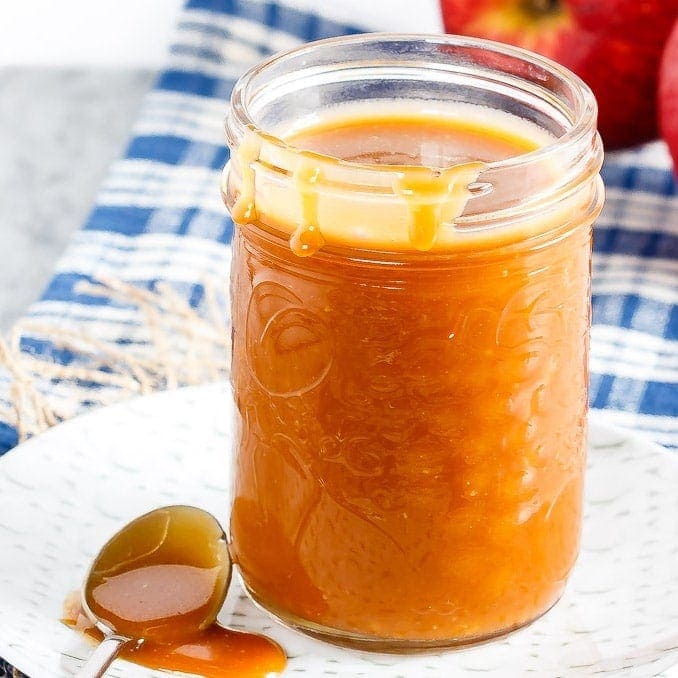 This homemade salted caramel sauce has just 4 ingredients and is so easy to make. If you love salted caramel sauce, you need to try making it!
Ingredients
1 cup granulated sugar
6 tablespoons unsalted butter, cut up into 6-8 pieces
1/2 cup heavy cream
1 1/2 teaspoons kosher salt
Instructions
Place the granulated sugar in a large saucepan over medium heat.
Stirring constantly with a rubber spatula, allow the sugar to heat. It will clump together as it starts to melt and then will start turning to liquid.
Keep stirring so it doesn't burn, until it is completely melted into an amber coloured liquid.
Once the sugar is melted, immediately add the pieces of butter.
The liquid will bubble up when you add the butter.
Stir the caramel until the butter is completely melted, about 2 minutes.
Slowly drizzle in the heavy cream while still stirring. Be careful as the caramel will bubble up a lot when you add the cream.
Allow this mixture to boil for 1 minute, stirring constantly, and then remove from the heat.
Stir in the salt and allow it to cool down a bit before using it, or pouring it into another container as it will be extremely hot.
Cover it tightly and store it in the refrigerator for up to 2 weeks.
You can warm it up in the microwave before using it. I like to scoop the amount I'm going to use into another small bowl to heat up, as I find microwaving it multiple times will cause it to not melt quite as nicely.
Notes
This makes quite a salty salted caramel sauce, you can certainly decrease the salt to 1 teaspoon if you want the salted flavour to be a bit less pronounced. Make sure to use a large enough pan as the caramel does bubble up quite a bit.
Recommended Products
This post contains affiliate links. As an Amazon Associate, I may receive a small commission from qualifying purchases.
Nutrition Information:
Yield:
16 servings
Serving Size:
1 tablespoon
Amount Per Serving:
Calories:

112
Total Fat:

7g
Saturated Fat:

4g
Trans Fat:

0g
Unsaturated Fat:

2g
Cholesterol:

20mg
Sodium:

201mg
Carbohydrates:

13g
Fiber:

0g
Sugar:

13g
Protein:

0g
Nutrition Information is estimated based on ingredients used and may not be exact.
This post contains affiliate links, meaning that if you make a purchase through these links, I may receive a small commission.