These crunchy chocolate peanut butter granola bars use cereal and oats for an easy, no bake treat – with yellow and orange candy for a fun Halloween snack!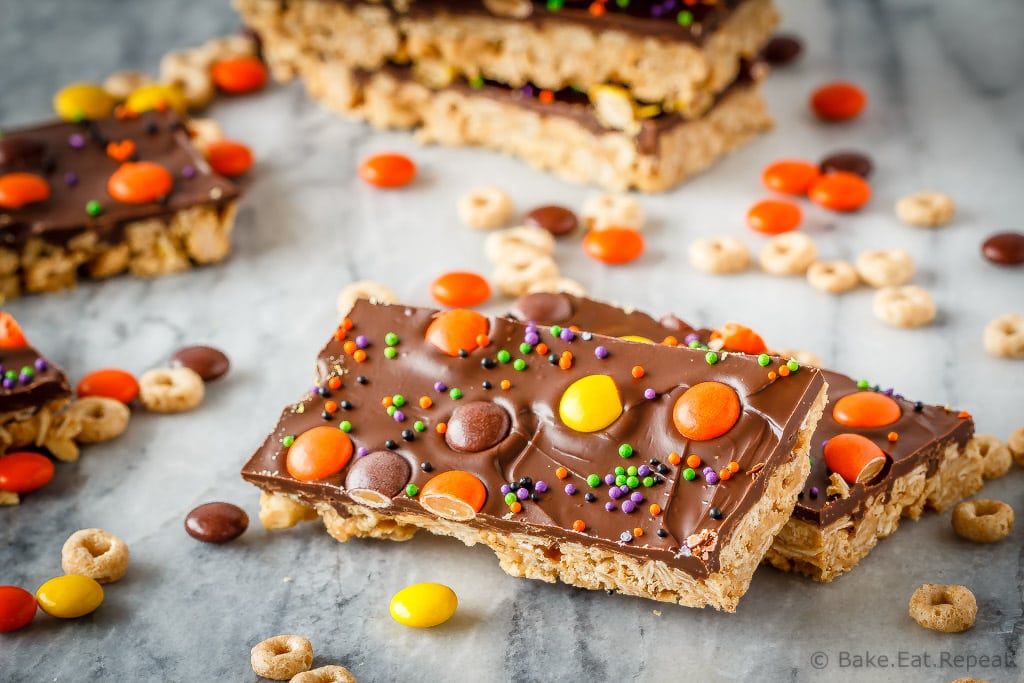 Disclaimer: This post was sponsored by Life Made Delicious as part of their #CookUpIncredible campaign, and I have been compensated for my time. All opinions are, as always, my own.
Easy as can be, chocolate peanut butter granola bars. That's what I have for you today.
And yes, usually granola bars are a healthy snack. I realize that. But…. I'm sorry. These aren't so much.
They would be fairly healthy if you skipped the layer of chocolate and candy though. But then they wouldn't really work as a cute little Halloween treat.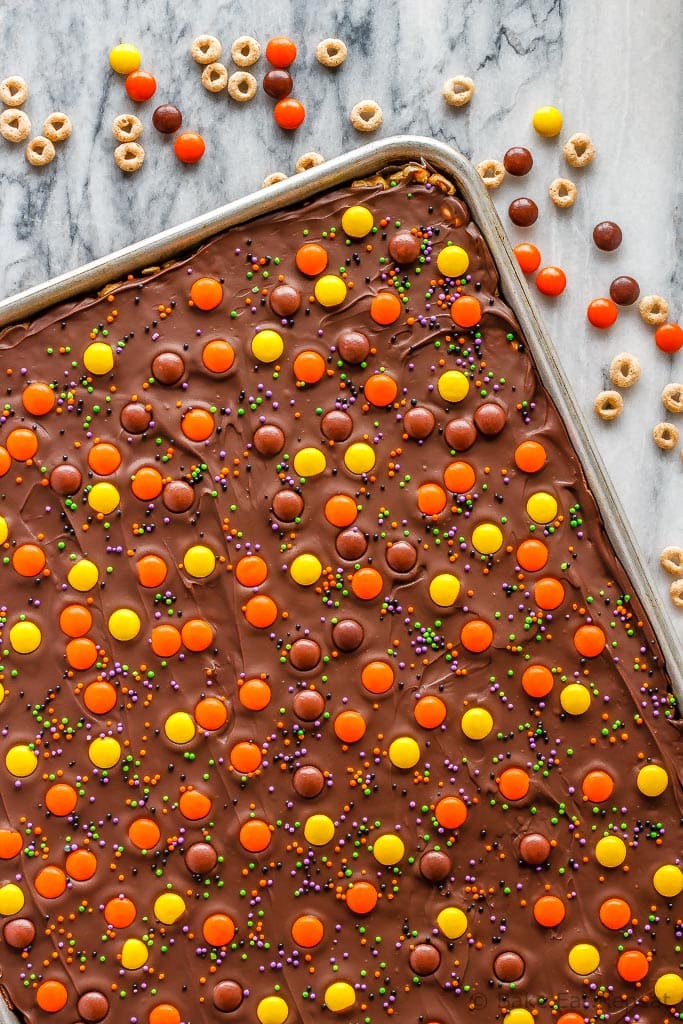 They'd still be really tasty though, so if making cutesy Halloween treats isn't your thing, you could totally just make these as peanut butter granola bars and skip all the rest.
In fact, that's how I've made these in the past. I've been making different variations of this recipe for years. One of my favourite versions are these Cherry Almond Granola Bars, but this new chocolate peanut butter version may replace it.
Less healthy, sure – but oh so yummy. They're almost like a candy bar, but with oats and cereal in them so you can pretend they aren't that bad.
That's how I operate, at any rate.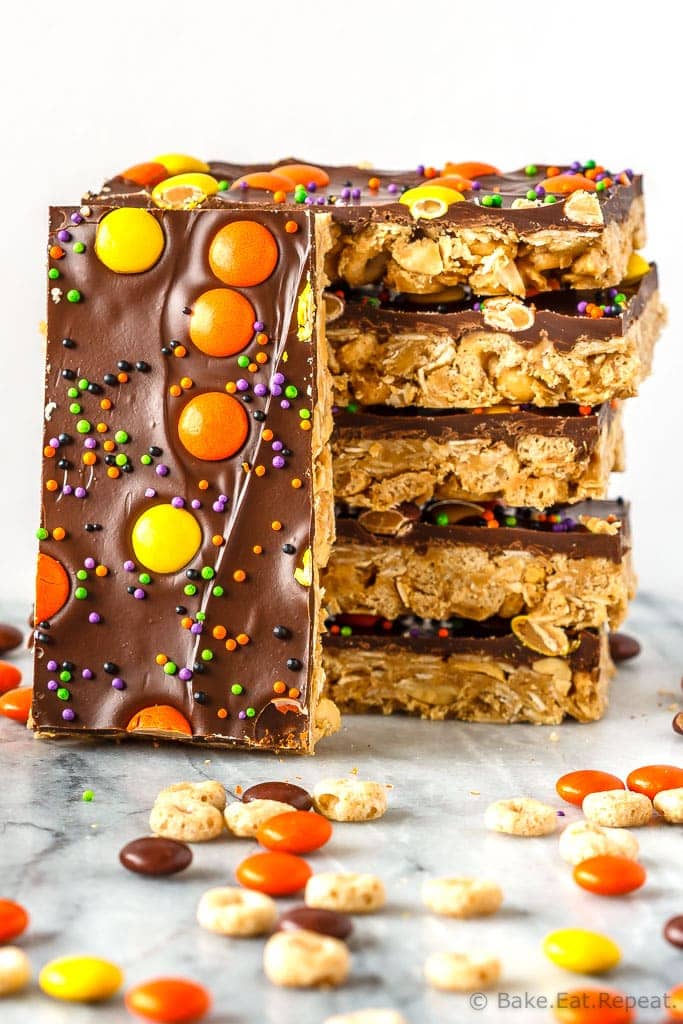 These chocolate peanut butter granola bars use oatmeal, peanuts and Cheerios in them, with peanut butter and honey binding them together – a no bake treat that is super simple to whip up.
Using Cheerios in them makes the bars nice and crunchy, which is why I like using them. Granola bars made with just oatmeal tend to be chewy, and we enjoy the crunchiness that the cereal adds to these bars. With Cheerios in the bars, they aren't made entirely from scratch, but adding them is an easy and delicious way to get the texture that I wanted.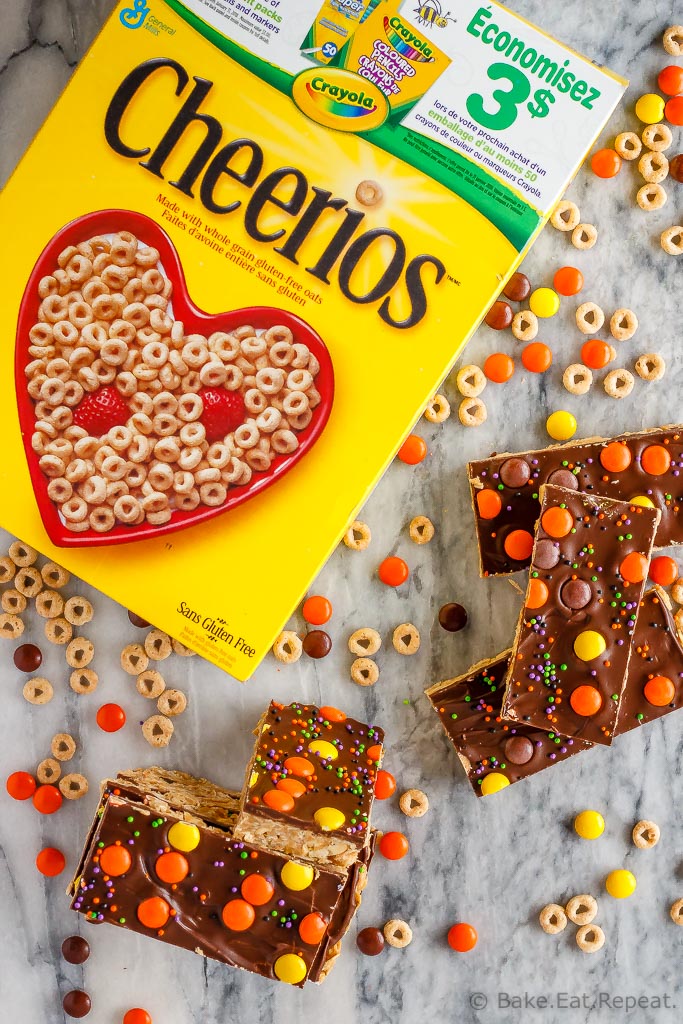 So if you're looking to make life delicious this year with an easy, fun Halloween treat for the kids (or yourself!), try these chocolate peanut butter granola bars. Making granola bars with cereal might be new to you, but I promise you, they're delicious!
Crunchy, peanut buttery, chocolate-y goodness. With some candy of top of course!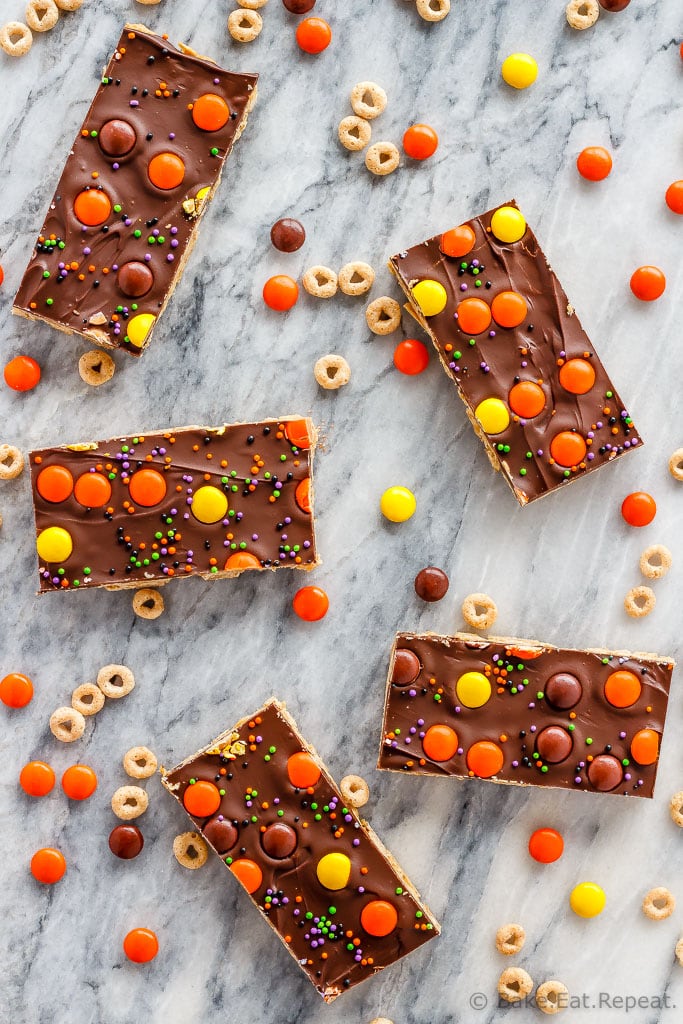 Tips for perfect Chocolate Peanut Butter Granola Bars:
either regular or multi-grain Cheerios work well in these bars so use your preference
both salted and unsalted peanuts will work just fine
make sure you really press the bars into the pan well – I cover them with a sheet of wax paper and then press them into the pan with a rolling pin or a flipper to get them as tight as possible – if you don't press them in well enough they may be quite crumbly
here are a few more tasty bar recipes for you: Oatmeal Raisin No Bake Granola Bars, The Best Nanaimo Bars, and Oatmeal Peanut Butter Bars
Yield: 36-42 bars
Chocolate Peanut Butter Granola Bars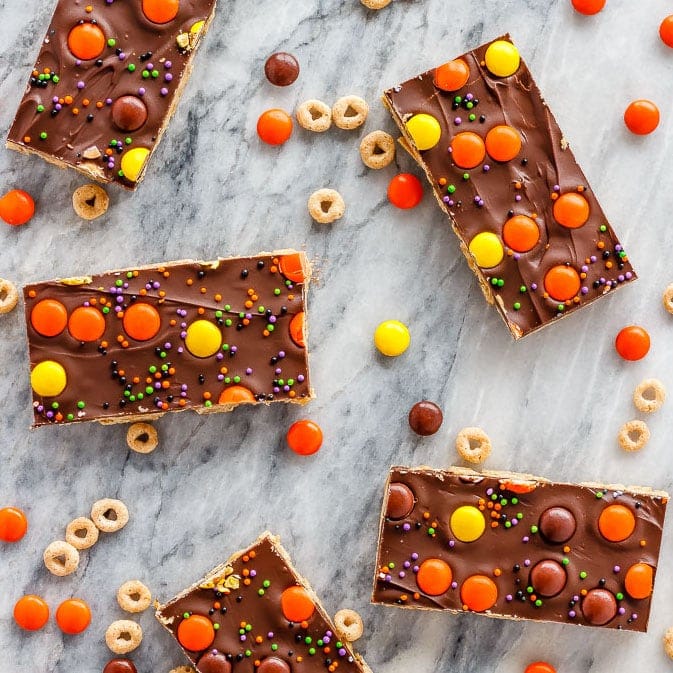 These crunchy chocolate peanut butter granola bars use cereal and oats for an easy, no bake treat – with yellow and orange candy for a fun Halloween snack!
Total Time
3 hours
20 minutes
Ingredients
3 cups old fashioned rolled oats
3 cups Cheerios
1 cup peanuts
1/2 cup honey
1/4 cup granulated sugar
2 cups creamy peanut butter
1 teaspoon vanilla
3 cups semi-sweet chocolate chips (or chopped chocolate)
1/4 cup creamy peanut butter
1/2-3/4 cup Reese's Pieces candy
1 tablespoon monster mix sprinkles (orange, purple, green and black sprinkles)
Instructions
Line a rimmed 12x16 inch baking sheet with wax paper and set aside.
In a large bowl, toss together the oats, Cheerios, and peanuts.
In a medium saucepan, over medium heat, combine the honey and sugar.
Heat, stirring, until the mixture comes to a full rolling boil. Continue boiling for one minute, stirring constantly.
Turn off the heat and add 2 cups of peanut butter and the vanilla, stirring until the peanut butter has melted and the mixture is smooth.
Pour the peanut butter mixture over the oat mixture and stir until it is evenly combined.
Spread the mixture on the prepared baking sheet and press it down. Cover with another piece of wax paper, and use a rolling pin or a flipper to press the bars down into an even, compact layer.
Refrigerate the bars for an hour before adding the chocolate layer.
In microwave safe bowl, heat the chocolate chips and 1/4 cup peanut butter in the microwave at 50% power for 3-4 minutes, stirring every 30 seconds until the chocolate is melted and smooth.
Spread it over top of the chilled bars and sprinkle the Reese's Pieces candy and the sprinkles over top.
Refrigerate the bars again, for at least two hours, and then cut into bars and store in an airtight container in the refrigerator for up to two weeks. They also freeze well for up to 3 months.
Notes
You can use salted or unsalted peanuts in these bars, either will work just fine. I've used both regular Cheerios and the multi-grain Cheerios and both work well. Make sure to really press the bars into the pan as tightly as you can - they may be crumbly if you don't press them in tightly enough.
Recommended Products
This post contains affiliate links. As an Amazon Associate, I may receive a small commission from qualifying purchases.
Nutrition Information:
Yield:
42
Serving Size:
1 bar
Amount Per Serving:
Calories:

237
Total Fat:

14g
Saturated Fat:

5g
Trans Fat:

0g
Unsaturated Fat:

8g
Cholesterol:

0mg
Sodium:

103mg
Carbohydrates:

26g
Fiber:

3g
Sugar:

16g
Protein:

6g
Nutrition Information is estimated based on ingredients used and may not be exact.