These crunchy chocolate peanut butter granola bars use cereal and oats for an easy, no bake treat – with yellow and orange candy for a fun Halloween snack!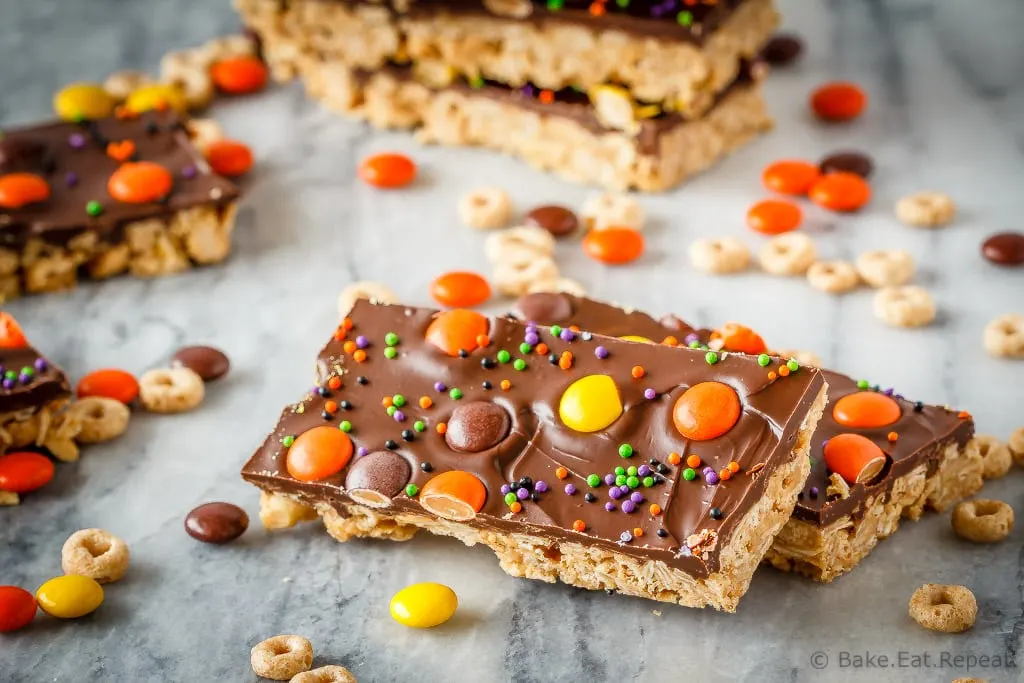 Disclaimer: This post was sponsored by Life Made Delicious as part of their #CookUpIncredible campaign, and I have been compensated for my time. All opinions are, as always, my own.
Easy as can be, chocolate peanut butter granola bars. That's what I have for you today.
And yes, usually granola bars are a healthy snack. I realize that. But…. I'm sorry. These aren't so much.
They would be fairly healthy if you skipped the layer of chocolate and candy though. But then they wouldn't really work as a cute little Halloween treat.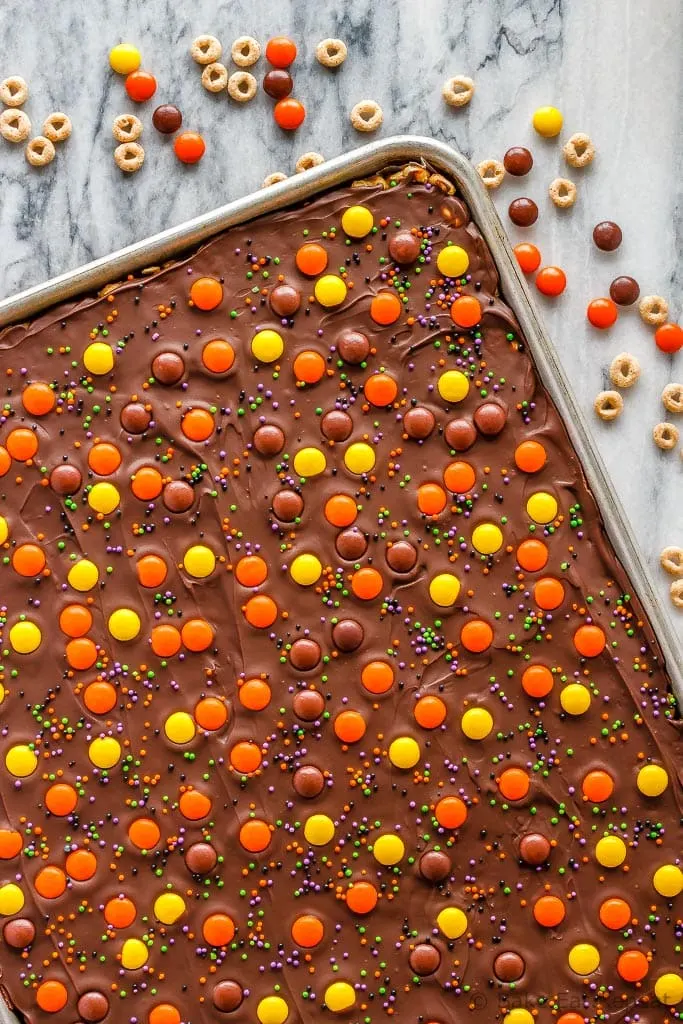 They'd still be really tasty though, so if making cutesy Halloween treats isn't your thing, you could totally just make these as peanut butter granola bars and skip all the rest.
In fact, that's how I've made these in the past. I've been making different variations of this recipe for years. One of my favourite versions are these Cherry Almond Granola Bars, but this new chocolate peanut butter version may replace it.
Less healthy, sure – but oh so yummy. They're almost like a candy bar, but with oats and cereal in them so you can pretend they aren't that bad.
That's how I operate, at any rate.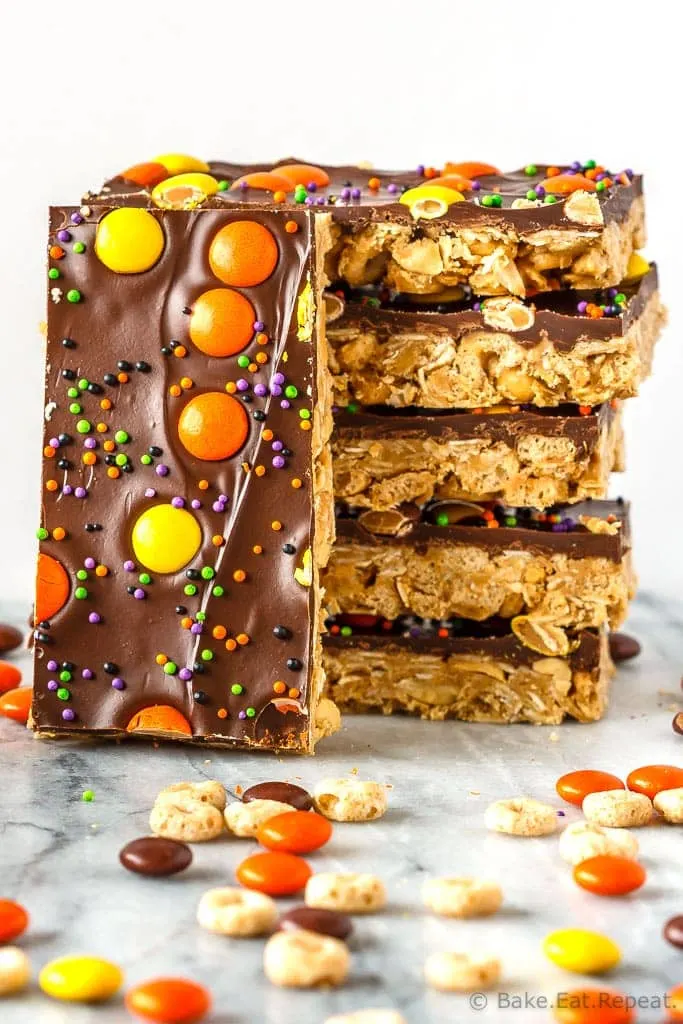 These chocolate peanut butter granola bars use oatmeal, peanuts and Cheerios in them, with peanut butter and honey binding them together – a no bake treat that is super simple to whip up.
Using Cheerios in them makes the bars nice and crunchy, which is why I like using them. Granola bars made with just oatmeal tend to be chewy, and we enjoy the crunchiness that the cereal adds to these bars. With Cheerios in the bars, they aren't made entirely from scratch, but adding them is an easy and delicious way to get the texture that I wanted.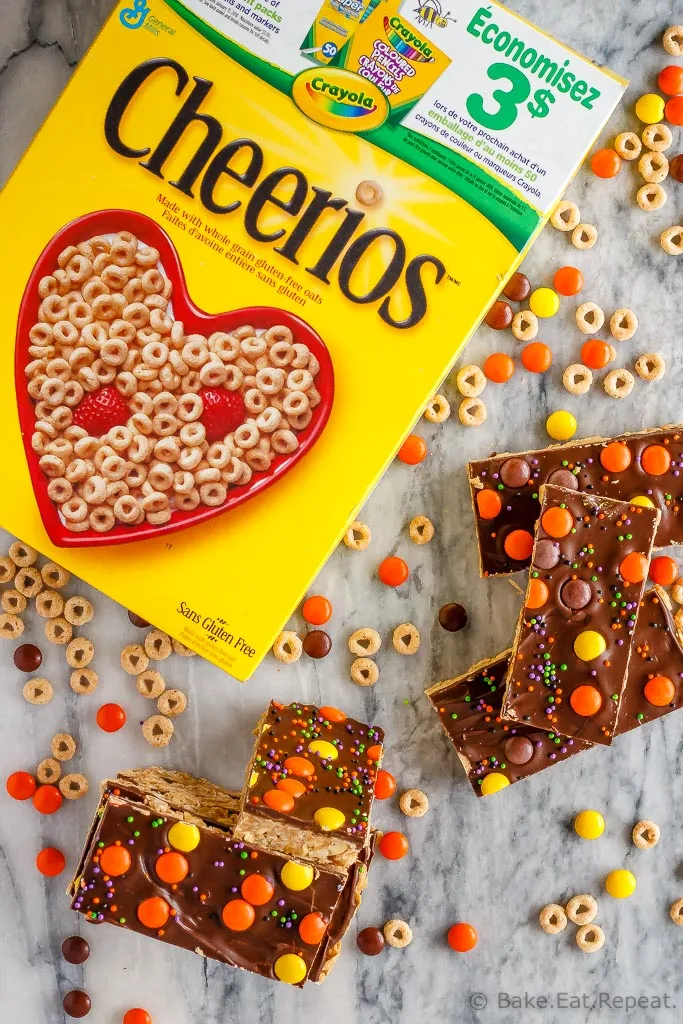 So if you're looking to make life delicious this year with an easy, fun Halloween treat for the kids (or yourself!), try these chocolate peanut butter granola bars. Making granola bars with cereal might be new to you, but I promise you, they're delicious!
Crunchy, peanut buttery, chocolate-y goodness. With some candy of top of course!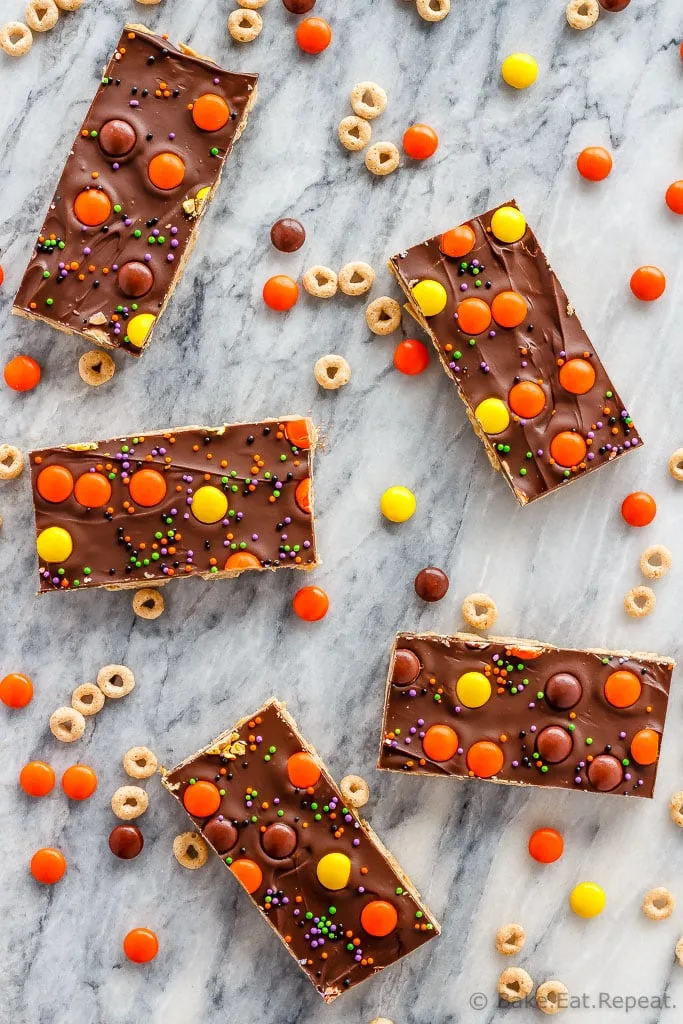 Tips for perfect Chocolate Peanut Butter Granola Bars:
either regular or multi-grain Cheerios work well in these bars so use your preference
both salted and unsalted peanuts will work just fine
make sure you really press the bars into the pan well – I cover them with a sheet of wax paper and then press them into the pan with a rolling pin or a flipper to get them as tight as possible – if you don't press them in well enough they may be quite crumbly
here are a few more tasty bar recipes for you: Oatmeal Raisin No Bake Granola Bars, The Best Nanaimo Bars, and Oatmeal Peanut Butter Bars