These easy cherry cheesecake bars make the perfect summer dessert – decadent cheesecake topped with a fresh cherry sauce!
Is there a better dessert then cherry cheesecake? Cheesecake and fresh cherry sauce just go together.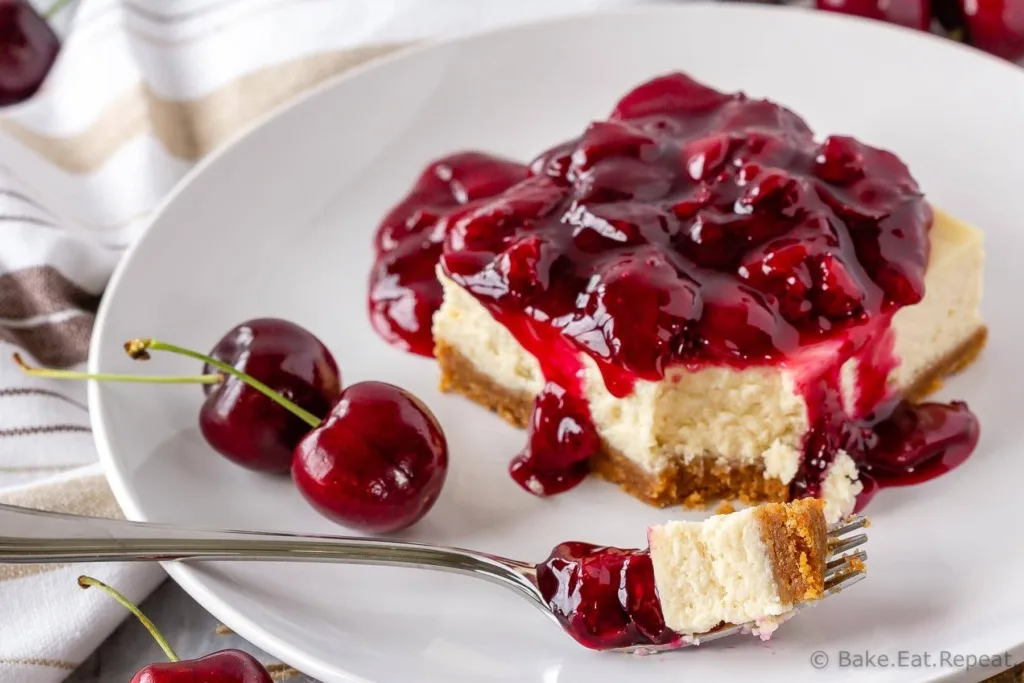 Now I will admit that I have always bought cherry pie filling in the canned format. But it kind of bothers me every time I do it because I know that homemade would most definitely be better.
Homemade with fresh fruit is always better. I just didn't have the patience to remove the pits from the cherries – such a big, messy pain. The canned pie filling tastes pretty good and is so much easier.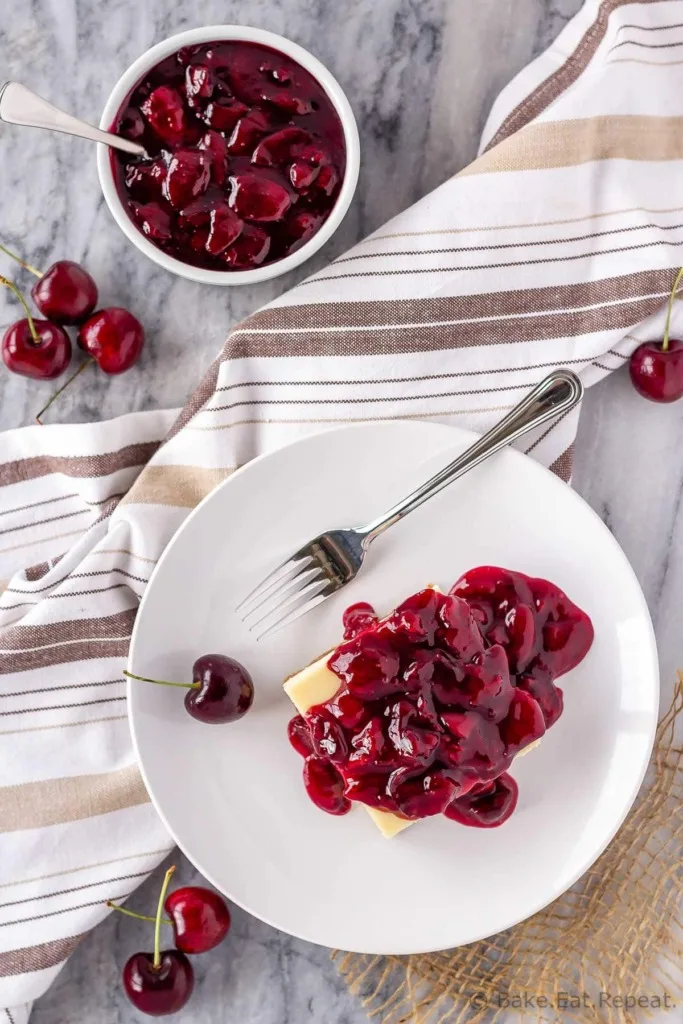 So no judging here if you would rather make the cheesecake bars and pick up a can of pie filling to go with it. It'll still be a pretty fantastic dessert!
But. I will say that this cherry sauce made from fresh cherries is the absolute best cherry sauce I've ever had. It beats the canned pie filling hands down – and it's actually really easy to make.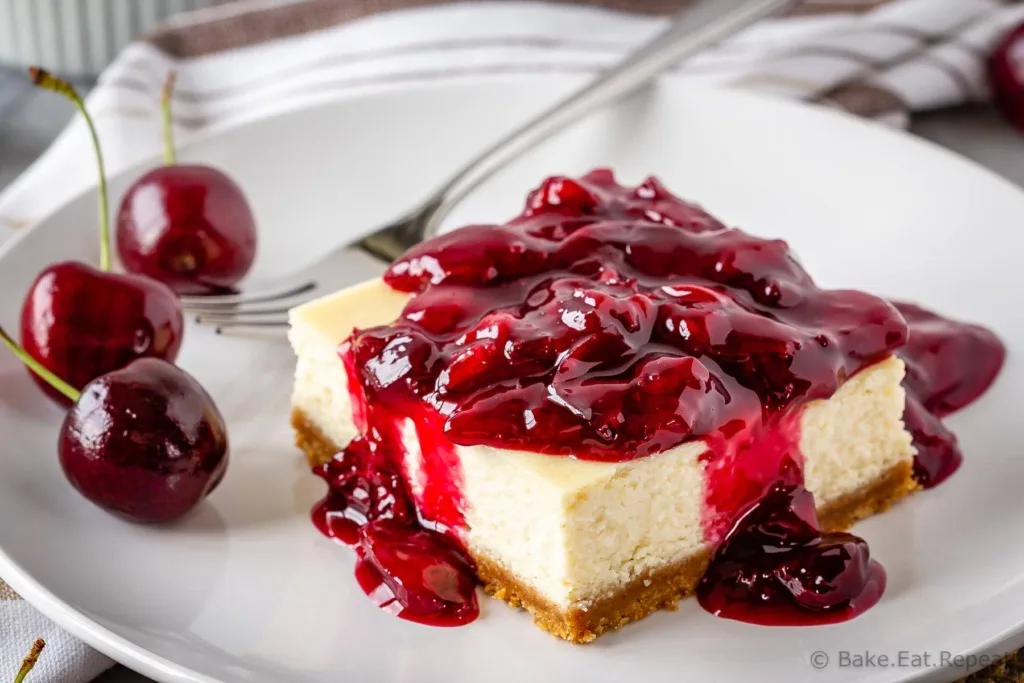 I even got over my annoyance with removing the cherry pits because I finally bought a cherry pitter, it actually worked really well (I was surprised, I have to say), and my 7 year old was quite excited about it and wanted to pit all the cherries for me so I didn't even have to do any of it.
And fresh, homemade cherry sauce served over these cheesecake bars is absolutely fantastic. You should probably make these ASAP.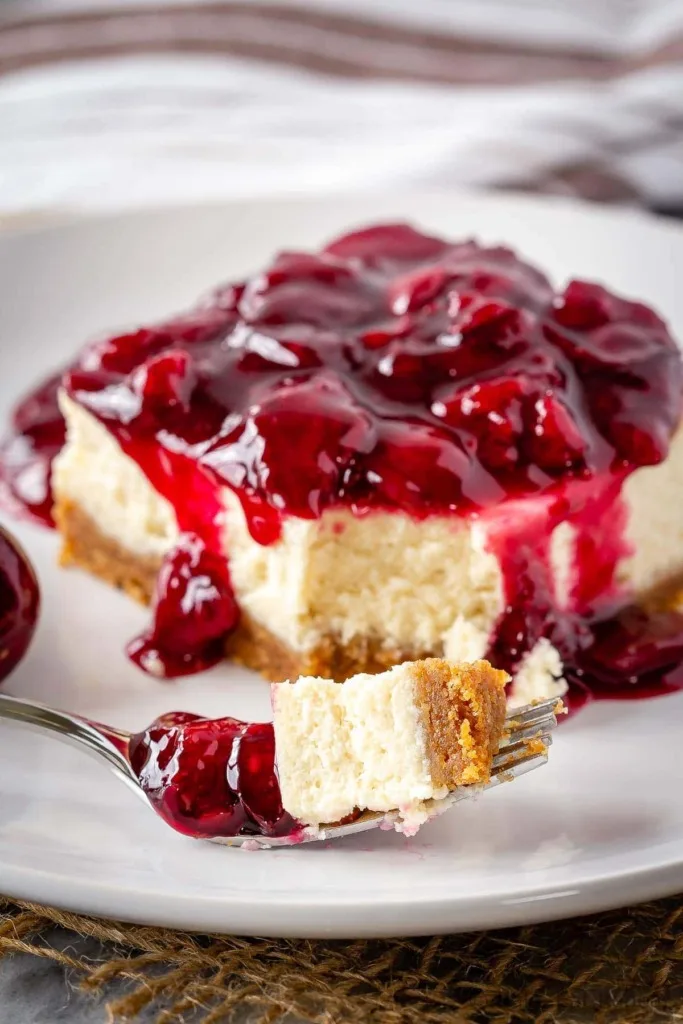 How to make Cherry Cheesecake Bars:
I bought this cherry pitter and it works very well, although a friend of mine has one that does a bunch of cherries at a time and it works really well (looks like this one – no idea if that's the exact brand she has though) so I may have to get one of those once my cherry tree starts producing more than a couple handfuls of cherries a year!
Don't over-bake your cheesecake – when the edges are starting to brown and the centre no longer wobbles it's done. Make sure to cool it completely and then chill it for at least two hours before slicing and serving it.
The cherry sauce can be made up ahead of time and kept in the refrigerator until you're ready to serve.
Here are a few more great dessert recipes for you: