These maple bacon roasted brussel sprouts are amazing. Tender on the inside, crispy edges, lots of bacon, and glazed with maple syrup. You will love them!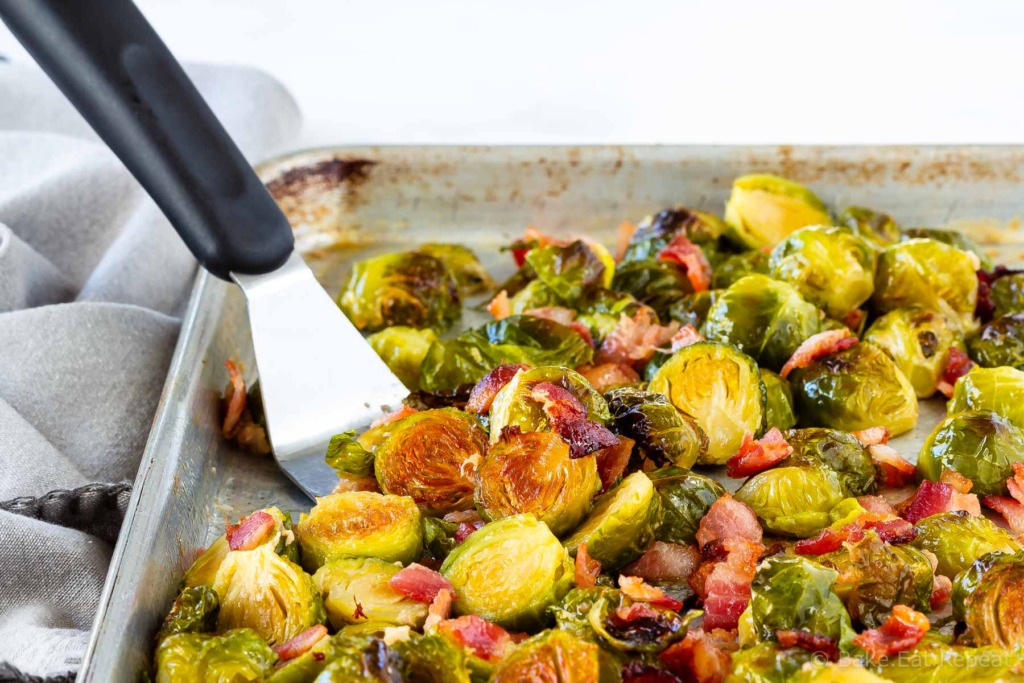 I think these maple bacon roasted Brussel sprouts are my favourite roasted Brussel sprouts ever.
Although I'm pretty sure I've said that about a few variations. But these are the most recent ones and they're amazing.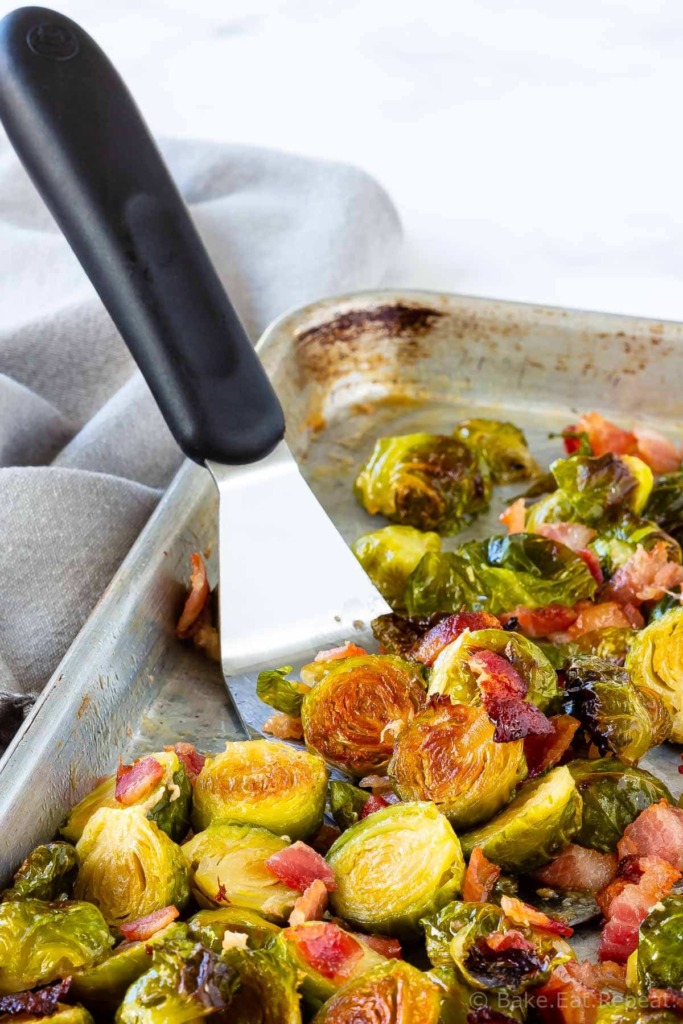 My son thought it sounded quite horrible when I told him what I was making. Maple syrup on Brussels sprouts?! He asked why I was ruining them.
But he completely changed his mind after tasting them. Everyone loved these maple bacon roasted Brussel sprouts.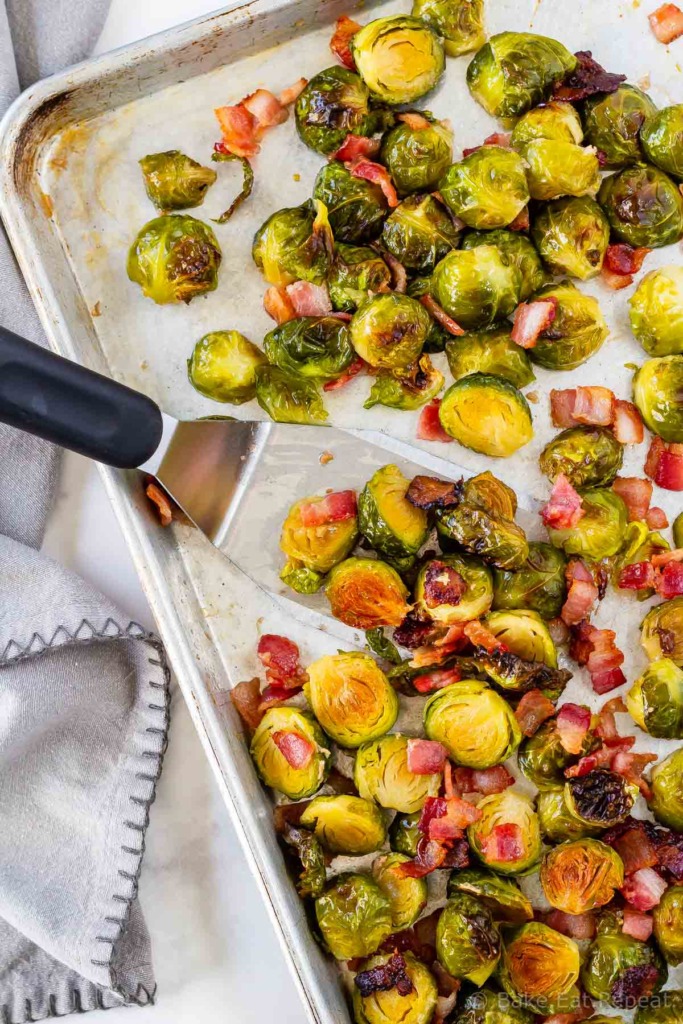 My husband may have called them magical.
Although let's be honest, add bacon to anything and it's gonna be good.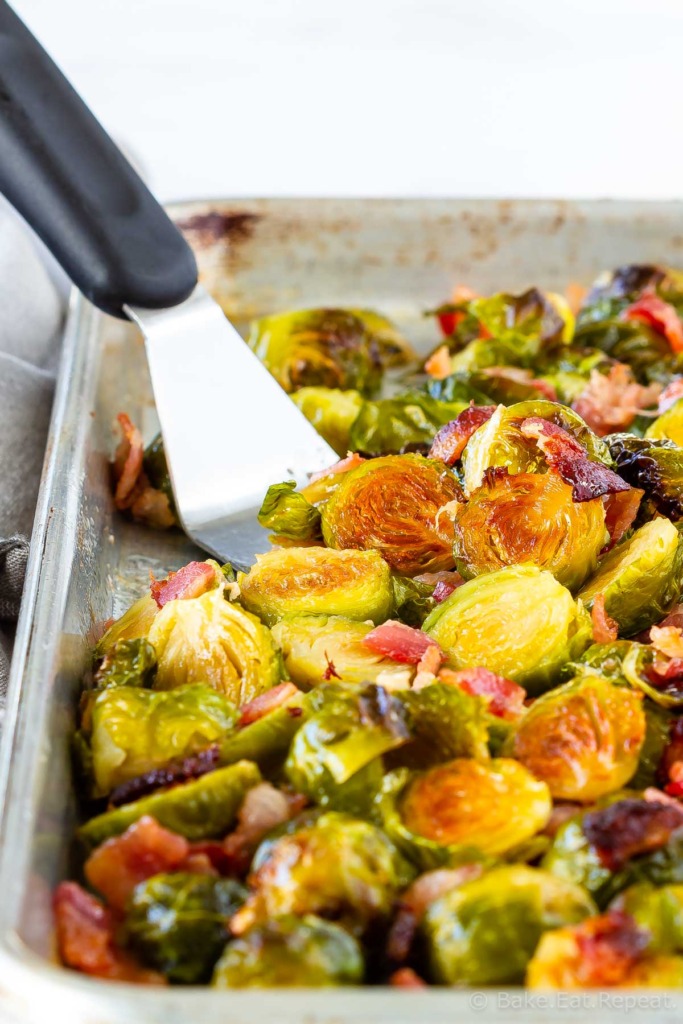 Are brussel sprouts just small cabbages?
I call them mini cabbages when talking about them to my kids, because you can pretend you're a giant when you eat them.
Clearly that makes dinner time more fun. Or at least for a few years, until they outgrow stuff like that!
But if you're curious, they're not actually small cabbages, just part of the same family. With cabbages you eat the whole head of the vegetable that grows out of the ground, but brussels sprouts are buds that grow along a thick stalk.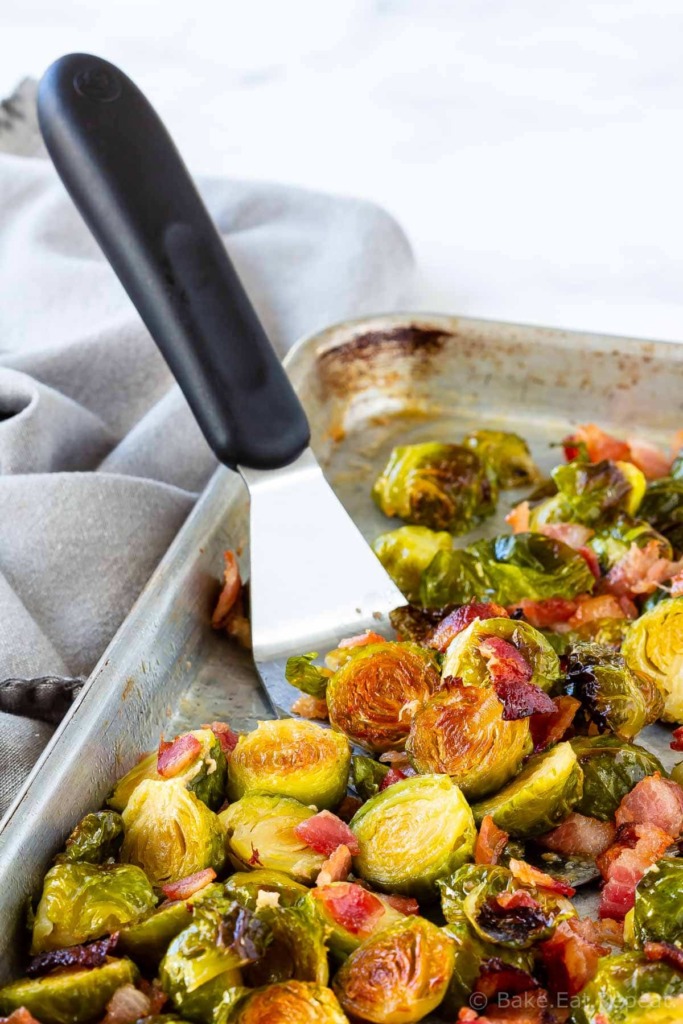 Can you eat the whole brussel sprout?
You can eat the whole sprout. You just need to trim the dry part at the base of the sprout and pull off any loose outer leaves.
Brussels sprouts keep well for up to two weeks in the fridge. Smaller sprouts are usually a bit sweeter then the larger ones.
Look for smaller ones if you don't care for the bitter taste they sometimes have.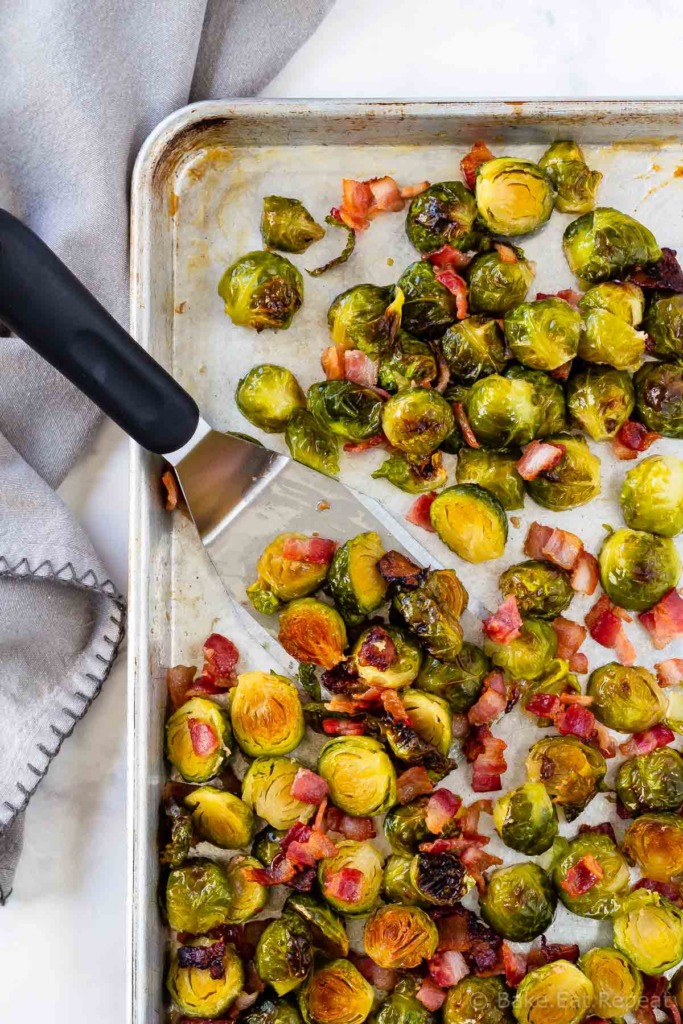 How to make Maple Bacon Roasted Brussel Sprouts:
Make sure to spread the brussels sprouts out on your baking sheet. If they're close together and piled on top of each other, then you will end up steaming them instead of roasting them. To get the crispy edges, they need a bit of space around them
If you don't have kosher salt, sea salt would be a good substitute. Table salt will work too, but I do prefer a coarser salt for this recipe if you have it.
The maple flavour in these roasted Brussel sprouts is not super strong. We like the hint of maple you get from using 2 tablespoons of maple syrup, but if you would like a stronger maple flavour, increase the maple syrup to 3 tablespoons.
I find the bacon is at the right level of crispness after about 30 minutes of roasting. If it isn't crisp enough for you at that point you can add a few minutes to the roasting time, it shouldn't hurt the Brussels sprouts to roast a bit longer.

Here are a few more great roasted Brussel sprouts recipes for you: