These carrot cake cookies are easy to make and taste fantastic! Soft and chewy carrot sandwich cookies filled with cream cheese frosting!
Disclosure: This post has been sponsored by California Raisins and I have been compensated for my time. All opinions are, as always, my own.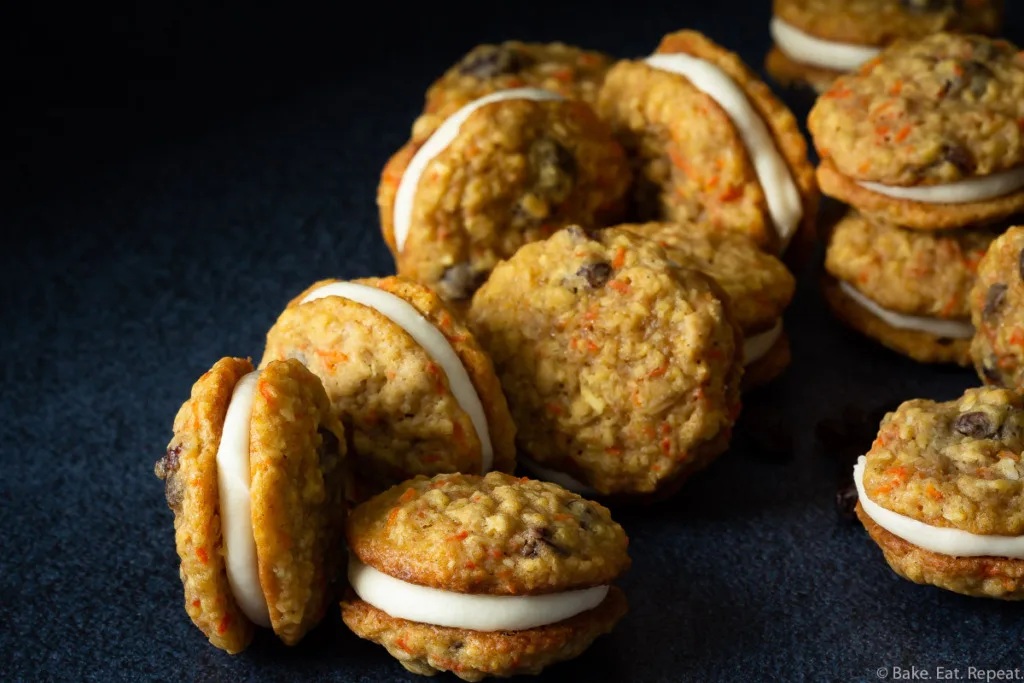 These carrot cake cookies are amazing! My family absolutely loved them.
If you feel like carrot cake for dessert, but don't want to make something that big, these carrot cake cookies are for you!
This sweet treat is basically a chewy, oatmeal raisin sandwich cookie, but with carrot cake flavours.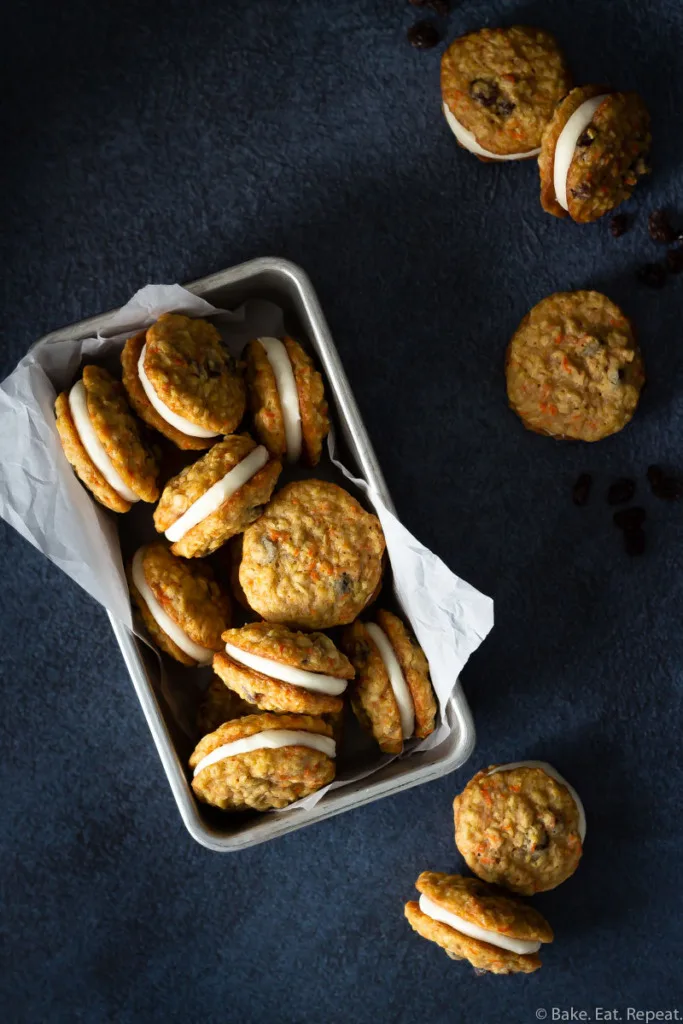 All the carrot cake flavour you want, but in a cute little sandwich cookie.
A soft and chewy carrot oatmeal cookie sandwiched around some delicious cream cheese frosting. These cookies are so good.
Make them soon – you'll love them!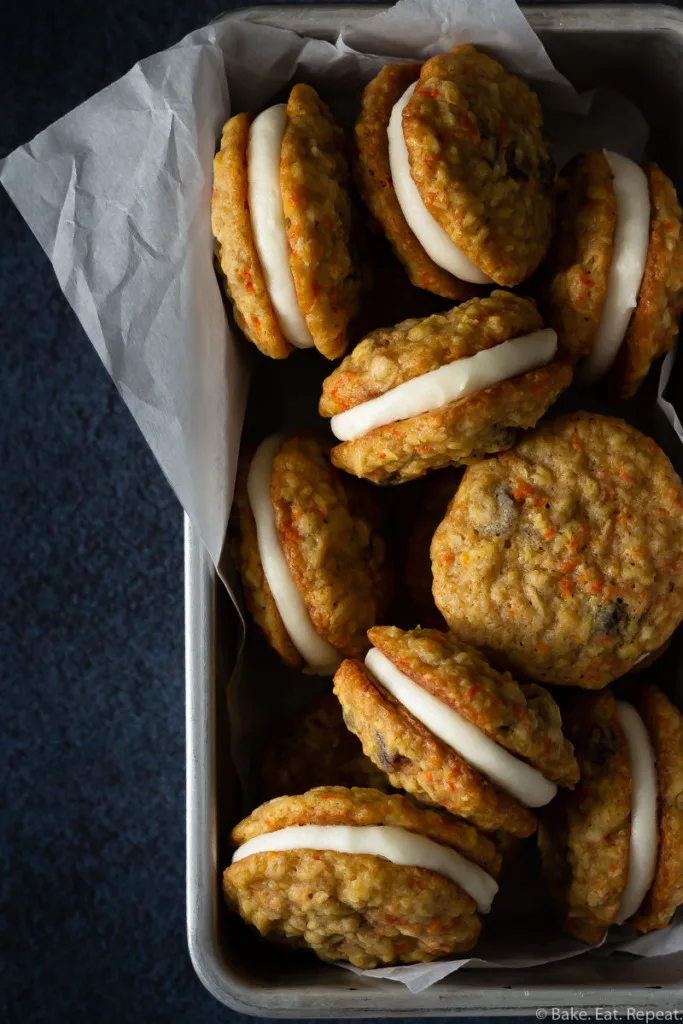 How do you make carrot cookies from scratch?
Carrot cookies are very easy to make from scratch. These carrot cake cookies are made with oatmeal, freshly grated carrots, coconut, and naturally sweet California Raisins.
You end up with a soft and chewy sandwich cookie that is full of carrot cake flavour.
These cookies are delicious on their own, but are even better when sandwiched around some tasty cream cheese frosting. Everyone will love these carrot sandwich cookies!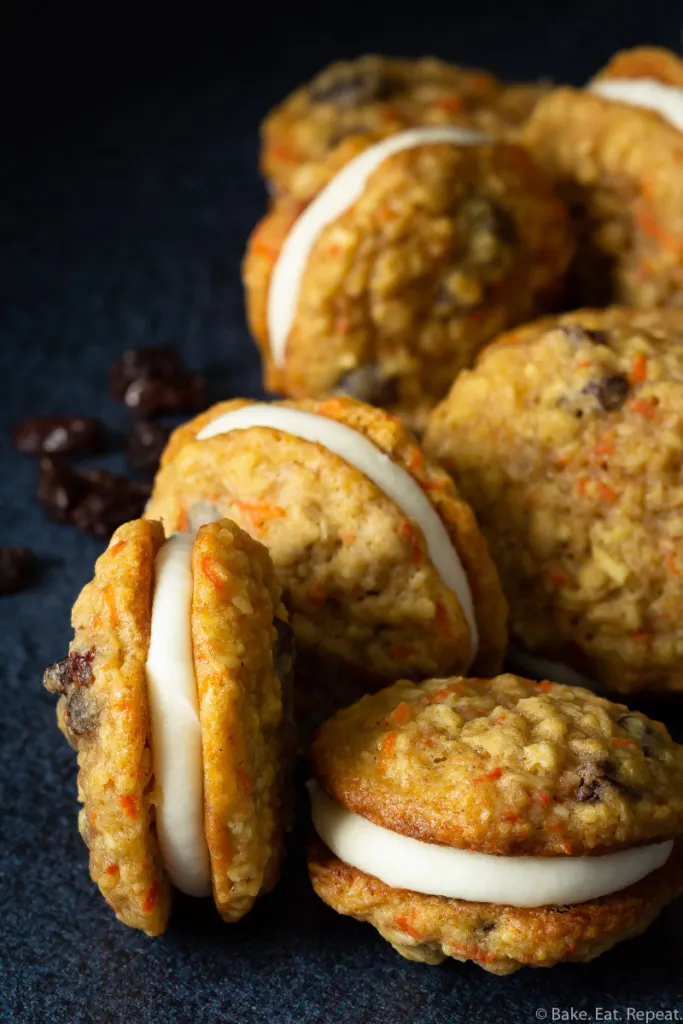 What is the best way to grate carrots for carrot cake cookies?
The best way to grate carrots for these cookies is with the small holes on a box grater or food processor. You will want to grate the carrots finely, because coarsely grated carrots do not work as well in these cookies.
Measure the finely grated carrots by packing them loosely into the measuring cup; don't pack them in as tightly as possible.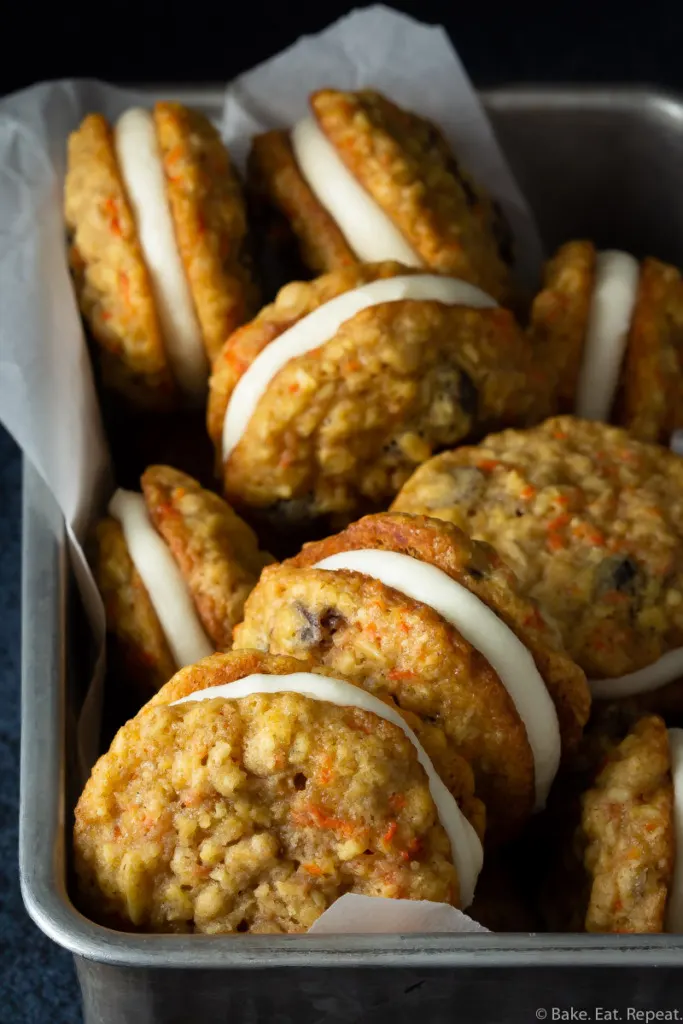 How should I store carrot cookies?
These cookies have a fair bit of moisture in them, so it's best to store them between layers of wax paper so they don't stick together.
Since these carrot cake sandwich cookies have cream cheese frosting, they should be stored in the fridge. They will keep well in the fridge for 5-7 days or can be frozen for up to 3 months.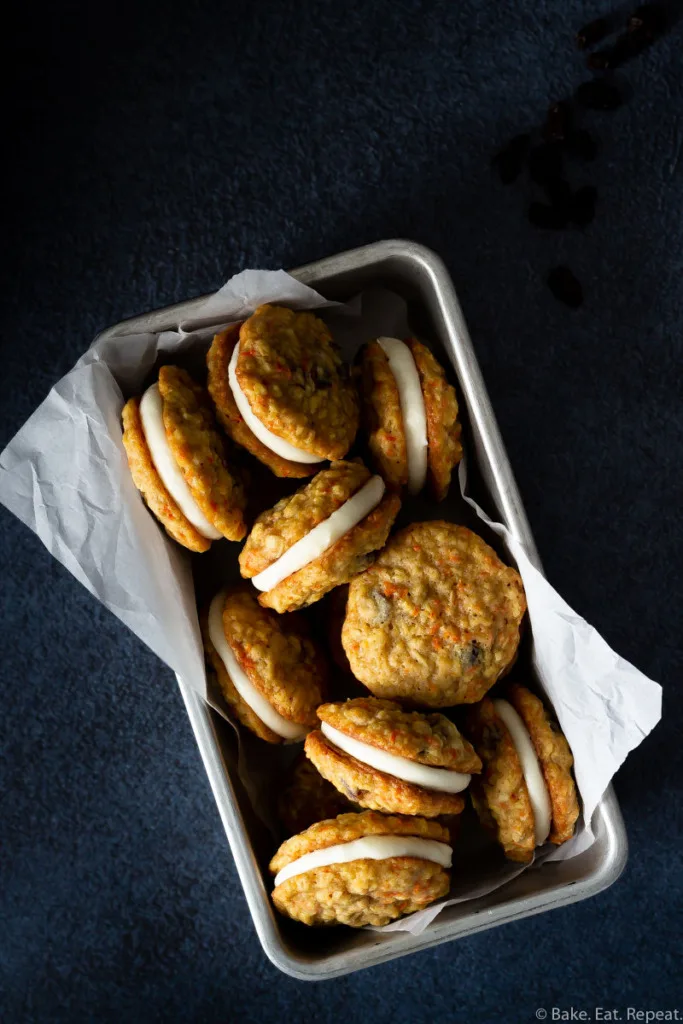 How to make Carrot Cake Cookies:
Make sure to use finely grated carrots for these cookies. Coarsely grated carrots do not work well here.
These cookies are tasty on their own without the cream cheese frosting if you prefer not to make them into sandwich cookies.
This recipe makes a large batch of 40 sandwich cookies. It can easily be halved if you don't want to make such a large batch of cookies.
Make sure to use California Raisins in these cookies – they're the best raisins in the world! You can learn more about California Raisins here.
Here are some more great cookie recipes for you: