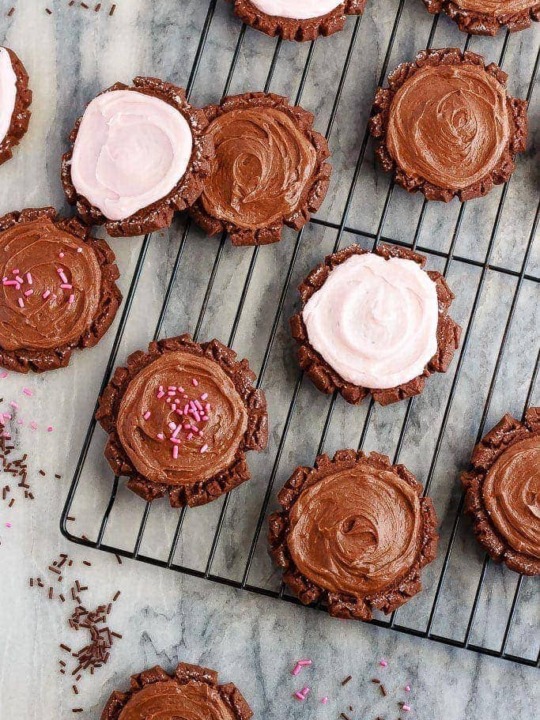 Chocolate Swig sugar cookies – easy to make and absolutely amazing. These soft baked sugar cookies may just be the best sugar cookies I've ever tried!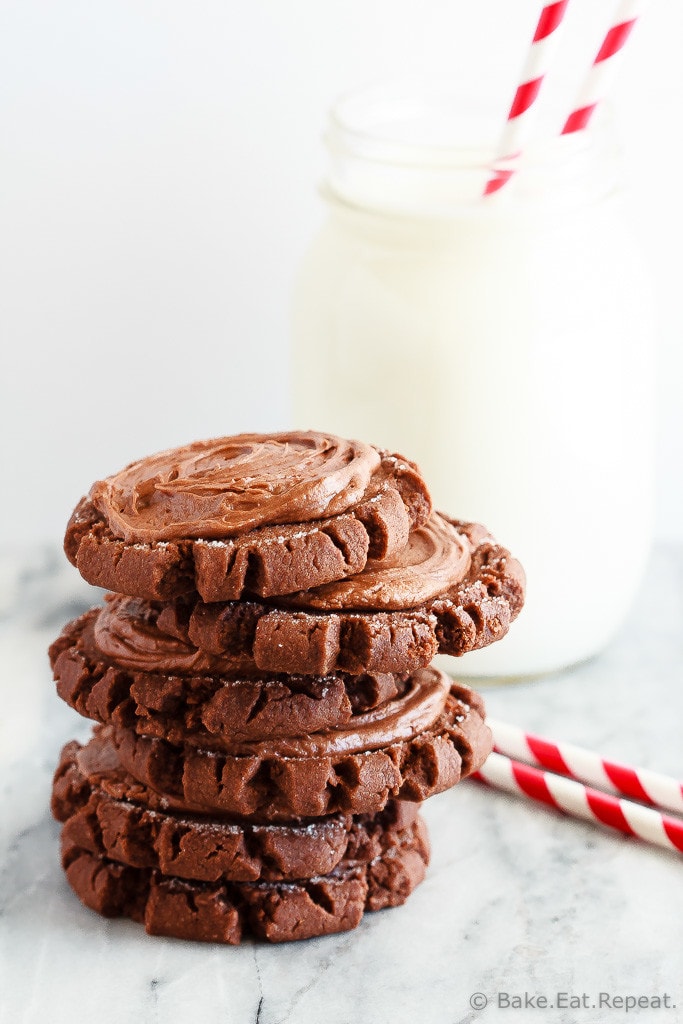 So I've mentioned before that I don't really like sugar cookies. Actually I think I've said that many, many times in my life.
Well….I'm changing my tune. I sort of came around when I made these Swig sugar cookies last year. They were really good (and clearly you all agree, because that recipe has been crazy popular!), but they're still not a cookie I'd make when craving cookies. I always go for chocolate when I try to decide what kind of cookie to make. Usually chocolate chip. Because chocolate chip cookies. They're the best.
But now I might be a little bit torn. Because these chocolate Swig sugar cookies are pretty freaking fantastic. Soft, chewy, chocolatey cookies that take minutes to mix up. And there's no rolling and cutting out of shapes (which I hate), and no chilling time (which is annoying when you want cookies).
And so much chocolate. Which is a winner.
Seriously, if you have tried these Swig sugar cookies (and loved them!), you need to try this chocolate version.
It's even better.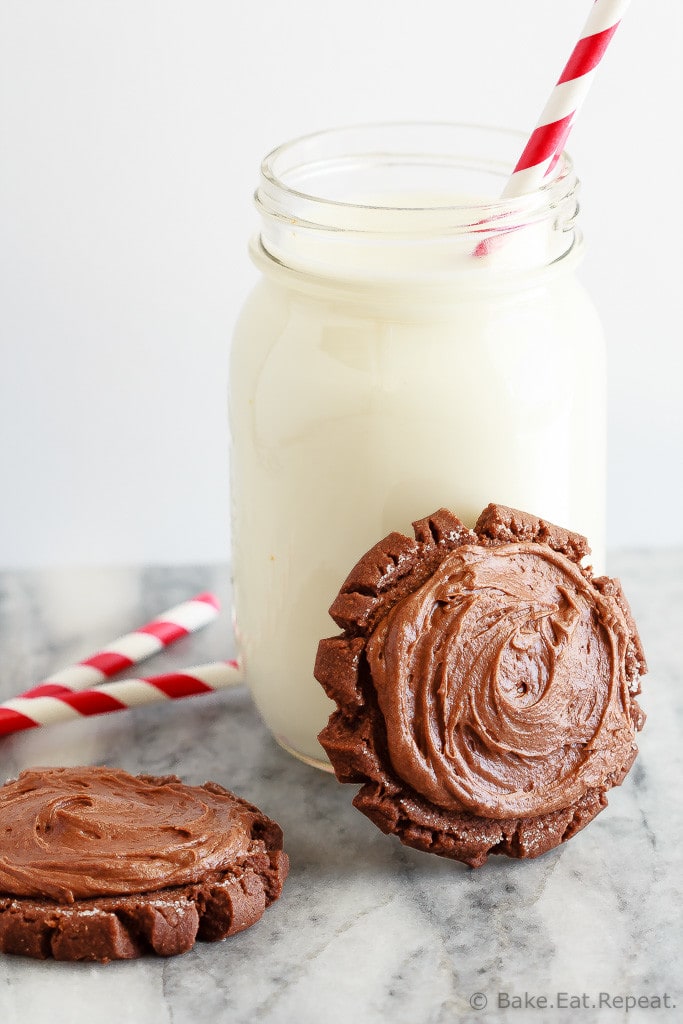 Of course, that's coming from someone that doesn't really think cookies are worth it unless there's chocolate involved (except for these Raspberry Lemon Cookies – they're pretty fantastic for a chocolate-less cookie), and these are VERY chocolatey cookies.
Although you can definitely nix the chocolate frosting on top and use the original pink (or whatever colour you like) frosting from the original Swig sugar cookies recipe. We made half with each kind of frosting, and then added some sprinkles to some of them to make them fun for Valentine's Day. Cause kids like sprinkles.
And then I promptly packaged up the rest of the cookies to send in to the school for Valentine's Day treats for the kids.
Because chocolate treats like this definitely don't need to stay in my house. That's far too dangerous.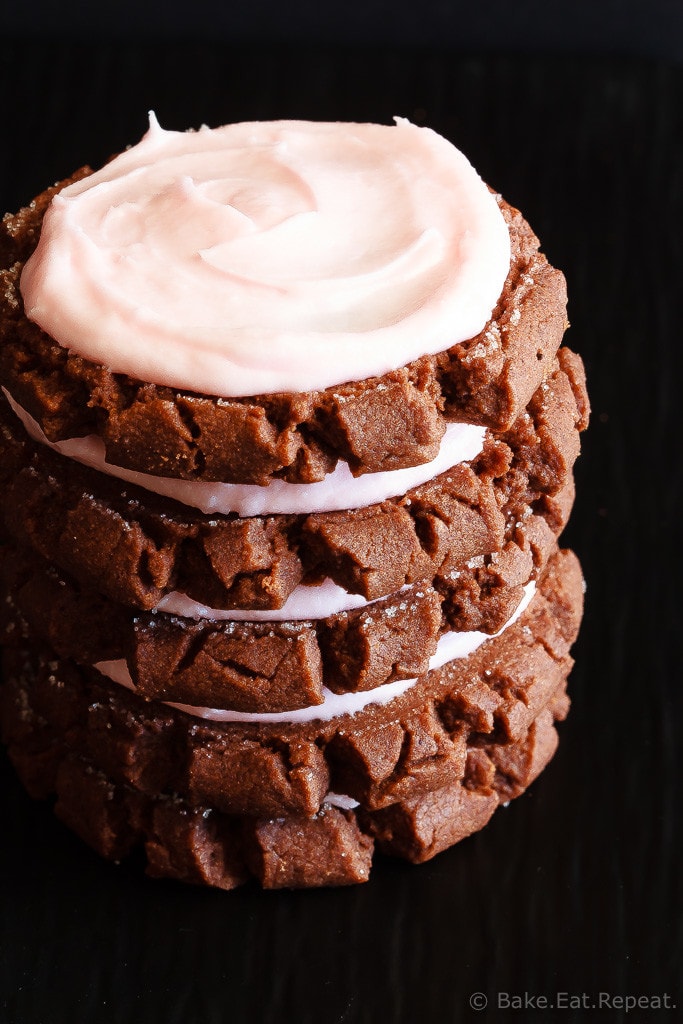 Yield: 36 large cookies
Chocolate Swig Sugar Cookies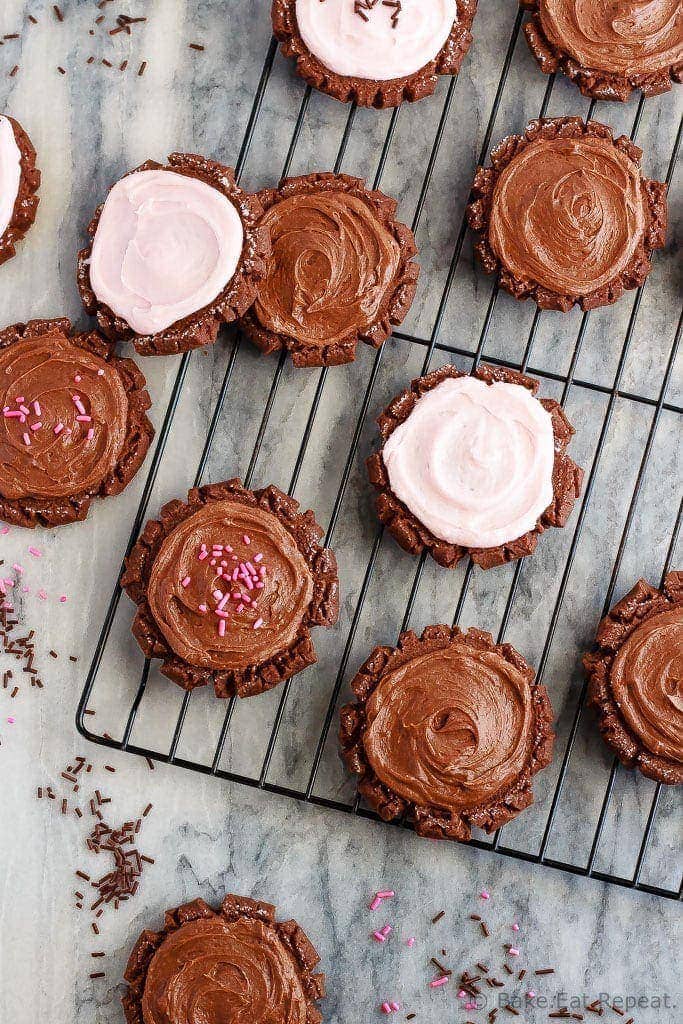 Chocolate Swig sugar cookies - easy to make and absolutely amazing. These soft baked sugar cookies may just be the best sugar cookies I've ever tried!
Ingredients
For the cookies:
1 cup unsalted butter
3/4 cup vegetable oil
1 1/4 cup granulated sugar
3/4 cup powdered sugar
2 tablespoons water
2 large eggs
1 teaspoon vanilla
4 1/2 cups all-purpose flour
1 cup unsweetened cocoa powder (I use Dutch process)
1 teaspoon salt
1/2 teaspoon baking soda
1/2 teaspoon cream of tartar
For the frosting:
1/4 cup unsalted butter
6 tablespoons sour cream
1/2 teaspoon vanilla
3 1/2 cups powdered sugar
1/2 cup unsweetened cocoa powder (I us Dutch process)
2-3 tablespoons milk
Instructions
Preheat the oven to 350 degrees F.
Cream together the butter, oil, sugar, powdered sugar, water, eggs and vanilla until smooth and well combined.
In a large bowl, whisk together the flour, cocoa powder, salt, baking soda and cream of tartar.
Add the dry ingredients to the butter mixture 1 cup at a time, mixing after each addition, until all of the dry ingredients have been incorporated into the dough.
Roll the dough into golf ball sized balls and place them 2 inches apart on a cookie sheet.
Dip the bottom of a glass (about 2 1/2 inches wide) in some granulated sugar and then press down on one of the cookie dough balls until it is 1/2" thick. This will leave a flat middle section with the signature rough edge.
Repeat with the rest of the cookie dough balls.
Bake the cookies for 8-10 minutes, or until they are just set. They stay soft, so make sure not to over bake them.
Let them cool for 5-10 minutes on the cookie sheet then move them to a wire rack to cool completely.
To make the frosting, cream together the butter, sour cream and vanilla until well combined.
Sift together the powdered sugar and cocoa powder, and then add this mixture one cup at a time, mixing well after each addition.
Add 2-3 tablespoons of milk to thin the frosting to your desired consistency, and whip it for one minute.
Spread about 1 tablespoon of frosting on each cookie, allow to set, and then store the cookies in an airtight container in the refrigerator.
Notes
If you want pink icing instead of chocolate, omit the cocoa powder, increase the powdered sugar to 4 cups, and add 1-2 drops of food colouring. You can also make these smaller if you like as these are enormous cookies. I've also made them small enough that I get 48 cookies from the batch - for that size of cookie the bake time was 7-8 minutes rather then 8-10, and the cup I used to press them down was about 2" wide.
Source: Adapted from this Swig Sugar Cookie Recipe.
Recommended Products
This post contains affiliate links. As an Amazon Associate, I may receive a small commission from qualifying purchases.
Nutrition Information:
Yield:
36
Serving Size:
1 cookie
Amount Per Serving:
Calories:

252
Total Fat:

12.3g
Saturated Fat:

5.6g
Cholesterol:

28mg
Sodium:

134mg
Carbohydrates:

35.1g
Fiber:

1.6g
Sugar:

21g
Protein:

2.8g