This Mexican pork chop marinade is super easy to make and is a great way to add flavour to pork chops. Marinate and then cook or freeze for later!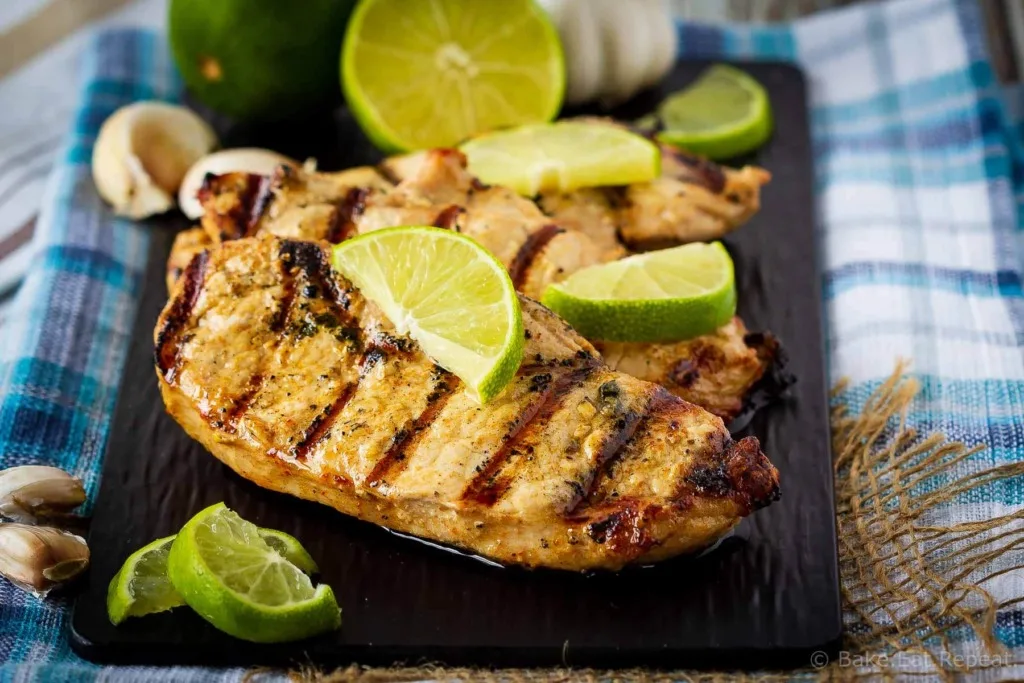 A great way to simplify your meal planning is having recipes like this Mexican pork chop marinade ready and waiting in the freezer.
This is such a great option for quick and easy meals, and I am loving having frozen, marinated pork chops ready to go in the freezer for those nights that I haven't planned ahead, or just don't have a lot of time for dinner prep.
The only thing I need to add is side dishes, and dinner is served. Keep it simple and just have rice and steamed veggies with your Mexican pork chops and dinner is ready to go!
How long do you have to marinate pork chops?
Marinate the pork chops for at least 30 minutes, and I find 2-4 hours gives the best flavour. You can technically marinate pork chops for up to two days in the fridge, but I've found that the flavour does not change a great deal when you increase the time from 4 hours.
Plus, when there is an acidic component like lemon or lime juice in the marinade, you need to be careful not to overdo the marinating. After a certain point, the meat will start to break down from the acid. My recommendation is to cook it the same day you're marinating, or to freeze it and let it marinate as it defrosts overnight in the fridge or for a couple hours in cold water.
You can either marinate your pork chops and then cook them immediately, or you can freeze them in this Mexican pork chop marinade, and let them marinate while they're defrosting.
Usually I defrost the pork chops by submerging the bag with the frozen meat in cold water. I find this method only takes a couple of hours. You can also defrost them in the refrigerator overnight if you prefer.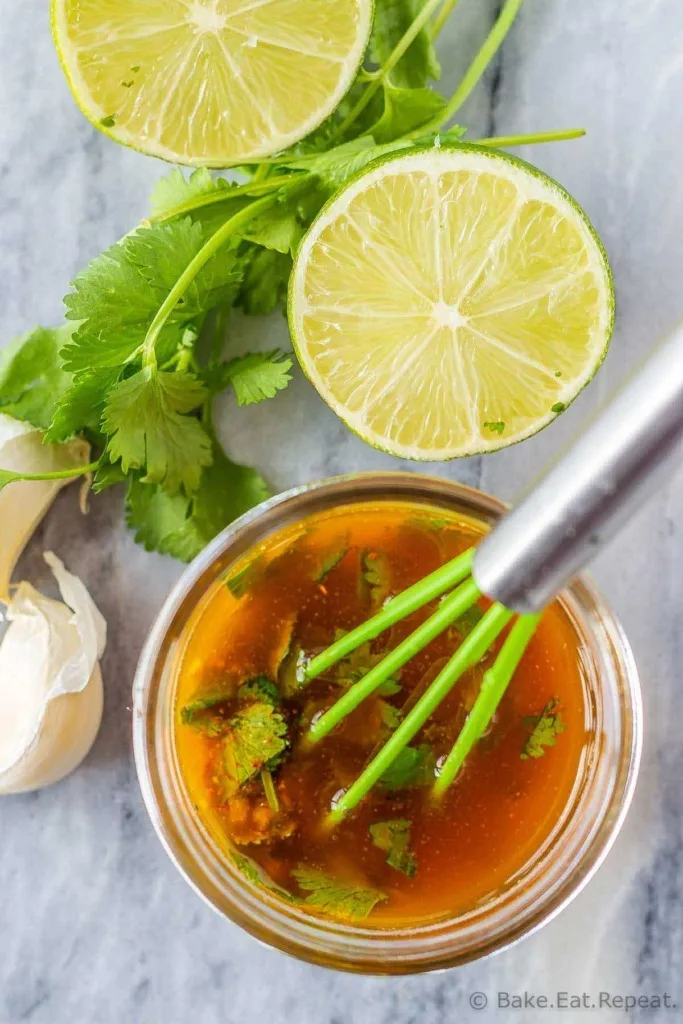 How do you make a simple marinade for pork chops?
I have 9 pork chop marinades for you, and they're all simple and delicious. So easy to make, they each only take minutes to mix up and add so much flavour to your meat.
Freezer pork chop marinades are a fantastic way to prep ahead and have meals ready to go for quick and easy dinners. These 9 pork chop marinades are all easy to make, taste great, and can be frozen for future meals.
I also have 7 chicken marinades (some overlap, but they're not all the same). So you can easily have many different freezer meals ready to go with these marinades!
What is a good marinade for pork chops?
I have found that any marinade that is good on chicken is good on pork chops as well. So if you have a favourite chicken marinade, it's likely good on pork chops as well.
This simple Mexican pork chop marinade is fantastic. It's easy to mix up and adds so much flavour to the pork chops.
We love Mexican flavours so these pork chops are a favourite around here. These Mexican pork chops are great served with this Mexican Pasta Salad (just leave out the shrimp), these roasted rosemary potatoes, or even just salad with tortilla chips and salsa.
If you love Mexican food too, you can find 17 Easy Mexican Recipes here.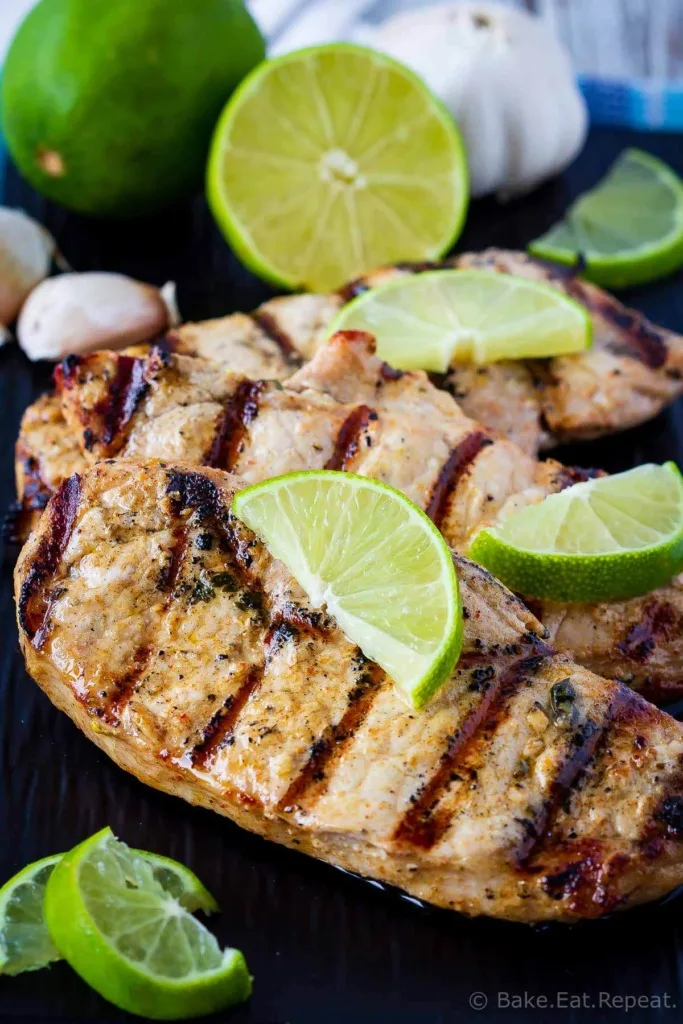 What is the best way to marinate pork chops?
I like to toss pork chops into a marinade before freezing them as this makes for very easy meal prep. This Mexican pork chop marinade freezes well, and the meat marinates as it defrosts.
You can also use this Mexican pork chop marinade the same day if you like. Simply marinate the pork chops for 2-4 hours in the fridge before cooking them.
What is the best way to cook pork chops?
There are a few options for cooking pork chops. I tend to grill them, but you can also bake them or pan fry them, so use whatever cooking method you prefer.
Grill them for 4-8 minutes per side, depending on how thick they are – for 1/2 inch pork chops I grill at about 400F for 4 minutes per side. Or you can pan fry them over medium heat for 4-8 minutes per side (add 2-3 teaspoons of olive oil or butter to the pan while it's heating). Or bake them at 400F for 20-30 minutes, flipping them once.
The thickness of the pork chops will make a difference in how long it takes to cook them, so use a meat thermometer to test them. Pork chops are cooked when their internal temperature is 145 degrees F. After you remove them from the heat, let them rest for 5 minutes under some foil before serving them.
Make sure not to over cook your pork chops, or they will be dry. You can use a meat thermometer if you're not sure how to tell when the pork chops are done. Don't cut into them immediately, they will keep cooking for a few minutes after removing them from the heat. You don't want to cook pork chops until they look done inside. If you do this, they will be over-cooked by the time you sit down to eat.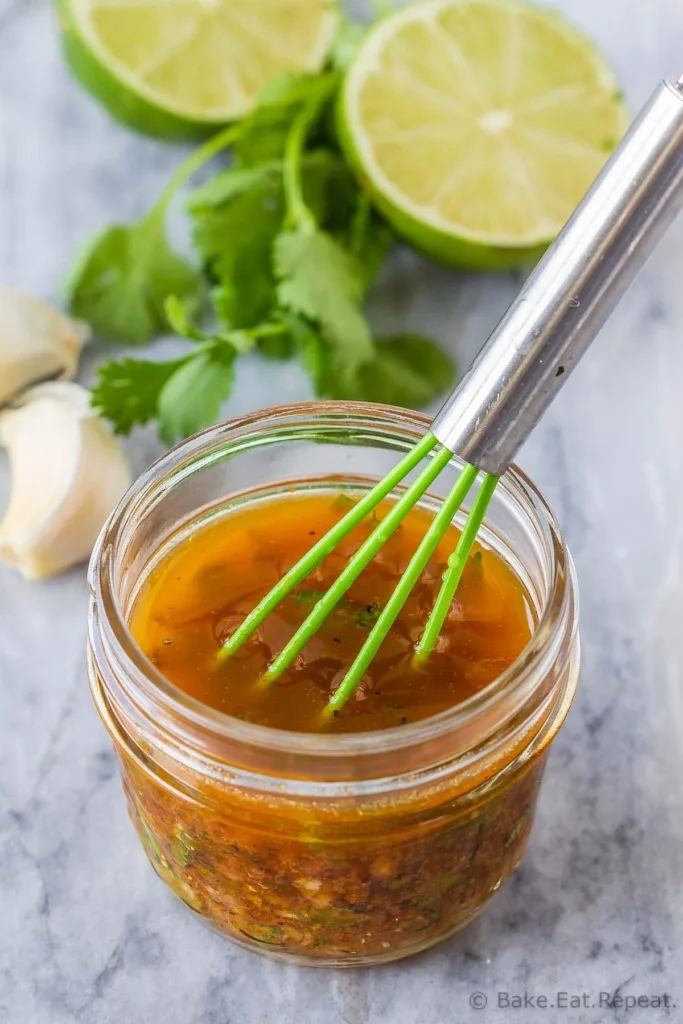 How to make this Mexican Pork Chop Marinade:
I almost always use boneless pork chops. I like to marinate them and freeze them for later. You can definitely use bone-in pork chops instead, but keep in mind the cook time will likely be a few minutes longer.
Once you place your pork chops and the marinade into a freezer bag (this tool is awesome for holding the bag while you add your pork chops and marinade), squeeze out the air, seal the bag, and then move the meat around in the bag to coat it with the Mexican pork chop marinade. Lay the bag flat to freeze it as it will defrost easier this way.
If you're not a cilantro fan, you can leave it out of this Mexican pork chop marinade and it will still be great.
If you're looking for more great pork chop marinades, check out these 9 pork chop marinades. You can use them immediately, or freeze them for later!
Here are some more great Mexican recipes for you: