Quick and easy chicken fajitas with just one sheet pan to clean afterwards!  This is my new favourite way to make one of my family's favourite meals! 
Watch how easy these Sheet Pan Chicken Fajitas are to make here: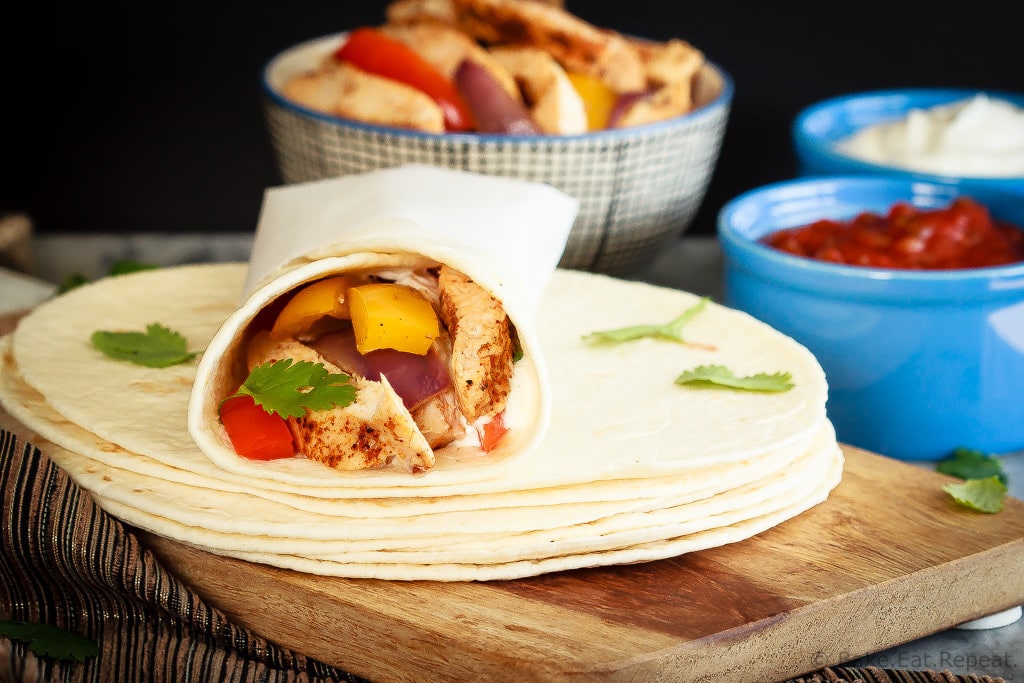 Mexican food is a favourite of everyone's in my family.  Good thing, since I make it at least weekly.  Probably more often.
Whenever I'm not sure what to make for supper, it's Mexican food of some sort that ends up on the table more often then not.  Even if we feel like pasta, which isn't typically Mexican, I will usually lean towards something like this Mexican baked pasta instead of some other option.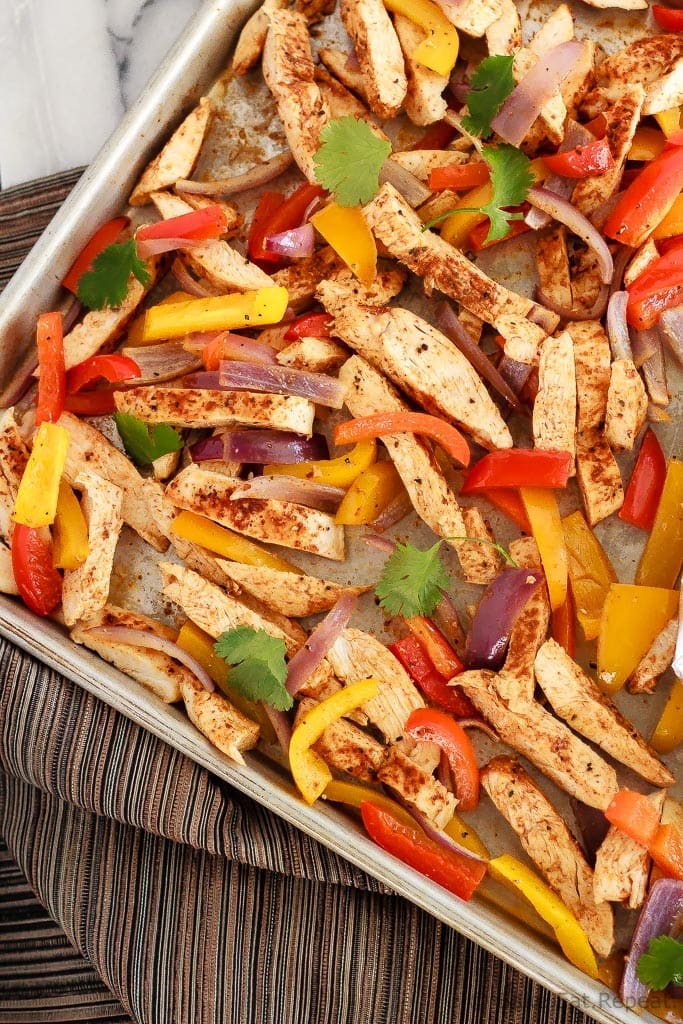 Tacos in some form or another is definitely the absolute favourite here though.  I think because everyone can make up their own, putting in whatever fixings they like.  Even when it's chicken fajitas, which typically don't have a lot of toppings, we still put out all sorts of stuff like lettuce and tomatoes and cheese and black olives, just because my kids love all that stuff on their fajitas.  Of course, they don't touch the peppers and onions that the grown-ups here love so that could be why they want all the other stuff.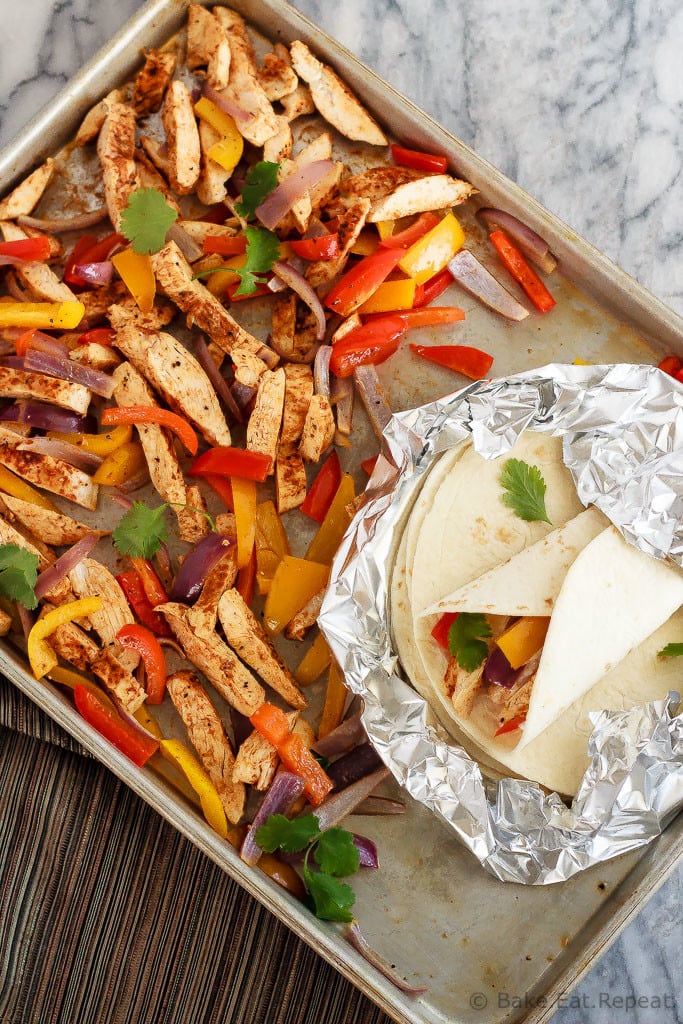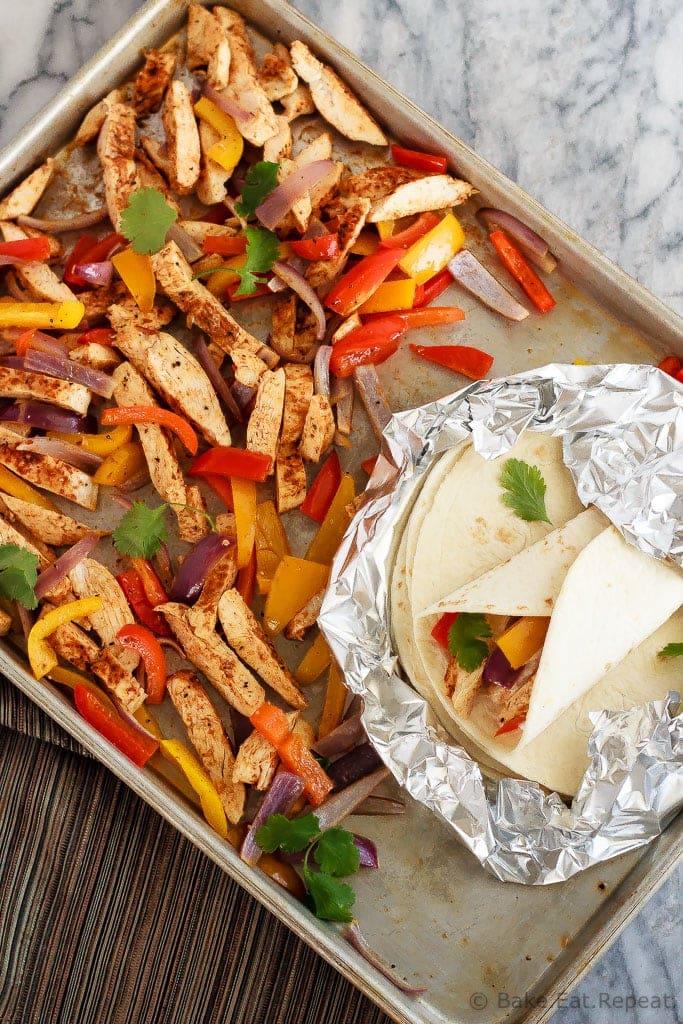 My husband and I are usually pretty happy with just the chicken, peppers and onions wrapped up in a tortilla with some sour cream and salsa.  Sometimes with a little shredded cheddar cheese in there too.  No idea if cheese is supposed to go in chicken fajitas or not (I doubt it) but it tastes great so who cares.
However you like your fajitas, these sheet pan chicken fajitas are amazing.  Super fast and easy to make, and only one pan to clean up afterwards.  It's my new favourite way of making chicken fajitas!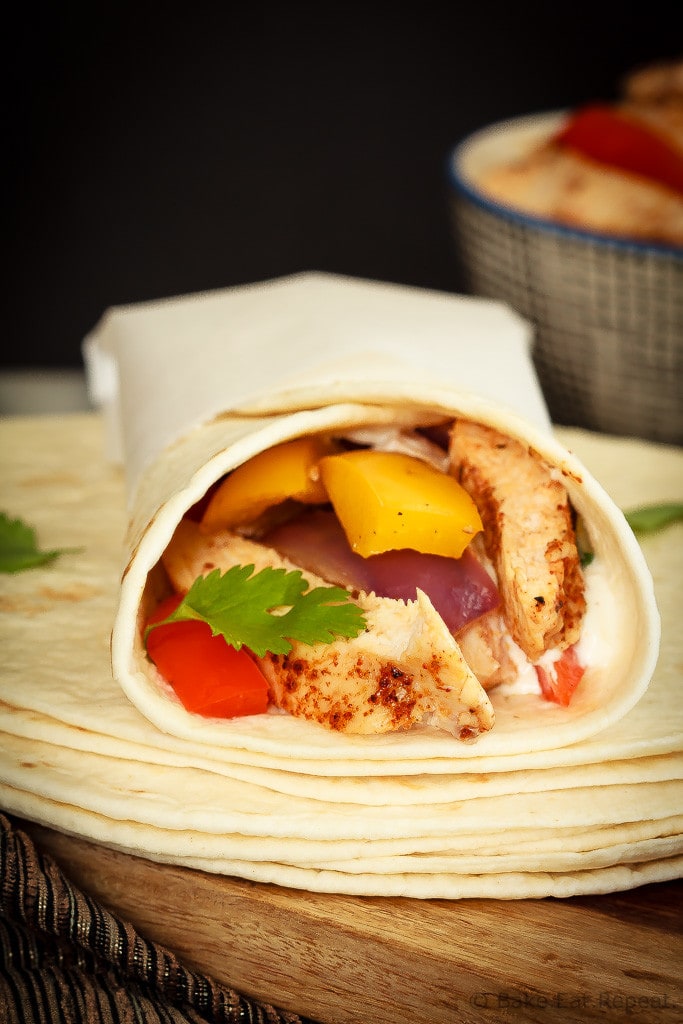 The perfect meal for 30 Minute Thursday!  You can also find a bunch of other 30 minute meals below the recipe from my blogging friends.  Enjoy!
Tips for perfect Sheet Pan Chicken Fajitas:
Sheet Pan Chicken Fajitas
---
Bake.Eat.Repeat.
Yield: serves 4
Quick and easy chicken fajitas with just one sheet pan to clean afterwards! This is my new favourite way to make one of my family's favourite meals!
10 minPrep Time
15 minCook Time
25 minTotal Time
Ingredients
3 boneless, skinless chicken breasts
2 tablespoons olive oil
1 red pepper, sliced
1 yellow pepper, sliced
1/4 red onion, sliced
1 teaspoon chili powder
1/2 teaspoon cumin
1/4 teaspoon salt
1/4 teaspoon pepper
tortillas, sour cream, salsa, and any other taco fixings you like for serving
Directions
Preheat the oven to 375 degrees F.
Slice the chicken breasts in half so that there are 6 thin chicken breast pieces instead of 3 thick ones. Lay the six pieces on one half of a rimmed baking sheet. Spread the sliced bell peppers and red onion on the other half of the baking sheet. Drizzle everything with the olive oil, turning the chicken and rubbing the olive oil all over both sides.
In a small bowl, stir together the chili powder, cumin, salt and pepper. Sprinkle this spice mixture over top of the chicken, and rub it in to both sides of the meat. Season the vegetables with a bit of salt and pepper and toss them to coat.
Cook the meat and veggies for 14-15 minutes, or until the chicken is cooked through. Don't overcook it or it will be dry. Slice the chicken across the grain into thin strips.
Serve the chicken and veggies on tortillas with salsa and sour cream, and any other taco fixings you like.
7.8.1.2
232
https://bake-eat-repeat.com/sheet-pan-chicken-fajitas-recipe/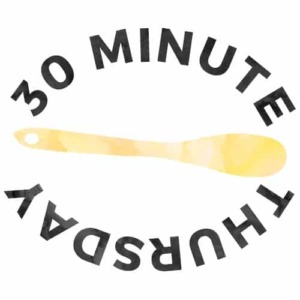 One Pot Beef and Tomato Macaroni Soup from The Recipe Rebel
Baked Chicken Ranch Taquitos from Pumpkin 'N Spice
Sheet Pan Lemon Garlic Salmon and Asparagus from Kristine's Kitchen
Honey Garlic Chicken Stir Fry Noodles from Savory Nothings
One Pan Italian Pasta from My Kitchen Craze
Asian Lemon Chicken from Life Made Sweeter
Spicy Sausage, Kale and Potato Soup from Floating Kitchen
Easy Thai Vegetable Pita Pizzas from She Likes Food
Guinness Beef Chili from Flavor the Moments
This post contains affiliate links, meaning that if you make a purchase through these links, I may receive a small commission.