This Mexican pasta salad with Cajun shrimp is perfect for summer – easy to make, the whole family will love it, and it can even be made ahead of time! Thank you to Barilla Canada for sponsoring this post.
Mexican food is a real favourite at my house.
If you've been reading for any amount of time you probably already know this. I'm pretty sure that I share more Mexican flavoured recipes than anything else. It's just always my first idea when faced with the question of what to make for supper.
Tacos or pasta. That's always the answer. Without fail. Easy, delicious and everyone is happy.
So when I can put those two things together, I know that supper will be amazing. Combining two favourites is always a good idea.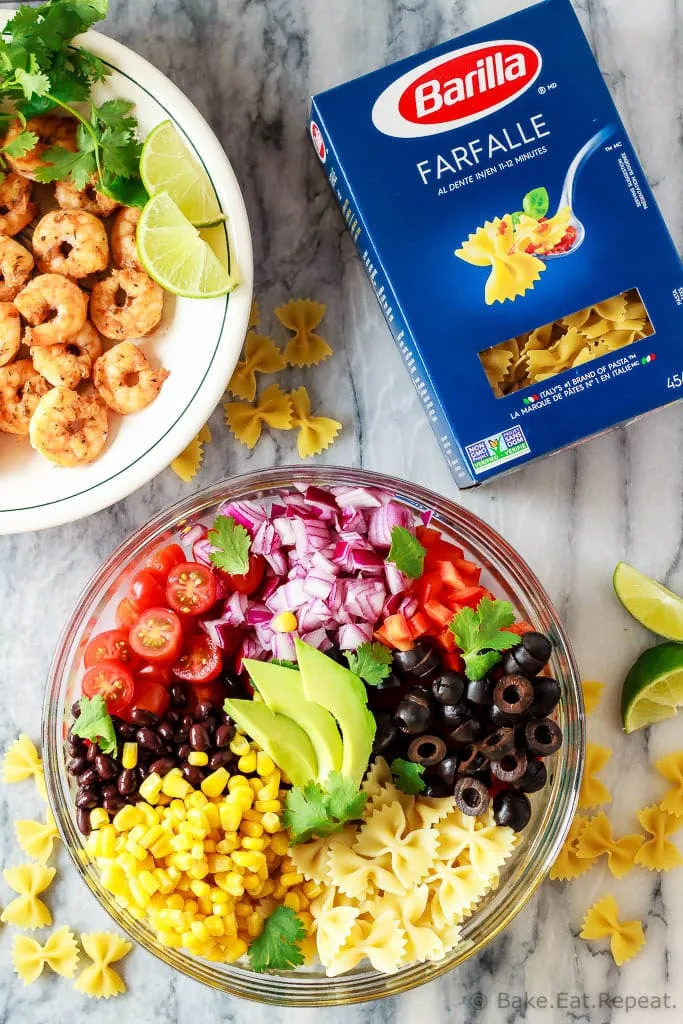 This Mexican One Pan Pasta and this Mexican Baked Pasta are both go-to meals here when I'm scrambling to get dinner together at 5 o'clock, so it was really only a matter of time before a summer-y version happened!
This Mexican pasta salad with Cajun shrimp is the answer to your "what should I make for dinner" question. Fast, easy, filled with fresh veggies and tasty Barilla farfalle pasta – it's the perfect summer meal. Or side dish if you want – it can easily be made ahead to bring to a BBQ.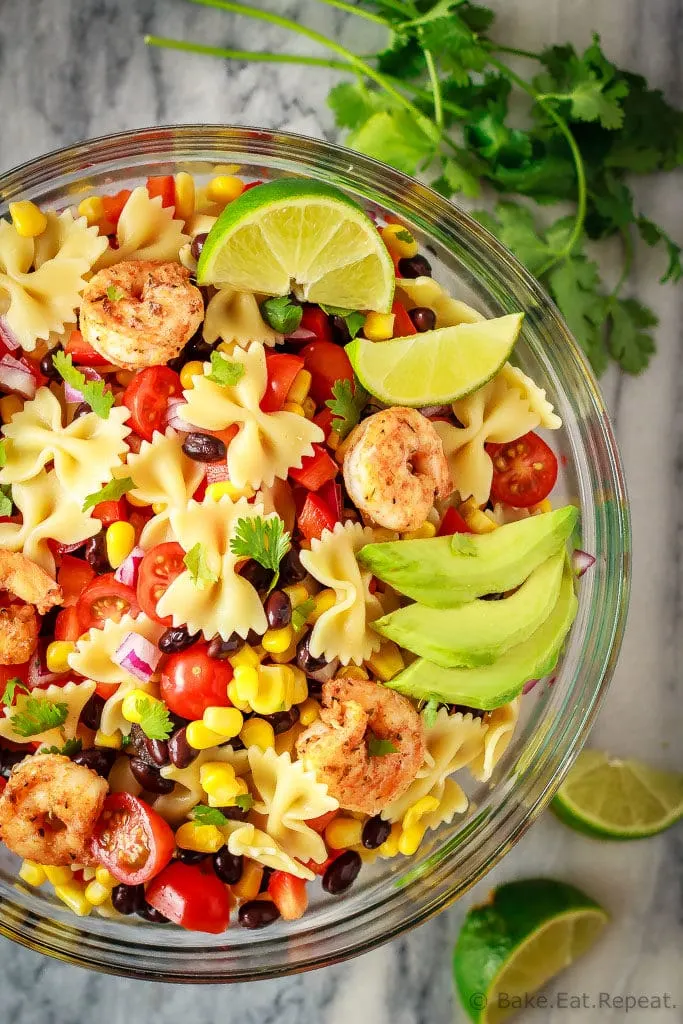 And the best part is how customizable this meal is. Make it your way by changing up the veggies, take out any ingredients you don't like, make your shrimp plain instead of cajun. Barilla pasta can be made your way to suit the tastes of your family.
In fact, when I make this Mexican pasta salad, the black beans only get added to my plate because everyone else is crazy, and the kids enjoy their shrimp plain instead of spiced up with Cajun seasoning. Simple ways to customize everyone's meal that take no time at all, but make for a happier family.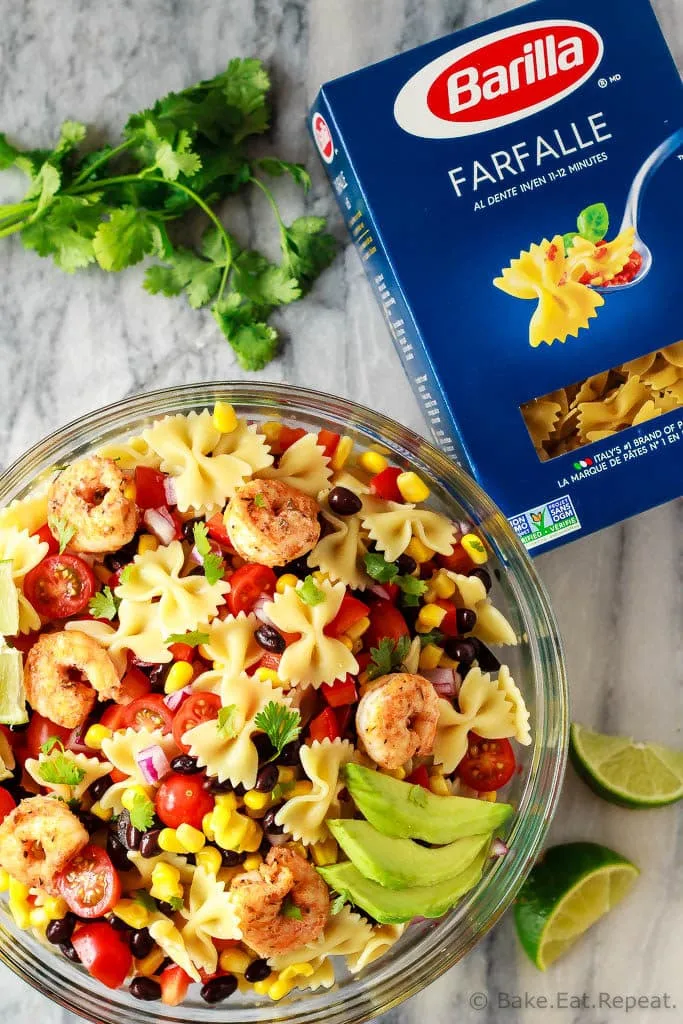 Tips for perfect Mexican Pasta Salad with Cajun Shrimp:
you can use other short cuts of Barilla pasta such as penne, macaroni, or rotini if you like
this salad can be made ahead of time, but I recommend keeping the dressing and salad components separate until right before eating – although the Barilla pasta holds up very well and we enjoyed the leftovers over the next couple of days and it was still fantastic
you can find a homemade Cajun seasoning recipe here, or you can use a store-bought variety
you can find a homemade ranch seasoning recipe here, or you can use store-bought ranch seasoning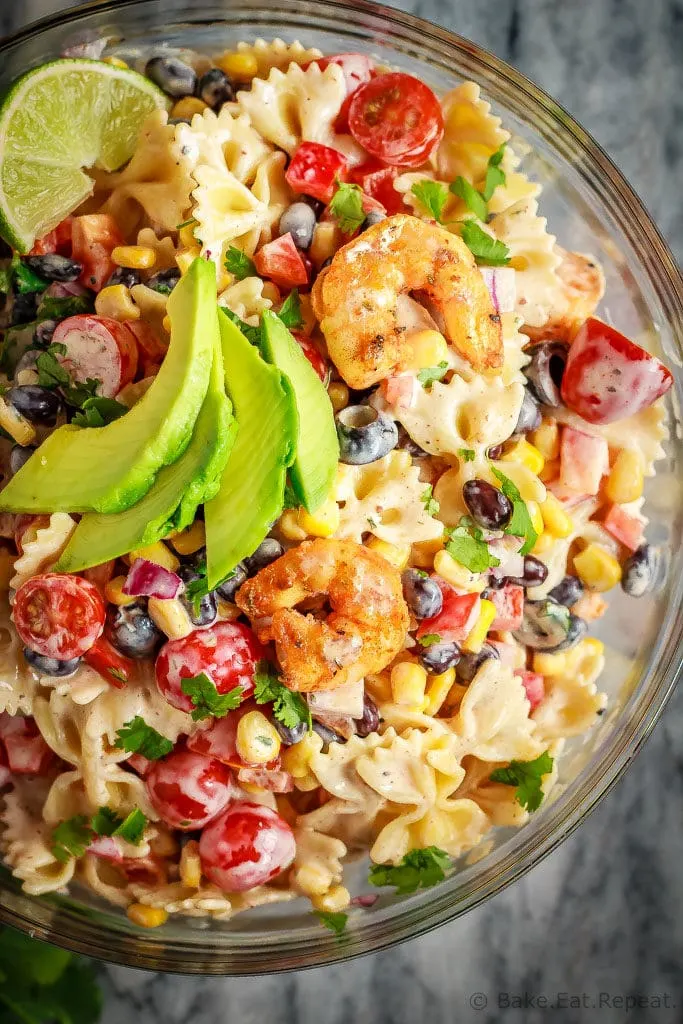 Visit Barilla.ca to find more great recipes for quick and easy family friendly pasta meals!